Creative Living With Sheryl Borden #6522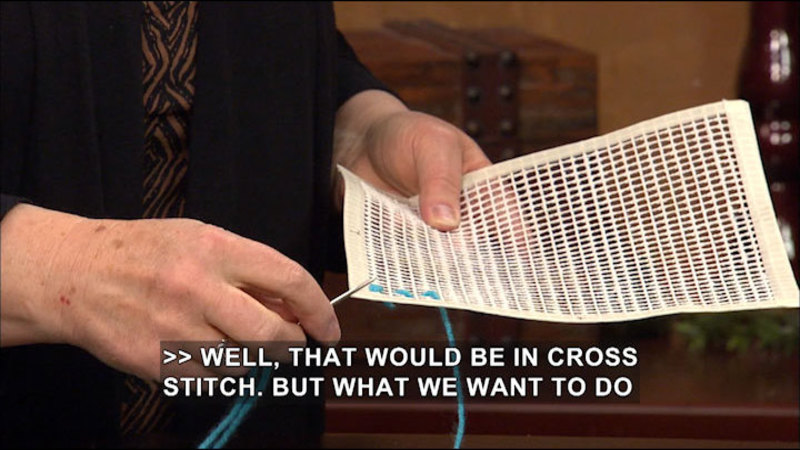 >> "CREATIVE LIVING," UTILIZING TODAY'S TECHNOLOGY WITH THE BEST OF THE PAST TO BRING YOU INNOVATIVE IDEAS AND UP-TO-DATE INFORMATION FOR CREATIVE LIFESTYLES IN TODAY'S ACTIVE WORLD WITH YOUR HOST SHERYL BORDEN. >> WELCOME TO "CREATIVE LIVING" TODAY. WE'RE GOING TO LEARN HOW TO REDUCE ALLERGENS IN OUR HOMES, WE'LL SHOW HOW TO USE A NEW PRESSER FOOT TO ATTACH TRIMS ON SMALL AREAS, SUCH AS DOLL CLOTHES. AND WE'LL ALSO LEARN HOW TO USE SPECIAL NUMBERS TO CREATE A PERSONALIZED PLAID DESIGN ON NEEDLEPOINT. DID YOU KNOW YOU MAY BE SLEEPING WITH OVER 2 MILLION DUST MITES IN YOUR BED EVERY NIGHT? LAURA DELLUTRI IS GOING TO SHOW US SOME PRODUCTS ON THE MARKET TO HELP REDUCE ALLERGENS IN THE HOME. HER BUSINESS IS HEALTHY HOUSEKEEPER INCORPORATED, AND SHE LIVES IN OVERLAND PARK, KANSAS. ANOTHER GUEST IS CLARE ROWLEY, AND SHE'S AN INVENTOR AND OWNER OF A COMPANY THAT MAKES UNUSUAL PRESSER FEET FOR ALL BRANDS AND MODELS OF SEWING MACHINES. SHE'S GOING TO SHOW HOW TO SEW ON DECORATIVE TRIMS, LIKE RIBBONS, ONTO A PIECE OF FABRIC USING THE SEQUINS AND RIBBON PRESSER FOOT THAT SHE INVENTED. THIS IS ESPECIALLY USEFUL WHEN MAKING SMALL ITEMS, LIKE DOLL CLOTHES. CLARE'S COMPANY IS CREATIVE FEET, AND SHE'S FROM PRESCOTT VALLEY, ARIZONA. AND WE'LL BEGIN THE SHOW WITH SANDY GROSSMAN-MORRIS. AND SHE'S GOING TO SHOW HOW A PLAID NEEDLEPOINT DESIGN IS CREATED BY REPEATING CERTAIN SETS OF NUMBERS THAT CAN BE INDIVIDUALIZED FOR EACH PERSON. FOR INSTANCE, THIS COULD BE A PERSON'S BIRTHDAY, THEIR ANNIVERSARY DATE, OR EVEN A HOUSE NUMBER. AND EACH PLAID SET RESULTS IN A ONE-OF-A-KIND DESIGN. SANDY'S BUSINESS IS SANDY GROSSMAN-MORRIS DESIGN, AND SHE LIVES IN BRENTWOOD, CALIFORNIA. SANDY, THANKS SO MUCH FOR BEING HERE. WHEN I THINK OF PLAID, I STILL REMEMBER WHEN I WAS FIRST LEARNING TO SEW AND HOW YOU HAD TO CUT OUT PATTERNS AND HAD TO MAKE THOSE PLAIDS EXACTLY NEAT. AND IF THEY DIDN'T, IT WAS JUST A DISASTER. WELL, I LIKE WHAT YOU'VE DONE NOW WITH PLAIDS. BUT EXPLAIN HOW YOU CAME UP WITH WORKING WITH PLAIDS WITH CANVAS. >> I'M NOT THE FIRST ONE TO COME UP WITH IT, BUT I LIKE TO THINK OUTSIDE THE BOX AND HAVE SOME FUN WITH IT. AND I LIKE TO DO SPECIAL PLAIDS THAT ARE BASED ON SETTING UP A SET, OR SEQUENCE OF NUMBERS, BASED ON A DATE THAT'S IMPORTANT TO SOMEONE. THAT'S KIND OF FUN. >> AND THIS ONE IS MY PLAID. >> IT IS YOUR PLAID. >> IT'S JUST UNIQUE TO THE DATES THAT I GAVE YOU. >> YES. THE SPECIAL DATE THAT YOU GAVE ME. AND SO I CREATED THAT PLAID FROM THOSE DATES. SO YOU'LL ALWAYS HAVE THAT TO BE ABLE TO REMEMBER THE DATE. NO ONE ELSE HAS THAT PLAID. AND YOU CAN SEE IN THE BACK WHERE IT ALL MATCHES UP PERFECT. >> YOU DID BETTER THAN WHEN I USED TO SEW AND TRY TO MATCH PLAIDS. >> I SEWED, TOO, AND MY TEACHERS TAUGHT ME WELL. >> WELL, THAT'S GREAT. THIS IS A LITTLE NIGHT LIGHT. AND REALLY, THE PART WE WANT TO TALK ABOUT IS THE LITTLE PLAID INSERT. >> YES. THE REASON I DID THAT, SHERYL, IS TO SHOW YOU THAT YOU DON'T NEED A GREAT BIG EXPANSIVE AREA TO DO A PLAID. THAT'S A FAIRLY SMALL AREA. AND YET, IN THAT PLAID IS BASED ON ACTUALLY SOME NUMBERS THAT ARE IMPORTANT TO ME. SO THAT'S WHY I DESIGNED IT IN THAT PARTICULAR CANVAS, AND I COULD TELL THAT LOOKED REALLY WELL WITH THE SUNFLOWER. >> AND THE EXAMPLE IS, WE CAN MAKE THE WHOLE THING OUT OF PLAID, OR, FOR INSTANCE, IN THIS DESIGN, WHAT PART WOULD YOU RECOMMEND DOING IN A PLAID? >> IF IT WERE UP TO ME, I WOULD DO THIS OUTER PART HERE IN A PLAID. I THINK IT WOULD REALLY MAKE THAT PARTICULAR CANVAS-- WHICH IS ONE OF MY DESIGNS--POP. AND SO I THINK IT WOULD BE VERY EASY TO DO AND IT WOULD LOOK VERY WELL. >> I THINK SO, TOO. >> YES, YES. >> GOOD EXAMPLE. WOW! WE'VE GOT SANTA. >> THIS IS THE CLAUS. >> THE CLAUS! >> NOW, DOING THIS IN JUST A REGULAR TENT STITCH WOULD BE BORING. SO I THINK POP IT UP WITH SOME FUN STITCHES, AND THEN I WOULD DO HIS SUIT AND HIS HAT IN A PLAID. HOW FUN IS THAT? >> LIKE RED AND GREEN OR WHAT WOULD YOU SUGGEST? >> YOU COULD DO RED AND GREEN, ABSOLUTELY. DO MOSTLY RED OR A COUPLE SHADES OF RED AND MAYBE BRING IN SOME GOLD OR SOMETHING LIKE THAT MIGHT KIND OF MAKE IT POP. >> SO HOW MANY DIFFERENT COLORS COULD YOU WORK INTO YOUR PLAID? >> THAT'S UP TO YOU. AND I'LL TALK ABOUT THAT, HOW YOU WOULD MAKE THOSE SETS AND HOW YOU CAN DESIGN YOUR OWN PLAID. >> OH, OK. I'LL WAIT AND FIND THAT OUT IN A MINUTE. >> HERE'S THE HERD. AND I THINK THAT WOULD BE CUTE DOING EACH REINDEER IN A SEPARATE PLAID. >> THAT'S A GOOD IDEA. YEAH. >> OR MAYBE JUST THE CENTER ONE AND DO THESE IN DIFFERENT STITCHES, JUST TO MAKE ONE POP. >> OK. >> MAYBE RUDOLPH. >> OF COURSE. HA! HERE'S ANOTHER ONE. >> THIS ONE HERE HAS 3 SHADES OF GREEN ON THESE TREES. AND I THINK DOING THOSE IN PLAIDS WOULD REALLY MAKE THIS PARTICULAR CANVAS VERY INTERESTING. >> WHEN YOU SELL THESE TO PEOPLE, DO THEY USUALLY HAVE IN MIND WHAT THEY WANT TO DO? WOULD ANYBODY ELSE HAVE EVER THOUGHT ABOUT DOING PLAID ON CHRISTMAS TREES? >> WELL, PROBABLY NOT, BUT I HAVE A WEBSITE AND A NEWSLETTER, AND SO THEY CAN SIGN UP FOR MY NEWSLETTER, AND I PUT OUT INFORMATION LIKE THAT, SHOW HOW TO DO IT. AND SO THEY CAN SEARCH OUT DIFFERENT CANVASES THAT WILL MAKE THAT COME TOGETHER. >> KIND OF LEND THEMSELVES TO IT. >> YES, ABSOLUTELY. >> AND YOU PROMISED TO SHOW US HOW TO DO THIS. >> I DID. >> NOW, WE'RE WORKING WITH BIG SAMPLES-- >> WE ARE. ABSOLUTELY. >> FOR SOME OF US TO SEE BETTER. >> LARGE NEEDLES. THIS IS JUST A SPORT WEIGHT YARN AND HUGE CANVAS. >> UH-HUH. >> AND IT'S NOT GOING TO LOOK AS GOOD AND AS TIGHT AS THAT, SIMPLY BECAUSE OF THE SIZE THAT WE'RE DEALING WITH HERE. BUT I WANT TO TEACH YOU HOW. IT'S VERY, VERY IMPORTANT. WHAT YOU WANT TO DO FIRST, SHERYL, IS YOU WANT TO DETERMINE THE TOP OF YOUR CANVAS, AND I PUT A "1" UP THERE. >> THAT'S THE TOP. >> AND THAT'S THE TOP. AND THEN I TURN IT 90 DEGREES, AND I PUT A 2. AND THAT'S GOING TO BE OUR SECOND PART OF THIS STITCHING. >> 'CAUSE IT GOES ACROSS, AND THEN IT COMES UP AND DOWN. >> ABSOLUTELY. >> THAT'S WHY YOU ONLY MARK TWO. >> EXACTLY. THAT'S IT. SO, WHAT YOU WANT TO DO TO CREATE THE PLAID--AND THIS IS HOW THEY ACTUALLY MAKE THE TARTANS IN SCOTLAND. >> OH! >> BUT THEY USE A WEAVING, SO YOU HAVE YOUR WARP AND YOUR WEFT. AND HERE WE'VE GOT OUR HORIZONTAL AND OUR VERTICAL... >> AND IT'S DONE SEPARATELY. >> THREADS. YES. SO, ON A WEAVING, YOU WOULD ALREADY HAVE THESE VERTICAL STITCHES, THE THREADS GOING. SO, WHAT YOU WANT TO DO HERE IS WE'RE GONNA PRETEND AND WE'RE JUST GOING TO GO--AND YOU'RE GOING TO GO OPPOSITE OF WHAT WE NORMALLY DO WHEN YOU'RE STITCHING. YOU USUALLY DO FROM THE LOWER LEFT TO THE UPPER RIGHT. WE'RE GONNA DO OPPOSITE, AND WE'RE GONNA GO FROM THE LOWER RIGHT TO THE UPPER LEFT. WE'RE GOING TO GO THROUGH THERE. >> I GUESS YOU'LL EXPLAIN MORE. >> THEN WE'RE GOING TO SKIP A STITCH, AND THEN WE'RE GOING TO DO THE NEXT ONE. >> SO INSTEAD OF MAKING THE X... >> WELL, THAT WOULD BE IN CROSS STITCH. BUT WHAT WE WANT TO DO IS WE WANT TO DO EVERY OTHER STITCH. >> TO LEAVE ROOM FOR THE OTHERS THAT WE'RE GOING TO ADD? >> THEN WE'RE GOING TO TURN IT THIS WAY, AND WE'LL DO THESE AND WE'LL FILL EVERY OTHER STITCH IN HERE. >> OK. >> SO YOU WOULD JUST GO ACROSS. AND THIS ONE IS BASED ON A SIMPLE SET OF 1, 2, 3, 4. WHAT THAT MEANS IS YOU CREATE A SET, AND THEN YOU REPEAT IT. AND A SET IS A SEQUENCE OF NUMBERS. AND SO IF YOU'RE GOING TO A DATE, SAY, THAT IS 12/18/1965, FOR INSTANCE, THEN YOU WOULD HAVE 1 ROW OF THE FIRST COLOR, 2 ROWS OF THE SECOND COLOR. >> HENCE THE 12. >> CORRECT. 1 ROW OF THE THIRD COLOR, 8 OF THE NEXT COLOR-- 8 ROWS. AND THEN 6 OF THE FOLLOWING AND 5 OF THE LAST COLOR. YOU CAN REPEAT THOSE COLORS, AS YOU CAN SEE IN SOME OF THOSE, BUT THAT GIVES YOU YOUR SEQUENCE. SO YOU GO AHEAD AND YOU DO ONE ROW-- >> OK. >> EVERY OTHER STITCH. >> EVERY OTHER STITCH. GOT IT. >> AND THEN ON HERE--YES. AND THEN ON THIS ONE, I'VE GOT THIS THREADED. THIS WOULD BE... FOR YOUR SECOND AND THIRD ROWS, WHICH WOULD BE 2, BECAUSE WE'RE USING THE SEQUENCE 1, 2, 3, 4, JUST TO MAKE IT EASY. >> UH-HUH. >> AND YOU CAN USE AS MANY COLORS AS YOU WANT. GET TOO MANY, IT'S TOO BUSY. >> KIND OF BUSY. >> I WOULDN'T GO WITH ANY LESS THAN 4. >> OK. >> SO, HERE, WE'VE DONE THIS ONE HERE. >> YOU SKIPPED THAT HOLE. >> WE'RE GOING TO SKIP THAT ONE AND DO THIS PARTICULAR STITCH. THEN WE SKIP ONE-- >> IT'S THE SAME--ALL THE WAY ACROSS. >> ALL THE WAY ACROSS. YOU WILL DO 2 ROWS. AND YOU CAN GO OVER, COME BACK. BE SURE TO SKIP-- >> THAT'S 1 AND THEN 2, SO THERE'LL BE 2 PINKS. >> YES, EXACTLY. AND THEN YOU WORK THAT OFF. AND IF YOU DO IT CORRECTLY, IT'LL BE THE SAME ON BOTH SIDES. >> NOW, IF WE GET ALL THE WAY ACROSS HERE, DO WE JUST TURN AROUND AND GO BACK? >> YOU CAN. ABSOLUTELY. >> WE DON'T HAVE TO TIE OFF. >> NO, YOU DON'T HAVE TO, BUT YOU CAN. >> AND THEN THE 3 ROWS, WE DO THE SAME THING, COME ACROSS, BACK, AND THEN ACROSS. >> BACK AND FORTH. >> OK. >> SO, THIS IS THE NEXT ONE. AND WHAT WE'VE DONE HERE-- >> WOW. YOU'VE GOT A LOT DONE ON THIS ONE. HERE'S THE 1, YEAH. >> THIS SHOWS HERE WE'VE GOT-- WHOOPS. OK, SO THIS IS WHAT IT LOOKS LIKE ON THIS HALF, WHERE YOU'VE GOT ALL YOUR HORIZONTAL LINES DONE. THEN WE WOULD TURN IT SO THE 2 IS AT THE TOP, AND THEN YOU'RE GOING TO GO IN AND FILL IN EVERY OTHER STITCH, BECAUSE IT'S EMPTY-- >> OH, I CAN SEE THIS NOW. ROW 1, 2 PINKS, 3 ORANGES, AND 4 YELLOWS. THAT'S YOUR 1, 2, 3, 4 PATTERN. >> EXACTLY. SO YOUR NEXT ONE, YOU'D START THIS PATTERN, THE SET. SO THIS IS A SET OF 1, 2, 3, 4. >> RIGHT. >> IT COULD BE ANY NUMBER WHAT YOU WANTED, BUT THIS SET, THEN, IS REPEATED DOWN HERE AND THEN AGAIN. >> AND IF IT DOESN'T COME OUT EVEN, THAT'S OK. >> THAT'S OK. YOU CAN SEE ON HERE ON BOTH OF THOSE WHERE IT DOESN'T. IT'S GOTTA END SOMEWHERE. >> SO THAT'S JUST THE WAY IT WORKS. >> OH, ABSOLUTELY. >> OH, I SEE. NOW IT'S MAKING SENSE. >> RIGHT, SO THAT'S HOW YOU DO-- >> SO WE START ALL OVER AND CONTINUE AND DO OUR SET AGAIN-- >> RIGHT. >> THEN ANOTHER TIME. AND WHEN YOU USE A DATE, IT'S REALLY EASY TO REMEMBER YOUR SET. >> OH! OK. >> AND THEN IT'S A PLAID THAT NOBODY ELSE HAS. >> THAT'S UNIQUE. AND I'M SO PROUD OF THE ONE YOU MADE FOR ME. THANK YOU. >> YOU'RE WELCOME, SHERYL. >> CLARE, THANK YOU SO MUCH FOR BEING HERE. WE WERE TALKING ABOUT HOW WE'VE ALL GIVEN THE DOLLS, THE LITTLE DOLLS TO OUR DAUGHTERS OR GRANDDAUGHTERS. AND SOMETIMES I THINK OUR ULTERIOR MOTIVE IS TO HOPEFULLY INSPIRE THEM TO LEARN TO SEW BECAUSE WE WANT THEM TO. >> EXACTLY. >> AND YOU'VE DONE JUST THAT. >> RIGHT. YOU CAN TAKE EXISTING CLOTHING AND EMBELLISH IT OR MAKE FROM SCRATCH USING SIMPLE SCRAPS OF FABRIC LIKE THIS AND JOIN TWO TOGETHER TO MAKE YOUR OWN SKIRT. THIS ONE WAS AN OUTFIT THAT THEY HAD WHERE A PAIR OF SHORTS--TOOK THE SHORTS OFF, TOOK THE BELT OFF, ADDED BEADS ON. >> WOW. THAT LOOKS LIKE THE HARD PART. >> AND ACTUALLY, THIS ONLY TOOK ABOUT 15 MINUTES COMPLETE SEWING TIME. WE DID THE ELASTIC WITH THE SEQUINS 'N RIBBON FOOT. THIS TURNS HER EVENING GOWN INTO AN AFTERNOON AFFAIR. >> MINI-SKIRT. YOU CAN SEE THIS BEAD WAS SEWN RIGHT ON THE VERY EDGE OF THE FABRIC WITH NO STABILIZING AT ALL. >> WOW. HOW BEAUTIFUL. >> AND THE ELASTIC'S SEWN ON WITH OUR SEQUIN-- >> I WOULD HAVE SWORN IT CAME JUST LIKE THAT, IT LOOKS LIKE. >> RIGHT. >> OK. AND YOU SAID YOUR DAUGHTER ACTUALLY MADE THIS. >> YES, SHE DID. >> WOW! >> SHE MADE IT WHEN SHE WAS 9 YEARS OLD. AND SHE AND A GIRLFRIEND, THEY JUST KEPT SEWING ROWS AND ROWS AND ROWS OF TRIMS, WHICH ARE DONE WITHOUT HAVING TO HOLD THE FABRIC AT ALL. >> AND YOU'RE GOING TO SHOW US IN A MINUTE HOW TO DO THAT. >> AND THEN I SEWED UP THE SIDE SEAM. AND THEN I TOOK IT FROM HER. HA HA! >> AND YOU'VE KEPT IT EVER SINCE, YOU SAID. >> NOW SHE'S SEWING. >> AND HERE'S ANOTHER ONE OF THESE BEAUTIFUL-- >> THIS IS ANOTHER APPLICATION WHERE WE JUST TAKE SOME RIBBON, SEW SOME BEADS ON. >> AND THIS TIME, YOU ACTUALLY MADE THE SKIRT. >> RIGHT, SO WE MAKE THE WHOLE COMPLETE SKIRT. >> OH, SHE'S SO PRETTY. >> AND THEN HERE IS ANOTHER WHERE I TOOK THE HAT OFF AND I ADDED SOME SEQUINS RIGHT ONTO THE HAT, THE EXISTING HAT. >> OH! UH-HUH. >> AND THEN ADDED THIS LACE TO THE SHIRT THAT THEY SUPPLIED WITH THE DOLL AND THEN ADDED THE BEADS ONTO IT, MAKING A LITTLE DRESS INSTEAD OF-- >> GOSH, YOU COULD HAVE TWICE AS MANY CLOTHES TO PLAY WITH. THAT'S WHAT I LOVED ABOUT IT ANYWAY WAS MAKING THE CLOTHES. >> EXACTLY. IT'S SO MUCH FUN. AND YOU WERE TALKING ABOUT THE SPECIAL FEET. THERE'S ACTUALLY TWO. ONE'S CALLED, LET'S SEE, SEQUINS 'N RIBBON AND PEARLS 'N PIPING. >> RIGHT. >> AND THEY CAN KIND OF BE USED INTERCHANGEABLY, IS THAT RIGHT? >> YEAH, YOU CAN USE THEM TOGETHER OR SEPARATELY. >> AND THE GOOD THING IS, THEY GO ON EVERY MACHINE. >> EXACTLY. >> THAT'S GREAT. >> THEY ADJUST TO EVERY MACHINE WITH ADAPTERS, AND THEY ALSO ADJUST, LIKE THIS SEQUINS 'N RIBBONS HAS A GUIDE THAT YOU TURN IT, AND IT CHANGES THE POSITION OF THE TRIM UNDERNEATH THE NEEDLE, SO IT DOESN'T MATTER WHAT SEWING MACHINE IT IS. >> OH. >> AND WE JUST SLIDE TRIMS RIGHT INTO THAT SLOT. NOW, YOU MAY FIND THAT YOU HAVE A WIDE VARIETY OF SIZES OF TRIMS, AND THAT'S WHAT THESE ARE FOR. THIS IS THE SEQUINS 'N RIBBON FOOT. AND I HAVE OUR LOW SHANK ADAPTOR ON THE MACHINE, WHICH TURNS THIS MACHINE INTO A UNIVERSAL SNAP-ON FOOT MACHINE. >> THAT'S WHY THESE WORK ON EVERY MACHINE. >> EXACTLY. SO NORMALLY IF A PERSON HAS TO SCREW THEIR FOOT ON, IT GETS HARD, ESPECIALLY AS WE AGE. NOW YOU CAN JUST SCREW THAT ADAPTOR ON ONCE, AND YOU CAN JUST TAKE IT OFF AND PUT IT BACK ON AS MANY TIMES AS YOU WANT. >> WOW. UH-HUH. >> AND IT WILL NOT BREAK. >> LASTS A LIFETIME, YOU SAID. >> EXACTLY. AND WE GIVE YOU A REPLACEMENT SHOULD YOU DO ANYTHING TO IT. WE HAD PEOPLE DRIVE OVER THEM WITH THEIR CAR. I'M NOT SURE HOW THAT HAPPENED. >> NOW, THIS IS SHOWING PUTTING THE TWO PIECES OF FABRIC OR DRESS OR WHATEVER YOU HAVE-- >> SO, HERE WE HAVE AN ALMOST COMPLETED SKIRT. WE JUST NEED TO SEW THE VELCRO ONTO IT, AND IT'S A LITTLE SKIRT. >> UH-HUH. >> TO GET THIS, YOU JUST TAKE A PIECE OF FABRIC, AND I JUST CUT A RANDOM SHAPE AND THEN USED BASTING GLUE TO GLUE THESE 2 PIECES TO EACH OTHER. >> OH, I SEE. THAT HELPS HOLD IT WHILE IT'S UNDER THE MACHINE. >> EXACTLY. SO, NO PINNING MEANS YOU AREN'T GONNA BREAK YOUR SEWING MACHINE NEEDLE ON THE PINS. THEN YOU JUST VERY, VERY, EVER SO LIGHTLY JUST BRUSH YOUR FINGER OVER IT AND THEN WAIT FOR IT TO DRY. >> DRY. MM-HMM. >> AND IT WASHES AWAY, SO IF YOU GET ANY ON YOU OR THE CARPET OR A CHILD, IT'LL COME RIGHT OFF. >> I'M GONNA TAKE AND SHOW YOU HOW WE CAN SLIDE RIBBON RIGHT INTO THIS, TOO. AND IT COMES OUT THE BACK SIDE. SO, IF YOU HAVE A VIKING OR BROTHER OR JANOME, ALL OF THE ZIGZAG STITCH DON'T LINE UP THE SAME. SO, THIS NUT ON THIS FOOT TURNS AND MOVES THE RIBBON OVER TO THE SEWING MACHINE NEEDLE. AND I HAVE SET ON IT A DECORATIVE STITCH. HOWEVER, YOU COULD USE A DOUBLE NEEDLE AND SEW BOTH SIDES DOWN AT THE SAME TIME. >> OH, YOU COULD? UH-HUH. >> SO, THIS IS A DECORATIVE STITCH FOR THOSE WHO HAVE DECORATIVE STITCHES. >> AND SOME OF US HAVE LOTS OF THOSE AND HAVE NEVER USED THEM. >> RIGHT. >> THIS MIGHT BE FUN TO TRY. >> SO, YOU CAN ADJUST THAT TO ACTUALLY TURN THE RIBBON, WHICH IS IMPOSSIBLE TO DO WITHOUT THIS FOOT. LET ME MOVE IT THE OTHER WAY, AND NOW WE CAN TURN IT-- >> OH, IT'S DOING IT BY ITSELF. I THOUGHT YOU WERE. >> RIGHT. NO GUIDING THE TRIM, ALWAYS THE FOOT DOING THE GUIDING THAT ALLOWS OUR HANDS TO BE RELAXED AND TAKES THE PRESSURE AWAY FROM US. IF YOU HOLD THE TRIM WHILE HOLDING THE FABRIC, IT GATHERS. >> OH, YEAH. THAT MAKES SENSE. >> SO, WE WANT TO ALWAYS LET THE RIBBON BE...FREE. >> SO, IT'S JUST A FREE-MOTION SEWING TYPE OF TECHNIQUE. >> IT SEEMS LIKE IT, BUT THE FEED DOGS ARE IN FACT ENGAGED AND FEEDING THE FABRIC THROUGH, SO WE'RE NOT ABLE TO MESS IT UP. >> HA HA! >> AND NOW I'M GONNA SHOW HOW YOU CAN SEW ON BEADED RIBBON WITH THE PEARLS 'N PIPING FOOT. >> THAT DESIGN LOOKS REALLY GOOD ON THAT. >> YEAH, SORRY. THERE WE GO. AND YOU MIGHT WANT TO STABILIZE THE FABRIC A LITTLE BIT. WHEN WE BEND RIBBON, IT CAUSES A LITTLE PRESSURE ON THE FABRIC. SO, THIS IS THE SEQUINS 'N RIBBON FOOT. NOW WE'RE GONNA SWITCH TO THE PEARLS 'N PIPING FOOT. >> AND YOU'RE LEAVING THE SAME ADAPTOR ON. >> RIGHT. I ACTUALLY JUST PUT BEADS ON THE RIBBON-- >> OH! >> BEFOREHAND. AND THEN THIS FOOT WILL RIDE RIGHT OVER THOSE BEADS, ALLOWING ME TO ALSO BEND THE RIBBON WHILE ACTUALLY SEWING THE BEADS ON-- >> WOULD YOU RECOMMEND DOING THAT FIRST, ADDING THE BEADS TO THE RIBBON? >> IN THIS CASE, YES. IT'S MUCH EASIER TO SEW THE BEADS ONTO THE RIBBON AND THEN-- >> PUT IT ON THE FABRIC. >> SEW THE RIBBON DOWN, RATHER THAN TRY TO STEER OVER THE RIBBON AND THEN SEW THE BEADS ON. >> OH, I SEE. OK. THAT'S A GOOD POINT. >> AND THE BEADED RIBBON IS LIKE $11 A YARD, AND NOW YOU CAN MAKE IT YOURSELF FOR ABOUT 22 CENTS. >> WOW! THAT'S AN INCENTIVE IF I EVER HEARD ONE. >> RIGHT. AND WE'RE GONNA USE-- ONCE AGAIN, THIS IS JUST A STANDARD ZIGZAG STITCH ON THE SEWING MACHINE. AND IN THE INSTRUCTIONS, I LIST WHAT STITCH LENGTH AND STITCH WIDTH NEEDLE TO USE, NEEDLE THREAD, BOBBIN THREAD, STITCH WIDTH, STITCH LENGTH, SO THERE'S NO GUESSING. AND ONCE AGAIN, ONE FINGER GUIDING, NEVER HOLDING BOTH HANDS-- >> WHAT I NOTICE IS THAT YOU'RE NOT ALL HUMPED OVER THE MACHINE WHERE WE GET OUR BACKACHES. >> EXACTLY. SO IT'S A VERY LIGHT TOUCH. AND THEN YOU JUST KEEP BUILDING THIS, AND AFTER YOU'RE DONE, YOU COULD SEW ELASTIC ONTO THAT, OR YOU CAN GATHER UP THE WAISTBAND IF YOU'RE LEERY OF SEWING WITH ELASTIC OR VELCRO. YOU CAN ACTUALLY SEW LITTLE TRIM ON THE EDGE. >> AND THE THING YOU WERE TALKING ABOUT, LIKE TEACHING YOUNG PEOPLE TO SEW. OF COURSE, WHEN THEY CAN ACCOMPLISH SOMETHING, IT'S LIKE COOKING. IT'S INSTANT GRATIFICATION. >> ONCE YOU DO SOMETHING FROM SCRATCH, YOU BELIEVE THAT YOU CAN DO ANYTHING FROM SCRATCH, AND IT MAKES THE WHOLE WORLD OPEN UP TO YOU. >> WELL, THIS IS AMAZING, AND I LOVE THE COST SAVINGS. THAT'S GREAT. THANK YOU SO MUCH FOR SHOWING US HOW EASY THIS IS TO DO. >> IT'S MY PLEASURE. >> LAURA, THANK YOU SO MUCH FOR BEING HERE. I WAS TALKING TO YOU EARLIER ABOUT HOW APPROPRIATE THIS IS THAT WE'RE GOING TO TALK ABOUT ALLERGY RELIEF, BECAUSE IT SEEMS LIKE A LOT OF US ARE JUST HAVING A RUNNY NOSE AND MAYBE ITCHY EYES AND YOU DON'T FEEL TOO BAD, BUT IT'S JUST AN IRRITANT. >> IT REALLY IS. AND THERE'S SO MANY DIFFERENT THINGS THAT YOU CAN DO, SHERYL, TO CONTROL THE INDOOR AIR. WE REALLY CAN'T CONTROL WHAT'S GOING ON IN THE OUTSIDE ENVIRONMENT, BUT WE CAN CONTROL OUR HOME. AND WHEN YOU THINK ABOUT IT, YOU SPEND ABOUT 1/3 OF YOUR LIFE JUST IN YOUR BEDROOM SLEEPING. SO THAT'S ONE PLACE WE'RE GONNA TACKLE TODAY. ALSO, A LOT OF PEOPLE DON'T REALIZE THAT THE EPA HAS PUT OUT A STUDY SAYING THAT ALLERGIES AND ASTHMA HAVE INCREASED BY 700% IN THE LAST 15 YEARS. SO THERE'S A LOT OF SNIFFLY, SNIFFLY SNEEZING NOSES OUT THERE. >> WELL, LET'S START WITH ONE OF THE THINGS THAT YOU RECOMMEND, AND I THINK THAT'S A GREAT IDEA. >> OK. WELL, MY FIRST THING IS MICROFIBER CLEANING CLOTHS. AND THE REASON THAT I LIKE THESE IS BECAUSE THEY PICK UP 99.9% OF GERMS AND BACTERIA AND ALLERGENS OFF A SURFACE. >> SO, AS YOU'RE CLEANING, IT'S NOT JUST GOING BACK UP INTO THE AIR. >> EXACTLY. IT'S NOT BEING BLOWN AROUND. AND WHAT'S NICE ABOUT THESE IS THEY REALLY DO SUCK UP EVERYTHING, AND THEY BRING ALL THE GERMS AND BACTERIA INTO THE CLOTH SO YOU'RE NOT SMEARING IT. AND THE NICE THING ABOUT THE MICROFIBER CLOTHS, THE REAL NICE THING, IS YOU DON'T NEED CHEMICALS. >> OH! JUST USE THEM AS IS. >> THAT'S ONE THING A LOT OF PEOPLE COMPLAIN ABOUT WHEN THEY DO HAVE ALLERGIES. THEY DON'T WANT TO SPRAY A LOT OF CLEANING CHEMICALS, BECAUSE IT'S AN IRRITANT, OF COURSE. >> AND IT'S IN THE AIR AS WELL. >> EXACTLY. SO THIS WILL TAKE CARE OF THAT--MICROFIBER CLEANING CLOTHS. NEXT THING--DUSTERS. YOU WANT TO MAKE SURE THAT YOU GET A REALLY GOOD-QUALITY DUSTER. YOU DON'T WANT THE OLD CHICKEN FEATHER DUSTERS THAT JUST BLOW EVERYTHING BACK INTO THE AIR. YOU WANT TO MAKE SURE THAT YOU HAVE A DUSTER THAT'S REALLY GONNA TRAP AND LOCK THE DUST AND DIRT AND ALLERGENS. SO, LOOK FOR THAT. THE OTHER THING THAT I RECOMMEND IS TO GET ONE OF THE NEW ALLERGEN SPRAYS. THERE'S NEW ONES ON THE MARKET NOW. THEY ACTUALLY MAKE A FURNITURE POLISH THAT ACTUALLY HELPS REDUCE ALLERGENS. AND ANOTHER GOOD TIP FOR EVERYONE IS TO SPRAY THE FURNITURE POLISH DIRECTLY ON THE CLOTH. THAT WAY, YOU HAVE LESS IN THE AIR AND LESS TO BREATHE IN. >> THAT'S A GOOD POINT. I'VE ALWAYS TRIED TO DO THAT. >> YES. NOW, LET'S TALK ABOUT THE BED, BECAUSE IT IS WHERE WE SPEND 1/3 OF OUR LIFE. AND A LOT OF PEOPLE DON'T REALIZE, SHERYL, THAT THEY HAVE UNWANTED BED PARTNERS. >> THOSE MITES? >> YES, IT'S THE MITES. THAT'S RIGHT. AND DO YOU KNOW HOW MANY WE HAVE LIVING WITH US EVERY NIGHT? >> NO. >> IT'S ASTRONOMICAL. OVER 2 MILLION DUST MITES ARE SLEEPING WITH US EVERY NIGHT, SHERYL. YUCK! SO, WHAT ARE YOU GONNA DO? THIS IS THE BEST THING THAT I RECOMMEND IS PURCHASING THE MATTRESS PROTECTORS, THE ENCASEMENTS. I LIKE THE ALLEREASE BRAND. NOW, THE REASON I LIKE IT IS BECAUSE A LOT OF THE ALLERGEN ENCASEMENT COVER PROTECTORS, PILLOW PROTECTORS, THEY TEND TO BE CRACKLY AND PLASTIC AND-- >> UNCOMFORTABLE. >> MAKE A LOT OF NOISE. AND NOW THESE ARE SO SOFT. THEY'RE MADE OF COTTON. IT'S A BREATHABLE FABRIC. >> OH. UH-HUH. NICE. >> SO, YOU CAN SEE, IT MAKES YOUR BED FEEL REALLY, REALLY GOOD. LIKE I SAID, YOU'RE SPENDING 1/3 OF YOUR LIFE IN THE BEDROOM, SO IT'S REALLY IMPORTANT THAT YOU TAKE THE TIME. AND IT'S NOT THAT EXPENSIVE. YOU CAN ACTUALLY GET--THEIR WEBSITE, ALLEREASE.COM, THEY START OUT AT ABOUT 3.99. SO, IT'S AN AFFORDABLE OPTION FOR BREATHING EASIER IN YOUR BED. >> SO, PROTECTORS NOT ONLY FOR THE MATTRESS, BUT ALSO FOR THE PILLOWS. >> YES, YES. >> GOOD. >> YOU BET. >> NOW, WHAT'S MY LITTLE FRIEND DOING? >> OK, NOW, YOU KNOW A LOT OF TIMES, PEOPLE DON'T REALIZE, BUT A LOT OF CHILDREN--CHILD'S ASTHMA AND ALLERGY ATTACKS CAN ACTUALLY BE TRIGGERED AT NIGHT WHEN THEY'RE SLEEPING. AND A LOT OF PARENTS DON'T REALIZE THAT THE VERY TEDDY BEAR THAT THEY COULD BE SLEEPING WITH IS COVERED IN DUST MITES, BECAUSE DUST MITES THRIVE ON HIGH HUMIDITY. THEY LIKE MOISTURE. YOU KNOW LITTLE KIDS HOLD THEIR TEDDY BEAR AND THEY MIGHT PERSPIRE, AND THAT'S ALL GONNA HELP BREED THOSE DUST MITES. SO, WHAT I RECOMMEND IS YOU TAKE YOUR CHILD'S STUFFED TOY AND PUT IT IN A PLASTIC BAG. AND DUST MITES CANNOT WITHSTAND COLD TEMPERATURES. THEY NEED THE HUMIDITY AND THE WARMTH TO THRIVE. SO PUT YOUR CHILD'S TEDDY BEAR OR STUFFED TOY IN A PLASTIC BAG, PUT IT IN THE FREEZER-- >> DOES THAT KILL THE DUST MITES? >> AND THAT KILLS THE DUST MITES. I'D SAY STICK IT IN THERE FOR ABOUT 2 OR 3 HOURS AND LET 'EM ALL FREEZE AND DIE. AND THEN YOU TAKE IT OUT AND VACUUM IT WITH A HEPA VACUUM. THAT'S VERY IMPORTANT. >> A FILTER. UH-HUH. >> WITH THAT FILTER, AND THEN GIVE IT BACK TO YOUR CHILD. >> AND SEE IF IT WORKED. >> YEAH, THERE YOU GO. AND THEN LAST BUT NOT LEAST, I HAVE A HUMIDITY READER, AND IT'S VERY IMPORTANT THE HUMIDITY IN YOUR HOUSE IS 50% OR BELOW. THAT'S GOING TO HELP. SO, I GOT THAT FOR $3.00 AT ONE OF THE BIG BOX STORES, AND IT'S SUCH A BARGAIN, SO IT'S SOMETHING TO KEEP AN EYE ON, TOO. >> WELL, THAT'S GREAT TO KNOW. THESE ARE SOME GOOD TIPS, LAURA. THANK YOU SO MUCH FOR SHARING THEM WITH US. >> IT'S A PLEASURE. >> I HOPE YOU ENJOYED THE SHOW TODAY. NEXT TIME ON "CREATIVE LIVING," WE'LL LEARN HOW TO DECORATE COOKIES WITH A WATERCOLOR TECHNIQUE. WE'LL SHOW HOW TO MAKE A WALL HANGING USING AN OLD VINYL RECORD, AND THEN DEMONSTRATE SOME TURKEY RECIPES FOR FAMILY CELEBRATIONS. ONE OF MY NEXT GUESTS IS GOING TO SHOW HOW TO GIVE A BUTTERFLY COOKIE A PAINTED EFFECT USING THIN ROYAL, OR COOKIE ICING, TO CREATE KALEIDOSCOPE PATTERNS. THEN SHE ADDS OTHER ITEMS FOR ADDED FLAIR. ANOTHER GUEST IS A MIXED MEDIA ARTIST AND DESIGNER. AND SHE'S GOING TO BE USING GRAPHIC 45 PAPERS, A VINYL RECORD, AND OTHER EMBELLISHMENTS TO CREATE A BEAUTIFUL WALL HANGING. AND FINALLY, WE'LL TALK TO A REPRESENTATIVE FOR BUTTERBALL. SHE'S GOING TO TALK ABOUT GO-TO RECIPES FOR FAMILY CELEBRATIONS, INCLUDING SNACK IDEAS FOR KIDS, HEALTHY LUNCH IDEAS, AND IDEAS FOR USING LEFTOVER TURKEY. SHE ALSO HAS INNOVATIVE TURKEY RECIPES FOR DINNERTIME. ALL OF THESE TOPICS WILL BE FEATURED ON THE NEXT "CREATIVE LIVING" SHOW. IF YOU EVER HAVE COMMENTS OR SUGGESTIONS OR IDEAS FOR SHOWS, YOU CAN E-MAIL ME AT SHERYL.BORDEN@ENMU.EDU. I'D ALSO LIKE TO ASK YOU TO BECOME A FAN OF "CREATIVE LIVING" ON FACEBOOK. JUST GO TO FACEBOOK.COM, AND IN THE SEARCH WINDOW, TYPE IN "CREATIVE LIVING WITH SHERYL BORDEN." THANKS SO MUCH. I HOPE YOU'LL PLAN TO JOIN ME NEXT TIME FOR "CREATIVE LIVING." >> WE ARE VERY PLEASED TO OFFER A NEW BOOKLET THAT ACCOMPANIES THIS SERIES OF "CREATIVE LIVING". THIS BOOKLET IS TITLED "THE 6500 SERIES," AND IT FEATURES A WONDERFUL COLLECTION OF IDEAS AND INFORMATION, AND IT'S AVAILABLE FREE OF CHARGE ON OUR WEB SITE. POSTED AS A .PDF FILE, YOU CAN SIMPLY DOWNLOAD THE ENTIRE BOOKLET OR JUST THE SEGMENTS YOU'RE MOST INTERESTED IN. AS WITH ALL OF THE "CREATIVE LIVING" BOOKLETS, YOU'LL FIND INFORMATION ON FOODS AND NUTRITION, CLOTHING AND FASHION, HEALTH AND BEAUTY, HOME DECORATING, AND MUCH MORE. FOR YOUR COPY OF THIS BOOKLET, GO TO OUR WEB SITE AT KENW.ORG AND THEN CLICK ON "CREATIVE LIVING." SCROLL DOWN TO THE BOOKLET SECTION, AND YOU CAN CLICK ON THIS BOOKLET OR ANY OF THE OTHER BOOKLETS WE HAVE AVAILABLE ONLINE. ONCE AGAIN, JUST GO TO KENW.ORG, CLICK ON "CREATIVE LIVING," AND DOWNLOAD THE BOOKLET TITLED "THE 6500 SERIES." WE ALSO WANT TO ENCOURAGE YOU TO SIGN UP FOR OUR FREE E-NEWSLETTER. JUST CLICK ON THE "SIGN UP NOW" BUTTON AND INPUT YOUR E-MAIL ADDRESS. THAT'S ALL THERE IS TO IT. YOU'LL ENJOY READING AN UP-TO-DATE NEWSLETTER FILLED WITH INTERESTING TOPICS AND INFORMATION. THANK YOU.
Now Playing As: Captioned (English) (change)
In this episode, Sheryl highlights products that reduce allergens in the home. Two crafting guests demonstrate how to sew on decorative trim and create one of kink plaid needle point designs.
Media Details
Runtime: 27 minutes