Creative Living With Sheryl Borden #6521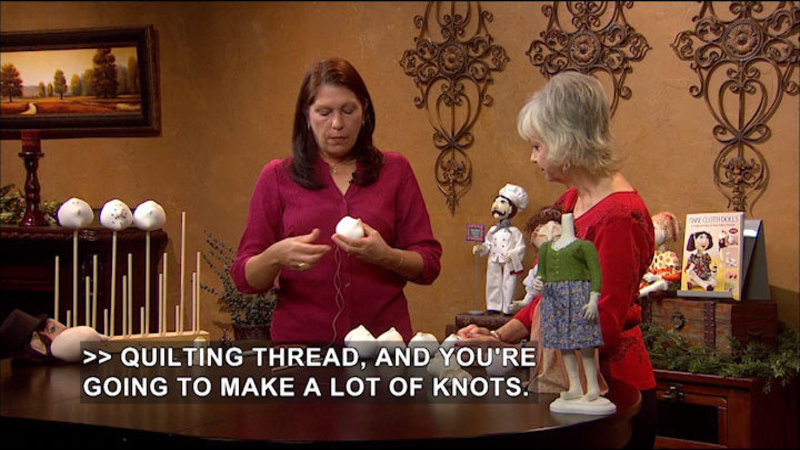 >> "CREATIVE LIVING," UTILIZING TODAY'S TECHNOLOGY WITH THE BEST OF THE PAST TO BRING YOU INNOVATIVE IDEAS AND UP-TO-DATE INFORMATION FOR CREATIVE LIFESTYLES IN TODAY'S ACTIVE WORLD WITH YOUR HOST SHERYL BORDEN. >> THANKS SO MUCH FOR JOINING ME TODAY FOR "CREATIVE LIVING.' WE'RE GOING TO LEARN WAYS TO ECONOMIZE IN THE KITCHEN, AND WE'LL SHOW HOW TO MAKE HAND-SCULPTED DOLLS. ONE OF MY GUESTS IS MICHELLE DUDASH, AND SHE'S A REGISTERED DIETICIAN AND SPOKESPERSON FOR THE CALIFORNIA RAISIN MARKETING BOARD. MICHELLE'S GOING TO EXPLAIN HOW TO ECONOMIZE YOUR KITCHEN BY CHOOSING FOODS THAT WILL ADD FLAVOR AND NUTRITION WITHOUT BREAKING THE BANK, AND WHILE WE MAY NOT BE ABLE TO DO MUCH ABOUT THE PRICE OF FOOD, SHE'S GOING TO SHOW WE CAN MAKE A FEW SIMPLE ADJUSTMENTS TO OUR GROCERY LIST TO HELP EXTEND OUR FOOD DOLLARS. SHE'S FROM SACRAMENTO, CALIFORNIA. AND WE'LL BEGIN THE SHOW TODAY WITH TERESE CATO, AND SHE'S AN AUTHOR AND DOLL MAKER WHO'S BEEN MAKING SOFT SCULPTED DOLLS FOR YEARS. TERESE WILL SHOW HOW TO SCULPT THE DOLL'S FACE BEFORE IT'S ATTACHED TO THE BODY, AND YOU'LL ENJOY SEEING MANY OF THE DOLLS THAT ARE FEATURED IN HER BOOK, WHICH IS TITLED "MAKE CLOTH DOLLS: A FOOLPROOF WAY TO SEW FABRIC FRIENDS." TERESE, THANK YOU SO MUCH FOR COMING AND BRINGING ALL OF YOUR TRAVELING COMPANIONS WITH YOU. I REALLY ENJOYED READING YOUR BOOK, BUT I GUESS MY FIRST QUESTION WAS HOW DID YOU GET INVOLVED IN SCULPTING THESE DOLLS? >> I STARTED SEWING WHEN I WAS 11. AN AUNT TAUGHT ME, AND I LOVED DOLLS AS A CHILD, SO I WANTED TO MAKE THEM, AND I JUST STARTED MAKING THEM AS A CHILD, AND IT EVOLVED. >> CREATING YOUR OWN PATTERNS AND DESIGNS AND STYLES? >> I DID BECAUSE I DIDN'T HAVE ANY PATTERNS, AND I LOOKED AT THE DOLLS I HAD AND SAID, "HMM. HOW DID THEY MAKE THESE?" AND JUST STARTED FROM THERE. >> WELL, I THINK THE THING THAT I FOUND SO FASCINATING WAS HOW YOU WORKED FROM THE BACK TO SCULPT, WHICH IS WHAT YOU'RE GOING TO SHOW US IN A MINUTE, BUT LET'S TAKE A LOOK AT THESE LITTLE FELLOWS AND GIRLS UP HERE AND MAYBE POINT OUT A COUPLE OF THINGS THAT ARE UNIQUE OR DIFFERENT ABOUT EACH ONE. >> OK. WELL, JUST AS PEOPLE ALL HAVE DIFFERENT FEATURES AND DIFFERENT NOSES, YOU CAN TAKE A SIMPLE SCULPTED FACE AND A PATTERN AND CHANGE THE SHAPE OF THE NOSE SLIGHTLY, AND YOU'VE GOT A NEW FACE. >> MM-HMM. >> AND BY TAKING DIFFERENT SCULPTING STITCHES AND PULLING THEM IN DIFFERENT DIRECTIONS, YOU'VE GOT A DIFFERENT EX-- >> SMILE OR FROWN. >> RIGHT. A DIFFERENT EXPRESSION. SO YOU JUST NEED TO PLAY AROUND WITH IT AND EXPERIMENT. >> AND YOU CAN TELL IN THE CHEF AND IN THE FELLA NEXT TO HIM THEIR NOSES ARE TOTALLY DIFFERENT, WHICH GIVES THEIR FACIAL EXPRESSION SUCH AN INDIVIDUAL CHARACTERISTIC. >> RIGHT. AND SOMETHING REALLY KIND OF NEAT IS FABRIC HAS STRETCH IN IT, AND IF YOU CUT YOUR PATTERN SO YOUR STRETCH GOES THIS WAY, YOU GET... >> UH-HUH. ELONGATED FACE. >> A LONG FACE, AND IF YOU PUT THE STRETCH THIS WAY, YOU CAN MAKE BIG, CHUBBY CHEEKS. >> I HADN'T THOUGHT ABOUT THAT. >> SO JUST BY CHANGING THE ORIENTATION OF THE PATTERN, YOU CAN WORK WITH THAT, AS WELL. >> IN THE FABRIC. AND NOW WE HAVE TWO LITTLE GALS HERE. THEY EVEN HAVE BLUSH ON THEIR CHEEKS AND DIFFERENT NOTIONS, BUTTONS, AND THEN YOU'VE PAINTED ON SOME OF THOSE, AND WHAT'S NEAT IS YOUR--I LIKE PEOPLE--I SAID I CAN FOLLOW OR COPY ANYTHING. I'M NOT ORIGINAL. SO IN THE BOOK, THERE'S PATTERNS FOR THE DOLLS AND SUGGESTIONS ON WAYS TO INDIVIDUALIZE THEM. >> EXACTLY. >> WELL, SO DO YOU START WITH THE HEAD, OR DO YOU START WITH THE BODY? >> I START WITH THE BODY, AND I TELL MY STUDENTS WHEN I'M TEACHING ONCE YOU'VE MADE A BEAUTIFUL BODY YOU DON'T HAVE TO WORRY ABOUT RUINING IT WITH THE HEAD. A LOT OF PEOPLE ARE VERY SCARED ABOUT "I CAN'T DO THAT." >> UH-HUH. >> AND SO I ALWAYS SAY, "THE HEAD TAKES A LITTLE BIT OF FABRIC. IF YOU DON'T LIKE IT, MAKE ANOTHER ONE." >> MAKE ANOTHER HEAD OR SAVE THAT ONE FOR ANOTHER BODY. >> RIGHT. PLUS IT'S EASIER TO DRESS A DOLL WHEN SHE HAS NO HEAD. >> OH. HADN'T THOUGHT ABOUT THAT. SO YOU EVEN MAKE ALL THESE LITTLE DOLL CLOTHES. I WOULD LIKE THAT PART OF IT. >> IT IS FUN. >> OK. WELL, LET'S JUST START WITH THE FIRST HEAD OR PART OF A HEAD AND SEE WHAT HAPPENS. >> I JUST POLYFILL. IT'S POLYESTER. >> LIKE PEOPLE THAT QUILT ARE FAMILIAR WITH IT. >> RIGHT. IF IT FEELS LIKE COTTON BALLS, YOU DON'T WANT TO USE IT BECAUSE IT LOOKS BUMPY UNDER THE FABRIC, AND YOU STUFF THE HEAD VERY FIRMLY. >> NOW WHAT IS THIS OUTSIDE FABRIC? WHAT IS THAT? >> THIS IS ACTUALLY KONA COTTON... >> KONA COTTON. >> AND I TEACH MY STUDENTS TO START WITH KONA COTTON BECAUSE IT'S SO EASY TO WORK WITH, AND THEN ONCE THEY MASTER IT, YOU CAN MOVE ON TO THE REAL STRETCHY STUFF BECAUSE THAT SEEMS TO BE FRUSTRATING AND HARD, BUT ONCE YOU-- >> KONA COTTON. OK. >> ONCE YOU'VE LEARNED--NOW WHEN YOU STUFF IT, YOU CAN REALLY SHAPE THE HEAD. IT NEEDS TO BE NICE AND FIRM. I MEAN, IF YOU HAVE BIG CHEEKS, PUSH THE STUFFING IN THERE AND GET IT NICE AND TIGHT. >> OK. >> SO NOW WE HAVE THE FINISHED HEAD, AND WE'RE GOING TO MAKE A NOSE, AND ON THE PATTERN, WE'RE GONNA GO DOWN THE BRIDGE OF THE NOSE, WE'RE GONNA MARK THE NOSTRILS, AND WE'RE GONNA MARK OUR SMILE. SO WHAT I DO IS I START BY STICKING PINS IN, AND THEN I DECIDE IF I'M HAPPY WITH IT. >> THESE WERE THE EYES SAW A WHILE AGO. >> WELL, THIS IS RIGHT HERE. >> OH. >> LIKE, THE TEAR DUCT AREA BETWEEN MY EYES, AND I'M GONNA GO DOWN TO THE TOP OF THE NOSE WIDTH, AND SO I MOVE THOSE PINS AROUND UNTIL I'M HAPPY WITH THEM. >> OH, OK! >> BECAUSE THEN YOU HAVE NO PROBLEM MOVING THEM, AND THEN I TAKE--I LOVE THESE PENS. >> I DO, TOO. >> THIS IS AIR-- >> AIR DRY OR DISSOLVE. >> JUST DISAPPEARS WITHIN 24, 48 HOURS, AND THIS IS WATER SOLUBLE, AND SO YOU CAN USE EITHER END. >> I LIKE THE BLUE. IT LASTS A LITTLE LONGER. >> IT LASTS A LITTLE LONGER, AND THEN WHEN YOU PAINT THE FACE, IT WILL DISAPPEAR. >> OH, YEAH. >> SO I'M GONNA MARK--I'M GONNA TAKE THE PINS OUT, AND I'M GONNA MAKE THE MARKS, AND THE COOL THING IS IF YOU WIGGLE THE PIN IT MAKES A HOLE IN THE FABRIC. >> SO YOU CAN TELL WHERE TO MARK. >> AND YOU CAN SEE EXACTLY WHERE TO MAKE THAT DOT, AND SO THAT MAKES IT A LITTLE BIT... >> OK. NOW WE'RE BEGINNING TO SEE HOW YOU'VE CREATED THE SHELL. I'LL TURN IT SIDEWAYS SO YOU CAN SEE THE LITTLE PROFILE. >> RIGHT. >> UH-HUH. >> NOW WHEN IT COMES TO NEEDLES, YOU DO NEED A LITTLE BIT OF A BIG NEEDLE, AND THE REASON IS WE'RE GOING TO-- >> WHAT IS THAT, ABOUT A 4--WHAT IS THAT? >> THAT'S ABOUT A 5-INCH NEEDLE. >> WOW! I DIDN'T EVEN KNOW THEY MADE THEM THAT LONG. >> THEY MAKE THEM EVEN LONGER. I USE 7-, 8-INCH NEEDLES FOR MY RAG DOLLS. MM-HMM. AND THE REASON IS WE'RE GOING TO PUT ALL OF OUR KNOTS ON THE BACK OF THE HEAD, AND IT'S GOING TO BE UNDER THE HAIRLINE SO YOU WON'T SEE IT, RIGHT, BUT I NEED TO GET FROM THE BACK OF THE HEAD TO THE FARTHEST SPOT, WHICH WOULD BE THE MOUTH DOWN HERE, SO, YOU SEE, I NEED THAT NEEDLE SO THAT I CAN JUST POKE IT WITHOUT... >> GETTING FRUSTRATED. >> GETTING FRUSTRATED, EXACTLY. SO YOU'RE GOING TO THREAD YOUR NEEDLE WITH WHAT'S COMFORTABLE FOR YOU BECAUSE-- >> WHAT IS THAT, JUST A STRONG-- >> IT IS A STRONG QUILTING THREAD. >> QUILTING THREAD. >> QUILTING THREAD, AND YOU'RE GOING TO MAKE A LOT OF KNOTS. SO YOU DON'T HAVE TO WORRY ABOUT LONG ENOUGH TO GO THROUGH THE WHOLE PROCESS. >> OH. STOP AND START. >> JUST WHAT YOU'RE COMFORTABLE WITH. EXACTLY. AND YOU'RE KNOTTING, AND YOU'RE COMING OUT TO THE FRONT, AND YOU'RE JUST SEWING BACK-AND-FORTH STITCHES THROUGH THE NOSE. >> HEH HEH. >> OK. AND THEN-- >> I SEE THE LITTLE NOSTRILS HAVE ALREADY BEEN CREATED ON THIS ONE. >> [COUGHS] EXCUSE ME. YES. AND IT'S JUST MAKING AN INDENTATION JUST TO GIVE YOU THAT HINT OF A HOLE. >> A HOLE. UH-HUH. >> MM-HMM. >> OK. >> AND THEN WE WILL WORK ON THE--I CALL THEM THE NOSE WING. >> EXCUSE ME. I HAD HIM UPSIDE DOWN. >> JUST UPSIDE DOWN! GETTING THAT SHAPE TO HAVE A INDENTATION HERE, AND WHEN YOU ARE PULLING YOUR STITCHES, THE MOST IMPORTANT THING TO REMEMBER IS DON'T JUST PULL THE THREAD. PUSH YOUR FINGER IN WHERE THE STITCH IS AND PULL THE SLACK OUT. >> KIND OF HELP IT IN OTHER WORDS, SHAPE IT. >> BECAUSE IF YOU JUST PULL IT, YOU COULD PULL A HOLE IN THE FABRIC. >> OH, YEAH. >> SO NOW WE'VE GOT OUR NOSE DONE, AND THAT'S A SIMPLE NOSE. >> MM-HMM. IT'S A NICE NOSE. >> IT'S A NICE NOSE, AND NOW WE WILL DO THE SMILE. >> OOH! THE SMILE. >> AND THE SMILE IS YOU CAN DO LITTLE LIPS, BIG LIPS, BIG SMILE. IT'S UP TO YOU. >> AND YOU PAINT THEN THE LIPS, LIKE, ON THE GIRLS. YOU CAN PAINT THEM AS LARGE AS YOU WANT, SO YOU'RE REALLY JUST CREATING THE SMILE LINE. >> THE SEPARATION... >> THE SEPARATION. >> BETWEEN THE LIPS IS WHAT WE'RE DOING. >> UH-HUH. >> AND ON THIS ONE, I THINK IT'S A LITTLE BIT LARGER THAN THIS ONE. THEY LOOK FUNNY WHEN THEY'RE NOT PAINTED, SO DON'T BE DISCOURAGED. >> THEY LOOK LIKE THEY HAVE NO TEETH OR DENTURES. >> THEY DO, BUT IT EVOLVES. SO JUST KEEP GOING WITH IT, AND IT WILL GET BETTER. >> UH-HUH. >> AND THAT'S IT. NOW WHEN YOU ARE--ALL THE PATTERNS IN MY BOOK, THE HEADS LOOK LIKE THIS. THIS IS THE BACK OF THE HEAD AND THE FRONT. >> IS THIS THE NOSE? >> THIS IS THE NOSE. >> OH. THIS IS THE NOSE. UH-HUH. >> THIS IS THE FOREHEAD, THE NOSE, AND THE CHIN. NOW YOU CAN CHANGE THE SHAPE OF THIS NOSE, AND IT WON'T ALTER THE PATTERN. >> JUST BY CUTTING IT LONGER OR SOMETHING? >> RIGHT. JUST TO GET LONGER, BIGGER, FATTER, WHATEVER YOU WANT TO DO, AND YOU'LL HAVE A DIFFERENT FACE. >> MM-HMM. SO EVERYONE'S DIFFERENT JUST LIKE PEOPLE. >> EXACTLY, AND YOU DON'T HAVE TO WORRY ABOUT NOW THE PATTERN WON'T WORK BECAUSE IT WILL. THE WAY IT GOES TOGETHER, AS LONG AS YOU DON'T CHANGE THIS LINE-- >> CUT TWO OF THESE AND TWO OF THESE. >> EXACTLY. >> MM-HMM. >> AND-- >> YOU WANT TO TAKE A LOOK AT THIS AND SHOW US? >> THIS IS PRINCESS NOLA. >> I LIKE HER LITTLE LIPS. HA HA HA! >> NOW HER LITTLE LIPS ARE PUCKERED BECAUSE SHE'S KISSING HER FROG. >> OH, WHICH IS RIGHT HERE. >> SO THIS IS HER HEAD BEFORE IT'S STUFFED, AND YOU SEE THAT SHE HAS A LITTLE SEPARATION OF THE LIPS THERE, AND I'M GONNA STUFF THAT, AND THAT'S GONNA GIVE ME THOSE LITTLE BUMPS TO WORK WITH. >> YOU MEAN, YOU WILL ACTUALLY PUT THE POLYFILL WITHIN THOSE LITTLE-- >> IN THOSE LITTLE BUMPS, AND YOU THINK IT DOESN'T DO MUCH, BUT YOU SEE IT DOES. >> AND IS THAT WHAT THIS IS FOR? IS THAT FOR POKING IN... >> FOR STUFFING. >> SMALL STUFFING? OK. >> I ALWAYS TELL MY STUDENTS IF YOU HAVE A STUFFING FORK, A SPECIAL TOOL, AND YOU LIKE IT, USE IT. >> USE IT. >> I USE-- >> THAT'S A DOWEL ROD, ISN'T IT? >> JUST A DOWEL. >> UH-HUH. >> YOU CAN USE A CHINESE, UM... >> CHOPSTICK. >> CHOPSTICK. >> OH, YEAH! >> AND ALSO AN UNSHARPENED PENCIL BECAUSE THE ERASER END HELPS TO GRAB THE STUFFING. RIGHT. >> SO THIS IS JUST SO CUTE. >> SO THIS IS HER HEAD SCULPTED. NOW HER EYES AREN'T OPEN, SO I DID SCULPT AROUND HER EYES SO THEY'RE INDENTED A LITTLE BIT, AND SHE DOESN'T HAVE THAT STRAIGHT LINE DOWN HER NOSE BECAUSE BY SCULPTING HER EYES IT GAVE HER THAT BRIDGE. YOU SEE THIS BRIDGE THAT WE--ON THESE, WE SCULPTED DOWN, BUT WE DIDN'T NEED TO WITH HER BECAUSE THE ACT OF DOING THE EYES GAVE HER THAT BRIDGE OF HER NOSE. >> SO TALKING ABOUT THE NOSE, LET'S GO BACK ONE MORE TIME BECAUSE NOW I SEE WHAT YOU'RE TALKING ABOUT IN THE CHEF AND THE--WHAT IS THIS GUY'S NAME? >> GREGORY. >> GREGORY. GREGORY HAS A LONG, POINTED NOSE. >> HE DOES. >> I'M GONNA TURN HIM A LITTLE PROFILE. SO THAT WAS SIMPLY TAKING THAT SAME PATTERN AND CUTTING IT LONGER? >> AND JUST MAKING THOSE SUBTLE, LITTLE CHANGES, EXACTLY. >> AND SHE JUST HARDLY HAS A LITTLE NOSE. >> WELL, SHE'S MY LITTLE RAG DOLL, AND THE ONLY SCULPTING SHE HAS IS ON HER MOUTH JUST TO GIVE HER A LITTLE SMILE. >> A LITTLE HEART MOUTH. >> AND THAT'S IT. >> AND I THINK THIS IS ADORABLE. SHE EVEN HAS HER DOLL WITH HER, HER BABY. OK. >> I LOVE TO ACCESSORIZE, AND SO EVERY BABY NEEDS A BABY, EVERY RAG DOLL NEEDS A RAG DOLL. >> AND THEN SHE HAS A TINY, LITTLE MOUTH THAT'S KIND OF SUNKEN IN. >> BECAUSE I PULLED THAT STITCH WITH A LOT OF TENSION TO GIVE HER THAT INDENTATION IN HER MOUTH. >> WELL, I WISH WE COULD GO STEP BY STEP. UNFORTUNATELY WE DON'T HAVE TIME, BUT THANK YOU FOR SHOWING US BECAUSE I THINK THIS IS THE START OF WHAT CREATES THAT INDIVIDUALIZED DOLL THAT YOU MAKE. >> IT DOES, AND IT'S SO MUCH FUN. >> MICHELLE, THANK YOU FOR BEING WITH US TODAY. I KNOW YOU'RE A NUTRITIONIST, YOU'RE A CHEF, SO YOU'RE REALLY INTO THIS NUTRITION THING, AND ONE OF THE THINGS THAT I FIND HARD OR EASY DEPENDING ON IF I HAVE SET UP MY KITCHEN, MY PANTRY, MY REFRIGERATOR AND HAVE THE RIGHT FOODS IN IT, THEN IT'S EASY FOR ME TO EAT HEALTHY, BUT IF I DON'T, THEN I JUST GRAB THE NEAREST THING I CAN TO SNACK ON. DO YOU FIND MOST PEOPLE ARE THAT WAY? >> OH, DEFINITELY. I MEAN, I THINK IT'S ALL ABOUT PLANNING AHEAD AND HAVING THOSE INGREDIENTS STOCKED IN YOUR PANTRY AND ALSO TRYING TO GET THE BEST DEAL IN THE PROCESS. >> MM-HMM. AND THERE'S SOME THINGS WE HAVE CONTROL OVER THE COST, SOME THINGS WE DON'T. SO WHAT DO YOU SUGGEST ABOUT HOW SHOULD WE BUY THE RIGHT FRUITS AND VEGETABLES? >> YEAH. THE MOST IMPORTANT THING IS TO GET BACK TO THE BASICS, AND THAT COMES DOWN TO BUYING WHOLE, MINIMALLY PROCESSED FOODS AND KEEPING THE HIGHER PROCESSED FOODS, KEEP THOSE ON THE SHELF BECAUSE THOSE TEND TO BE MORE EXPENSIVE, OK? THERE'S MORE LABOR, MORE THINGS GOING INTO THEM, SO THEY'RE USUALLY MORE EXPENSIVE. SO WHEN IT COMES TO FIRST OFF FRUITS AND VEGETABLES, FOR EXAMPLE, WE WANT TO--WHEN YOU'RE CHOOSING FRESH FRUITS, CHOOSE SEASONAL FRUITS, THE ONES THAT ARE IN SEASON BECAUSE IT'S THE LAW OF SUPPLY AND DEMAND. WHEN THERE'S HIGHER QUANTITY, THERE'S GONNA BE MORE AVAILABLE, CHEAPER PRICES, AND ALSO, THEY'RE PROBABLY GONNA TASTE BETTER AND HAVE MORE NUTRIENTS. >> AND WE'RE SUPPORTING, LIKE, OUR LOCAL FARMERS MARKET OR LOCAL PEOPLE WHO ARE SELLING. >> DEFINITELY! YEAH. SO IF IT'S LOCAL, ALL THE BETTER, YEAH. NOW DRIED FRUITS ARE ANOTHER GREAT CHOICE BECAUSE THEY'RE--ESPECIALLY THOSE THAT HAVE NO SUGAR ADDED. FOR EXAMPLE, CALIFORNIA RAISINS, THERE'S NO SUGAR ADDED. THEY ARE THE MOST ECONOMICAL FRUIT OUT OF ALL DRIED FRUITS. >> I WAS SURPRISED BECAUSE I THOUGHT IF THEY'RE A TRIED FRUIT ALL OF THEM ARE GOING TO BE THE SAME. IT'S NOT TRUE. >> THAT IS NOT THE CASE UNFORTUNATELY. ONE PRIME EXAMPLE IS CRAISINS. IN FACT, CRAISINS BY THE WAY HAVE 40% ADDED SUGAR, SO YOU'RE ACTUALLY GETTING--THEY'RE ALMOST TWICE AS EXPENSIVE AS RAISINS, AND YOU'RE GETTING ABOUT HALF AS MUCH FRUIT, A LITTLE LESS, SO, I MEAN, DEFINITELY THE BETTER BARGAIN IS RAISINS. YOU'RE GETTING THE ANTIOXIDANTS, FIBER, AND 1/4 CUP COUNTS AS A FULL SERVING OF FRUIT. >> I THINK THAT'S AMAZING. JUST 1/4 CUP. >> YEAH. >> I EAT A WHOLE BOXFUL OF THEM AT A TIME. >> THAT'S GREAT! YEAH. SO YOU CAN KEEP THOSE IN YOUR PANTRY IN LITTLE CONTAINERS, AND THEN THEY'RE READY TO GO. >> AND THEY'RE ALSO GOOD TO PUT IN KIDS' LUNCH BOXES. >> OH, DEFINITELY. >> THEY DON'T REQUIRE REFRIGERATION, YOU DON'T HAVE TO REHEAT OR ANYTHING. THEY'RE JUST PERFECT. >> AND WHAT'S ALSO GREAT WITH RAISINS IS, ESPECIALLY DURING THE WINTERTIME WHEN A LOT OF THE FRUITS AREN'T IN SEASON, THE FRESH FRUITS. RAISINS ARE IN SEASON ALL YEAR ROUND. >> ALL YEAR LONG. >> SO YOU KEEP THOSE ON HAND, AND YOU'VE GOT FRUIT READY TO GO. >> THEY'RE PORTABLE. >> YES, DEFINITELY. >> THAT'S GREAT. >> YEAH. AND THIS IS ACTUALLY A POPCORN MIX THAT'S--IT'S A HOMEMADE RECIPE, AND BY THE WAY, ALL THESE RECIPES THAT I'M SHOWING TODAY, THESE ARE--YOU CAN FIND THESE AT LOVEYOURRAISINS.COM. THERE'S HUNDREDS OF NUTRITIOUS, DELICIOUS RECIPES. THIS IS A CURRY, PISTACHIO, AND CALIFORNIA RAISIN MIX. IT HAS POPCORN. YEAH. WE'VE GOT THE SHELLS-- OUT-OF-THE-SHELL PISTACHIOS, RAISINS. YEAH. YOU CAN SEE SOME RIGHT THERE. THERE'S ACTUALLY SOME SESAME STICKS IN THERE AND A LITTLE CURRY POWDER, AND THE FLAVOR IS SO DELICIOUS, AND SO AGAIN, YOU'RE MAKING IT HOMEMADE, IT'S GONNA BE LESS EXPENSIVE THAN IF YOU BOUGHT A MIX ALREADY PREMADE. >> AND WHAT I LOVE ABOUT MAKING IT MYSELF, I KNOW WHAT'S IN IT. >> DEFINITELY! >> THEN I DON'T HAVE ANY LABELS I HAVE TO WORRY ABOUT. >> RIGHT, AND THIS MIX HERE, NO ADDED SUGAR. IT'S ALL NATURAL. >> NOW PROTEIN. THAT'S AN IMPORTANT PART OF OUR DIET AND ALSO A WAY WE CAN ECONOMIZE. HOW DO YOU SUGGEST? >> AND PROTEINS TEND TO BE THE MORE EXPENSIVE INGREDIENT OUT OF ALL THE THINGS THAT WE EAT, SO FOR EXAMPLE, ONE IS CHICKEN. WE LIKE TO EAT CHICKEN BREAST BECAUSE IT'S LEAN, BUT CHICKEN BREAST CAN BE A LITTLE PRICY, SO I RECOMMEND ROASTING A WHOLE CHICKEN, AND IT MIGHT SOUND A LITTLE DAUNTING, BUT YOU KNOW WHAT? YOU JUST RUB THAT WITH A LITTLE OIL, SALT AND PEPPER, SOME SEASONINGS, POP THAT IN YOUR OVEN 450 DEGREES MAYBE FOR 15 MINUTES AND THEN LOWER THE TEMPERATURE AND FINISH ROASTING IT, AND YOU HAVE THIS DELICIOUS CHICKEN. >> AND YOU'VE GOT SEVERAL MEALS IN ONE DISH. >> YES! YES. YOU'VE GOT DINNER. THEN YOU CAN TAKE THOSE LEFTOVERS AND MAKE IT INTO A SALAD, AND I ACTUALLY HAVE THIS DELICIOUS SALAD THAT I WANT TO SHOW YOU TODAY. >> OK. >> THIS IS A CURRIED CHICKEN SALAD, A CRUNCHY CURRIED CHICKEN SALAD. SO WHAT WE DO, THIS IS THE DICED CHICKEN FROM THE ROASTED CHICKEN THAT WE'RE GONNA PUT IN HERE, BUT FIRST WHAT WE WANT TO DO IS MAKE THE DRESSING. >> OH! >> OK. SO WE HAVE PLAIN YOGURT HERE. IT'S NON-FAT YOGURT. WE'RE ALSO GONNA TAKE SOME RUSSIAN DRESSING THAT'S ACTUALLY LOW-CAL, AND WHENEVER YOU'RE USING SALAD DRESSING, I RECOMMEND USE ONE THAT'S LOW-CAL OR REDUCED FAT. >> YOU GET THE FLAVOR, BUT WE'RE CUTTING OUT THINGS WE DON'T NEED. >> YEAH. DEFINITELY, AND I USUALLY LIKE TO GO LOW-FAT INSTEAD OF ALL THE WAY FAT FREE BECAUSE THAT'S GONNA GIVE US MORE FLAVOR. >> FLAVOR. OK. THAT'S GOOD TO KNOW. >> SO THEN WE JUST MIX THIS ALL TOGETHER TO MAKE OUR DRESSING. >> I LIKE THAT. YOU'RE MIXING IT IN THE SAME BOWL. WE DON'T HAVE TO DIRTY UP SOMETHING ELSE. >> YEAH. I'M ALL ABOUT THE LESS DISHES THE BETTER. WE WANT TO--YEAH. EVEN THOUGH MY HUSBAND DOES DO DISHES FOR ME, I DO LIKE THAT, BUT-- >> WELL, HOW NICE. YOU'RE THE CHEF. YOU DO THE COOKING. >> YEAH. THAT'S OUR DEAL. AND THEN OVER HERE, WE HAVE OUR CHICKEN, WE HAVE SOME CELERY AND GREEN BELL PEPPER, WE HAVE OUR CALIFORNIA RAISINS, AND THEN WE JUST MIX THIS ALL INTO THE BOWL. >> JUST START MIXING IT ALL TOGETHER. UH-HUH. >> AND WHAT I LOVE ABOUT THIS SALAD, YOU CAN MAKE THIS IN ADVANCE, YOU CAN HAVE IT FOR LUNCH, YOU CAN HAVE IT FOR A LIGHT DINNER, AND IT JUST HAS SO MUCH FLAVOR. THAT CURRY POWDER--YOU KNOW, CURRY POWDER DOESN'T CONTAIN ANY SODIUM. IT JUST HAS ALL OF THAT FLAVOR IN THERE. >> AND SOME SPICES THAT WE ADD MAYBE IN PLACE OF SALT, IF YOU READ THOSE LABELS, SOMETIMES YOU'LL FIND YOU'RE NOT REALLY NOT ADDING SALT. IT'S IN A DIFFERENT FORM. >> RIGHT. EXACTLY. SO WE WANT TO WATCH OUT FOR THOSE ADDED SUGARS AND WATCH OUT FOR THE ADDED SALT. ALL RIGHT. SO THEN WE HAVE OUR SALAD HERE, AND THEN WE JUST SCOOP THIS, AND YOU CAN SERVE THIS ON A BED OF LETTUCE JUST TO GIVE IT A--ROUND IT OUT, OF COURSE GET MORE VEGGIES IN THERE. WE'VE GOT THIS BEAUTIFUL SALAD, AND THEN WHAT I LIKE TO DO--DO YOU LIKE ALMONDS? >> MM-HMM. >> OK. GOOD. I LIKE TO SPRINKLE ALMONDS ON TOP. THEN YOU'VE GOT--YOU ALREADY HAVE THE CRUNCH FROM THE BELL PEPPER, BUT THEN WE HAVE THE CRUNCH FROM THE ALMONDS, AND ALMONDS ARE PACKED WITH NUTRIENTS, AS WELL, AND THEN I LIKE TO PUT SOME TOMATOES AROUND THE EDGES HERE. >> SO THIS RECIPE PROBABLY, WHAT, MAKES 6, 8 SERVINGS EASILY. >> EASILY 6 SERVINGS, YEAH. SO YOU'VE GOT THAT FOR THE WEEK, DELICIOUS SALAD PACKED WITH THE NUTRIENTS AND OF COURSE DELICIOUS. YEAH. SO THAT IS ONE OF MY FAVS RIGHT THERE. >> OK. NOW WHAT ABOUT--I KNOW YOU TALK A LOT ABOUT THE DRIED BEANS. WE TALKED ABOUT DRIED FRUITS. WHAT ABOUT DRIED BEANS? >> WELL, DRIED BEANS, THAT COUNT AS OUR PROTEIN AGAIN, OK? SO THAT'S GOT THAT THE FIBER, IT'S GOT THE POTASSIUM, AND VERY ECONOMICAL. YOU'RE TALKING DRIED BEANS, WE'RE TALKING VERY ECONOMICAL, OK? AND THEN ALSO QUINOA. QUINOA IS ACTUALLY--TECHNICALLY IT'S A SEED, BUT IT COUNTS AS A GRAIN, AND IT HAS THE PROTEIN. IT'S ACTUALLY A COMPLETE PROTEIN, AND THAT'S THIS GRAIN THAT WE SEE HERE. THIS IS QUINOA, SO... >> AND IF PEOPLE HAVEN'T TRIED IT--I KNOW FOR YEARS I HADN'T TRIED IT, AND THEN I HAD SOMEONE ON THE SHOW THAT DID--IT'S VERY GOOD. >> VERY DELICIOUS. SO, YEAH, SO YOU CAN COUNT IT AS A GRAIN, YOU CAN COUNT IT AS A PROTEIN, AND THEN SPEAKING OF GRAINS, WE HAVE WHOLE GRAINS. SO OF COURSE WE WANT TO GET AS MANY OF OUR GRAINS TO BE WHOLE AS POSSIBLE, YES, AND THIS RECIPE THAT I HAVE TO SHOW YOU TODAY-- >> THIS IS A MUFFIN THAT YOU'RE GOING TO MAKE. >> YEAH. THIS IS A MUFFIN. IT'S A TWO-GRAIN RAISIN MUFFIN, AND THIS HAS NO SUGAR ADDED. SO WHAT WE HAVE HERE, WE HAVE SOME OATMEAL, SOME WHOLE WHEAT FLOUR, AND SOME ALL-PURPOSE FLOUR, AND THEN WE ADD SOME BAKING POWDER INTO THIS. SO BASICALLY FOR MUFFINS, YOU WANT TO TAKE YOUR DRY INGREDIENTS, WHISK THOSE--MIX THOSE TOGETHER, AND THEN WE'RE GOING TO MIX UP OUR WET INGREDIENTS, AND OVER HERE IN THIS BLENDER WE HAVE SOME SWEET POTATOES. >> WELL, I THOUGHT THAT'S WHAT THAT WAS. >> YEP. THEY'RE JUST CANNED, DRAINED SWEET POTATOES. WE ADD OUR CALIFORNIA RAISINS INTO THE BLENDER, AND THE CALIFORNIA RAISINS, THEY'RE ADDING SWEETNESS TO THIS, AND WE DON'T HAVE TO ADD ANY ADDED SUGAR. >> NATURAL SWEETNESS. UH-HUH. >> IT'S NATURAL SWEETNESS BECAUSE, AGAIN, IT'S JUST RAISINS. THAT'S ALL--ALL THE GOODNESS IS JUST COMING FROM THE NATURAL RAISINS. >> AND THAT'S THAT WEB SITE AGAIN WHERE WE CAN GET ALL THESE YUMMY RECIPES? >> YES. WE WANT TO GO TO LOVEYOURRAISINS.COM. >> LOVEYOURRAISINS. >> YEAH. SO DEFINITELY CHECK THAT OUT. OK. MILK IS WHAT ELSE I ADDED IN HERE, LOW-FAT MILK. NOW WE JUST PUREE THIS. YOU JUST WANT TO PUREE IT UNTIL IT'S SMOOTH. OK. OH. I'M GONNA KEEP GOING HERE. ALL RIGHT. I'M JUST GONNA WHISK THIS UP A LITTLE HERE. AND THE RAISINS, YOU KNOW WHAT? YOU BASICALLY JUST WANT TO MAKE SURE THE SWEET POTATOES ARE PUREED. THE RAISINS ARE A BEAUTIFUL GARNISH, AS WELL-- >> WELL, AND I THINK THEY LOOK SO PRETTY WHEN IT'S COOKED BECAUSE YOU WANT TO SEE THE PIECES OF RAISIN. >> YEAH, AND THEY PLUMP UP, AND THE JUST GET REALLY DELICIOUS. >> YEAH. >> OK. SO ONCE THAT'S PRETTY WELL-- >> AS LONG AS THE SWEET POTATOES ARE PUREED. THEN WE JUST ADD THIS TO OUR WET INGREDIENTS HERE, AND WE'LL--AHEM--EXCUSE ME--WE'LL ALSO POUR IN A LITTLE MORE OF THAT MILK THAT WE HAD. >> OH, I NOTICED YOU JUST USED PART OF IT IN THE BLENDER. THAT WAS JUST TO ADD SOME MOISTURE TO WHAT YOU WERE BLENDING UP. >> YES. EXACTLY. JUST TO GET IT SPINNING AROUND THERE, AND THEN WE HAVE OUR OIL. YOU COULD USE VEGETABLE OIL, YOU COULD USE CANOLA OIL. I LIKE TO USE THE CANOLA OIL BECAUSE IT HAS THOSE HEART-HEALTHY INGREDIENTS. THEN WE HAVE SOME PECANS, AND, I MEAN, THE NUTS, THEY JUST ADD SO MUCH FLAVOR, NUTRITION, AND THEN WE HAVE TWO EGGS, AND THEN OF COURSE, WE' CAN'T FORGET OUR VANILLA. >> OH. >> I LOVE VANILLA. >> I DO, TOO. >> I PUT IT IN ALMOST EVERYTHING. >> AND YOU DIDN'T EVEN SMELL IT. I TEND TO SMELL VANILLA EVERY SINGLE TIME I COOK WITH IT. I DON'T KNOW WHY. IT'S JUST A HABIT. >> YEAH. IT SMELLS SO GOOD. YEAH. NOW WE JUST MIX THIS. NOW THE KEY WITH MUFFINS, SHERYL, IS YOU DON'T WANT TO OVERMIX IT. WE'RE JUST MIXING IT ENOUGH TO MOISTEN THE FLOUR. OTHERWISE IF YOU OVERMIX IT, YOU'RE GONNA HAVE, LIKE, TOUGH MUFFINS, AND WE JUST WANT TO MIX IT LONG ENOUGH SO IT IS-- >> I KNOW EVEN ON BOXED MUFFIN RECIPES IT SAYS, "DO NOT OVERMIX." >> YEAH. WE DON'T WANT TO OVERMIX THAT. OK. SO WE'LL JUST MIX THIS TOGETHER, AND THESE MUFFINS ARE GREAT. I LIKE TO--YOU CAN TELL THIS MAKES A BIG BATCH, RIGHT? THIS MAKES A VERY BIG BATCH, AND SO WHAT YOU CAN DO IS THIS ACTUALLY MAKES 24 MUFFINS, SO YOU CAN FREEZE THESE. >> GO AHEAD AND BAKE THEM, YOU MEAN? >> WELL, AFTER YOU BAKE THEM, YOU'RE GONNA FREEZE THEM ACTUALLY. SORRY. YEAH. AFTER YOU BAKE THEM, YOU CAN FREEZE THEM, AND THEN YOU CAN--YOU'LL HAVE MUFFINS FOR THE NEXT MONTH. >> SO THEY FREEZE WELL. >> YES, THEY FREEZE REALLY GREAT. SO NOW WE JUST SCOOP THIS INTO OUR MUFFIN TIN, AND NOW WHAT WE WANT TO DO IS BAKE THIS FOR ABOUT 370 DEGREES. WE'RE GONNA BAKE IT FOR ABOUT 10-15 MINUTES. >> AND MUFFINS DON'T TEND--I MEAN, WHAT YOU SEE IS PRETTY MUCH WHAT YOU GET, SO YOU DO WANT TO GO AHEAD AND FILL YOUR MUFFIN CUP FULL. >> YES. I LIKE REALLY NICE ROUNDED MUFFINS. YOU WANT IT TO COUNT FOR SOMETHING, RIGHT? YOU'RE GONNA GET ALL THESE WHOLE GRAINS. WE'VE GOT THE OATS, WE HAVE THE FLOUR, WE HAVE THE RAISINS, WHICH ARE ADDING FRUIT AND THOSE ANTIOXIDANTS, FIBER. IT'S JUST A REALLY NUTRITIOUS, REALLY NUTRITIOUS MUFFIN. >> AND THESE BAKE HOW LONG DID YOU SAY? >> ABOUT 10-15 MINUTES. >> THAT'S FAST. >> AND THEN WE'VE GOT OUR FINISHED MUFFINS OVER THERE. I MIGHT TOP THOSE OFF WITH A LITTLE VEGETABLE SPRAY. >> I LIKE BEING TO SEE THE RAISINS. I LIKE TO BE ABLE TO SEE WHAT'S IN SOMETHING, SO THAT'S GOOD THAT IT PUREED JUST RIGHT. >> BEAUTIFULLY. >> OK. WE WANT TO KEEP IT REAL, WE WANT TO BUY IN SEASON. I THINK THAT'S VERY IMPORTANT. >> BUY IN SEASON WHEN POSSIBLE, KEEP THOSE DRIED FRUITS IN STOCK, AND AGAIN, READ THE LABEL. LOOK AT THE INGREDIENTS, MAKE SURE YOU KEEP THOSE ADDED SUGARS OUT OF THE DIET. RAISINS, NO ADDED SUGAR. >> AND I NOTICED WHEN I LOOKED AT THE RAISIN BOX IT JUST SAYS, "RAISINS." THAT'S WHAT WE'RE GETTING. >> THAT'S WHAT WE WANT TO LOOK FOR DEFINITELY. >> WELL, THANK YOU VERY MUCH, MICHELLE. >> MY PLEASURE. ALWAYS A PLEASURE TO SEE YOU, SHERYL. >> THANK YOU. I HOPE YOU ENJOYED THE SHOW TODAY. NEXT TIME ON "CREATIVE LIVING," WE'LL LEARN HOW TO REDUCE ALLERGENS IN OUR HOMES, WE'LL SHOW HOW TO USE A NEW PRESSER FOOT TO ATTACH TRIMS ON SMALL AREAS SUCH AS DOLL CLOTHES, AND WE'LL ALSO LEARN HOW TO USE SPECIAL NUMBERS TO CREATE A PERSONALIZED PLAID DESIGN ON NEEDLEWORK DESIGNS. DID YOU KNOW YOU MAY BE SLEEPING WITH OVER TWO MILLION DUST MITES IN YOUR BED EVERY NIGHT? ONE OF OUR GUESTS ON THE NEXT SHOW WILL DEMONSTRATE SOME PRODUCTS ON THE MARKET TO HELP REDUCE ALLERGENS IN THE HOME. ANOTHER GUEST IS AN INVENTOR AND OWNER OF A COMPANY THAT MAKES UNUSUAL PRESSER FEET FOR ALL BRANDS AND MODELS OF SEWING MACHINES. SHE'S GOING TO SHOW HOW TO SEW ON DECORATIVE TRIMS LIKE RIBBONS ONTO A PIECE OF FABRIC USING THE SEQUINS AND RIBBON FOOT THAT SHE INVENTED. THIS IS ESPECIALLY USEFUL WHEN MAKING SMALL ITEMS LIKE DOLL CLOTHES, AND FINALLY, WE'LL MEET A GUEST WHO'S GOING TO SHOW HOW A PLAID NEEDLEPOINT DESIGN IS CREATED BY REPEATING CERTAIN SETS OF NUMBERS THAT CAN BE INDIVIDUALIZED FOR EACH PERSON. THIS RESULTS IN A ONE-OF-A-KIND DESIGN. BOTH OF THESE TOPICS WILL BE FEATURED ON THE NEXT "CREATIVE LIVING" SHOW. IF YOU EVER HAVE COMMENTS OR SUGGESTIONS OR IDEAS FOR SHOWS, YOU CAN E-MAIL ME AT SHERYL.BORDEN@ENMU.EDU, AND I'D ALSO LIKE TO ASK YOU TO BECOME A FAN OF "CREATIVE LIVING" ON FACEBOOK. JUST GO TO FACEBOOK.COM, AND IN THE SEARCH WINDOW, TYPE IN "CREATIVE LIVING WITH SHERYL BORDEN." THANKS SO MUCH. I HOPE YOU'LL PLAN TO JOIN ME NEXT TIME FOR "CREATIVE LIVING." >> WE ARE VERY PLEASED TO OFFER A NEW BOOKLET THAT ACCOMPANIES THIS SERIES OF "CREATIVE LIVING" THIS BOOKLET IS TITLED "THE 6500 SERIES," AND IT FEATURES A WONDERFUL COLLECTION OF IDEAS AND INFORMATION, AND IT'S AVAILABLE FREE OF CHARGE ON OUR WEB SITE. POSTED AS A .PDF FILE, YOU CAN SIMPLY DOWNLOAD THE ENTIRE BOOKLET OR JUST THE SEGMENTS YOU'RE MOST INTERESTED IN. AS WITH ALL OF THE "CREATIVE LIVING" BOOKLETS, YOU'LL FIND INFORMATION ON FOODS AND NUTRITION, CLOTHING AND FASHION, HEALTH AND BEAUTY, HOME DECORATING, AND MUCH MORE. FOR YOUR COPY OF THIS BOOKLET, GO TO OUR WEB SITE AT KENW.ORG AND THEN CLICK ON "CREATIVE LIVING." SCROLL DOWN TO THE BOOKLET SECTION, AND YOU CAN CLICK ON THIS BOOKLET OR ANY OF THE OTHER BOOKLETS WE HAVE AVAILABLE ONLINE. ONCE AGAIN, JUST GO TO KENW.ORG, CLICK ON "CREATIVE LIVING," AND DOWNLOAD THE BOOKLET TITLED "THE 6500 SERIES." WE ALSO WANT TO ENCOURAGE YOU TO SIGN UP FOR OUR FREE E-NEWSLETTER. JUST CLICK ON THE "SIGN UP NOW" BUTTON AND INPUT YOUR E-MAIL ADDRESS. THAT'S ALL THERE IS TO IT. YOU'LL ENJOY READING AN UP-TO-DATE NEWSLETTER FILLED WITH INTERESTING TOPICS AND INFORMATION. THANK YOU.
Now Playing As: Captioned (English) (change)
Viewers are given tips on how to trim their food bill without cutting out the flavor. They also learn how to make cloth dolls using soft sculpting techniques.
Media Details
Runtime: 27 minutes