Creative Living With Sheryl Borden #6520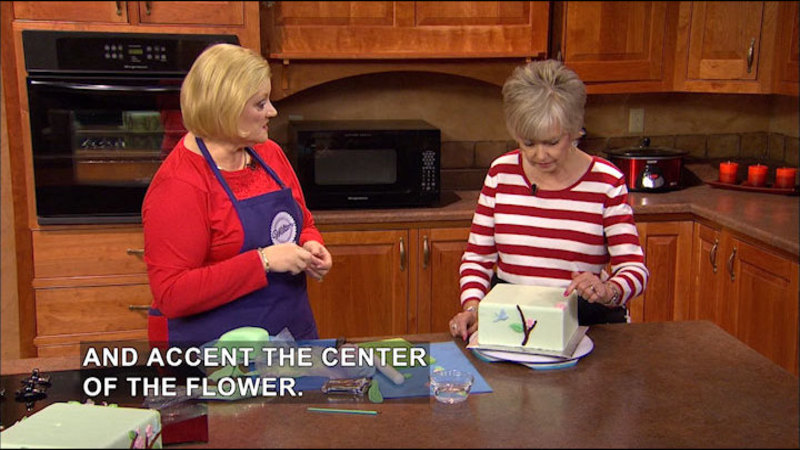 >> "CREATIVE LIVING," UTILIZING TODAY'S TECHNOLOGY WITH THE BEST OF THE PAST TO BRING YOU INNOVATIVE IDEAS AND UP-TO-DATE INFORMATION FOR CREATIVE LIFESTYLES IN TODAY'S ACTIVE WORLD, WITH YOUR HOST, SHERYL BORDEN. I'M SO GLAD YOU JOINED ME TODAY FOR "CREATIVE LIVING." WE'RE GOING TO LEARN HOW TO MAKE SOME BEAUTIFUL FONDANT ORIENTAL DESIGNS FOR CAKES, AND WE'LL TALK ABOUT AROMATIC SKIN CARE. ONE OF MY GUESTS TODAY IS NANCY SILER, AND SHE'S WITH WILTON BRANDS IN WOODRIDGE, ILLINOIS. NANCY'S BEEN ON THE SHOW MANY TIMES, AND WE'RE ALWAYS AMAZED AT WHAT NEW TIPS AND TECHNIQUES SHE'LL HAVE FOR CANDYMAKING OR CAKE DECORATING. AND TODAY SHE'S GOING TO SHOW HOW TO CREATE ORIENTAL DESIGNS FOR CAKES USING FONDANT, A GUM PASTE MOLD, AND BUTTERCREAM ICING. AND WHEN YOU WORK WITH FONDANT, IT MAKES CAKE DECORATING VERY PROFESSIONAL LOOKING. WE'LL BEGIN THE SHOW TODAY WITH KRIS WREDE, AND SHE'S AN AROMATIC ALCHEMIST AND NATURAL PERFUMER. KRIS WILL EXPLAIN WHAT ESSENTIAL OILS AND BASE OILS ARE AND TELL WHY THEY'RE IDEAL FOR VARIOUS SKIN TYPES, ESPECIALLY FOR DRY OR MATURE SKIN. AND SINCE KRIS HAS LIVED IN MANY PARTS OF THE COUNTRY, SHE HAS SOME GREAT IDEAS FOR SUPER-MOISTURIZING FORMULAS FOR FACIAL SKIN, FOR THE BODY, AND FOR HAIR. SHE'LL SHOW HOW TO USE THESE FORMULAS FOR A BEAUTIFUL, GLOWING APPEARANCE, REGARDLESS OF WHERE YOU LIVE. HER BUSINESS IS KISMET POTIONS, AND SHE'S FROM ALBUQUERQUE, NEW MEXICO. KRIS, IT'S SO NICE TO HAVE YOU HERE. I KNOW VERY LITTLE ABOUT WHAT YOU CALL ESSENTIAL OILS AND AROMATIC SKIN-CARE PRODUCTS, BUT I UNDERSTAND YOU TEACH CLASSES ACTUALLY ACROSS THE COUNTRY, DON'T YOU? >> I DO. HOPING TO BE ACROSS THE WORLD SOMETIME SOON. I'VE BEEN TEACHING CLASSES FOR ABOUT 15 YEARS. I STARTED IN THE BUSINESS ABOUT 18 YEARS AGO. AND AT THAT TIME, NOBODY KNEW WHAT AROMATHERAPY WAS, AND SO IT WAS KIND OF AS A RESULT OF THAT THAT I NEEDED TO START TEACHING CLASSES. SO I JUST MADE SURE EVERYTHING SMELLED REALLY GOOD THAT I MADE, AND THEN THEY'D GET THE BENEFIT OF AROMATHERAPY ANYWAY. AND AROMATHERAPY HAS BEEN USED FOR TENS OF THOUSANDS OF YEARS IF NOT LONGER, AND REALLY, THEY'RE THE EXTRACTS OF FRUITS AND FLOWERS AND SEEDS AND PLANTS AND BARKS AND ALL SORTS OF DIFFERENT PLANTS IN NATURE. NOT EVERY PLANT HAS AN ESSENTIAL OIL. THE EASIEST ONE TO TALK ABOUT IS AN ORANGE, FOR EXAMPLE. IF YOU EVER COOK WITH EITHER ORANGES OR LEMONS AND YOU TAKE SOME OF THE LEMON ZEST, IF YOU FEEL IT AFTERWARDS, IT'S KIND OF OILY. MM-HMM. THAT'S THE ESSENTIAL OIL. THAT'S WHERE IT COMES FROM. BUT THEN THERE ARE CERTAIN THINGS, LIKE LAVENDER, FOR EXAMPLE, OR ROSEMARY-- THEY ARE ACTUALLY HARVESTED OR CULTIVATED CROPS, AND SO THEY ARE STEAM-DISTILLED. >> SO THAT COMES FROM THE PLANT ITSELF? THE BLOSSOM? >> FROM THE PLANT ITSELF, EXACTLY. MM-HMM. FROM THE BLOSSOM. SOME OF THEM HAVE THE LEAVES IN IT, LIKE THERE'S SOMETHING CALLED PETITGRAIN, WHICH WE'LL TALK ABOUT, AND PETITGRAIN IS ACTUALLY THE LEAVES OF THE ORANGE TREE. SO...AND THERE'S ONE WE'LL TALK ABOUT A LITTLE BIT LATER CALLED PETITGRAIN SUR FLEUR. AND SO THAT ACTUALLY HAS THE NEROLI, OR ORANGE BLOSSOM FLOWERS, AND THEN THE LEAVES AS WELL. >> SO IT'S A COMBINATION. >> IT'S A COMBINATION. THERE'S NOT VERY MANY OF THOSE. SO, AROMATIC SKIN CARE STARTED MANY YEARS AGO FOR ME, BECAUSE I ALWAYS-- I HAD VERY BAD ACNE WHEN I WAS IN HIGH SCHOOL, AND SO WHEN I WAS 18, I THOUGHT, I'M GONNA REALLY DEVOTE MYSELF TO SKIN CARE. SO IT'S ONE OF MY SPECIALTIES. I LOVE IT. AND WHEN I MOVED TO NEW MEXICO 6 YEARS AGO, WHAT I FOUND IS THAT EVERYTHING STARTED FLAKING. MY HAIR WAS TURNING DRY, MY FACE, MY WHOLE BODY. SO I DEVELOPED A FORMULA SIMILAR TO THIS THAT HAD ALL VERY MOISTURIZING OILS AND FOR WHAT WE LIKE TO CALL MATURE SKIN, AND MATURE SKIN CAN BE ANYBODY THAT'S BEEN OUT IN THE SUN. SO EVEN IF YOU'RE A TEENAGER, YOU CAN HAVE MATURE SKIN. >> AND SO YOU WERE TALKING ABOUT HOW DRY IT IS HERE, BUT ACTUALLY THERE ARE ESSENTIAL OIL COMBINATIONS THAT WORK FOR PEOPLE ANYWHERE. >> AND YOU KNOW, THIS DOES, BECAUSE EVEN IN PLACES THAT ARE HUMID DURING THE SUMMER, DURING THE WINTER, THEY'RE DRY AS WELL. SO THIS IS PARTICULARLY FOR, I WOULD SAY, ANY SKIN TYPE, MAYBE NOT REALLY OILY SKIN, BUT I WOULD SAY MATURE, DRY, SENSITIVE, NORMAL SKIN. AND I USE THIS ON MY HAIR AND MY FACE AND MY BODY. SO I USE IT TWICE A DAY ON MY...ON MY FACIAL SKIN. I LIKE TO USE ROSEWATER. SO I SPRAY A LITTLE ROSEWATER, AND THEN, OF COURSE, YOU LIFT UP FROM THE DECOLLETAGE AND GO LIKE THAT, AND THEN I USE IT ON MY HAIR USUALLY ONCE OR TWICE A WEEK, BECAUSE I FOUND MY HAIR WAS GETTING REALLY DRY, AND ONE OF THE WAYS I LIKE TO USE IT THE MOST IS PUT A HOT TOWEL THAT IS WET, EXCEPT FOR THE ENDS, IN A MICROWAVE FOR ABOUT 3 MINUTES AFTER YOU PUT THIS ON. YOU PUT IT ALL OVER YOUR HAIR, AND THEN IT'S LIKE A HOT OIL TREATMENT, BUT YOU HAVE TO LEAVE THE ENDS DRY BECAUSE OTHERWISE IT'LL BE BURNING HOT ON YOUR HANDS WHEN YOU TAKE IT OUT OF THE MICROWAVE. SO YOU HAVE TO DO THAT. >> YOU'VE LEARNED THROUGH EXPERIENCE, I CAN TELL. >> EXACTLY. I DID. I DID. >> WELL, LET'S GO AHEAD AND SEE HOW YOU WOULD ACTUALLY MAKE A POTION. >> OK. SO THIS IS... THIS POTION IS, LIKE I SAID, FOR DRY, MATURE SKIN. THIS ONE IS CARROT, WHICH IS REALLY INTERESTING. AND I'M GOING TO PUT A LITTLE BIT ON THE BLOTTER STICK FOR YOU JUST TO SMELL THE CARROT SEPARATELY, WHICH IS KIND OF INTERESTING. AND IT DOESN'T REALLY SMELL LIKE CARROT, PER SE. IT'S FROM THE SEED OF THE CARROTS, SO IT'S A LITTLE BIT INTERESTING. AND THEN THE COFFEE BEANS ARE WHEN YOU'RE DOING A NUMBER OF DIFFERENT OILS. IT HELPS YOU...CLEANSES, CLEANSES YOUR PALATE, LIKE A SORBET BETWEEN COURSES. AND CARROT IS EXTREMELY MOISTURIZING. IT'S SAID TO BE ANTI-CANCER. IT'S GOT A LOT OF VITAMIN C IN IT. VERY GOOD FOR SCARRING. IT'S JUST ONE OF THE BEST OILS THAT YOU CAN USE IN SKIN CARE. NOW, THIS ONE IS SANDALWOOD. AND YOU'LL SEE THAT COMES OUT VERY THICK. THAT ACTUALLY IS-- I'LL TELL YOU WHAT EACH ONE-- YEAH, I'LL TELL YOU WHAT EACH ONE COMES FROM. SO THE LAVENDER--I'M SORRY. THE CARROT THAT WE JUST TALKED ABOUT COMES FROM THE SEED. AND THE SANDALWOOD ACTUALLY COMES FROM THE BARK. AND SO THIS ONE... THIS ONE I'M PUTTING 7 DROPS IN. >> SO THIS COMBINATION, ONCE YOU GET ALL OF THESE MIXED, I MEAN, THERE'S NOTHING ELSE. THERE'S NOT A MIXER INGREDIENT IN IT. THESE ARE ALL-- >> I'M SORRY. YES, THERE IS. >> THERE WILL BE? >> MM-HMM. YEAH. IT'S JOJOBA OIL AND ROSE HIP SEED OIL. SO JOJOBA IS GOOD BECAUSE IT'S A LIQUID WAX, AND IT DOESN'T GO RANCID, AND IT'S THE SAME pH AS YOUR SKIN. SO IT'S ONE OF THE PREFERRED BASES, AND IT'S ALSO, UM... IT'S A LIQUID WAX, AND SO IT DOESN'T GO RANCID. SO THAT'S THE SANDALWOOD. WE PUT IN THE DROPS OF SANDALWOOD ON THERE. AND SO SANDALWOOD IS VERY NICE. IT HAS A LIGHT, KIND OF... >> IT'S SORT OF CLEAN-SMELLING. >> YEAH, IT'S NICE AND CLEAN. IT'S GOT A TINY BIT OF MUSK TO IT. AND SO THERE'S THE FRANKINCENSE, AND THAT'S THE NEXT INGREDIENT. AND WE'LL PUT A COUPLE OF DROPS IN THERE. I THINK 3 DROPS IN THERE. >> NOW, THAT I WOULD TERM SORT OF MORE MEDICINAL. >> IT IS SOMEWHAT MEDICINAL. AND ONE OF MY FAVORITE AROMATHERAPY STORIES IS ABOUT FRANKINCENSE, AND IT'S GROWN ON BUSHES IN THE MIDDLE EAST. AND IF YOU'VE EVER BEEN IN AN ORTHODOX CHURCH OR A CHURCH THAT STILL USES INCENSE, THAT IS THE INCENSE THEY USE. SO THE THINGS THAT THEY GO AROUND LIKE THAT AND THE SMOKE COMES OUT... WELL, ACTUALLY WHAT FRANKINCENSE DOES ON A PHYSICAL LEVEL, IT HELPS LOWER YOUR RATE OF BREATH. IT SLOWS DOWN YOUR BREATHING. IT CALMS YOU. AND SO ONE OF THE REASONS THROUGHOUT HISTORY THAT THEY'VE USED FRANKINCENSE IN CHURCHES IS TO ACTUALLY PUT YOU IN A MORE CONTEMPLATIVE, MEDITATIVE STATE OF MIND, AND, YOU KNOW, MAYBE TO SEE GOD OR, YOU KNOW, I MEAN... >> OPEN YOUR MIND. >> OPEN YOUR MIND. EXACTLY. SO THIS NEXT ONE-- AND FRANKINCENSE IS VERY GOOD FOR, LIKE I SAID, MATURE SKIN, WRINKLES, SUN DAMAGE, SCARRING. MOST OF THE OILS IN HERE ARE VERY, VERY GOOD FOR THAT. NOW, THIS IS A REALLY INTERESTING ONE, AND THAT'S PERU BALSAM, AND IT HAS, AS YOU'LL SEE, A NICE VANILLA SORT OF SCENT. >> THAT'S WHAT IT SMELLS LIKE. >> YEAH. AND SO ALL THE BALSAMIC SCENTS-- AND THIS IS ANOTHER PRETTY THICK ONE HERE-- >> AND THIS, WE'RE USING 5? >> IN THOSE, WE'RE USING 5 DROPS. >> AND IS IT JUST THROUGH EXPERIMENTATION THAT YOU FOUND THAT YOU NEED 5 OF THIS, 3 OF THAT, ONE OF THIS? >> WELL, ONE OF THE THINGS I DEVELOPED ON MY OWN AFTER... LIKE I SAID, I'VE BEEN DOING THIS FOR 20 YEARS. I'VE HAD MY BUSINESS, KISMET POTIONS, FOR 17 YEARS. AND I TRAINED AS AN AROMATHERAPIST, BUT ALSO AS A PERFUMER AS WELL. AND SO SOMETIMES THEY... THEY HAVE A LITTLE AIR STUCK IN THERE. SO I WAS ONLY GETTING ONE LITTLE DROP. OH, THERE IT GOES. OK. SO 5 OF THAT. SO, AGAIN, THIS ONE VERY, VERY GOOD FOR DRY SKIN, MATURE SKIN. NOW, HERE IS ONE OF MY ALL-TIME FAVORITE OILS. THIS IS ROSE, AND I DO HAVE A LITTLE BIT OF THAT ON THERE. WE'RE GONNA DO 5 DROPS OF THE ROSE. >> IT SMELLS LIKE ROSES. >> YEAH. AND ROSE IS ONE OF THE MOST PRECIOUS OILS IN THE WORLD. AND HAVE YOU EVER FELT A ROSE PETAL? I'M SURE YOU HAVE. YEAH. AND SO THE ROSE PETALS ARE... THEY FEEL VELVETY. THEY FEEL VERY SOFT. AND THEY'RE VERY-- >> SO, IS THAT THE QUALITY THAT IT BRINGS TO THE POTION? >> IT DOES. IT DOES. >> SOFTNESS, SMOOTHNESS? >> SOFTNESS, SMOOTHNESS. ALSO VERY GOOD FOR SCARRING. AND OF COURSE, IT SMELLS DIVINE. SO THAT'S ANOTHER GOOD REASON. BUT AGAIN, GOOD FOR MATURE SKIN, DRY SKIN, YOU KNOW, ALL THE DIFFERENT-- >> SO COULD THIS BE PUT-- A LITTLE BIT PUT IN YOUR BATHWATER? >> OK. HERE. THANK YOU. THAT IS AN EXCELLENT QUESTION. OK. ONE OF THE REASONS THAT I LOVE TO PUT IT IN BATHWATER IS BECAUSE IT'S SO MOISTURIZING. HOWEVER, WHAT HAPPENS IS IS BECAUSE IT'S AN OIL, IT JUST LAYS ON THE TOP OF THE TUB. SO I WOULD RECOMMEND PUTTING IT ALL OVER YOUR BODY BEFORE YOU GET IN, EXCEPT FOR YOUR FEET, BECAUSE THEN THEY'LL GET TOO SLIPPERY, AND-- >> ACCIDENTS. >> YEAH, YOU DON'T WANT TO HAVE AN ACCIDENT. SO, NOW THIS IS LAVENDER, AND WE'RE GOING TO PUT 6 DROPS OF THAT. AND TO GO BACK TO WHAT YOU WERE SAYING ABOUT HOW TO KNOW HOW MANY DROPS TO PUT IN OF EACH, IT IS TOTALLY TRIAL AND ERROR, VERY MUCH EXPERIMENTATION. AND THIS IN PARTICULAR, THIS ONE...LIKE I SAID, I DEVELOPED, YOU KNOW, BECAUSE I NEEDED TO. BUT WHEN I TRAINED AS AN AROMATHERAPIST AND A PERFUMER, THERE WAS A LOT OF BLENDING CLASSES THAT I TOOK, AND NOW I TEACH BLENDING CLASSES, I TEACH THE SKIN CARE CLASSES. BUT ONE OF THE THINGS I CAME UP WITH WAS ODOR INTENSITY. AND SO YOU CAN JUST TELL, LIKE, YOU KNOW, THE LAVENDER IS ACTUALLY A TOP NOTE-- OR ACTUALLY, I'M SORRY, IT'S A MIDDLE NOTE. AND SO IT'S A MIDDLE NOTE, SO IT'S GOT KIND OF A MEDIUM ODOR INTENSITY. THAT DOESN'T ALWAYS FLY WITH EVERY SINGLE ONE, BUT SOME OF THE REALLY STRONG ONES, LIKE CARROT AND FRANKINCENSE, YOU SEE I PUT 3 DROPS OF FRANKINCENSE AND 3 DROPS OF CARROT. >> THEY'RE THE HIGH NOTES? >> NO. ACTUALLY, THOSE ARE THE BASE NOTES. >> OH, THOSE ARE THE BASE NOTES. AND SO I'M GOING TO PUT A LOT LESS OF THOSE IN THERE BECAUSE THEY'RE SO INTENSE. THE SANDALWOOD, HOWEVER... I MEAN, SMELL THE SANDALWOOD, AND THEN SMELL THE CARROT. WE PUT 3 OF THE CARROT AND 7 OF THE SANDALWOOD. AND SO YOU CAN TELL HOW MUCH SOFTER THE SANDALWOOD IS. SO THAT'S HOW YOU DO IT, TOO. AND I TELL PEOPLE WHEN THEY BLEND IN MY BLENDING CLASSES OVER AND OVER AND OVER AGAIN, ONE DROP AT A TIME. >> JUST TRY IT. >> SO JUST TRY IT. >> YOU CAN'T TAKE IT OUT, BUT YOU CAN ALWAYS ADD MORE. >> THANK YOU. THAT'S EXACTLY WHAT I SAY. YOU SHOULD TEACH MY CLASSES. >> I'LL TAKE ONE. SO...NOW, DOESN'T THAT HAVE A NICE, VERY LIGHT SORT OF SMELL? I MEAN, IT'S NOT TOO OVERWHELMING, AND IT'S GOING TO DISSIPATE, YOU KNOW, FAIRLY RAPIDLY WHEN YOU PUT IT ON YOUR SKIN, BUT IT'S JUST A BEAUTIFUL ONE TO USE, AND IT'S REALLY GREAT FOR CUTICLES. AND SO YOU CAN, OF COURSE, LIKE I SAY, YOU ALWAYS START UP HERE, BECAUSE, YOU KNOW, THIS AREA NEEDS IT AS WELL, AND I EVEN GO BACK INTO THE NECK AND THEN USE FOR THE HAIR AND BODY. AND IN THIS CLIMATE, I USE IT EVERY DAY WITH ALSO A LOTION AS WELL. >> SO YOU CAN'T REALLY OVERUSE IT? >> NAH. NO, YOU CAN'T. >> IT'S JUST SORT OF A LUXURY, THOUGH. >> IT IS VERY LUXURIOUS, BUT IT'S SO EASY TO MAKE AT HOME, I MEAN, YOU KNOW, AND YOU DON'T HAVE TO USE ALL OF THE OILS. I MEAN, YOU CAN USE 3 OR 4 OF THE OILS INSTEAD, BUT IT'S JUST A LITTLE ONE-OUNCE BOTTLE. AND I DID 2/3 OF THE JOJOBA AND THEN 1/3 OF THE ROSE HIP, WHICH WE DIDN'T TALK ABOUT A LOT, BUT EXCELLENT FOR BURNING, EXCELLENT FOR SKIN CARE. I PROBABLY STARTED USING IT ABOUT 12 YEARS AGO, AND I BOUGHT A BIG GALLON OF IT, AND I TRIED TO OPEN IT AFTER ABOUT 3 WEEKS, AND I COULDN'T OPEN THE THING. I ACTUALLY HAD TO TAKE A WRENCH TO GET IT OPEN, BECAUSE IT ACTUALLY FORMS A BARRIER ON YOUR SKIN. AND SO IT'S A FREE-RADICAL SCAVENGER, SO IT HELPS PREVENT AGAINST-- >> PROTECTION. >> YEAH. WIND AND SUN AND POLLUTION AND ALL THOSE THINGS. SO THAT'S WHY ROSE HIP SEED, IT'S QUITE A BIT MORE EXPENSIVE, BUT IT'S WORTH IT. SO I ONLY PUT ABOUT A THIRD OF THE ROSE HIP SEED IN HERE. >> SO YOU STARTED WITH THE ROSE HIPS AND THE JOJOBA, AND THEN YOU'VE ADDED YOUR ESSENTIAL OILS. >> IT'S UP TO ABOUT HERE. SO YOU WOULD THEN TOP IT OFF A LITTLE BIT. SO I ALWAYS SAY ADD A SCANT, YOU KNOW, 2/3 OF THE JOJOBA AND 1/3 OF THE ROSE HIP SEED OIL, AND THEN AT THE END, YOU'LL PROBABLY HAVE TO ADD JUST A LITTLE BIT MORE AS WELL. >> WELL, KRIS, THIS HAS REALLY BEEN INTERESTING. THANK YOU SO MUCH FOR BEING WITH US TODAY. >> YOU ARE SO WELCOME. THANK YOU. >> NANCY, THANKS SO MUCH FOR BEING HERE TODAY. I KNOW IN PAST VISITS, YOU'VE SHOWED US HOW EASY IT IS TO WORK WITH FONDANT. TODAY YOU'RE GOING TO SHOW US A LITTLE MORE ABOUT USING FONDANT. WHY IS FONDANT SO POPULAR? >> I THINK BECAUSE IT HAS SUCH A SMOOTH, ELEGANT LOOK, BUT YOU CAN ALSO MAKE WHIMSICAL CAKES THAT YOU COULDN'T DO WITH BUTTERCREAM. AND FONDANT IS BASICALLY LIKE MODELING CLAY. YOU ROLL IT OUT LIKE YOU DO PASTRY FOR YOUR PIE OR SUGAR COOKIE DOUGH. SO IT'S REALLY EASY TO USE. EVERYBODY'S PLAYED WITH MODELING CLAY AS A CHILD. SO IT'S KIND OF INTUITIVE. >> UH-HUH. AND THIS CAKE IS THE FINISHED ONE-- OR ALMOST FINISHED. >> MM-HMM. >> AND YOU CAN SEE, EVERYTHING ON THERE IN TERMS OF THE DECORATIONS ARE ALL MADE WITH FONDANT. AND I THINK PEOPLE ARE GOING TO BE AMAZED HOW EASY IT IS TO USE. NOW, WHAT I WANTED TO DO IS SHOW YOU HOW TO COVER A CAKE, BECAUSE YOU MIGHT JUST WANT TO COVER A CAKE AND PUT A STAR BORDER OR ROSETTE OR SOMETHING LIKE THAT AROUND IT. THAT LOOKS REALLY GOOD, TOO. WHICH WOULD BE LIKE THIS. >> I USED TO JUST DO BUTTERCREAM, AND I'D THINK, WHY CAN'T I GET MY CAKES AS SMOOTH AS THE PROS DO? >> WELL, YOU CAN. I MEAN, THERE ARE SOME TRICKS WITH THAT, LIKE, YOU KNOW, ANGLING YOUR SPATULA. YEAH, ANGLING YOUR SPATULA. PUTTING IT IN WATER, HOT WATER, WIPING IT OFF, AND THEN COMING BACK WITH IT. >> I'VE DONE THAT, TOO, BUT IT NEVER-- >> AND THEN ALSO TAKING PARCHMENT OR WAX PAPER AND SMOOTHING WITH THE HEAT OF YOUR HANDS ON THE TOP. BUT YOU WANT TO MAKE SURE IT'S CRUSTED OVER, OR THAT'S WHAT, IN CAKE TALK, IS DRIED OUT A LITTLE BIT. BUT THIS IS COVERED WITH BUTTERCREAM VERY LIGHTLY BECAUSE WHAT YOU'RE TRYING TO DO IS MAKE SURE THAT THIS IS THE ADHESIVE FOR THE FONDANT TO STICK TO THE CAKE, AND THEN IF THERE'S ANY POCKETS OR BUMPS OR ANYTHING LIKE THAT, KIND OF SMOOTHING IT OUT. YOU CAN ALSO--THIS HAS, YOU KNOW, DRIED SOMEWHAT. SO IF YOU HAVE ANY OF THE BUTTERCREAM STICKING UP, YOU CAN KIND OF POP THAT DOWN. >> VERY THIN ICING, VERY LIGHTLY? >> YOU COULD PUT APRICOT PRESERVES OVER IT IF YOU WANTED TO, BUT IT'S JUST SO EASY TO HAVE BUTTERCREAM. I JUST ALWAYS DO BUTTERCREAM. NOW, YOU NOTICE I HAVE THIS COVERED. THAT'S ONE THING, IF YOU'RE WORKING WITH FONDANT--[AHEM]-- AND YOU'RE GONNA GO ANSWER THE PHONE OR TALK TO SOMEBODY, YOU WANT TO MAKE SURE IT'S COVERED BECAUSE IT WILL DRY OUT. IT MAKES IT A LITTLE BIT HARDER TO WORK WITH. NOW, I HAVE PRE-ROLLED THIS. I'M JUST USING, BECAUSE THIS IS A SMALL CAKE, I'M JUST USING A REGULAR FRENCH ROLLING PIN. THIS ONE COMES WITH GUIDES THAT YOU CAN USE TO GET THE THICKNESS THAT YOU WANT. I KNOW WHAT KIND OF THICKNESS I WANT, AND SO I TEND TO NOT USE THE GUIDES. BUT IF YOU'RE JUST STARTING OUT, YOU REALLY MAY WANT TO DO-- USE THE GUIDES. I'M LOOKING AT--YOU KNOW, YOU CAN SEE THAT IT'S RELATIVELY THIN. IT'S ABOUT A 16th OF AN INCH. AN EIGHTH OF AN INCH IS A LITTLE BIT TOO THICK TO COVER WITH, BECAUSE YOU WANT IT THICK ENOUGH TO NOT SHOW ANY ISSUES THAT ARE THERE, BUT YOU ALSO WANT TO MAKE SURE THAT IT'S THIN ENOUGH SO THAT IT MOLDS EASILY. NOW, WHEN YOU'RE GONNA FIGURE OUT HOW MUCH YOU WANT, YOU WANT TO MEASURE UP, ACROSS, DOWN. >> OH, OK. >> AND ADD A LITTLE BIT. >> YEAH. >> SO I'M JUST GOING TO-- >> YOU'RE SPEAKING FROM EXPERIENCE, I CAN TELL. >> YES. HA HA HA. SO WHAT I'M GONNA DO IS I'M GONNA JUST KIND OF START TUCKING IT A LITTLE BIT. AND THEN I'M GONNA CUT IT OFF. I'LL START IN THE FRONT. AND YOU WANT TO JUST CUT ENOUGH, AND YOU CAN USE SCISSORS, YOU CAN USE, YOU KNOW, LIKE, A FOOD-SAFE ITEM. I LIKE TO USE A SPATULA. A PIZZA CUTTER ALSO WORKS. AND I CAN REUSE THAT FONDANT THERE. SO YOU CAN SEE I'M JUST KIND OF TOSSING IT OVER HERE FOR NOW, AND I'M NOT GONNA WORRY ABOUT IT TOO MUCH, BECAUSE I'LL COME BACK TO IT AND THEN PUT IT BACK IN THE PLASTIC WRAP. NOW, IF IT DRIES OUT A LITTLE BIT, YOU CAN ALSO TAKE SOME SHORTENING AND KNEAD IT BACK IN. I'M NOT GONNA FINISH THIS WHOLE THING. >> LIQUID SHORTENING? >> YOU KNOW, HYDROGENATED SHORTENING, LIKE WHAT YOU FRY WITH OR MAKE PASTRY WITH. BUT YOU CAN SEE, I'M JUST KIND OF TUCKING IT DOWN, AND THEN I CAN TUCK IT IN. I DON'T HAVE TO WORRY ABOUT MY EDGE HERE TOO MUCH IF I'M GONNA PUT A BORDER AROUND IT, BECAUSE IT'S GONNA COVER IT UP. ANOTHER BORDER THAT'S REALLY NICE AND EASY TO USE IS TO JUST MAKE BALLS. >> OH, RIGHT. >> SO, AND WHAT YOU'RE GONNA DO IS KEEP TUCKING. THEN CUT A LITTLE BIT MORE OFF. AND JUST KIND OF KEEP TUCKING IT UNDERNEATH LIKE THAT. BUT I'M NOT GONNA GO THROUGH THE WHOLE THING BECAUSE-- >> AND LOOK HOW SMOOTH IT IS. IT'S JUST...THAT'S WHAT WE ALL TRY TO ACHIEVE. >> AND IT'S EASY WITH FONDANT. NOW, I USE MY HANDS. THEY'RE ALSO FONDANT SMOOTHERS THAT YOU CAN USE TO COME DOWN THE SIDE TO ACTUALLY MAKE THAT WORK A LITTLE BETTER FOR YOU. SO HERE WE HAVE OUR CAKE. LET'S TAKE THAT TURNTABLE, BUT LET'S MOVE THAT OVER THERE. NO, JUST TAKE THE WHOLE THING. I LIKE USING A TURNTABLE BECAUSE IT MAKES IT A LITTLE EASIER TO WORK WITH. NOW, WHAT I WANTED TO SHOW YOU IS HOW YOU GET ALL THE DESIGNS AROUND THE SIDE OF THE CAKE. IT'S VERY EASY BECAUSE THERE'S MOLDS NOW. NOW, THIS IS PRE-COLORED FONDANT. YOU CAN GET IT IN WHITE AND THEN JUST USE YOUR REGULAR ICING COLOR, DIP IN WITH A TOOTHPICK, KNEAD IT IN, YOU KNOW, JUST LIKE YOU WOULD IF YOU WERE MAKING BREAD. IF YOU'VE NEVER MADE BREAD, THEN JUST KIND OF MIX IT IN. >> HA HA. YEAH. >> BUT THIS IS A MOLD THAT IS AVAILABLE, AND WHAT'S NICE ABOUT THAT IS-- YOU CAN SEE I'VE JUST PRE-MADE THESE RIGHT BEFORE WE STARTED. >> AND IT DIDN'T TAKE ANY TIME AT ALL. >> OR YOU CAN SHAPE THEM YOURSELF. THIS IS KIND OF EASY. I'M JUST GONNA PULL SOME FONDANT HERE. I'M GONNA STICK IT IN. YOU CAN SEE I'VE GOT MORE THAN I NEED, BUT I'M GONNA KIND OF PRESS IT DOWN. AND ONE OF THE WAYS THAT YOU CAN USE IT IS DO IT LIKE THAT. >> THAT PUSHES IT DOWN IN. >> AND THAT PUSHES IT DOWN IN. SINCE THAT CAME OUT, I'LL SHOW YOU. I HAD A LITTLE MORE THAN I NEEDED. YOU CAN GO AROUND IT WITH YOUR SPATULA. >> OH, THAT'S EASY. TRIM OFF THE EXCESS. >> THEN TRIM OFF THE EXCESS. AND THEN I'LL SHOW YOU ANOTHER WAY IN USING THE MOLD PROBABLY MORE EFFECTIVELY. BUT YOU CAN ALSO TUCK THAT UNDER. YOU JUST KIND OF TUCK IT IN. AND THERE'S THAT ONE. OK. AND THEN LET'S DO, LIKE, A SMALL FLOWER. AND YOU CAN SEE-- >> AND IT HAS TWO DIFFERENT SIZES ON THIS MOLD. >> YEAH. HERE AND HERE. SO I'M GONNA PUT THE FLOWER DOWN, AND I'M GONNA ROLL, BUT I'M GONNA BE A LITTLE MORE CAREFUL THIS TIME SO THAT IT STAYS IN THE MOLD. THAT'S TECHNICALLY HOW THE MOLD IS SUPPOSED TO WORK, INSTEAD OF COMING OUT. BUT, YOU KNOW, SOMETIMES IT COMES OUT, AND YOU KNOW WHAT? I LIKE TO SHOW PEOPLE WHAT HAPPENS IN THE UNEXPECTED, BECAUSE THAT ALWAYS SEEMS TO HAPPEN IN MY LIFE. >> IT DOES, I THINK, TO ALL OF US. >> SEE, HERE I CAN JUST, AS IN THE MOLD, I CAN JUST TAKE IT, AND I CAN ROLL IT. >> OH, MY GOODNESS. LOOK AT THE DETAIL ON THAT. >> IT COMES OUT VERY QUICKLY. BUT YOU COULD DO THE BORDER. NOW, HERE I DID THE LEAF BORDER, WHICH...I DIDN'T HAVE ONE. >> OH, YOU MADE THAT GREEN, THEN YOU COULD SAVE AND MAKE A ROPE AND THEN PUT IT IN THERE TO MAKE A BORDER. >> I'LL JUST DO A SMALL AMOUNT LIKE THAT, BECAUSE YOU REALLY DON'T... SO, YOU KNOW, YOU COULD SEE THERE'S YOUR BORDER, SO IT MAKES IT REALLY EASY TO DO. >> I JUST LOVE THE DETAIL-- THE VEINS IN THE LEAVES. >> YOU KNOW, THERE ARE GUM PASTE AND FONDANT TOOLS OUT THERE THAT WILL DO THAT THAT YOU CAN DO BY HAND. BUT FOR SOMEBODY WHO'S JUST STARTING OUT, THERE'S NO REASON TO HAVE TO, BECAUSE THIS MAKES IT SO EASY. OK. SO LET'S KIND OF KEEP THIS HERE. NOW, ALL THIS FONDANT I WILL WRAP UP IN THE PLASTIC WRAP. HERE'S THE BROWN THAT I USED TO MAKE THE TREE RIGHT BEFORE WE STARTED. I'LL FOLD THAT OVER, WRAP THAT BACK UP. AND ALL THIS IS REUSABLE. SO YOU DON'T HAVE TO-- >> SO DON'T THROW IT AWAY. >> NO, DON'T THROW IT AWAY. THERE'S TWO WAYS THAT YOU CAN GET THE FONDANT ON THE FONDANT. NOW, THIS HAS DRIED. SO IT'S NOT AS STICKY AS IF WE HAD JUST COVERED IT, LIKE, 10 MINUTES AGO. SO YOU CAN USE JUST WATER AND A FOOD-SAFE BRUSH AND BRUSH THE BACK. AND I'M GONNA DO THIS ON TOP OF THE CAKE. >> COULD YOU ALSO, IF YOU HAD A CAKE THAT YOU HAD DONE BUTTERCREAM, COULD WE MAKE ACCENTS OUT OF THE FONDANT AND USE THAT? >> OH, ABSOLUTELY. AND DON'T BE AFRAID TO DO THAT, BECAUSE IT USED TO BE PEOPLE THOUGHT, "OH, I ONLY DO FONDANT ON FONDANT," BUT YOU DON'T HAVE TO, AND I'M JUST GONNA SHOW YOU HERE THAT THAT WILL ADHERE IF YOU WANTED TO DO, LIKE, A DIFFERENT DESIGN. UM, AND THEN, ON THE SIDE, ANOTHER WAY THAT YOU CAN PUT IT ON. AND THAT'S ALREADY DRYING. AND YOU KNOW I DID THAT RIGHT BEFORE WE STARTED. THIS IS JUST SOME BUTTERCREAM ICING. >> AND USE IT KIND OF AS GLUE? >> UH-HUH. YOU CAN ALSO TAKE YOUR FONDANT AND THIN IT DOWN IF YOU WANT TO AND MAKE IT LIKE WHAT WE CALL FONDANT ADHESIVE. I WANT TO MAKE SURE I DON'T GET TOO MUCH ON THERE, BECAUSE I DON'T WANT IT CREEPING OUT THE SIDE.
[AHEM] BUT LET'S SAY WE'LL PUT
MY TREE HERE. AND I SEE IT CREEPING OUT A LITTLE BIT, LIKE RIGHT THERE. SO GUESS WHAT I'M GONNA DO. I'M GONNA STICK A FLOWER RIGHT THERE. >> THAT'S GREAT. >> SO, SOMETIMES YOU NEED TO BE A LITTLE FREE-SPIRITED WITH, YOU KNOW, HOW YOUR DESIGN GOES. LET'S STICK A LEAF ON THERE. AND YOU JUST KEEP GOING AROUND YOUR CAKE, DOING IT THAT WAY. >> JUST LIKE WE CAN SEE ON THE ONE THAT-- OH, AND LET'S MENTION ABOUT THE BIRDS, TOO, THAT IT COMES WITH TWO BIRD SHAPES. >> I'VE GOT A LITTLE BIRD. LET'S STICK THE LITTLE BIRD SOMEWHERE. I'M DOING THIS UPSIDE-DOWN AND BACKWARDS, SO... LET'S MAKE SURE HE'S FLYING THE RIGHT WAY. LET'S JUST STICK HIM HERE IN THE SKY. AND YOU KNOW WHAT? I SEE A LITTLE BIT OF ICING COMING THROUGH THERE. SO I'LL JUST BASICALLY TAKE MY NAIL, OR I COULD GET A TOOTHPICK AND JUST KIND OF PULL IT OFF, AND IT'S NOT A PROBLEM. ESPECIALLY BECAUSE YOU NOTICE MY GREEN IS THE SAME GREEN THAT I'M COVERING WITH. >> THAT'S PRETTY SMART TO DO THAT, TOO. DON'T USE BLACK OR SOMETHING. >> BUT YOU CAN SEE HOW EASY IT IS, AND THERE'S DIFFERENT MOLDS OUT THERE THAT YOU CAN USE, OR YOU COULD SHAPE YOUR OWN FLOWERS AND USE THEM, CUT THEM OUT OF LITTLE COOKIE CUTTERS, LIKE THE LITTLE MINI COOKIE CUTTERS, FONDANT COOKIE CUTTERS. YOU COULD DO THAT AND THEN JUST ROLL LITTLE BALLS FOR YOUR CENTER OR MAKE YOUR CENTERS, YOU KNOW, WITH, LIKE, BUTTERCREAM ICING. BECAUSE I COULD ALSO TAKE, LIKE, THIS GREEN ICING AND ACCENT THE CENTER OF THE FLOWER. THERE'S ALSO SOME DUST, LIKE PEARL DUST OR COLOR DUST, THAT I COULD DUST THEM WITH SO THEY'D HAVE SOME SHINE. SO THERE'S ALL SORTS OF WAYS THAT YOU COULD FINISH THIS OFF, BUT I JUST WANTED PEOPLE TO SEE HOW EASY FONDANT IS TO WORK WITH. >> AND ONE OF THE THINGS I REMEMBER FROM YEARS AGO WHEN YOU--I THINK MAYBE WHEN FONDANT FIRST CAME OUT, AND THIS IS SOMETHING, WHEN YOU WERE TALKING ABOUT COLORING THE FONDANT, IF IT'S NOT A TOTALLY SMOOTH COLOR, YOU DID SOMETHING WITH KIND OF A MARBLEIZED LOOK THAT I THOUGHT WAS BEAUTIFUL. >> SURE. LET ME JUST SHOW YOU THAT REAL QUICK. YOU CAN USE IT WITH ICING COLOR, OR YOU CAN ACTUALLY DO IT WITH TWO FONDANTS. YEAH. THIS IS A LITTLE BIT DRY. BUT WHAT YOU CAN DO, AND THEN-- >> I THOUGHT THAT WAS SO PRETTY. YOU USED A BUNDT-SHAPED PAN THAT HAD ALL THE CRESCENT SHAPES IN IT. >> OK. THAT'S A BETTER SIDE FOR THE MARBLING. BUT YOU CAN SEE THERE-- >> SEE? ISN'T THAT PRETTY? >> IT'S MARBLED IN THERE WITH THE DIFFERENT COLORS. WHAT YOU WANT TO DO IS NOT KNEAD IT TOO MUCH. OR IF YOU'RE GONNA PUT THE ICING COLOR IN THERE, PUT THE TWO ICING COLORS IN THERE AND KNEAD THEM A LITTLE BIT SO THAT YOU KEEP IT. OTHERWISE, IT JUST TURNS WHATEVER PINK AND GREEN BECOMES. >> I JUST REMEMBER THINKING THERE'S NO MISTAKE WITH THIS. YOU COULD SAY, "YES, I WANTED TO DO A MARBLEIZED CAKE." >> I LOVE MARBLEIZED CAKES. >> I DO, TOO. >> THIS LOOKS GREAT WITH WATER IF YOU USE TWO DIFFERENT BLUES OR YOU USE SOME WHITE IN WITH THE BLUE. IT'S BEAUTIFUL. >> THANK YOU SO MUCH. YOU CAN ALWAYS WORK WITH FONDANT AND THEN FEEL LIKE YOU'VE JUST DONE A PROFESSIONAL JOB. >> ABSOLUTELY. >> THANK YOU. I HOPE YOU ENJOYED THE SHOW TODAY. NEXT TIME ON "CREATIVE LIVING," WE'LL LEARN HOW TO ECONOMIZE IN THE KITCHEN, AND WE'LL SHOW HOW TO MAKE HAND-SCULPTED DOLLS. ONE OF MY NEXT GUESTS IS A REGISTERED DIETICIAN AND THE SPOKESPERSON FOR THE CALIFORNIA RAISIN MARKETING BOARD. SHE'S GOING TO EXPLAIN HOW TO ECONOMIZE YOUR KITCHEN BY CHOOSING FOODS THAT ADD FLAVOR AND NUTRITION WITHOUT BREAKING THE BANK. AND MY GUEST RECOGNIZES THAT MANY OF US ARE SENSITIVE TO THE RISING COST OF EVERYTHING FROM GAS TO GROCERIES, AND WHILE WE MAY NOT BE ABLE TO DO MUCH ABOUT THE PRICE OF FOOD, SHE'S GOING TO SHOW HOW WE CAN MAKE A FEW SIMPLE ADJUSTMENTS TO OUR GROCERY LIST TO HELP EXTEND OUR FOOD DOLLARS. AND WE'LL MEET AN AUTHOR AND DOLL MAKER WHO HAS BEEN MAKING SOFT SCULPTED DOLLS FOR YEARS, AND SHE'LL SHOW HOW TO SCULPT THE DOLL'S FACE BEFORE IT'S ATTACHED TO THE BODY. YOU'LL ENJOY SEEING MANY OF THE DOLLS THAT ARE FEATURED IN HER BOOK, WHICH IS TITLED "MAKE CLOTH DOLLS: "A FOOLPROOF WAY TO SEW FABRIC FRIENDS." BOTH OF THESE TOPICS WILL BE FEATURED ON THE NEXT "CREATIVE LIVING" SHOW. IF YOU EVER HAVE COMMENTS OR SUGGESTIONS OR IDEAS FOR SHOWS, YOU CAN E-MAIL ME AT sheryl.borden@enmu.edu, AND I'D LIKE TO ASK YOU TO BECOME A FAN OF "CREATIVE LIVING" ON FACEBOOK. JUST GO TO facebook.com AND IN THE SEARCH WINDOW, TYPE IN "CREATIVE LIVING WITH SHERYL BORDEN." THANKS SO MUCH, AND I HOPE YOU'LL PLAN TO JOIN ME NEXT TIME FOR "CREATIVE LIVING." >> WE ARE VERY PLEASED TO OFFER A NEW BOOKLET THAT ACCOMPANIES THIS SERIES OF "CREATIVE LIVING." THIS BOOKLET IS TITLED "THE 6500 SERIES," AND IT FEATURES A WONDERFUL COLLECTION OF IDEAS AND INFORMATION, AND IT'S AVAILABLE FREE OF CHARGE ON OUR WEBSITE. POSTED AS A "PDF" FILE, YOU CAN SIMPLY DOWNLOAD THE ENTIRE BOOKLET OR JUST THE SEGMENTS YOU'RE MOST INTERESTED IN. AS WITH ALL OF THE "CREATIVE LIVING" BOOKLETS, YOU'LL FIND INFORMATION ON... FOODS AND NUTRITION, CLOTHING AND FASHION, HEALTH AND BEAUTY, HOME DECORATING, AND MUCH MORE. FOR YOUR COPY OF THIS BOOKLET, GO TO OUR WEBSITE AT kenw.org AND THEN CLICK ON "CREATIVE LIVING." SCROLL DOWN TO THE BOOKLETS SECTION, AND YOU CAN CLICK ON THIS BOOKLET OR ANY OF THE OTHER BOOKLETS WE HAVE AVAILABLE ONLINE. ONCE AGAIN, JUST GO TO kenw.org, CLICK ON "CREATIVE LIVING," AND DOWNLOAD THE BOOKLET TITLED "THE 6500 SERIES." WE ALSO WANT TO ENCOURAGE YOU TO SIGN UP FOR OUR FREE E-NEWSLETTER. JUST CLICK ON THE "SIGN UP NOW" BUTTON AND INPUT YOUR E-MAIL ADDRESS. THAT'S ALL THERE IS TO IT. YOU'LL ENJOY READING AN UP-TO-DATE NEWSLETTER FILLED WITH INTERESTING TOPICS AND INFORMATION. THANK YOU.
Now Playing As: Captioned (English) (change)
Nancy Siler uses fondant to create oriental designs on cakes, and an aromatics specialist discusses the use of essential oils for different skin types.
Media Details
Runtime: 27 minutes