Creative Living With Sheryl Borden #6519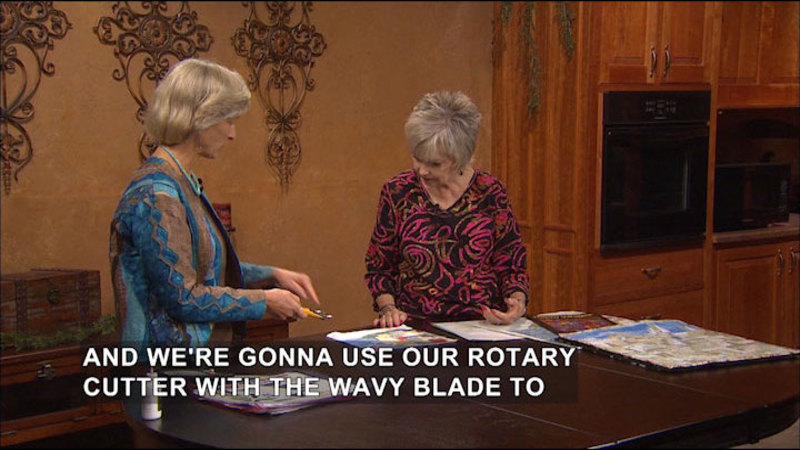 >> "CREATIVE LIVING," UTILIZING TODAY'S TECHNOLOGY WITH THE BEST OF THE PAST TO BRING YOU INNOVATIVE IDEAS AND UP-TO-DATE INFORMATION FOR CREATIVE LIFESTYLES IN TODAY'S ACTIVE WORLD, WITH YOUR HOST SHERYL BORDEN. >> WELCOME TO "CREATIVE LIVING" TODAY. WE'RE GOING TO LEARN HOW TO CREATE INTERESTING VILLAGE SCENES FOR OUR QUILTS, LEARN TO MAKE BOUTONNIERES, AND SHOW HOW TO INCORPORATE THREE-DIMENSIONAL ELEMENTS FOR SCRAPBOOKS. ONE OF MY GUESTS IS KAREN ECKMEIER AND SHE'S AN AUTHOR AND QUILTER. KAREN'S GOING TO DEMONSTRATE A FABRIC COLLAGE OF STEP AND WINDOW SHAPES THAT MAGICALLY TURN INTO A VILLAGE. IT'S AMAZING HOW THE TULLE COLOR CAN CHANGE THE MOOD OF THE VILLAGE. HER COMPANY IS THE QUILTED LIZARD, AND SHE'S FROM KENT, CONNECTICUT. ANOTHER GUEST IS CASEY SCHWARTZ AND SHE'S A FLORAL DESIGNER AND CO-OWNER OF FLOWER DUET IN REDONDO BEACH, CALIFORNIA. CASEY'S GOING TO SHOW SOME TRICKS OF THE TRADE WITH WIRING SOME FLOWERS TO MAKE SMALL PIECES OF ART TO WEAR ON YOUR LAPEL OR WRIST. THIS WILL SAVE YOU A LOT OF MONEY OVER BUYING THEM PREMADE AT A FLORIST. AND WE'LL BEGIN THE SHOW WITH DIANNA EFFNER, AND SHE'S A DESIGNER OF DOLLS AND DOLL MOLDS. DIANNA IS THE OWNER AND FOUNDER OF EXPRESSIONS, INCORPORATED, IN JAMESTOWN, MISSOURI. DIANNA HAS EVEN FIGURED OUT A WAY TO USE THREE-DIMENSIONAL DOLLS IN SCRAPBOOKS, AND SHE'LL SHOW HOW TO PRESS THE MOLDS AS WELL AS HOW TO PAINT THEM, AND THEN HOW THEY CAN BE INCORPORATED INTO YOUR HANDMADE CARDS OR YOUR SCRAPBOOKS. DIANNA, THANK YOU SO MUCH FOR BEING HERE. I WAS TELLING YOU HOW MUCH I ENJOY DOING SCRAPBOOKING, AND THEN YOU SAID YOU WERE JUST GETTING INTO IT, BUT YOUR BACKGROUND IS IN MAKING DOLLS. HOW DO THESE TWO GO TOGETHER? >> WELL, DOLL PEOPLE ARE FUNNY ABOUT DOLLS. SOMETIMES THE DOLLS HAVE A STORY TO TELL. THEY'RE JUST NOT--NOT JUST TO LOOK PRETTY, BUT THEY ACTUALLY CARRY A MESSAGE--AT LEAST IN OUR MINDS. AND I MADE A LITTLE DOLL... >> THAT'S THIS ONE. >> THAT REMINDED ME OF MY DAUGHTER. IT'S NOT A PORTRAIT OF HER, BUT BECAUSE IT'S WEARING A CHINESE-INSPIRED COSTUME AND IT'S GOT THE BLOND HAIR AND INNOCENT FACE, IT MADE ME THINK OF MY DAUGHTER SARAH. AND SARAH IS A BIT OF A WORLD TRAVELER, AND SHE'S BEEN TO CHINA 3 TIMES, AND EACH TRIP WAS VERY DISTINCTIVE AND I... >> AND LOTS OF KEEPSAKES BROUGHT BACK, PROBABLY, FROM CHINA. >> AND PICTURES, WONDERFUL PICTURES. SO I DECIDED TO COMMEMORATE SARAH'S TRIPS TO CHINA AND HER PASSION FOR CHINA BY DOING A LITTLE SCRAPBOOK WITH SOME OF THE PICTURES THAT SHE BROUGHT BACK. >> AND THIS IS INTERESTING--AND WE'LL SHOW WHAT THIS STARTED FROM--BUT THIS IS THE SCRAPBOOK THAT YOU MADE, AND THIS IS THE CLAY. IT'S AN AIR-DRY MODELING CLAY YOU USED. AND WE'LL WORK ON THIS PAGE IN A MINUTE, BUT YOU MADE THESE LITTLE NUMBERS THAT GO ON THIS. AND THIS IS SIMILAR TO WHAT YOU'RE GOING TO DEMO FOR US IN JUST A MINUTE, ISN'T IT? >> RIGHT, RIGHT. I LIKE THE THREE-DIMENSIONAL QUALITY. BECAUSE I'M A SCULPTOR, I LIKE THINGS TO HAVE 3 DIMENSIONS. >> NOW, THIS? >> THAT'S GOT A LITTLE BIT OF A RAISED EFFECT. >> OH, I THINK WE CAN SEE IT LIKE THAT. UH-HUH. SO YOU STARTED WITH THE CLAY, YOU PUT THE PICTURE ON TOP OF IT. >> MM-HMM. AND THEN THIS IS CLAY THAT'S PRESSED INTO A DIFFERENT KIND OF A MOLD. >> OK. THIS IS... >> THAT'S ACTUALLY A WORK IN PROGRESS. >> IT'S A WORK IN PROGRESS? MOST OF MINE ARE, TOO. THIS IS WHAT IT STARTED--THESE ARE LITTLE... >> RIGID PLASTIC, AND IT WORKS REALLY WELL BECAUSE YOU CAN... >> YOU CAN ADD TO IT. >> ADD TO IT. AND WITH THE RINGS, YOU CAN HAVE, YOU KNOW, THREE-DIMENSIONAL ELEMENTS. >> OK, AND THESE ARE THE MOLDS. NOW, YOU DESIGN MOLDS FOR DOLLS. >> YES, BUT I DIDN'T DESIGN THESE MOLDS; I BOUGHT THESE AT THE HOBBY STORE. >> OK. SO THESE ARE READILY AVAILABLE TO MANY OF US? >> YES. AND THERE ARE DIFFERENT TEXTURES, DIFFERENT DESIGNS YOU CAN USE, AND I'LL JUST DEMONSTRATE... >> AND WE HAVE THE CLAY WRAPPED UP IN A DAMP CLOTH BECAUSE YOU DO WANT TO KEEP IT DAMP; IT'LL DRY OUT. >> THIS IS AIR-DRY CLAY THAT COMES IN LOTS OF COLORS, AND YOU CAN MIX WHATEVER COLOR YOU WANT. YOU CAN MATCH YOUR, YOU KNOW, PAPERS AND STUFF. >> AND JUST LIKE WITH PLAY-DOH OR CLAY, THAT'S--THIS IS HOW WE MAKE IT. SO YOU'RE ROLLING IT INTO A LOG. >> AND THEN--I DON'T KNOW IF I GOT IT BIG ENOUGH. JUST PRESS IT IN. OOPS. >> THIS LOOKS LIKE FUN. AND IT'S THAT FAST THAT YOU PULL IT OUT. >> IF YOU WANT TO MAKE IT LONGER, YOU JUST TAKE THAT PIECE... >> OH, THE LEFTO--UH-HUH. SO YOU DON'T WASTE ANY OF IT, DO YOU? >> SOMETIMES YOU NEED A LONGER PIECE FOR YOUR SCRAPBOOK. >> AND THEN HOW LONG DOES THIS DRY WHEN YOU JUST LAY IT OUT LIKE THIS? >> WELL, THAT'LL START GETTING DRY PRETTY QUICK, BUT YOU MIGHT WANT TO LEAVE IT OVERNIGHT BEFORE YOU--WELL, ACTUALLY, YOU CAN SAND IT--WHEN IT'S COMPLETELY DRY, YOU CAN SAND ON IT IF THERE'S ANY LITTLE BUMPS OR PIECES ON THE BACK. AND--BUT YOU CAN ACTUALLY PAINT ON IT RIGHT AWAY. >> AND YOU HAVE--IS IT JUST AN ACRYLIC PAINT, OR IS THIS... >> THIS IS SOME POWDERED METALLIC PIGMENT. >> UH-HUH. >> LET'S SEE. AND MAYBE I'LL PUT SOME GOLD ON THERE, SEE HOW THAT LOOKS. >> LET'S SEE HOW THAT ONE LOOKS. OH, IT IS JUST--OH, YOU JUST USE YOUR FINGER. >> THAT WILL REALLY BRING OUT THE--I DON'T KNOW IF I LIKE THE GOLD, BUT... >> I DO. I THINK THAT'S KIND OF PRETTY. >> IT REALLY BRINGS OUT THE PATTERN. >> MM-HMM. ESPECIALLY SOMETHING LIKE THIS THAT HAS MULTIPLE HEIGHTS TO IT; IT REALLY HIGHLIGHTS IT. >> IT'S PROBABLY A GOOD IDEA TO GLUE IT DOWN BEFORE IT GETS COMPLETELY DRY. YOU CAN ACTUALLY GLUE IT WHILE IT'S STILL WET. >> AND WHAT TYPE OF ADHESIVE DO YOU USE? >> I JUST LIKE TO USE WHITE GLUE. I'VE GOT A WHITE GLUE THAT WORKS FOR EVERYTHING REALLY WELL. >> SO WE COULD GLUE THIS DOWN, YOU'RE SAYING, AND LET IT DRY RIGHT THERE IN THE BOOK? >> BECAUSE IF IT DRIES ON ITS OWN, SOMETIMES IT GETS A LITTLE BIT OF A WARP TO IT AS IT DRIES.
HERE'S ANOTHER DESIGN THAT'S IN HERE: IT'S BAMBOO, AND I THOUGHT THAT WORKED OUT REALLY WELL FOR THE COVER. >> AND THAT'S WHAT YOU HAD ON THE COVER. I NOTICED THAT. >> I PAINTED IT A LITTLE BIT AFTER WITH SOME WATERED-DOWN PAINT. >> I HADN'T EVEN THOUGHT ABOUT ADDING THREE-DIMENSIONAL THINGS--USUALLY IT'S STICKERS OR THINGS LIKE THAT THAT WE BROUGHT BACK FROM A TRIP. WELL, YOUR DAUGHTER IS GOING TO LOVE THIS WHEN YOU DO FINALLY GET IT FINISHED. WELL, THANK YOU VERY MUCH FOR SHOWING US SOMETHING NEW THAT WE CAN MAKE. >> THANK YOU FOR HAVING ME. >> CASEY, THANK YOU SO MUCH FOR BEING HERE, AND YOU SAID WE WERE GOING TO LEARN TO MAKE BOUTONNIERES. AND, OF COURSE, WHEN I THINK OF BOUTONNIERES, I EITHER THINK OF WEDDINGS, OR IN OUR CASE, OUR SCHOOL HAS A WONDERFUL MAYPOLE TRADITION WHERE THE GIRLS OF COURSE WEAR THEIR LONG DRESSES AND THE GUYS HAVE A BOUTONNIERE THAT MATCHES THE DRESSES. AND I'M SURE THE FLORISTS MAKE LOTS OF MONEY THOSE TIMES OF THE YEAR, BUT IT'S NOT REALLY THAT HARD, IS IT? >> IT'S NOT THAT HARD. IT TAKES A FEW ELEMENTS AND THE RIGHT KIND OF FLOWERS TO MAKE IT WORK. ROSES ARE, BY FAR, THE EASIEST AND BEST BECAUSE THEY DO WELL OUT OF WATER. BECAUSE WHAT YOU'RE DOING IS YOU'RE TAKING THE LITTLE FLOWER AWAY FROM ITS STEM, WHICH HAS BEEN SITTING IN WATER, AND YOU'RE WRAPPING IT UP. YOU'RE STICKING SOME WIRE IN IT AND THEN WRAPPING UP WITH TAPE, AND SO IT HAS TO BE ABLE TO MANAGE OUT OF WATER FOR A WHILE. SO IT'S IMPORTANT TO FIND THE RIGHT FLOWERS THAT DO THAT. SO ROSES, BY FAR, ARE GREAT BECAUSE THEY ALSO--WE TALKING ABOUT COLOR THEMES. EVERYBODY WANTS A DIFFERENT COLOR TO GO WITH THEIR WEDDING. SO WITH ROSES, YOU HAVE A HUGE ARRAY OF SHADES, AS WELL AS THE SPRAY ROSES, WHICH WE'RE GONNA WORK WITH TODAY. THESE ARE THE SMALLER ONES, AND THESE I FIND WORK GREAT FOR, LIKE, A RING BEARER BOUTONNIERE... >> A LITTLE CHILD? >> A LITTLE CHILD. OR EVEN FOR THE GUYS THAT MAYBE AREN'T WEARING A TUXEDO, THAT MIGHT BE WEARING MAYBE A LOOSER SHIRT, LIKE A TOMMY BAHAMA SORT OF LOOSE, COMFORTABLE SHIRT IN THE SUMMER. A BIG, HEAVY ROSE OR FLOWER ISN'T GOING TO... >> THAT DOESN'T LOOK APPROPRIATE. >> NO. IT'S GONNA SWING DOWN AND BE TOO HEAVY. SO SOMETHING LIKE THIS IS NICE AND LIGHT. ALSO FOR MOMS WHO ARE GONNA HAVE A WRIST CORSAGE OR MAYBE EVEN SOMETHING THAT THEY'RE WEARING, SOMETHING CHIFFONY OR SOMETHING. SO IT'S NICE TO USE SOMETHING LIGHTWEIGHT. SO WE'RE GONNA USE THIS AS OUR MAIN FLOWER, OUR SPRAY ROSE, AND THEN WE'RE GONNA ADD A LITTLE BIT OF FUN TO IT WITH SOME WAX FLOWER, A LITTLE FILLER FLOWER, AND THIS IS WHAT I'VE JUST DONE. VERY SIMPLE. BUT TO ME, THE FUN THING ABOUT THEM IS YOU CAN PULL IN SO MANY DIFFERENT ELEMENTS, AND THEY JUST END UP BEING LITTLE PIECES OF ART TO WEAR. >> EACH ONE SLIGHTLY DIFFERENT. >> EACH ONE SLIGHTLY DIFFERENT. SO WE'RE GONNA MAKE A COUPLE OF THOSE TODAY. SO WHAT WE NEED IS SOME WIRE, AND THE KIND OF WIRE THAT WE USE FOR THESE, IT HAS TO BE PRETTY BENDABLE BUT AT LEAST STURDY. SO THIS IS ABOUT A 24-GAUGE WIRE, AND... >> THAT'S VERY THIN. >> VERY THIN, BUT ENOUGH TO HOLD IT TOGETHER, AND--BECAUSE YOU DON'T REALLY WANT THE BULK OF ALL THE STEM TO STAY WITH IT. SO WE NEED TO TAKE THE STEM OFF, BUT WE NEED THE WIRE TO SORT OF BUILD THE COMPONENTS TOGETHER. SO THAT'S WHAT THE WIRE IS FOR. >> AND IS A BOUTONNIERE ALWAYS A SINGLE FLOWER? >> NOT NECESSARILY, NO. A BOUTONNIERE IS MORE--IS SMALLER AND CONSIDERED MORE FOR A GENTLEMAN, WHEREAS A PIN CORSAGE IS A LITTLE BIT MORE ORNATE, AND THAT WOULD BE FOR A LADY. >> I SEE. OK. >> SO I THINK THE BOUTONNIERE, TOO, IS--ALSO CAME FROM THEM HAVING A BUTTONHOLE. THEY USED TO CALL IT A BUTTONHOLE. THEY'D PUT SOMETHING IN IT, AND THAT WAS ACTUALLY IN THE LAPEL, BUT THIS USUALLY GETS PINNED ON THE LAPEL. THE SECOND ELEMENT THAT WE NEED FOR HARDWARE IS THIS. THIS IS CALLED FLORAL TAPE, AND IT'S VERY UNUSUAL BECAUSE IT DOESN'T FEEL STICKY, BUT IT ACTUALLY--YOU HAVE TO PULL IT TO SORT OF ACTIVATE IT, AND THEN IT WILL STICK TO ITSELF. HOWEVER, ALL OF THE ELEMENTS NEED TO BE DRY TO MAKE IT WORK. IF IT DOES HIT WATER, IT WILL UNRAVEL. SO WE USUALLY TAKE A LENGTH OF THAT, AS WELL. SO I'M GONNA DO THAT. PUT THAT THERE. SO I HAVE A LENGTH OF MY FLORAL TAPE, I HAVE MY WIRE, AND I'M GONNA GIVE IT A GO HERE. AND I HAVE MY ROSE. THIS ONE LOOKS LIKE A GOOD CANDIDATE. >> YOU KNOW I LOVE YELLOW ROSES. >> I KNOW. THEY ARE SO LOVELY. >> SO GLAD YOU BROUGHT THAT. >> HA HA HA! WE'RE GONNA TAKE OFF THE GREENERY, AND I HAVE SOME STEM TO WORK WITH, BUT I DON'T REALLY NEED ALL THAT. I ONLY NEED ABOUT THAT MUCH. >> OH. ABOUT AN INCH. >> ABOUT AN INCH. AND THEN RIGHT HERE ON THE STEM WHERE THE MAIN PART OF THE BULB STARTS TO NARROW DOWN INTO THE STEM, WE ACTUALLY INSERT THE WIRE RIGHT THERE, STRAIGHT ACROSS. YEP. AND THEN WE WORK THIS RIGHT THROUGH, RIGHT TO THE CENTER, AND THEN WE DROP IT DOWN AND IT BECOMES A NEW STEM. AND THEN FROM HERE, WE ADD OUR FLORAL TAPE, AND OUR FLORAL TAPE ACTIVATES ONCE YOU STRETCH IT. SO WE GIVE IT A LITTLE STRETCH, AND WHEN WE ADD IT ON, WE'RE GONNA COVER THE WIRE. AND WHAT ALSO THE FLORAL TAPE DOES, ONCE IT COVERS THE STEM, IT WILL HELP SEAL IN THE MOISTURE IN THE STEM. SO IT WILL LAST A WHILE. >> SO I BET IN YOUR STUDIO, YOU KEEP ALL THE FLOWERS IN WATER UNTIL YOU'RE READY TO USE THEM. >> ABSOLUTELY, YES. SO THEN WE JUST COVER THE WIRE... >> AND YOU TWIST IT? >> AND I TWIST IT AND I PULL, KIND OF LIKE WRAPPING AN ACE BANDAGE RATHER ON THE QUICK SIDE. SO THAT'S GOOD TO GO, BUT WE USUALLY LIKE TO ADD SOMETHING ELSE A LITTLE BIT SPECIAL. SO WE'RE GONNA TAKE SOME OF THIS WAX FLOWER, AND IT'S GOT THE GREENERY ON IT WHICH WON'T REALLY WORK--IT'S TOO BULKY. SO WE PULL AWAY SOME OF THAT, AND YOU CAN JUST THINK, "WELL, I THINK THAT LOOKS PRETTY. MAYBE I'LL JUST DO THAT. LOOKS REALLY SWEET." WELL, CAN'T REALLY WIRE THAT BECAUSE IT'S TOO MUCH OF A BRANCH. SO WHAT I'M GONNA DO IS TAKE ANOTHER PIECE OF TAPE, AND HOW WE DO THIS IS WE ALREADY HAVE THAT ONE ELEMENT THERE, AND I'M GONNA LINE THAT UP AND I'M JUST GOING TO ANCHOR IT. I'M GONNA GO AROUND AND I'M GONNA ANCHOR THAT STEM, AND THEN I'M GONNA CUT THAT STEM OFF. >> OH. GET RID OF THE LENGTH? >> MM-HMM. AND THEN I'M GONNA CARRY ON WITH THAT SAME TAPE THAT I HAD ON THERE AND KEEP TWISTING. I DON'T EVEN HAVE TO GO ALL THE WAY DOWN NOW; WE'RE ALREADY THERE. >> THEN YOU GET A LONG PIN... >> AND THEN--YEP, AND HERE WE CAN ACTUALLY JUST TURN THIS AROUND, AS WELL. >> THAT'S RIGHT! HOW PRETTY! I WONDERED WHY YOU LEFT THAT SO LONG. >> THAT MAKES IT LOOK A LITTLE BIT MORE NATURAL. IT LOOKS LIKE A LITTLE PIECE OF IVY, ACTUALLY, SO IT JUST FINISHES IT OFF. SO THEN YOU HAVE YOUR BOUTONNIERE. >> AND THEN YOU SAID CARNATIONS ARE ALSO A GOOD FLOWER? >> I'LL GIVE YOU ONE OF THE CARNATIONS TO GIVE IT A GO. THE CARNATION IS VERY POPULAR AND VERY HARDY ALSO, AND WE'RE ACTUALLY GONNA STICK--YOU'RE GONNA STICK THE WIRE RIGHT THROUGH THIS PART OF IT, THE BIGGER PART BECAUSE IT'S TOO HEAVY CORE DOWN HERE, SO WE'RE GONNA GO RIGHT THROUGH THERE. YOU WANT TO GIVE IT A TRY? >> OK. >> ALL RIGHT. JUST FEED IT IN RIGHT WHERE--FEED THAT IN THERE SO YOU DON'T BEND, GOOD, AND POP IT THROUGH. WONDERFUL! AND THEN, YEP, DROP THAT DOWN, STRAIGHT DOWN. GREAT! THAT LOOKS TERRIFIC. AND THEN I'LL GET YOU STARTED WITH THE TAPE, AND THEN I'LL HAVE YOU CARRY ON WITH IT. AND WE'RE JUST GONNA ANCHOR IT ON THERE, GO UP A LITTLE BIT TO HIDE THE WIRE. AND THEN--YOU WANT TO JUST KEEP PULLING AND TWISTING? >> PULLING AND TWISTING. >> AND THEN I'LL PULL YOU A BIT OF WAX FLOWER. >> BUT YOU WOULDN'T ADD THE WAX FLOWER UNTIL YOU'D GONE ALL THE WAY DOWN? >> RIGHT. BECAUSE IF YOU TRY TO ADD ALL THE COMPONENTS, AND THEN TRIED TO TAPE THE WHOLE THING, IT ENDS UP BEING A BIT OF A MESS. SO YOU'RE BETTER OFF TAPING EACH INDIVIDUAL COMPONENT AND THEN BUILDING IT TOGETHER. GREAT! >> I DON'T THINK I TWIRLED QUITE AS FAST AS YOU DID. >> HA HA HA! THAT'S ALL RIGHT. >> OK. WE'RE ABOUT TO GET THERE. >> THERE WE GO. THAT'S PROBABLY PLENTY. WE CAN JUST CUT THAT OFF. I DON'T THINK WE'RE GONNA NEED IT. >> OK. >> A LITTLE BIT OF A RIP. THERE YOU GO. AND THEN WE MIGHT DECIDE, "WELL, I THINK I WANT TO HAVE A LITTLE BIT MORE GOING ON THERE." SO YOU COULD ADD A LITTLE BIT OF WAX FLOWER UP THERE. YOU COULD DO IT IN FRONT LIKE THAT. SOMETIMES IF YOU JUST LAY IT ON TO SEE HOW IT'S GONNA LOOK, AND MAYBE WE JUST ANCHOR THAT PIECE RIGHT THERE. >> WOULD WE EVER WANT TO PUT TWO PIECES WITH THAT? >> SO WE COULD DO THAT, TOO. SO I'M GONNA ANCHOR THIS FIRST ONE. WENT AROUND TWICE, ANCHORED IT, TRIM IT OFF. AND THEN AT THIS POINT, THIS IS WHERE YOU CAN ADD ANOTHER PIECE. >> YOU DON'T HAVE TO GO ALL THE WAY AROUND? >> NO. YOU CAN JUST SAY, "WELL, I THINK I'LL JUST ADD THIS PIECE NOW MAYBE TO THIS SIDE." OR WE COULD DO A WHOLE COLLAR OF IT ALL THE WAY AROUND IF WE SO DESIRED. SO SOMETIMES YOU HAVE A CLIENT THAT JUST WANTS TONS OF THIS AND TONS OF THAT, AND YOU JUST HAVE TO WORK IT INTO THE PLAN. >> WOW. AND ARE THESE FAST TO MAKE. >> YES. THEY'RE REALLY FUN AND THEY'RE VERY METICULOUS. YOU HAVE TO HAVE ALL YOUR LITTLE ELEMENTS. AND THEN YOU'LL WRAP IT AROUND? >> YES, I LIKE THAT LITTLE TWISTING PART. HA HA! WELL, THANK YOU SO MUCH, CASEY. I APPRECIATE KNOWING HOW TO DO THIS. THANK YOU. >> YOU'RE WELCOME. >> KAREN, IT'S REALLY NICE TO HAVE YOU HERE TODAY. AND OF COURSE WHEN YOU AND I FIRST TALKED AND YOU WERE--YOU SAID YOU WERE A QUILTER AND AN AUTHOR, AND I THOUGHT, "OH, GOOD. QUILTING--I KNOW A LITTLE ABOUT THAT BECAUSE WE'VE HAD LOTS OF QUILTING GUESTS ON." BUT I HAVE TO SAY YOUR QUILTING IS TOTALLY DIFFERENT. IT'S AMAZING! >> YEAH, IT'S NOT THE TYPICAL. HA! THERE ARE PROJECTS THAT YOU CAN COMPLETE IN A DAY, AND THIS PARTICULAR ONE USES RAW EDGES AND GLUE, WHICH IS NOT USUALLY IN A QUILTER'S VOCABULARY. >> OH, MY GOSH. YEAH, WELL, LET'S SHOW WHAT YOU'RE TALKING ABOUT. >> THIS IS A LITTLE SEASIDE VILLAGE, AND IT USES WHAT I CALL STEP AND WINDOW SHAPES TO KIND OF MYSTERIOUSLY CREATE A VILLAGE, AND I'LL SHOW YOU HOW THAT GOES TOGETHER. >> AND I WAS MENTIONING TO YOU THAT MY MOTHER WAS A WONDERFUL QUILTER. OF COURSE EVERYTHING WAS PIECED BY HAND AND QUILTED BY HAND, BUT I CAN REMEMBER HER DOING A SIMILAR SCENE--I MEAN, SOMETHING. BUT EVERY LITTLE EDGE WAS TURNED UNDER AND SHE HAD TO HAND-STITCH IT. IT TOOK, WELL, MONTHS, IF NOT YEARS, TO DO. >> YEAH, AND WE CAN DO THIS IN A DAY. HA HA! OR TWO. HA HA! >> AND THIS IS OUT OF YOUR BOOK CALLED "HAPPY VILLAGES." AND SO IF YOU REALLY GET INSPIRED, YOU CAN LOOK THROUGH HERE AND FIND ALL KINDS OF PATTERNS FOR OTHERS. >> YEAH, SO I THOUGHT I'D SHOW YOU HOW THIS STARTS. IT STARTS OUT WITH 6-INCH SQUARES. SO IF WE'RE GONNA MAKE OUR SEASIDE VILLAGE--I'VE DONE-- WELL, THAT LOOKS LIKE KIND OF ARCHITECTURAL. I USUALLY DIVIDE THEM INTO TWO PILES. SO WITH 7, WE'VE GOT TWO PILES, A 4 AND A 3. AND I USE THE CUTTING INSTRUCTIONS IN THE BOOK, SO IT'S NOT ACCIDENTAL. >> MY FIRST QUESTION WOULD BE, I DON'T KNOW HOW TO PICK THESE FABRICS. HOW DO I DO, JUST COPY EXACTLY WHAT YOU DID? >> PRETTY MUCH I TELL YOU EXACTLY WHAT TO PICK OUT SO THAT WE HAVE THE RIGHT VALUES. OTHERWISE--YEAH, THAT'S CRITICAL, THAT YOU GET THE RIGHT ONES. SO I'VE MADE SURE THAT I'VE GOT SOME LIGHTS AND MEDIUMS AND DARKS, AND THEN I TELL YOU EXACTLY HOW TO CUT THINGS OUT. IF IT'S ME, I--AND WHEN I TEACH THE CLASS, I JUST SAY, "OK, YOU WANT A TWO-INCH SQUARE," AND I JUST HAVE THE STUDENTS CUT A TWO-INCH SQUARE BECAUSE IT'S NOT THAT CRITICAL. BUT MOST QUILTERS WILL WANT TO DRAW IT OUT, AND THAT'S FINE, TOO. SO WE'LL PRETEND THAT THAT'S DONE. >> OK. WE'VE CUT THESE IN TWO-INCH SQUARES. >> YEAH--WELL, NOT TWO-INCH SQUARES, BUT WE'VE CUT THEM-- EACH FABRIC WILL WIND UP LOOKING INTO THESE SHAPES. OK? YOU'LL SEE THAT'S OUR FIRST CUTTING INSTRUCTION... >> OH, I WAS GONNA SAY, "HOW DID YOU GET TO THAT?" >> SO EACH OF OUR 7 OR 10 FABRICS, DEPENDING ON THE VILLAGE WE'RE MAKING, WILL HAVE THESE SHAPES, AND IT'S JUST WHAT I'VE DISCOVERED THAT GOES TOGETHER. SO THESE ARE THE SHAPES WE'RE GONNA WORK WITH, AND WE'RE GONNA WORK ON A COTTON BATTING. AND AMERICAN SPIRIT HAS TWO NICE BATTINGS, THE LUXURY BLEND AND THE CLASSIC COTTON, WHICH IS GREAT BECAUSE WE WANT THE FABRICS TO STICK. SO THAT'S WHAT WE'RE LOOKING FOR. >> WE DON'T WANT THEM TO SHIFT AFTER WE'VE GONE TO ALL THIS WORK. >> NO, NO. SO THE BASICS FOR PUTTING THESE LITTLE COLLAGE SHAPES TOGETHER IS THAT WE'RE-- WE'RE GONNA JUST KIND OF SHOW YOU. WE'RE DOING SIMILAR SHAPES, LIKE, THOSE TWO COULD GO TOGETHER LIKE THAT, OR THESE TWO COULD GO TOGETHER. IT'S-- IF YOU'RE AN ARCHITECT OR A MATHEMATICIAN, IT'LL DRIVE YOU CRAZY BECAUSE IT'S NOT EXACT. NO, IT'S JUST KIND OF APPROXIMATE. AND SOMETHING LIKE THAT COULD GO AROUND THE CORNER. >> SO YOU JUST START LAYING THESE OUT AND PLAYING? >> YOU'RE JUST LAYING THEM OUT AND PLAYING. SO LET'S START ON OUR BATTING HERE LIKE WE'RE GONNA DO, AND BECAUSE... >> AND THAT'S WHAT WE'RE BUILDING IT ON? >> YEAH, THAT'S WHAT WE'RE GONNA BUILD ON. AND WE'RE GONNA START WITH THE SKY BECAUSE THIS IS GONNA BE OUR SEASIDE VILLAGE, AND WE'RE GONNA PUT A LITTLE DISTANT ISLAND ON THERE. >> AND THIS IS JUST FREEFORM CUTTING? >> YES. JUST FREEFORM CUT. AND THEN I'M GONNA PUT A BODY OF WATER THERE, AND I COULD MOVE MOUNTAINS. I COULD ACTUALLY MOVE THIS MOUNTAIN DOWN A LITTLE BIT LIKE SO, AND IT WOULD LOOK LIKE WE HAVE A LITTLE PENINSULA. OK? AND THEN OUR NEXT STEP IS THAT WE'RE GONNA TAKE OUR SHAPES-- THERE'S WAY MORE THAN THIS, BUT I JUST HAVE A COUPLE HERE TO GET YOU STARTED. WE'RE GONNA JUST START TO BUILD OUR VILLAGE. >> AND WE'RE JUST SLIGHTLY OVERLAPPING EVERYTHING? YOU WANT EVERYTHING OVERLAPPED. >> JUST LAYING IT DOWN, AND IT'S NOT A VILLAGE AT THIS POINT. WE'RE JUST KIND OF PLAYING WITH THESE SHAPES. I LOVE THE GAME TETRIS, SO I'M JUST THINKING I'M PLAYING TETRIS AND I'M JUST GONNA PUT THESE SHAPES DOWN. AND WE'RE JUST GONNA FAST-FORWARD TO THIS VERSION... >> OH, OK. >> OK, BECAUSE THAT SOMETIMES... >> WELL, IT'S MAKING A LITTLE MORE SENSE NOW. OK. >> AND USUALLY MY STUDENTS ARE REALLY FRUSTRATED AT THIS POINT. THEY SAYS, "IT DOESN'T LOOK LIKE A VILLAGE," BECAUSE IT DOESN'T. AND NOW WE WANT TO JUST USE A LITTLE GLUE-BASTE-IT UNDER EACH PIECE JUST TO HOLD IT IN PLACE. >> SO WE DON'T WANT TO PIN IT DOWN? WE'RE JUST GOING TO-- JUST TOUCHES OF GLUE. >> ...BUT IT WILL HOLD IN PLACE. >> SO THAT IF YOU TAKE IT TO THE MACHINE... >> YEAH, THAT'S THE TEST. NOW, TO MAKE IT LOOK LIKE A VILLAGE, WE'RE GONNA ADD TRIANGLES, HALF CIRCLES, AND TRAPEZOIDS, AND WE'RE GONNA USE OUR ROTARY CUTTER WITH THE WAVY BLADE TO MAKE NEAT SHAPES. LIKE, HERE WE HAVE SOME REALLY NEAT SHAPES, AND THESE ARE WHAT WE'RE GONNA ADD TO OUR VILLAGE TO MAKE IT START TO LOOK LIKE ONE. >> OK. SO THAT'S WHAT THAT BLADE'S GOOD FOR? >> YEAH. I ALWAYS WONDERED. >> YES, I'VE ALWAYS WONDERED WHAT I'D USE IT FOR. OK. >> SO, YOU KNOW, WHERE DO I PUT A VILLAGE? SO--I MEAN, WHERE DO I PUT A ROOFTOP TO MAKE IT A VILLAGE? AND IF I CAN JUST PUT IT ON ANY FLAT, HORIZONTAL SPOT, SOMETHING LIKE THAT... >> IT'S A ROUNDED DOME. >> YEAH, IT LOOKS KIND OF--JUST KIND OF PLAYING HERE. IT'S A GREAT KINDERGARTEN CLASS-- MOST OF MY CLASSES ARE KIND OF KINDERGARTEN-ORIENTED. YOU DON'T HAVE TO--JUST KIND OF--JUST DO KIND OF THINGS LIKE THIS. AND IF IT'S GOT TWO LEVELS THERE, WE CAN KIND OF MAKE IT A CASTLE, KIND OF DO THESE THINGS. I'M JUST KIND OF PUTTING SOME OF THESE SHAPES DOWN, AND IT'S STARTING TO LOOK LIKE A VILLAGE, DON'T YOU THINK? MAYBE THAT'S A CASTLE. IT CAN HAVE, LIKE, A LITTLE TURRET. >> AND WE JUST HAVE RAW EDGES-- THIS IS WHAT SEEMS SO ODD TO ME. >> YEAH, ISN'T THAT CREEPY? AND THEN WE CAN ADD SOME CIRCLES, ADD A LITTLE CLOCK TOWER. WE CAN CUT SHAPES LIKE THIS. YOU KNOW, THEY CAN GO PRETTY MUCH ANYWHERE. A LOT OF TIMES I'LL HAVE THEM COMING OUT TO THE WATER--LOOKS LIKE A BRIDGE. IT COULD BE OVER IN THIS SECTION. WHO KNOWS? BUT WHEREVER YOU-- AND THEN THESE PIECES... >> YOU CAN USE THOSE, TOO. >> YEAH, YOU CAN USE THOSE LITTLE PIECES. AND THEN WE COULD ADD OUR PALM TREE, AND WE COULD HAVE A LOT OF FUN WITH THAT. >> ALL OF THESE LITTLE THINGS WERE CUT, AGAIN, WITH A ROTARY CUTTER AND CHANGING THE BLADES. >> RIGHT. AND SO HERE I'VE DONE--I'VE GONE AHEAD AND DONE-- HAVE COMPLETED OUR SCENE AND LIGHTLY GLUED IT. >> AND THERE'S OUR PALM TREE. >> SO WE'VE GOT OUR VILLAGE ALL OF A SUDDEN. >> THAT'S AMAZING, HOW THAT TURNED OUT TO WHERE I CAN SEE WHAT IT IS NOW! >> YEAH, NOW YOU CAN UNDERSTAND. AND NOW WE HAVE TO DECIDE WHAT COLOR OF TULLE, AND TULLE IS THE VERY FINE NETTING. WE WANT SOMETHING THAT'S REALLY FINE... >> DO YOU KNOW I HAD NOT REALIZED THAT WAS TULLE? >> THEN IT WAS THE RIGHT COLOR. >> YES, IT WAS. I DIDN'T REALIZE THAT. OK. >> SO THE RIGHT COLOR IS ONE THAT YOU DON'T KNOW IS THERE. SO HERE IS BLUE, AND I'M NOT SURE THE CAMERA IS GONNA PICK THIS UP, BUT THAT LOOKS PRETTY NICE. >> WELL, YEAH, BECAUSE YOU CAN'T SEE IT. >> YEAH. BUT YOU KNOW WHAT... >> IT GIVES IT A LITTLE BIT OF A GLISTEN. I LIKE TULLE. >> AND SOME OF THEM DO HAVE A GLISTEN TO IT AND SOME ARE MORE OF A MATTE, SO THAT'LL READ DIFFERENTLY. HERE'S RED--IT'LL CHANGE THE TIME OF DAY. CAN YOU SEE HOW THAT--IT CHANGES THE SKY TO PURPLE? YEAH. AND A BLACK TULLE IS REALLY SUPER BECAUSE IT MAKES THE COLORS POP. SO THERE'S ALL SORTS OF DIFFERENT COLORS. SO YOU JUST HAVE TO AUDITION... >> JUST AUDITION... >> AUDITION AND... >> SEE WHICH ONE'S CHOSEN. >> EXACTLY. AND THEN ONCE YOU'VE DECIDED, YOU'RE GONNA LAYER IT WITH YOUR BOTTOM FABRIC, OR SOMETIMES I'LL DO FELT, AND QUILT. YOU QUILT AROUND THE EDGES... >> LET ME SHOW THIS AGAIN, BECAUSE NOW THAT I CAN SEE THE TULLE--I DIDN'T SEE IT AT ALL. >> AND THEN QUILTING JUST AROUND THE EDGES WILL HOLD THAT SHAPE IN PLACE, AND IT LOOKS AS THOUGH WE'VE TURNED OUR EDGES UNDER, AND WE HAVEN'T. SO THAT'S THE ONLY TIME WE NEED OUR SEWING MACHINES. >> I AM SO AMAZED THAT THIS ACTUALLY WORKS. >> AND THERE'S THE FINISHED VERSION. >> AND SO THIS IS A SMALL ONE. AND THAT'S A GOOD THING ABOUT DOING THESE AT HOME--YOU CAN MAKE THEM FIT YOUR DECOR, OR IF YOU WANTED THIS FOR A PILLOW TOP OR WHATEVER. >> RIGHT, A VILLAGE TO GO WITH YOUR COUCH. >> A VILLAGE--RIGHT. AND LET'S JUST SHOW A COUPLE OF OTHERS, TOO. >> YEAH, WE HAVE A LITTLE SAND CASTLE JUST WORKING WITH THE-- THE SAND CASTLE COLORS. AND THIS HAS A SPARKLY TULLE, A REALLY SPARKLY TULLE ON IT. >> AND IT IS THE SPARKLY TULLE. THE OTHER HAS A LITTLE BIT OF A SPARKLE. >> AND HERE I STARTED WITH A PHOTOGRAPH TRANSFERRED TO FABRIC, AND CREATED... >> AN ACTUAL PHOTOGRAPH? >> RIGHT. AND WORKING FROM THAT COLOR PALETTE. >> AND LOOK AT ALL THESE BLACKS AND GRAYS AND BROWNS AND... >> AND YOU CAN DO THIS ANY SIZE YOU WANT. SO--AND YOU CAN MAKE IT A LITTLE POSTCARD SIZE. >> AND A LOT OF PEOPLE LIKE TO DO THINGS FOR HOLIDAYS. YEAH. >> HALLOWEEN AND GINGERBREAD VILLAGES AND--YOU NAME IT, YOU CAN DO IT. >> WELL, KAREN, THIS IS JUST AMAZING--OH, AND I LOVE THE WAY THE SPIDER WEBS--THEY JUST STAND OUT SO MUCH. WELL, THANK YOU SO MUCH FOR SHOWING US HOW TO MAKE HAPPY VILLAGES. IT DOES CERTAINLY LOOK LIKE FUN. >> IT IS. >> I HOPE YOU ENJOYED THE SHOW TODAY. NEXT TIME ON "CREATIVE LIVING," WE'LL LEARN HOW TO MAKE SOME BEAUTIFUL FONDANT ORIENTAL DESIGNS FOR CAKES, AND TALK ABOUT AROMATIC SKIN CARE. ONE OF MY GUESTS ON THE NEXT SHOW HAS BEEN ON MANY TIMES, AND WE'RE ALWAYS AMAZED AT WHAT NEW TIPS AND TECHNIQUES SHE'LL HAVE FOR CANDY MAKING OR CAKE DECORATING. AND NEXT TIME, SHE'S GOING TO SHOW HOW TO CREATE ORIENTAL DESIGNS FOR CAKES USING FONDANT, A GUM-PASTE MOLD, AND BUTTER CREAM ICING. AND WHEN YOU WORK WITH FONDANT, IT MAKES CAKE DECORATING VERY PROFESSIONAL-LOOKING. WE'LL ALSO TALK TO A WOMAN WHO IS AN AROMATIC ALCHEMIST AND NATURAL PERFUMER. SHE'LL EXPLAIN WHAT ESSENTIAL OILS AND BASE OILS ARE AND TELL WHY THEY'RE IDEAL FOR VARIOUS SKIN TYPES, ESPECIALLY FOR DRY OR MATURE SKIN. AND SINCE THIS GUEST HAS LIVED IN MANY PARTS OF THE COUNTRY, SHE HAS SOME GREAT IDEAS FOR SUPER MOISTURIZING FORMULAS FOR FACIAL SKIN, FOR THE BODY, AND FOR YOUR HAIR. SHE'LL SHOW HOW TO USE THESE FORMULAS FOR A BEAUTIFUL, GLOWING APPEARANCE REGARDLESS OF WHERE YOU LIVE. BOTH OF THESE TOPICS WILL BE FEATURED ON THE NEXT "CREATIVE LIVING" SHOW. IF YOU EVER HAVE COMMENTS OR SUGGESTIONS OR IDEAS FOR SHOWS, YOU CAN E-MAIL ME AT SHERYL.BORDEN@ENMU.EDU. I'D ALSO LIKE TO ASK YOU TO BECOME A FAN OF "CREATIVE LIVING" ON FACEBOOK. JUST GO TO FACEBOOK.COM, AND IN THE SEARCH WINDOW, TYPE IN "CREATIVE LIVING WITH SHERYL BORDEN." THANKS SO MUCH. I HOPE YOU'LL PLAN TO JOIN ME NEXT TIME FOR "CREATIVE LIVING." >> WE ARE VERY PLEASED TO OFFER A NEW BOOKLET THAT ACCOMPANIES THIS SERIES OF "CREATIVE LIVING." THIS BOOKLET IS TITLED "THE 6500 SERIES," AND IT FEATURES A WONDERFUL COLLECTION OF IDEAS AND INFORMATION, AND IT'S AVAILABLE FREE OF CHARGE ON OUR WEBSITE. POSTED AS A .PDF FILE, YOU CAN SIMPLY DOWNLOAD THE ENTIRE BOOKLET OR JUST THE SEGMENTS YOU'RE MOST INTERESTED IN. AS WITH ALL OF THE "CREATIVE LIVING" BOOKLETS, YOU'LL FIND INFORMATION ON FOODS AND NUTRITION, CLOTHING AND FASHION, HEALTH AND BEAUTY, HOME DECORATING, AND MUCH MORE. FOR YOUR COPY OF THIS BOOKLET, GO TO OUR WEBSITE AT KENW.ORG, AND THEN CLICK ON "CREATIVE LIVING." SCROLL DOWN TO THE BOOKLETS SECTION, AND YOU CAN CLICK ON THIS BOOKLET OR ANY OF THE OTHER BOOKLETS WE HAVE AVAILABLE ONLINE. ONCE AGAIN, JUST GO TO KENW.ORG, CLICK ON "CREATIVE LIVING," AND DOWNLOAD THE BOOKLET TITLED "THE 6500 SERIES." WE ALSO WANT TO ENCOURAGE YOU TO SIGN UP FOR OUR FREE E-NEWSLETTER. JUST CLICK ON THE "SIGN UP NOW" BUTTON AND INPUT YOUR E-MAIL ADDRESS. THAT'S ALL THERE IS TO IT. YOU'LL ENJOY READING AN UP-TO-DATE NEWSLETTER FILLED WITH INTERESTING TOPICS AND INFORMATION. THANK YOU.
Now Playing As: Captioned (English) (change)
Guests show viewers how to create village scenes in quilts by using different fabrics. Viewers also learn how to use 3-D images in scrapbooking. And a floral designer demonstrates how to make boutonnieres.