Creative Living With Sheryl Borden #6518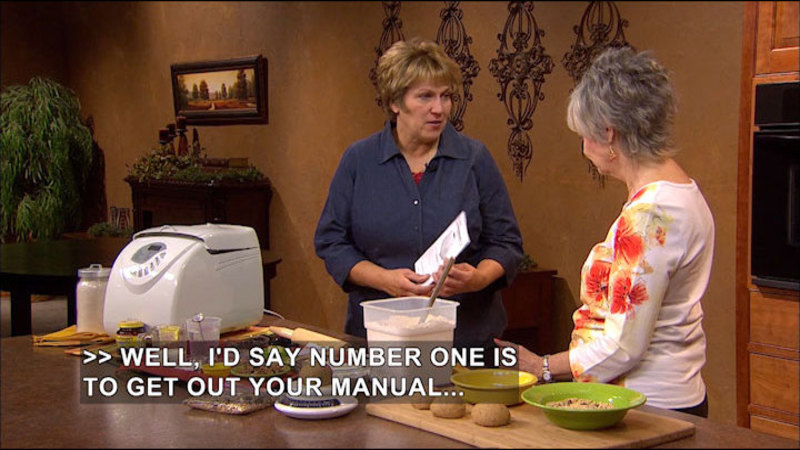 >> "CREATIVE LIVING," UTILIZING TODAY'S TECHNOLOGY WITH THE BEST OF THE PAST TO BRING YOU INNOVATIVE IDEAS AND UP-TO-DATE INFORMATION FOR CREATIVE LIFESTYLES IN TODAY'S ACTIVE WORLD. WITH YOUR HOST, SHERYL BORDEN. >> THANKS SO MUCH FOR JOINING ME TODAY FOR "CREATIVE LIVING." WE'RE GOING TO LEARN HOW TO CREATE DELICIOUS HOMEMADE BREADS USING A BREAD MACHINE AND DEMONSTRATE WHAT ALL CAN BE DONE WITH WING NEEDLES. ONE OF MY GUESTS TODAY IS CINDY FALK, AND SHE REPRESENTS THE KANSAS WHEAT COMMISSION, AND SHE'S GOING TO SHOW HOW TO USE A BREAD MACHINE TO CREATE SOME DELICIOUS BREADS, AND IT'S SO EASY. IN FACT, CINDY REFERS TO THIS AS "BREAD MACHINE MAGIC" BECAUSE YOU SIMPLY ADD ALL OF THE INGREDIENTS TO THE MACHINE PAN, AND THE END RESULT IS A FRESH, HOT LOAF OF BREAD, JUST LIKE MAGIC. SO IF YOU'RE LIKE SOME OF US AND HAVE A BREAD MACHINE STORED SOMEPLACE UNDER THE CABINET, IT'S TIME TO GET IT OUT AND LEARN HOW TO DO SOME MAGIC OF YOUR OWN. CINDY IS FROM MANHATTAN, KANSAS. MY FIRST GUEST TODAY IS SUE HAUSMANN, AND SHE'S REPRESENTING SULKY OF AMERICA, INCORPORATED. SUE'S GOING TO EXPLAIN WHAT HEM-STITCHING IS AND DEMONSTRATE THE TECHNIQUE OF WING NEEDLE HEM-STITCHING, WHICH RESEMBLES THE WAY READY-TO-WEAR LOOKS. SHE LIVES IN GREEN VALLEY, ARIZONA. SUE, THANK YOU SO MUCH FOR BEING HERE AND ESPECIALLY FOR BRINGING ALL THESE BEAUTIFUL SAMPLES TO SHOW US. YOU'VE BEEN IN THE INDUSTRY FOR A LONG TIME, AND YOU'VE WORKED WITH LOTS OF PRODUCTS, AND FOR THOSE OF US WHO MAY NOT HAVE ACCESS TO IT, IT'S GREAT TO HAVE SOMEONE LIKE YOU HERE. >> WELL, THANK YOU. IT'S A JOY TO BE HERE, AND I'VE BROUGHT ONE OF MY ABSOLUTELY FAVORITE TECHNIQUES, AND THAT IS HEM-STITCHING. >> HEM-STITCHING. >> AND HEM-STITCHING ACTUALLY IS SOMETHING THAT OUR OLDER ANCESTORS DID BY HAND, AND THEN IT BECAME A MACHINE TECHNIQUE, EARLY 1900s, ON A COMMERCIAL MACHINE, THAT PEOPLE WOULD GO TO THE DRY CLEANER AND PAY TO HAVE INCHES OR FEET DONE ALONG THE EDGES OF THEIR HEMS, AND WE BELIEVE IT'S CALLED HEM-STITCHING BECAUSE GENERALLY IT WAS DONE ALONG THE HEM. TODAY WE DO IT ANYWHERE, AND YOU'RE GONNA SEE THAT. >> ANYWHERE. >> THAT'S WHAT'S SO FUN. >> AND IT'S THESE HOLES. THAT'S WHAT WE'RE TALKING ABOUT. >> AND THIS IS ACTUALLY AN OLD PIECE, AN ANTIQUE PIECE, HAND-EMBROIDERED AND HAND--WELL, MACHINE-HEM-STITCHED ON THE COMMERCIAL MACHINE. BUT HERE'S ONE DONE AT HOME ON A HOME EMBROIDERY MACHINE AND WITH OUR HOME SEWING MACHINE. THE HOLES ARE THE KEY. THOSE ARE THE POKING. AND A LOT OF TIMES, WE WOULD SEE THIS IN WHITE AND OFF-WHITE, BUT TODAY-- >> LIKE CHRISTENING GOWNS, LITTLE BABIES' CHRISTENING GOWNS. >> YES, AND YOU KNOW, FOLKS THINK, "OH, THIS IS ONLY FOR THAT TYPE OF HEIRLOOM SEWING." NO. YOU CAN MAKE A TAILORED BLOUSE AND NOT HAVE TO BUY ANY KIND OF LACE BECAUSE THE ACTUAL HEM-STITCHING CREATES THE DESIGN, AND NOW WITH THE NEW LIGHTWEIGHT COLORED THREAD, WE CAN NOT FILL THE HOLES WITH THREAD. IN FACT, THIS PLACKET IS DONE COMPLETELY WITH HEM-STITCHING. SO THAT'S HOW EASY IT CAN BE TO DO. >> AND IT'S A PRETTY FINISH FOR SOMETHING LIKE THAT. >> IT IS. NOW, THERE'S KEYS. THE FABRIC YOU USE IS KEY, AND I USUALLY RECOMMEND THAT YOU USE A NATURAL FIBER--LINEN, COTTON--NOT TOO TIGHTLY WOVEN. SILK WORKS WELL--A NATURAL FIBER. ALSO, YOU CAN USE A COTTON LIKE THIS, BUT YOU REALLY NEED TO TRY IT. YOU NEED TO PRACTICE, AND I DO QUITE A BIT OF HEM-STITCHING ON READY-TO-WEAR, AND THE BLOUSE I HAVE ON IS AN EXAMPLE OF THAT. SO HOW DO YOU EXPERIMENT ON A BLOUSE? >> ESPECIALLY IF YOU'RE GONNA MESS UP, MAYBE. >> WELL, THIS BLOUSE HAD BREAST POCKETS, AND I GENERALLY TAKE BREAST POCKETS OFF BECAUSE THEY CALL ATTENTION TO A PART OF MY BODY I DON'T WANT TO CALL ATTENTION TO, SO I JUST REMOVED THEM, AND NOW I HAD A PIECE OF THE SAME FABRIC, AND I PUT THE STICKY WATER-SOLUBLE STABILIZER BEHIND IT, USED THE FINE THREAD, AND JUST EXPERIMENTED AND EVEN WROTE DOWN SOME OF THE STITCH NUMBERS THAT I LIKED. >> GOOD IDEA. AND IT'S BEAUTIFUL. IT'S A BEAUTIFUL STITCH. >> THIS IS THE HEM-STITCHING, AND THIS BLOUSE EVEN HAD A WEAVE THAT ALLOWED ME TO FOLLOW IT. BUT I WILL TELL YOU THAT SOMETIMES THERE'S A DART INSIDE THAT YOU CAN PRACTICE ON INSIDE A BLOUSE. >> GOOD IDEA. >> BY THE WAY, EVERY TIME I SAY THIS HAS TO BE DONE ON NATURAL FIBER, SOMEBODY SHOWS UP WITH SOMETHING THEY'VE DONE, AND LOOK AT THIS T-SHIRT THAT MY SISTER DID. SHE DIDN'T KNOW ANY BETTER. CHEAP T-SHIRT, VERY STIFF, AND THE HEM-STITCH WING NEEDLE WORKED GREAT. >> IT DID. >> NOW, OBVIOUSLY THE HOLES ARE THE KEY. HOW DO WE MAKE HOLES? WELL, MOST OF THE TIME, WHEN WE SEW, WE WANT A NEEDLE THAT DOES NOT POKE A BIG HOLE. >> OH, YEAH. THE SMALLER, THE BETTER. >> WELL, NOW WE WANT TO POKE THE BIGGEST HOLE POSSIBLE. SO THIS NEEDLE HAS WINGS ON IT. IT DOESN'T REALLY, BUT THAT'S WHY IT'S CALLED THAT. >> IT LOOKS LIKE IT DOES. >> AND IT POKES A BIG HOLE IN THE FABRIC, SEPARATES THE FIBERS. NOW, THEN THE STITCH. AND BY THE WAY, THESE COME IN A 116 SIZE. THEY ALSO COME IN A 120, 19. I ALWAYS SAY TRY THIS ON YOUR MACHINE. SOMETIMES THE 120 WILL BE TOO BIG FOR SOME PEOPLE'S MACHINES. AND IF YOU DON'T LIKE A GREAT BIG HOLE, YOU CAN ALSO USE A LARGE REGULAR NEEDLE. >> THAT'S NOT A WING NEEDLE. YOU MEAN JUST A REGULAR SEWING NEEDLE. >> JUST A REGULAR SEWING NEEDLE, LIKE 100 OR 120, AND TRY IT ON THE FINER FABRICS. SO THE NEEDLE'S IMPORTANT, BUT THEN AFTER YOU STITCH, YOU HAVE TO HOLD THOSE HOLES OPEN. >> RIGHT. >> AND SO THAT'S DONE WITH THREAD BECAUSE THE STITCH ITSELF HOLDS THE HOLES OPEN. AND HERE WE HAVE A FINE THREAD. THIS IS A POLYLITE. IT'S A LIGHTWEIGHT POLYESTER THREAD, 60 WEIGHT, AND WHAT'S GREAT ABOUT THAT IS IT DOESN'T FILL THE HOLES. >> MM-HMM. >> WHERE WE USE THE STANDARD THREAD--AND THERE ARE SO MANY THREADS AVAILABLE--IT WOULD FILL UP THOSE HEM-STITCHED HOLES... >> YOU'D DEFEAT YOUR PURPOSE. >> WITH THREAD. NOW, YOU SEE WE HAVE IT IN A COUPLE OF DIFFERENT WAYS. YOU CAN DO IT IN THE SPOOL SIZES IF YOU'RE DOING A SMALL PROJECT, BUT YOU CAN ALSO DO IT IN THE CONE SIZES, AND I REALLY LIKE THE CONES BECAUSE--FOR OTHER USES. THIS IS CUTWORK, ACTUALLY, BUT FOR CUTWORK, AND ALWAYS MATCH YOUR BOBBIN, AND THAT IS THE AMAZING PART OF THIS. YOU CAN GET SO MUCH ON A BOBBIN BECAUSE IT'S SO FINE. SO FOR MACHINE EMBROIDERY, COLORED BOBBINS. ALSO, ORIGINALLY WHEN THIS WAS DONE, THEY WERE THINKING THE PEOPLE WHO DO THIS LITTLE, TINY MICROQUILTING, AND YOU NEED TO HAVE-- >> YOU CAN HARDLY SEE IT. >> I KNOW. ISN'T THAT AMAZING? AND OF COURSE YOU NEED A VERY FINE THREAD FOR THAT AS WELL, AND SO THAT'S WHERE THIS VERY FINE THREAD, BOTH ON THE TOP AND ON THE BOBBIN, AND YOU CAN SEE HOW THAT WOULD GIVE YOU YOUR VERY FINE LIGHTWEIGHT QUILTING. IT DOESN'T MAKE A HEAVY QUILT-- >> IT'S NOT STIFF. >> SO ALSO THE CONES ARE GREAT ON THE SERGER FOR FINISHING SEAMS. >> YOU CAN USE IT, GO BACK AND FORTH. >> THAT'S WHY I USUALLY RECOMMEND GETTING THE CONE SIZE. NOW, WE NEED THREAD THAT DOESN'T FILL THE HOLES. THE OTHER THING WE NEED IS STABILIZER. >> AND THERE ARE SO MANY, IT'S HARD TO KNOW WHAT TO CHOOSE. >> WELL, IF YOU DON'T HAVE STABILIZER, HERE'S AN EXAMPLE OF WHAT HAPPENS WHEN-- >> LOOKS LIKE YOU WASHED IT AND IT'S KIND OF FRUMPY. >> AND OF COURSE, TUNNELING ON YOUR ZIGZAG AND WIDE STITCHES--YOU DON'T WANT THAT. THAT'S SOMETHING YOU ABSOLUTELY DON'T WANT. SO, WHAT DO WE DO? WE USE STABILIZER. NOW, IN THE EARLY DAYS, WE DIDN'T HAVE A LOT OF CHOICES, AND TEAR-AWAY WAS ONE OF THEM, BUT LITTLE FIBERS WOULD GET LEFT IN THERE, AND SO NOW WE USE A WATER-SOLUBLE. >> OH, THAT'S A LOT BETTER. >> THERE ARE A NUMBER OF DIFFERENT WATER-SOLUBLES. THE COMPANIES HAVE REALLY LISTENED TODAY, AND THEY'VE COME WITH NEW PRODUCTS FOR SEWERS THAT WILL REALLY MEET THE NEEDS OF WHAT THEY'RE DOING. >> AND IT SAYS ON THERE "WATER-SOLUBLE." >> YES, AND YOU KNOW THAT BY THE BLUE PACKAGE. THE BLUE PACKAGE MEANS IT'S WATER-SOLUBLE. >> THAT'S GOOD. >> BUT THESE ARE DIFFERENT WEIGHTS OF A WATER-SOLUBLE FILM, AND OFTEN YOU USE THOSE FOR TOPPERS, FOR LACE-MAKING. BUT WHAT I LIKE TO USE FOR HEM-STITCHING IS ONE THAT'S MORE LIKE A FABRIC. >> IT FEELS LIKE AN INTERFACING, ALMOST. A LIGHTWEIGHT. >> IT DOES, BUT IT'S GONNA DISSOLVE IN WATER, SO DON'T USE IT AS AN INTERFACING. >> OK. BLUE? >> AND OF COURSE, THESE COME IN DIFFERENT WIDTHS, AND WHAT YOU'RE GONNA DO, INSTEAD OF JUST THE FABRIC, HERE'S ONE THAT'S GONNA LOOK THE SAME WHEN I CUT IT OFF TO PUT IT ON THE BACK OF MY PIECE, BUT IT'S NOT THE SAME TOTALLY, BECAUSE IT HAS A STICKY SIDE TO IT. >> RIGHT. >> SO IT'S A STICKY FABRIC. WHAT MAKES THAT REALLY WORK WELL FOR HEM-STITCHING IS, HEM-STITCHING STITCHES GO--LOOK AT THAT. NOW IT'S ON THERE. THEY GO BACK AND FORTH, BACK AND FORTH, BACK AND FORTH, BACK AND FORTH, AND THEY DO A LOT OF DIFFERENT STITCHING, AND YOU DON'T WANT ANYTHING SHIFTING ON YOU. I BROUGHT THIS PIECE, BY THE WAY, TO SHOW THAT STABILIZERS ALSO COME IN YARDAGE, SO IF YOU WERE DOING SOMETHING VERY LARGE-- >> YOU'RE DOING A LOT. >> DIFFERENT SIZES FOR DIFFERENT USES. SO WE HAVE THE RIGHT FABRIC, AND WE KNOW THAT BECAUSE WE RAN SOME TEST SAMPLES. >> I SEE. >> WE HAVE A STABILIZER THAT WILL GO AWAY IN WATER. THAT'S SO IMPORTANT. WE'RE USING THE FINE POLYWEIGHT--LITE THREAD THAT IS ACTUALLY 60 WEIGHT AND MATCHING BOBBIN OF THE SAME THREAD. AND I ALWAYS SAY IF YOU HAVE THE OPTION OF MACHINE-COLORED BOBBINS FOR YOUR MACHINE, THREAD THOSE WITH THIS SO YOU KNOW THAT IT'S THE LIGHTER THREAD. >> THAT'S A GOOD POINT. KIND OF KEEP THEM SEPARATED. >> UH-HUH. WORKS REALLY WELL, AND AS I SAY, MANY OTHER USES. SO NOW, WHAT FOOT WOULD WE USE? WELL, THE FOOT THAT'S RECOMMENDED WILL USUALLY BE THE "B" FOOT, AND THAT WILL BE A FOOT-- IN THIS CASE, BUT I MEAN, A FOOT THAT IS FOR APPLIQUE, AND THAT'S A FOOT THAT HAS A TUNNEL ON THE UNDERSIDE. DO YOU SEE HOW THAT FOOT HAS A TUNNEL TO GO OVER DECORATIVE STITCHES? >> MM-HMM. >> THAT'S THE ONE THAT'S USUALLY RECOMMENDED FOR ANYTHING DECORATIVE. BUT I GENERALLY USE THE STANDARD FLAT FOOT UNLESS IT HANGS UP. >> YOU NEED TO TRY IT. >> EXPERIMENT, EXPERIMENT. AND WE'RE READY TO GO OVER HERE. THE WING NEEDLE IS IN. WE HAVE THE POLY THREAD THAT IS THE 60 WEIGHT ON THE TOP AND IN THE BOBBIN, AND I WANTED TO SHOW THAT IF YOU'RE USING A CONE, OFTEN WHAT YOU'LL WANT TO DO WITH THAT CONE IS USE A VERTICAL SPOOL PIN AND COME ACROSS. SOME MACHINES WILL DEFINITELY HANDLE IT BETTER. MINE HANDLES THIS CONE HORIZONTALLY AS WELL. BUT I ALWAYS LIKE TO GIVE PEOPLE IDEAS BECAUSE YOU NEVER KNOW HOW THEIR MACHINE-- >> SOMETIMES IT'LL FEED BETTER AND FLOW OFF THE SPOOL OR THE CONE. >> THE WING NEEDLE IS IN THERE. I COULD USE THE FOOT CONTROL. >> WHICH STITCH DO WE PICK? >> WELL, WE GO TO A MENU. IN THIS CASE, WE'RE GOING TO GO TO A MENU THAT HAS A LOT--YOU JUST KNOW WHAT-- >> EXPERIMENT. >> THEY'LL NEED TO LOOK AT THEIR MACHINE, BUT SOME MACHINES WILL HAVE A NUMBER OF DIFFERENT DECORATIVE STITCHES THAT WORK FOR HEM-STITCHING AND ARE CALLED THAT. THIS ONE HAS AN ACTUAL HEM-STITCHING MENU, SO YOU KNOW WHEN YOU TOUCH THAT MENU, YOU JUST TOUCH THE STITCH THAT YOU LIKE. AND WHAT I'M GOING TO SELECT IS ACTUALLY THE ENTREDEUX STITCH, PROBABLY THE MOST WELL-KNOWN HEM STITCH THERE IS, WHICH IS USED FOR INSERTIONS AND FOR LOTS OF HEIRLOOM SEWING AND DOES A BEAUTIFUL JOB. NOW, OF COURSE I COULD STEP ON THE FOOT CONTROL, BUT WHEN I'M HEM-STITCHING, A LOT OF TIMES THIS IS A GOOD PLACE TO USE YOUR STOP/START, WHERE YOU CAN SEW WITHOUT THE FOOT CONTROL, AND OF COURSE YOU COULD SLOW DOWN IF YOU WANT TO. MOST MACHINES WILL HAVE A SPEED TO SLOW THAT DOWN. BUT WHAT I LIKE TO POINT OUT TO PEOPLE IS, DON'T HELP YOUR MACHINE WHEN IT'S DOING DECORATIVE STITCHES. YOU ARE THE STEERER. IT'S SORT OF LIKE DRIVING A CAR. YOU DON'T GO, "UH, UH" TO HELP IT GO FASTER. >> YOU JUST STEER IT. >> YOU JUST STEER IT. AND SO OFTEN WHEN I SEE PEOPLE WHO HAVE POOR QUALITY DECORATIVE STITCHING--UNEVEN, ALL CROOKED--I KNOW WHAT THEY'VE BEEN DOING. YOU KNOW WHAT THEY'VE BEEN DOING. >> THEY HAVE BEEN PUSHING IT OR HOLDING IT. >> PULLING THEIR THREAD THROUGH. I ALWAYS SAY, IF YOUR STITCHES HAVE TO BE PULLED THROUGH YOUR MACHINE, YOU NEED TO HAVE IT ADJUSTED OR MAYBE YOU NEED A NEW MACHINE, BECAUSE IT SHOULD FEED JUST LIKE SO. SO WE NOW HAVE STITCHED A ROW OF HEM-STITCHING. WE'RE GOING TO REMOVE THE FABRIC, BUT REMEMBER, WE HAVE THAT STICKY WATER-SOLUBLE FABRIC STABILIZER... >> THAT YOU WANT TO GET RID OF. >> AND SO I'VE LEFT IT ON THERE SO THAT YOU COULD SEE FROM THE WRONG SIDE WE HAVE--YOU SEE? AND YOU'D THINK, "OH, THAT'S PROBABLY ON THERE FOREVER." DOESN'T IT LOOK LIKE IT WILL NEVER COME OFF? >> YEAH, WHICH IS WHAT YOU WANT WHILE YOU'RE STITCHING. >> YOU DEFINITELY WANT THAT WHILE YOU'RE STITCHING. A LOT OF TIMES I MIGHT TRIM OFF IF THERE'S EXCESS, BUT WE'RE JUST GONNA PUT THAT DOWN IN WARM WATER. THIS WATER ISN'T VERY WARM. THIS IS COOL WATER, BUT YOU KNOW WHAT? IT DOESN'T MATTER. IT'S GONNA COME OFF ANYWAY. >> YOU JUST WORK IT WITH YOUR FINGERS. >> MM-HMM. >> OH, IT'S COMING OFF. >> WELL, NOT COME OFF. IT'S GONNA DISSOLVE AWAY. IT DOESN'T COME OFF. >> I SEE. >> IT DOESN'T COME OFF. >> IT JUST DISSOLVES. >> IT JUST DISSOLVES AWAY, AND IT JUST COMPLETELY DISSOLVES AWAY. >> OH, I CAN FEEL WHERE IT HASN'T. >> YUP. SO HERE'S THE PIECE THAT HAS IT ON, AND YOU DIP THAT IN WATER, AND THIS IS WHAT YOU END UP WITH. NOW, IF YOU WANT A LITTLE BIT OF STIFFNESS TO THIS--MAYBE YOU'D LIKE YOUR BLOUSE TO HAVE A STARCHED EFFECT OR MAYBE IT'S A LINEN--YOU CAN LEAVE A LITTLE BIT OF IT IN, AND YOU'LL HAVE A LITTLE BIT OF STIFFNESS. BUT LOOK AT THAT, SHERYL. IT'S ALL GONE ALREADY. >> IT IS. YOU DON'T FEEL IT AT ALL. >> ISN'T THAT AMAZING? >> MM-HMM. >> NOW, A LOT OF PEOPLE TODAY HAVE EMBROIDERY MACHINES, AND THIS IS A TECHNIQUE THAT THEY CAN USE WITH THEIR EMBROIDERY MACHINE, AND SO HERE'S AN EXAMPLE OF A QUILT DONE WITH EMBROIDERIES THAT PROMPT YOU ONSCREEN TO PUT A WING NEEDLE IN. >> THEY'RE TOO SMART. >> I KNOW. YOU DON'T EVEN HAVE TO STEER IT. THE HOOP DOES IT ALL FOR YOU. SO ISN'T THIS FUN? >> LOTS OF WAYS TO DO IT--AN OLD TECHNIQUE BROUGHT BACK. >> THE KEY IS THAT YOU HAVE FINE THREAD TOP AND BOTTOM THAT DOES NOT FILL THE HOLE, AND YOU HAVE A STABILIZER THAT IS GOING TO REALLY KEEP IT FLAT FOR YOU... >> WHILE YOU'RE SEWING. >> AND WILL COMPLETELY DISAPPEAR. BECAUSE IF YOU USE ANOTHER ONE, IT WILL STAY IN THE HOLES. >> RIGHT. WELL, THANK YOU SO MUCH. THIS HAS REALLY BEEN INTERESTING. I'VE LEARNED LOTS OF THINGS. >> GOOD. >> THANK YOU, SUE. CINDY, IT'S REALLY NICE TO HAVE YOU HERE, AND I WAS SO GLAD WE WERE GOING TO DO A SEGMENT ON BREADMAKING WITH THE MACHINES BECAUSE OH, WHAT, MAYBE 10 YEARS AGO WHEN THEY WERE REALLY POPULAR, I HAD TO HAVE ONE, AND I USED IT AND MADE LOTS OF BREAD AND FINALLY GAVE BREAD TO EVERYBODY THAT I COULD, AND NOW IT'S UNDER THE CABINET AND I HAVEN'T EVEN GOTTEN IT OUT IN THAT MANY YEARS. >> WELL, YOU NEED TO GET IT OUT, SHERYL, BECAUSE I HEAR A LOT OF PEOPLE SAY THAT THEY USE THEIR BREAD MACHINE NOW JUST TO MAKE THE DOUGH, AND THAT'S EXACTLY WHAT WE'RE GONNA DO TODAY. >> UH-HUH. NOT TO GO AHEAD AND COOK IT, ALTHOUGH WE CAN. >> YES, BUT WE HAVE A WINNING RECIPE HERE THAT WE'RE GONNA TALK ABOUT, AND THAT'S EXACTLY WHAT THIS YOUNG MOTHER DID TO WIN THE TOP PRIZE IN OUR NATIONAL FESTIVAL OF BREADS BAKING CONTEST. >> AND HOW OFTEN DO YOU DO THE FESTIVAL? >> EVERY TWO YEARS, BUT THIS YOUNG MOTHER USED HER BREAD MACHINE TO MAKE THE DOUGH AND THEN CAME OUT WITH THE TOP AWARD... >> THAT'S EXCITING. >> WITH THESE BREAKFAST ROLLS. >> WELL, LET'S TALK ABOUT A BREAD MACHINE, AND MAYBE IF SOMEONE DOESN'T HAVE ONE, WHAT THEY COULD LOOK FOR IF THEY WANTED TO BUY ONE, OR IF WE HAVE IT, MAYBE IT WOULD BE A REFRESHER COURSE. >> WELL, I'D SAY NUMBER ONE IS TO GET OUT YOUR MANUAL... >> IF YOU CAN FIND IT. >> IF YOU CAN FIND IT AND READ THE INSTRUCTIONS FIRST BECAUSE EVERY BREAD MACHINE IS A LITTLE BIT DIFFERENT, SO IT WILL TELL YOU THE ORDER THAT YOU SHOULD PLACE YOUR INGREDIENTS AND THE DIFFERENT CYCLES. SO THAT'S NUMBER ONE IS GET OUT THE MANUAL AND READ IT. I KNOW MOST OF US DON'T DO THAT. AND THEN THE OTHER TIP, TOO, IS TO MAKE SURE THAT YOU CHECK YOUR YEAST. YOU CAN USE BREAD-MACHINE YEAST, ACTIVE DRY YEAST, OR INSTANT YEAST IN YOUR BREAD MACHINE, BUT-- >> WHY WOULD WE CHOOSE ONE OVER THE OTHER? WHAT WOULD BE THE DIFFERENCE? >> WELL, DEPENDING ON THE CYCLE, IF I'M GOING TO MAKE THE DOUGH AND I WANT IT DONE IN AN HOUR, THEN I'D PROBABLY USE A QUICK-RISE OR AN INSTANT YEAST. BUT IF I PROGRAM IT ON A LONGER CYCLE, THEN I'D PROBABLY CHOOSE THE ACTIVE DRY YEAST. >> AND WE DO HAVE TO CHECK EXPIRATION DATES, DON'T WE? >> YES. JUST MAKE SURE THAT IT HASN'T EXPIRED. AND YOU CAN ALWAYS CHECK YOUR YEAST IF YOU'RE IN DOUBT. JUST ADD IT TO A LITTLE BIT OF LUKEWARM WATER WITH A PINCH OF SUGAR AND WAIT FOR ABOUT 5 OR 10 MINUTES, AND IT SHOULD START BUBBLING, AND YOU'LL KNOW IF IT'S FRESH. SO THAT'S A MAIN POINT, TOO. >> AND THEN THE MACHINE ITSELF--WE MIGHT EVEN OPEN THAT BECAUSE YOU'VE ALREADY GOT THE DOUGH IN THERE. >> YES. I'VE PROGRAMMED THE MACHINE ON THE DOUGH CYCLE, AND MY MACHINE WILL MAKE DOUGH IN ABOUT AN HOUR. ISN'T THAT QUICK? >> UH-HUH. >> IT'S JUST LIKE MAGIC. YOU OPEN IT UP, AND THE DOUGH IS ALL READY TO GO. BUT YOU CAN SEE IT MAKES A BEAUTIFUL DOUGH. >> LET'S SET THIS HERE SO WE CAN SEE IT. >> AND THIS WINNING RECIPE HAS BOTH WHITE, OR BREAD, FLOUR AND THEN WHOLE WHEAT FLOUR IN IT, ALONG WITH RAISINS AND CINNAMON, BUT YOU CAN SEE IT'S A VERY NICE DOUGH. >> OH, YEAH. IN ONE HOUR. THAT IS LIKE MAGIC. >> IT IS. AND IT SAVES A LOT OF CLEANUP, TOO. YOU JUST THROW ALL THE INGREDIENTS IN THE BUCKET, AND THEN... >> YOU'RE READY TO GO. >> MM-HMM. >> WELL, LET'S TALK ABOUT THIS WINNING RECIPE. WHAT ARE THE IMPORTANT INGREDIENTS, AND ALSO, THINGS LIKE WATER AND MILK--WHAT DO WE NEED TO BE AWARE OF? >> WELL, THE OTHER MAIN POINT IS TO ALWAYS CHECK THE WATER TEMPERATURE, WHETHER YOU'RE BAKING IN THE BREAD MACHINE OR TRADITIONAL WAYS. >> AND WHAT SHOULD IT BE? >> WELL, FOR THE BREAD MACHINE, YOU CAN GET BY WITH A LITTLE BIT COOLER LIQUID--80 DEGREES, SO THAT IS JUST REALLY ROOM TEMPERATURE OR COOL--BECAUSE THE FRICTION OF THE BREAD MACHINE WILL WARM UP THE DOUGH. >> OH, THAT MAKES SENSE. >> SO START WITH COOLER LIQUID. >> AND IF YOU GET WATER TOO HOT, WHAT HAPPENS TO THE YEAST? >> HAVE YOU EVER DONE THAT? >> YES. >> WELL, YOU WILL KILL THE YEAST, BECAUSE YEAST IS A LIVING PLANT, AND SO YOU'LL END UP WITH A LOAF OF BREAD THAT IS HEAVY LIKE A BRICK. >> YEAH. OK. THAT'S A GOOD TIP. >> IT IS SO IMPORTANT TO CHECK YOUR WATER TEMPERATURE, AND YOU CAN BUY AN INEXPENSIVE THERMOMETER TO USE IN YOUR HOME BAKING. THIS YOUNG MOTHER, OF COURSE, SHE WAS INCORPORATING SOME GRANOLA THAT SHE HAD LEFT OVER, AND SOME RAISIN BRAN CEREAL, SO SHE JUST THREW THAT IN HER BREAD MACHINE AND CAME OUT WITH THIS WINNING RECIPE. SHE ALSO ADDED HONEY AND BROWN SUGAR. >> FOR THE SWEETENERS. >> OH, YES, AND IT HELPED WITH SOME OF THE COLOR. THE HONEY HELPS THE BREAD BROWN. AND THEN CINNAMON. >> BET IT SMELLED GOOD BAKING. >> YES, IT DOES. AND THEN, OF COURSE, SHE USED BUTTERMILK AND NONFAT DRY MILK. SO SIMPLE INGREDIENTS THAT SHE HAD IN HER HOME KITCHEN. >> AND YOU MENTIONED THE RAISIN BRAN. SHE ACTUALLY PUT IT IN A BAG AND ROLLED IT WITH HER ROLLING PIN SO THAT IT WAS A LITTLE MORE CRUNCHED UP. >> YES, BEFORE SHE PUT IT IN THE BREAD MACHINE BUCKET. SO SHE USED THE ROLLING PIN AND GRANOLA AND RAISIN BRAN AND THEN ROLLED IT AND CRUNCHED IT UP. >> SMART. >> AND, OF COURSE, THE FOUNDATION OF ANY GOOD BREAD IS GOOD FLOUR. SO IT'S ALWAYS RECOMMENDED THAT YOU USE BREAD FLOUR IN THE BREAD MACHINE BECAUSE IT'S HIGHER IN PROTEIN AND IT WILL TAKE THE WORKOUT-- >> FOR THE MECHANICAL-- >> THAT THE BREAD MACHINE GIVES. SO BREAD FLOUR, AND THEN SHE ALSO USED SOME WHITE WHOLE WHEAT FLOUR IN HER RECIPE. >> NOW, WHITE WHOLE WHEAT. THAT SOUNDS STRANGE BECAUSE USUALLY WHOLE WHEAT IS BROWN OR TAN. >> YES. THIS IS A DIFFERENT VARIETY OF WHEAT, AND SO THE OUTER COATING IS A LIGHT GOLDEN COLOR, SO WHEN IT'S MILLED, YOU HAVE A NICE LIGHT GOLDEN WHOLE WHEAT FLOUR THAT YOU CAN USE IN YOUR BAKED PRODUCTS, AND I HAVE FOUND THAT PEOPLE--MAYBE THEY DON'T MEASURE FLOUR ACCURATELY, SO I JUST WANTED TO GO OVER THAT POINT. MAKE SURE YOU STIR YOUR FLOUR AND THEN SPOON IT. >> YOU KNOW, USED TO WE HAD TO SIFT IT, BUT NOW THE WAY FLOUR IS DEVELOPED, JUST A GOOD STIRRING KIND OF AERATES IT, IS WHAT IT DOES. >> YES. JUST FLUFF IT UP AND USE A DRY MEASURING CUP. >> NOT A LIQUID. >> AND THEN YOU CAN JUST LEVEL IT OFF, AND THAT IS ONE CUP OF FLOUR. SO THAT'S HOW ALL OF OUR RECIPES ARE TESTED IN OUR KANSAS WHEAT COMMISSION TEST KITCHEN. >> I SEE. THAT'S A GOOD TIP FOR EVERYONE TO REMEMBER. >> YES. A FLOUR. >> NOW, WHY DO YOU HAVE A SCALE WITH ONE OF THE ROLLS ON IT? WHAT IS THAT FOR? >> WELL, FOR A COMPETITION LIKE THIS, OF COURSE, THE FINAL PRODUCT IS JUDGED ON HOW IT LOOKS, HOW UNIFORM IT IS, SO OF COURSE OUR WINNER SCALED OUT EACH PIECE OF DOUGH TO MAKE A UNIFORM ROLL. >> I SEE. >> AND I LIKE TO DO THAT, TOO. AND ANOTHER LITTLE TIP THAT SHE DID WITH THIS RECIPE IS SHE SHAPED THE ROLLS, AND THEN SHE DIPPED THE BALL OF DOUGH IN A BEATEN EGG WHITE. >> THAT'S EGG WHITE AND WATER ADDED TO IT? >> THIS IS JUST BEATEN EGG WHITE. >> OH, IT'S JUST EGG WHITE. >> UH-HUH. >> I SEE. >> AND THEN SHE WOULD-- >> THIS IS MORE OF THE GRANOLA RAISIN BRAN. >> UH-HUH. SO THAT'S HOW YOU ADHERE THE GRANOLA ON THE TOP. SO JUST DIP IT IN EGG WHITE... >> HOW MANY ENTRIES DO YOU TYPICALLY HAVE EVERY TWO YEARS? >> WE HAD OVER 500 ENTRIES, AND I HAD THE JOB-- >> WHAT AN HONOR TO WIN. >> YES, IT IS, AND I HAD THE FUN JOB OF ACTUALLY GETTING TO READ THE RECIPES AND TEST A LOT OF THESE RECIPES. >> OH, I SEE. SO THEN AFTER WE'VE SHAPED THEM, WHAT DO THEY BAKE AT? >> THEY BAKE--I THINK IT WAS AT 375. OF COURSE IT DEPENDS ON YOUR HOME OVEN, AND THAT'S ANOTHER TIP THAT I HAVE IS BUY A LITTLE INEXPENSIVE OVEN THERMOMETER AND CHECK YOUR OVEN TEMPERATURE, BECAUSE SOME OF OUR OVENS RUN EITHER HIGH OR LOW, SO IT'S IMPORTANT TO CHECK YOUR OVEN TEMPERATURE. >> AND THIS SHOWS IT SERVED WITH FRUIT AND MILK. WHAT A GREAT BREAKFAST. >> YEAH. THE WINNER SAID THAT SHE MADE THESE FOR HER CHILDREN'S BREAKFAST AND THEN ALSO FOR AFTER-SCHOOL SNACKS. SO IT WOULD BE A GREAT AFTER-SCHOOL SNACK. AND I KNOW THAT THESE--AFTER YOU BAKE THEM, IF YOU COOL THEM AND PACKAGE THEM, YOU CAN FREEZE THEM AND THEN TAKE THEM OUT, AND THEY ARE TASTY EVEN AFTER THEY'VE BEEN FROZEN. >> SO MAKE A WHOLE RECIPE AND THEN SEPARATE IT. >> YES. >> THAT'S A GOOD TIP. LET'S GO OVER JUST A COUPLE OF THINGS WE WANT PEOPLE TO REMEMBER. OF COURSE, CHECK THE EXPIRATION DATE. >> YES. >> AND WHAT KIND OF FLOUR? >> BREAD FLOUR. I KNOW ALL OF THESE MANUFACTURERS RECOMMEND BREAD FLOUR BECAUSE YOU'LL HAVE A HIGHER LOAF OF BREAD. THE TEXTURE WILL BE NICER, TOO. >> THAT'S A GOOD TIP. >> USE BREAD FLOUR INSTEAD OF ALL-PURPOSE FLOUR. YES. CHECK THE WATER TEMPERATURE, THE YEAST EXPIRATION DATE, AND THEN I ALSO LIKE TO CHECK THE DOUGH. WHEN THE DOUGH IS MIXING IN THE BUCKET, LET IT MIX FOR ABOUT THE FIRST 5 MINUTES AND THEN OPEN UP THE LID. >> YOU CAN OPEN IT DURING THE PROCESS? >> YES. AND MAYBE YOU'RE LIKE A LOT OF PEOPLE--THEY DIDN'T REALIZE THAT YOU CAN OPEN IT, JUST FOR A SHORT PERIOD, BUT I LIKE TO CHECK THE DOUGH, AND YOU CAN TELL. IF IT'S DRY, YOU CAN ADD ANOTHER TEASPOON OR TABLESPOON OF WATER. OR IF IT'S REAL STICKY, THEN ADD ANOTHER TABLESPOON OF FLOUR. AND IT SHOULD FORM A NICE BALL OF DOUGH AROUND THE KNEADING BLADE. >> I SEE. NOT STICK TO IT BUT NOT BE SO STIFF THAT IT'S NOT WORKING. >> RIGHT. JUST A NICE BALL. >> THOSE ARE GOOD TIPS. >> I THINK THOSE ARE THE MAIN TIPS THAT I HAVE LEARNED WORKING WITH BREAD MACHINES. >> I BELIEVE I'LL GET MINE OUT AND SEE IF I CAN STILL USE IT. >> GOOD. >> THANK YOU VERY MUCH, CINDY. >> THANK YOU. >> I HOPE YOU ENJOYED THE SHOW TODAY. NEXT TIME ON "CREATIVE LIVING," WE'LL LEARN HOW TO CREATE INTERESTING VILLAGE SCENES FOR OUR QUILTS, WE'LL LEARN TO MAKE BOUTONNIERES AND SHOW HOW TO INCORPORATE 3-DIMENSIONAL ELEMENTS FOR SCRAPBOOKS. ONE OF MY NEXT GUESTS IS AN AUTHOR AND QUILTER, AND SHE'S GOING TO DEMONSTRATE A FABRIC COLLAGE OF STEP AND WINDOW SHAPES THAT MAGICALLY TURN INTO A VILLAGE. IT'S AMAZING HOW THE TOOL COLOR CAN CHANGE THE MOOD OF THE VILLAGE. ANOTHER GUEST IS A FLORAL DESIGNER, AND SHE'S GOING TO SHOW SOME TRICKS OF THE TRADE WITH WIRING SOME FLOWERS TO MAKE SMALL PIECES OF ART TO WEAR ON YOUR LAPEL OR ON YOUR WRIST, AND THIS WILL SAVE YOU A LOT OF MONEY OVER BUYING THEM PRE-MADE AT A FLORIST. AND FINALLY WE'LL MEET A DESIGNER OF DOLLS, AND SHE'S EVEN FIGURED OUT A WAY TO USE 3-DIMENSIONAL DOLLS IN SCRAPBOOKS. SHE'LL SHOW HOW TO PRESS THE MOLDS, AS WELL AS HOW TO PAINT THEM. THEN THEY CAN BE INCORPORATED IN YOUR HANDMADE CARDS OR EVEN IN SCRAPBOOKS. ALL OF THESE TOPICS WILL BE FEATURED ON THE NEXT "CREATIVE LIVING" SHOW. IF YOU EVER HAVE COMMENTS OR SUGGESTIONS OR IDEAS FOR SHOWS, YOU CAN EMAIL ME AT SHERYL.BORDEN@ENMU.EDU. I'D ALSO LIKE TO ASK YOU TO BECOME A FAN OF "CREATIVE LIVING" ON FACEBOOK. JUST GO TO FACEBOOK.COM, AND IN THE SEARCH WINDOW, TYPE IN "CREATIVE LIVING WITH SHERYL BORDEN." THANKS SO MUCH, AND I HOPE YOU PLAN TO JOIN ME NEXT TIME FOR "CREATIVE LIVING." >> WE ARE VERY PLEASED TO OFFER A NEW BOOKLET THAT ACCOMPANIES THIS SERIES OF "CREATIVE LIVING." THIS BOOKLET IS TITLED "THE 6500 SERIES," AND IT FEATURES A WONDERFUL COLLECTION OF IDEAS AND INFORMATION. AND IT'S AVAILABLE FREE OF CHARGE ON OUR WEBSITE. POSTED AS A .PDF FILE, YOU CAN SIMPLY DOWNLOAD THE ENTIRE BOOKLET OR JUST THE SEGMENTS YOU'RE MOST INTERESTED IN. AS WITH ALL OF THE "CREATIVE LIVING" BOOKLETS, YOU'LL FIND INFORMATION ON FOODS AND NUTRITION, CLOTHING AND FASHION, HEALTH AND BEAUTY, HOME DECORATING, AND MUCH MORE. FOR YOUR COPY OF THIS BOOKLET, GO TO OUR WEBSITE AT KENW.ORG AND THEN CLICK ON "CREATIVE LIVING." SCROLL DOWN TO THE BOOKLET SECTION, AND YOU CAN CLICK ON THIS BOOKLET OR ANY OF THE OTHER BOOKLETS WE HAVE AVAILABLE ONLINE. ONCE AGAIN, JUST GO TO KENW.ORG, CLICK ON "CREATIVE LIVING," AND DOWNLOAD THE BOOKLET TITLED "THE 6500 SERIES." WE ALSO WANT TO ENCOURAGE YOU TO SIGN UP FOR OUR FREE E-NEWSLETTER. JUST CLICK ON THE "SIGN UP NOW" BUTTON AND INPUT YOUR EMAIL ADDRESS. THAT'S ALL THERE IS TO IT. YOU'LL ENJOY READING AN UP-TO-DATE NEWSLETTER FILLED WITH INTERESTING TOPICS AND INFORMATION. THANK YOU.
Now Playing As: Captioned (English) (change)
In this episode, Sheryl introduces viewers to homemade bread making with a bread machine and to wing needle hem stitching.
Media Details
Runtime: 27 minutes