Creative Living With Sheryl Borden #6517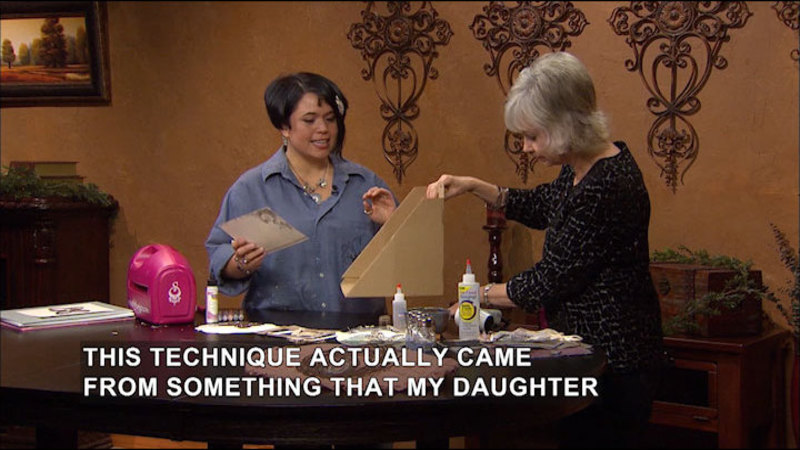 >> "CREATIVE LIVING." UTILIZING TODAY'S TECHNOLOGY WITH THE BEST OF THE PAST TO BRING YOU INNOVATIVE IDEAS, AND UP-TO-DATE INFORMATION FOR CREATIVE LIFESTYLES IN TODAY'S ACTIVE WORLD. WITH YOUR HOST, SHERYL BORDEN. >> I'M SO GLAD YOU JOINED ME TODAY FOR "CREATIVE LIVING." WE'RE GOING TO LEARN TO SEW ON STRETCH KNITS TO MAKE SWIMSUITS, AND WE'LL ALSO SEE WHAT'S INVOLVED IN MAKING A BUTTERFLY WALL HANGING FOR OUR HOME. ONE OF MY GUESTS TODAY IS LAURA KEITH, AND SHE'S AN APPAREL DESIGNER FROM VANCOUVER, WASHINGTON. LAURA'S GOING TO DEMONSTRATE HOW TO SEW A CUSTOM FIT SWIMSUIT. THIS USES EASY SEWING METHODS THAT ARE HANDY FOR ANY STRETCH KNIT FABRIC, AS WELL AS FOR SWIMSUIT FABRIC. MY GUEST EMPHASIZES HOW IMPORTANT IT IS TO FIRST CONSULT WHATEVER PATTERN YOU PLAN TO USE, BECAUSE MOST PEOPLE ARE VARIOUS SIZES. AND THE GOOD PART ABOUT SEWING OUR OWN SWIMSUIT, OR ANY ARTICLE OF CLOTHING IS THAT WE CAN CUSTOM FIT IT TO FLATTER OURSELVES AND OUR SHAPE. HER BUSINESS IS "LAURA KEITH APPAREL DESIGNS." WE'LL BEGIN THE SHOW WITH DONNA SALAZAR, AND SHE'S A PROFESSIONAL CRAFTER AND DESIGNER. DONNA'S GOING TO SHOW HOW TO MAKE FRAMED BUTTERFLY WALL DECORATION THAT INCLUDES A QUOTE TO MAKE IT PERSONALIZED FOR THE RECIPIENT. HER COMPANY IS "DONNA SALAZAR DESIGNS," AND SHE LIVES IN IRVINE, CALIFORNIA. DONNA, THANK YOU SO MUCH FOR BEING HERE, AND I'M GLAD I GET TO PICK YOUR BRAIN ABOUT DIES, AND DIE-CUTTING MACHINES, BECAUSE I'VE BEEN LOOKING FOR ONE, AND... UH, THERE'S ALL KINDS, AREN'T THERE? >> THERE ARE, THERE'S...THE TYPE THAT ARE THESE, UM, THESE THIN DIES, THERE'S THE REALLY THICK TYPE, THERE ARE THE STEEL-RULE DIES, THERE'S EVEN THE ELECTRONIC ONES. UM, THERE'S SO MANY DIFFERENT TYPES OF DIE-CUTTING MACHINES. I REALLY LIKE, UM, THIS FLAT TYPE, BECAUSE YOU USUALLY GET SEVERAL IN A SET. >> AND THESE ARE WHAT YOU'RE TALKING ABOUT, AND--AND THEY ARE, MOST OF THE ONES THAT I'VE LOOK AT, AND, UH, SEEN IN THE STORE ARE THE THICKER ONES. >> THE REALLY THICK, TALL ONES. >> AND YOU GET THIS WHOLE SET, LIKE, IN ONE. THAT'S WHAT I LIKE, ESPECIALLY. >> YEAH, YEAH. AND THEY'RE HUGE, AND I JUST--I LOVE THAT I CAN MAKE FULL PROJECTS, YOU KNOW, STARTING--AND IT'S FAIRLY EASY, WHEN YOU'RE USING THAT-- >> AND SPEAKING OF THE LARGEST DIE CUT, OR DIE, THIS IS IT. THIS--THIS IS THE SIZE THAT IT MAKES, AND THIS IS THE LITTLE PROJECT THAT YOU ARE GOING TO SHOW US. >> YES. >> AND I NOTICED THAT YOU BENT THESE, SO THESE ARE VERY FLEXIBLE, AREN'T THEY? >> YES, IT'S--IT'S A FOIL, AND THIS IS A--A PRODUCT THAT YOU CAN PURCHASE FROM YOUR CRAFT STORE. AND IT IS... IT'S LIKE A--A HEAVY, LIKE, REALLY HEAVY DUTY ALUMINUM FOIL, JUST MUCH THICKER THAN YOU WOULD NORMALLY FIND. BUT, UM, WE'RE GOING TO GO AHEAD, AND START WITH THE--THE DIE, WE'RE MAKING THE BUTTERFLY. AND, UM, I'M GOING TO SHOW YOU HOW THIS DIE IS SO... IT'S VERY--UM, IT HAS MULTIPLE USES. >> OKAY. >> SO, WE'RE GOING TO START BY PLACING IT, AGAIN, WITH THE--THE SANDWICH UPSIDE DOWN, I--I DO THIS OFTEN. SO USUALLY, YOU WOULD HAVE YOUR CUT SIDE UP ON THE BASE PLATE, BUT WE'RE PUTTING THE CUT SIDE DOWN. >> JUST THE OPPOSITE. >> ON THE CUT PLATE, RIGHT. SO, WE'RE GOING TO START HERE, AND I PUT THE BASE PLATE ON TOP. I'M GOING TO PUT IT RIGHT INSIDE OF THE CUTTING MACHINE. >> AND THIS--THIS MACHINE IS A--A HANDLE. >> IT IS. >> SOME ARE ELECTRIC... >> IT'S A HAND-CRANK, YES. AND SO, YOU JUST TURN THE WHEEL. IT'S MAKING THE WHOLE TABLE SHAKE. >> SURE FASTER THAN CUTTING IT OUT, AND ALL THE INTRICATE LITTLE HOLES IN THESE WINGS. >> YEAH. I DON'T KNOW IF I WOULD--IF--IF I HAD TO CUT THIS BY HAND, I DON'T THINK I WOULD DO IT. >> AND I LOVE TO CUT THINGS OUT, BUT I COULDN'T DO THAT. >> RIGHT, OKAY, SO, NOW WHAT I AM GOING TO DO--THIS HAS CUT OUT THE BUTTERFLY, BUT WHAT I'M GOING TO DO IS I'M GOING TO TRANSFER THIS WHOLE THING... TO ANOTHER PLATE, AND THIS IS THE EMBOSSING PLATE. >> THIS IS--IT'S--IT'S RUBBERIZED? >> WELL, THIS IS THE TAN PAD THAT GOES ON TOP OF THE EMBOSSING PLATE. >> OH, IT GOES ON TOP OF THE EMBOSSING PLATE. >> YEP, AND SO I'M GOING TO PUT THIS DOWN. OOPS! GOT A LITTLE... SOME ARE LITTLE PIECES. >> THEY WERE CUT OUT SO NICELY. >> AND THEN, NOW, I'M GOING TO PUT THAT BASE PLATE ON AGAIN. >> OH, IT'S GOING BACK THROUGH? >> IT'S GOING BACK THROUGH. SO, YOU CAN... WITH THIS TYPE OF DIE, YOU CAN DIE-CUT, YOU CAN EMBOSS, AND YOU CAN STENCIL. ALL WITH THE SAME DIE. >> UH-HUH. THAT'S WHY YOU SAID IT WAS SO VERSATILE, NOW I UNDERSTAND. >>IT'S SO VERSATILE, YES. OKAY, NOW... WHEN I TAKE THIS OFF... >> OH! IT IS, NOW--IT HAS... >> ALL THOSE INDENTIONS. >> YEAH, SO IT HAS LITTLE CIRCLES, AND THESE LITTLE PIECES WILL JUST FALL RIGHT OUT. >> OH, AND LOOK, IF WE--OH, WE JUST COULDN'T EVER HAVE CUT ALL OF THOSE, THAT'S AMAZING. >> AND NOW WHAT I'M GOING TO DO, USING THAT SAME DIE, I'M GOING TO DO SOMETHING THAT'S REALLY DIFFERENT. THIS IS SOMETHING THAT I HAVEN'T SEEN ANYBODY DO YET. >> I SEE NOW HOW YOU WERE ABLE TO BEND THE--THE BUTTERFLY'S WINGS, THAT MAKES SENSE NOW. UH-HUH. >> SO NOW I'M GOING TO USE THE EMBOSSING PAD WITH THAT SAME DIE, AND SOME WATERCOLOR PAPER. >> OH, JUST USING REGULAR PAPER, NOW. >> MM-HMM, IT'S SUPER THICK... >> WHICH IS WHAT YOU DID. THAT'S WHAT THIS IS. >> RIGHT, RIGHT. BUT I'M NOT--I'M NOT DIE-CUTTING. TH--THIS--NORMALLY YOU WOULD BE ON THE CUT PLATE. I'M GOING STRAIGHT ON TO THE EMBOSSING. >> TO THE EMBOSSING. >> RIGHT, SO I DO THIS UPSIDE DOWN AGAIN. AND RUN THAT THROUGH. THERE'S A LOT OF CRANKING, AND I'M GETTING MY EXERCISE ON MY RIGHT ARM. >> NOW YOU DO AN INTERNET SHOW, DO YOU COVER THINGS LIKE THIS? BECAUSE I AM ALREADY GETTING CONFUSED, OKAY? >> YES. >> IT'S CALLED--IT'S ON TUESDAYS, EVERY OTHER TUESDAY. >> EVERY OTHER TUESDAY, CALLED "TUESDAY TUTORIALS." >> TUTORIALS. AND YOU JUST DO A DIFFERENT PROJECT EVERY TIME. >> MM-HMM! >> OH, I SEE. >> YEAH, AND IT'S JUST LITTLE TECHNIQUES. SO I HAVE, NOW, JUST THAT DESIGN. >> LET'S HOLD THAT UP. THAT IS AMAZING. >> AND...PEOPLE AT HOME WOULD NEED TO CUT AROUND THE OUTSIDE EDGE. BUT I HAPPEN TO HAVE A--UH... PROTOTYPE DIE. THIS DIE WAS SUPPOSED TO BE JUST PLAIN INSIDE, AND IT ENDED UP BEING LACEY, SO. >> OH! >> WE'RE ACTUALLY GOING TO CUT IT NOW. >> SO NOW YOU CAN CUT IT WITH THE PLAIN ONE. >> I CAN'T, BUT OTHER PEOPLE CAN, BUT I DON'T WANT TO TAKE THE TIME. >> OKAY, BUT WHAT WE WOULD DO IS WITH LITTLE ROUNDED SCISSORS, WE COULD--COULD GO IN THERE AND CUT IT ALL OUT. >> YOU COULD, YEAH. AND IT ACTUALLY, IT CUTS REALLY EASILY BECAUSE IT'S-- >> PAPER, UH-HUH. >> AND BECAUSE THE EMBOSSING HAS ALREADY MADE THE PAPER PRETTY THIN IN THAT AREA. >> I BET YOU DO WORK UP MUSCLES DOING THAT. >> I DO! OKAY, SO NOW... >> I SEE. WELL, THAT IS A LITTLE FASTER THAN I COULD HAVE DONE IT. >> MUCH FASTER, AND--AND CLEANER. OKAY, NOW WE ARE GOING TO DO SOME SPRITZING, AND WHAT I'M GOING TO USE IS THE OUTLINE OF THE FOIL, AND THIS TECHNIQUE... >> IT'S LIKE A TEMPLATE. >> YES, I'M GOING TO USE IT LIKE A TEMPLATE. THIS TECHNIQUE ACTUALLY CAME FROM SOMETHING THAT MY DAUGHTER WAS DOING. SHE WAS JUST PLAYING IN MY STUDIO, AND I LOVED WHAT IT LOOKED LIKE. I WAS LIKE, "OH, I'M GOING TO WORK THAT INTO SOME TYPE OF A PROJECT." AND SINCE I AM GOING TO USE MULTIPLE OF THESE, I'M JUST GOING TO MIX THEM ALL AT THE SAME TIME. >> AND WHAT ARE THOSE? >> THESE--UH, IS--IT'S, UH, INK. THERE'S A LOT OF COLOR IN HERE, SO IT'S A--IT'S A LIQUID SPRAY, AND IT'S GOT LOTS OF COLOR AND--AND SPARKLE. YOU'LL SEE ONCE WE START SPRAYING. THERE'S A TON OF SPARKLE IN HERE, SO--WHICH IS WHY YOU HAVE TO...UM, SHAKE THEM UP EACH TIME--WELL, NOT SHAKE THEM, BUT ROLL THEM UP EACH TIME. OKAY, SO WE ARE GOING TO START JUST BY SPRITZING. AND I'M GOING TO JUST KEEP SWITCHING THE COLORS UP. >> OH! AND THE LITTLE SPECKS, IF THAT COMES OUT, THAT'S REALLY PRETTY. >> YEAH, YEAH, AND WE ACTUALLY DO NOT NEED THE BUTTERFLY THAT'S ON THE INSIDE. >> UH-HUH. >> SO, UM... UH, I'M JUST DOING THAT SO THAT IT'S A... >> THOSE COLORS ARE BEAUTIFUL! >> AREN'T THEY NICE? I REALLY LOVE THESE. OOPS, I SPRAYED YOUR TABLE. OKAY, SO, NOW WE'VE GOT THIS REALLY SATURATED. SO, WHAT WE WOULD DO IS BRING IN THIS THAT WE DIE-CUT EARLIER, AND WE ARE GOING TO JUST... >> [LAUGHS] >> ISN'T THAT FUN? AND NOW I CAN USE THAT FOR SOMETHING ELSE. >> OH, WE ARE NOT USING THIS? THAT IS SO PRETTY, I'D FRAME IT. SO YOU ARE GOING TO TURN IT UPSIDE DOWN-- >> ...UPSIDE DOWN, ONTO HERE. OOPS. >> AND YOU'RE JUST-- >> THERE'S NO MISTAKES IN ART.
[LAUGHTER] >> THAT'S WHAT I LIKE TOO.
>> AND THEN, YOU JUST LIFT IT UP, AND THEN YOU HAVE THIS REALLY ARTISTIC-LOOKING, JUST WATERCOLOR BACKGROUND. >> MM-HMM, THAT'S WHY WE STARTED WITH THE WATERCOLOR PAPER, OBVIOUSLY. >> RIGHT, RIGHT. >> GOOD, OKAY. >> OKAY, AND WE'LL JUST, UM, WE'LL JUST SPRITZ UP THIS, BUT I THINK FOR THIS ONE--BECAUSE I--I HAVE SEVERAL DIFFERENT VERSIONS HERE. I THINK FOR THIS ONE, WE'RE NOT GOING TO SPRITZ IT. WE'LL JUST INK UP THE EDGES SO WE HAVE THAT CONTRAST. >> I LIKE USING THE DIFFERENT TYPES OF PRODUCTS ON THINGS. >> AGAIN, THIS IS WHAT I DO IN MY STUDIO. LOTS OF "WHAT IF?" >> SO, YOU NEVER REALLY HAVE TWO THINGS ALIKE, DO YOU? >> I D--I HAVE A VERY HARD TIME TRYING TO MAKE TWO THINGS ALIKE. >> SOMEBODY WILL SAY, "OH, I'D LOVE TO HAVE ONE JUST LIKE THIS." >> AND I--I USUALLY TELL THEM, "HMM, THAT'S NOT REALLY POSSIBLE."
[CHUCKLES] OKAY, AND THEN WE'LL DO JUST A
LITTLE, TINY BIT AROUND THE EDGE, JUST TO MAKE THAT SHOW UP SOME MORE. >> UH-HUH. >> OKAY. AND THEN, WHEN I ADHERE THIS DOWN, I'LL USE SOME FOAM SQUARES. AND SOME LIQUID GLUE. OH, OKAY, I SHOULD PROBABLY JUST PULL THIS WHOLE THING OVER HERE. OKAY, AND I'M GOING TO USE FOUR OF THESE, AND I'M GOING TO PLACE THEM HERE, KIND OF OUT TO THE SIDE. AND THEN, UM, PUT SOME FAST DRYING GLUE, RIGHT HERE, IN THE CENTER. SO, THIS IS GOING TO GIVE ME SOME AUTOMATIC...TEXTURE... UH, NOT TEXTURE, UM...DEPTH, YEAH. SO, I JUST FOLD THIS IN, AND PRESS THAT DOWN FIRST. >> SO YOU ARE PUTTING THE LITTLE BODY DOWN? >> RIGHT, AND THEN, WHILE I'M HOLDING OUT THERE... WE'LL GET THESE OFF THE BACK. CAN YOU PULL THOSE FROM THAT SIDE? >> SURE. HOW DO YOU GET IT OFF? >> THERE WE GO. AND THEN PRESS THAT DOWN, LIKE THAT, AND THEN YOU ALREADY HAVE... >> SO IT'S NOT PRESSED FLAT. YOU'VE STILL GOT THE DIMENSION. >> AND THEN, USING FOAM SQUARES AGAIN, WHAT I'VE DONE IS I'VE CUT THESE, STRAIGHT THROUGH THE PAPER. >> SO THAT THEY ARE NOT GOING TO BE SO BIG AND SHOW THROUGH THE BUTTERFLY. >> RIGHT, AND I JUST... >> WE'RE DOING THE BODY AGAIN. >> YEAH. AND I JUST LINE THESE UP. RIGHT HERE. AND IT'S NICE HAVING THE BLACK, BECAUSE YOU CAN'T SEE IT. >> I JUST HAVE WHITE, I DIDN'T EVEN REALIZE THEY CAME IN BLACK. >> NOW YOU'RE GOING TO BE LOOKING FOR THEM. OKAY, AND NOW WE'LL TAKE THESE OFF. AND YOU CAN ADD GLITTER TO THE BUTTERFLY, I MEAN. THERE'S SO MUCH THAT YOU CAN DO. >> WE MIGHT GO AHEAD, AND TAKE A LOOK BECAUSE YOU'VE REALLY--AND--AND I EVEN LIKE THE LETTERING THAT YOU PUT ON THE SIDE. UM, YOU'VE ADDED THE BOW TO IT. UH, IT'S ALL DIMENSION. THAT'S--THAT'S WHAT REALLY MAKES IT SHOW UP SO BEAUTIFULLY. >> AND THEN YOU JUST KIND OF-- BECAUSE THIS IS THAT HEAVY FOIL, YOU JUST ADD A LITTLE DIMENSION BY KIND OF FOLDING IT A LITTLE BIT. AND I'LL PROBABLY GO BACK IN, AND ADD A LITTLE BIT OF GLITTER TO THE EDGE OF THAT. THEN, FOR THE FRAME-- >> THE FRAME. >> THIS IS JUST--UH, IT'S AN ART FRAME, JUST A REGULAR MAT FRAME. >> YOU JUST BUY IT, IT COMES LIKE THIS, UH-HUH. >> AND, UM, WHAT I'VE DONE IS I'VE USED THE, UH, THE MIXED MEDIA PRODUCT, THE--THE CHRONICLE ON IT, WITH THIS REALLY--IT'S CALLED FAST DRY DECOUPAGE. >> I REMEMBER DOING DECOUPAGE. >> YEAH, IT'S REALLY FAST. SO, WHAT I'M GOING TO DO... >> OH, YOU JUST PUT SOME IN HERE TO MAKE IT EASIER TO GET TO? >> AND YOU'D PUT A LAYER DOWN, YOU PUT YOUR PAPER OVER THAT. >> OVERLAP SOME--OOPS, SOME OF IT, AND JUST... >> PUT A LAYER ON TOP, AND THEN DO THE SAME ON THE BACK TO WRAP IT AROUND. >> AND YOU DON'T WANT TO CUT IT, YOU WANT TO TEAR IT, BECAUSE... >> YOU WANT--YES, YOU WANT THAT LOOK, YEAH. OF THE TORN EDGES. AND THEN, AFTER THIS IS DONE, THERE IS SO MUCH THAT YOU CAN DO WITH IT. >> YEAH, IS THAT WHAT YOU DID ON THIS? >> THAT'S WHAT I'VE DONE WITH THAT, I'VE INKED... YES, I'VE INKED, AND I'VE DONE SOME EMBOSSING. THIS IS THE WHITE... >> SNOW? >> YEAH, IT LOOKS LIKE SNOW. IT MAKES IT LOOK VERY MAGICAL, I THINK. AND THEN, YOU CAN INK RIGHT OVER THIS STUFF, AND IT'LL STAY ON. >> THAT'S OVER THE DECOUPAGE. >> OH, RIGHT OVER THE DEC--YEAH. THIS STUFF.
[LAUGHS] >> AND JUST USE A COUPLE OF
DIFFERENT COLORS SO IT'LL STAND OUT. AND THEN I'VE ALREADY GOT... NO, I DON'T. I THOUGHT I ALREADY DID. YEAH, SO, WE'LL JUST ADD THOSE REAL QUICK. >> IT STUCK TO YOU. >> YEAH. >> THEY DO STICK WELL, THAT'S THE PART WE LIKE ABOUT THEM. >> OKAY, AND THEN WE'LL JUST GET THIS DOWN ON TOP. >> AND YOU HAVE TO SHOW HOW IT'S GOING TO LOOK OVER THERE. >> YEAH, THE NICE THING ABOUT IT IS THIS FOIL IS THE EXACT SAME SIZE AS THIS FRAME. SO, IT COVERS EVERYTHING, RIGHT. THE NEXT STEP WOULD BE TO PUT THE WHOLE PROJECT INTO THE COLOR CATCHER, AND SPRITZ THE BACKGROUND. THIS HAS ALREADY BEEN DONE. SO, THE LAST THING YOU WOULD NEED TO DO IS JUST INK UP THE EDGES. >> MORE INK. >> YEAH, AND THEN ADD ON SOME OF THE BITS AND BAUBLES THAT ARE HERE, AND YOU WILL END UP WITH THIS FINISHED PROJECT. >> ...ADDING THE BOW, THE LITTLE INDIVIDUAL BUTTERFLIES... >> OF COURSE, EVERYTHING HAS TO BE GLITTERED, AND THEN I HAVE THE LITTLE QUOTE, AND THOSE ARE--IT'S JUST FROM A STRIP QUOTE, AND I JUST CUT THEM APART, AND INKED THE EDGES, SO-- >> GOOD IDEA. WELL, IT REALLY IS SOMETHING THAT WILL BE PRETTY TO MAKE AND GIVE, AND ANYBODY WOULD LIKE TO RECEIVE IT. THANK YOU VERY MUCH, DONNA. >> LAURA, THANK YOU SO MUCH FOR BEING WITH US TODAY. YOU TEACH A LOT OF DIFFERENT SUBJECTS. HOW DID YOU GET STARTED TEACHING SWIMWEAR, AND SEWING WITH THIS--WITH STRETCHY FABRICS? >> UM, I WORKED FOR A COMPANY AT ONE TIME AS A DESIGNER, SWIMSUIT DESIGNER, A SPORTSWEAR COMPANY, AND, SO, ALL WE WORKED WITH MAINLY WAS--WERE THE SPANDEX STRETCH KNITS, AND THE UM, SPORTSWEAR THAT HAD A LOT OF STRETCH IN IT. AND SO, I JUST LOVED IT SO MUCH THAT, WHEN I LEFT, I CONTINUED ON DOING IT. UM, IT'S A SUBJECT THAT IT'S INCREASINGLY GETTING MORE INTERESTING FOR PEOPLE, AND, SO, I GET ASKED TO DO--MOSTLY IT'S BY INVITATION FROM PEOPLE... >> WELL, I KNOW, I THINK IT'S LIKE ANY OTHER TYPE OF SEWING. WHEN YOU SEW, YOU CAN MAKE A PATTERN FIT YOURSELF, BECAUSE VERY FEW OF US FIT THOSE STANDARD MEASUREMENTS ON A PATTERN. >> YES. >> AND YOU HAVE A--A LINE OF PATTERNS. THIS IS, UH, A TYPE OF SWIMSUIT THAT WE ARE GOING TO DEMONSTRATE TODAY, THE--THE ONE-PIECE. UH, YOU CALL IT A TANK-TOP SUIT. >> A TANK-TOP SUIT. YES. >> AND, UH, LET'S TALK A LITTLE BIT ABOUT MEASUREMENTS, BECAUSE, LIKE I SAY, MOST PEOPLE AREN'T GOING TO FIT EXACTLY. SO, WHAT--IN A SWIMSUIT, WHAT SHOULD THEY BE LOOKING AT, WHICH MEASUREMENT? >> WE'LL THEY'LL BE LOOKING AT THEIR BU--ALMOST ALL MEASUREMENTS, THE BUST, AND THE WAIST, AND THE HIP MEASUREMENTS, AS WELL AS THEIR, UH, TORSO MEASUREMENT, WHICH IS ALL OF THE--THE LENGTH, AND ALL AROUND THE BODY. AND THEY'LL--UH, NOBODY IS EXACTLY THOSE SIZES, UH, BUT THEY'LL LOOK TO SEE WHERE THEIR MEASUREMENTS LAND, IN THE SMALL, MEDIUM, LARGE, ET CETERA. THESE ARE MULTIRANGE, UH, PATTERNS, SO THERE'S SIX SIZES. >> AND--AND WE REALIZE, WE WISH WE COULD GO STEP BY STEP, BUT PEOPLE PROBABLY REALIZE, ON A PATTERN, AND--AND YOUR PATTERNS HAVE THE MULTIPLE SIZES, SO YOU'RE GETTING ALL OF THE SIZES IN ONE PATTERN. BUT, BASED ON YOUR OWN MEASUREMENTS, MANY TIMES YOU'LL--YOU'LL HAVE TO MAKE THE MARK FROM THE SMALL TO THE MEDIUM, TO A LARGER, UH--UH, TO THE HIP AREA. >> RIGHT, YOU WILL, AND YOU MIGHT HAVE TO SHORTEN OR LENGTHEN, UH, AS YOU DO WITH OTHER PATTERNS. >> WELL THE STRETCH IS THE PART, I THINK, SOMETIMES THAT'S--WE MIGHT HAVE A PATTERN THAT FITS PERFECTLY, BUT THERE'S DIFFERENT TYPES OF STRETCHING FABRICS. >> YES, THERE IS, AND THE--THE--THE THING THAT MOST PATTERNS WILL REQUIRE A CERTAIN AMOUNT OF STRETCH, AND, UH, IT NEEDS TO HAVE IN, JUST BY DEFINITION, SOME SPANDEX IN IT. YOU'LL--YOU'LL WANT TO HAVE, UH, BOTH STRETCH, BOTH UP AND DOWN, AND ACROSS. >> NOW, YOU HAVE A COUPLE--THIS IS THE LINING, BUT SHOW US WHAT YOU MEAN, AND HOW WE WOULD DETERMINE IF A PIECE OF FABRIC WAS GOING TO WORK. >> WELL, IF IT--FOR EXAMPLE, IT NEEDED 50% STRETCH, UM, THEN I LIKE TO FOLD THE FABRIC, AND THEN TAKE ABOUT A FOUR-INCH, UM, SWATCH FROM MY FING--BET--WITH... >> BETWEEN YOUR FINGERS. >> YES, BETWEEN MY FINGERS, UM, AND I WOULD STRETCH IT, THEN, AND IF IT--IT STRETCHES AN INCH TO FIVE INCHES, IT'S 25% S--UH, STRETCH, AND THEN TO SIX INCHES IT'S SI--IT'S 50% STRETCH ET CETERA. SO, WE KNOW THIS FABRIC STRETCHES ENOUGH, AND DO UH--UH, THE SAME KIND OF, UM, TEST IN THE OTHER DIRECTION. BOTH--BOTH WAYS. AND THE LINING, AS WELL, UH, NEEDS TO BE AT LEAST AS MUCH STRETCH AS THE--UH, FABRIC DOES. >> SO, UH, BESIDES THE FABRIC, AND WE'LL TALK ABOUT ELASTICS, WHAT TYPES OF THREADS WORK THE BEST FOR THIS TYPE OF SWIMWEAR? >> WELL, SINCE THE FABRIC IS STRETCHY, AND YOU WANT A STRETCHY SEAM THAT DOESN'T, UH, BREAK WHEN IT STRETCHES, THEN, UM, I RECOMMEND, AND I ALWAYS USE TEXTURED NYLON THREAD IN MY BOBBIN IF I AM USING A SEWING MACHINE, AND, UH, A POLYESTER--A REGULAR POLYESTER TYPE THREAD IN THE--IN THE THREAD--IN THE NEEDLE, AND THEN, IF I'M USING A SERGING MACH--A SERGER MACHINE, THEN, UM, I WOULD USE THE--THE, UM TEXTURED NYLON THREAD IN THE LOWER LOOPERS, AND THE REGULAR THREAD, THE POLYESTER, IN UPPER...IN THE, UH, N--NEEDLES. AND THAT GIVES A REALLY NICE STRETCHY SEAM. >> OKAY, NOW, ELASTIC, I MENTIONED THAT WE NEED TO HAVE THE RIGHT TYPE, AND THERE'S LOTS OF ELASTICS THAT WE CAN PICK FROM. >> YES, THERE ARE SEVERAL, UM... I WOULD, UH, I--I'VE USED TH--THE CLEAR ELASTIC, WHICH IS KIND OF A LIGHTWEIGHT ELASTIC. THERE IS THE--UH, THE SOLID RUBBER ELASTIC, AND THERE'S DIFFERENT WIDTHS THAT YOU CAN USE, AND, UH, SW--UH, WHAT'S CALLED SWIMWEAR ELASTIC, WHICH IS A COTTON-COVERED RUBBER ELASTIC, AND THAT'S WHAT I USE MOST OF THE TIME, YES. IT HAS THE BEST RECOVERY OF THE THREE--OF THE DIFFERENT TYPES. >> AND YOU MENTIONED YOU LIKE TO USE A SERGER, AND IF WE HAVE ONE, THEY'RE REAL NICE TO HAVE, BUT YOU DON'T HAVE TO. >> NO, YOU CAN USE--THIS IS A--TH--A SERGE SEAM WHICH IS, UM, WHICH IS VERY STRETCHY, AND DURABLE, UM, BUT YOU CAN ALSO USE, IF YOU HAVE JUST A REGULAR SEWING MACHINE, A ZIG-ZAG... DOUBLE ZIG-ZAG SEAM, OR IF YOU HAVE A STRETCH STITCH ON YOUR SEWING MACHINE, YOU CAN USE THE STRETCH STITCH. AND, UM, THEN, FOR BASTING, UH, WHICH I ALWAYS RECOMMEND BEFORE I SEW A SEAM FINALLY, IS A LONG STRAIGHT STITCH. >> JUST A LONG STRAIGHT STITCH FOR THE BASTING, OKAY. >> AND THAT WORKS VERY WELL. UM, SO TO CONSTRUCT THIS--THIS SIMPLE SEWING--UH, SWIMSUIT, UM, I HAVE TWO BACK PIECES, WHICH ARE THE ONES I START WITH, AND, UM, SOMETIMES IT'S DIFFICULT TO TELL, BUT THE NOTCH ON MY PATTERN IS THE INDICATOR THAT THAT'S THE SIDE SEAM, AND THAT THIS IS THE BACK. >> OH, THAT'S CLEVER! I LIKE THAT! >> IT HELPS. >> SO, THIS IS THE BACK SEAM, CENTER BACK. >> SO, THIS IS THE CENTER BACK SEAM, AND WE W--UH, WE SEW THAT FIRST, AND THEN... >> AND WHAT SEAM ALLOWANCE DO YOU USE ON SWIMWEAR? >> ON--UH, ON MY PATTERNS, IT'S QUARTER INCH. >> THAT'S SO THAT IT--WITH THE SERGER YOU CAN JUST PRETTY MUCH ENCASE THE EDGES. >> EXACTLY. AND, UH, THE NOTCHES, UM, ALSO WOULD--WOULD ALWAYS BE CUT OUTWARD TO--SO THAT THEY DON'T GET CAUGHT INTO THE SEAM ALLOWANCE, LIKE, HERE'S WHAT YOU CAN--IN AN EXAMPLE, WHERE YOU CAN SEE THAT THAT WOULD IF--UH, WELL, IT COULD GO INTO THE SEAM ALLOWANCE. SO, YOU--BUT THIS IS FINE BECAUSE IT'S A 16TH OF AN INCH, OR SO, SO THAT IS FINE. UM, AND THEN, THE NEXT, UM, STEP IS TO ACTUALLY, UM, SEW THE... WE TALKED ABOUT THE--THE NOTCH HERE, AND THE NOTCH HERE, AND ON BOTH THE FRONT PIECE, AND THE LINING PIECE, WE WANT TO SEW A GATHERING STITCH BETWEEN THE NOTCH, AND THE UNDERARMS... >> FOR EASING. >> FOR EASING, EXACTLY, AND DO THAT ON BOTH PIECES. AND THAT'S PREPARED, THEN, TO SEW ALL THE SUIT TOGETHER. AND, UM--AND I ENC--LIKE TO ENCLOSE THE LINING SEAM... THE LINING IN A SEAM, IN FACT, TO HAVE A TOTALLY ENCLOSED CLEAN FINISH SEAM ON THE SIDE SEAMS. >> OH, THAT'S JUST LIKE THE PROS DO, ISN'T IT? >> YEAH, IT--IT JUST LOOKS NICE AND... SO, THIS, UH, WHAT I DO IS I LAYER IT WITH THE FRONT PIECE FIRST, AND THEN--AND IT'S THE RIGHT SIDE UP, AND THE BACK PIECE ON TOP OF THAT, WITH THE RIGHT SIDE DOWN, AND THEN-- >> AND WE MIGHT SHOW, HERE. HERE'S WHERE YOU DID YOUR--YOUR SERGE SEAM ON THE CENTER BACK. >> ON THE CENTER BACK, AND IT'S NICE AND STRETCHY, TOO. UM, AND, UM, THEN I WILL, UM, LAYER THE LINING, AND IT'S DIFFICULT TO TELL THE RIGHT FROM THE LEFT SIDE, BUT IF YOU DO--IF YOU DO, UH--UH, THEN IT WOULD BE, LIKE, THE WRONG SIDE OF THE LINING SHOULD BE ON THE TOP. AND THAT'S ON THE VERY TOP, AND THEN GATHER THE BUST STIT--UH, ST--UH, STITCHES TO--TO MATCH THE BACK PIECE, WHICH ALSO HAS A NOTCH, SO YOU ARE GOING TO HAVE TO GATHER IT ALL, UP ABOUT THAT MUCH. AND THEN, UH, THEN I'M... >> THEN YOU SEW IT. >> YES, THEN--WELL, THE NEXT THING TO DO IS TO PIN ALL THE WAY AROUND, AND I'M GOING TO SEW ALL OF THE SEAMS AT ONE--MORE OR LESS ONE TIME, AND I EVEN DO--LIKE, I DON'T EVEN CUT THE SEAM--THE THREAD IN BETWEEN, I JUST SEW, SEW, SEW, ALL THE WAY AROUND. AND THAT'S THE SHOULDERS, THE SIDE SEAMS ARE NICE, YOU CAN SEE WHERE I PULLED IN... WE EASED THE, UM, STITCHING, AND THEN, ALL THE WAY DOWN, THE CROTCH SEAM, AND THE OTHER SIDE SEAM, ET CETERA. >> OKAY. >> AND SO, ONCE THAT'S DONE, THEN, UM, I HAVE TURNED THE SWIMSUIT INSIDE OUT. >> I SEE WHERE THIS GIVES THIS LITTLE BIT OF FOLDINGS THROUGH THE VEST. THAT'S WHERE WE EASED. >> AND THERE'S EVEN ENOUGH ROOM, IF YOU WANTED TO PUT IN A--A SHELF BRA OR WHATEVER, YOU COULD ADD THAT TOO. UM, AND SO, THE--THE SIDE SEAM IS COMPLETELY ENCLOSED, AND THE LINING IS--IS THERE, AND I PIN THE LINING TO MAKE IT EASIER TO HANDLE THE LINING FURTHER ON IN CONSTRUCTION, I ALWAYS PIN THE LINING TO THE FABRIC ALL THE WAY AROUND, WHERE IT IS. IT'S NOT ON THE BACK PIECE. AND, UM, THEN I'LL BASTE IT ALONG HERE, AND ON THAT... >> THAT'S THAT LONG STITCH LENGTH YOU WERE TALKING ABOUT. >> THAT'S A LONG STITCH LENGTH. AND THAT JUST HOLDS IT TOGETHER FOR THE NEXT STEP, WHICH THEN IS TO PUT THE ELASTIC IN. AND THE ELASTIC, ON--ON MOST OPENINGS, EXCEPT FOR THE LEG OPENINGS, UM, THE ELASTIC WILL BE, UM, QUARTER MARKED, AND BY THAT, I MEAN I FOLD IT, AND I MARK IT ON ONE SIDE, AND THEN I FOLD IT AGAIN IN HALF, AND MARK IT ON THIS SIDE... >> SO YOU HAVE FOUR PLACES. >> FOUR EQUAL MARKS, AND THEN, I'LL DO THE SAME THING ON ALL THE, UM, BOTH THE ARM HOLE OPENINGS, AND THE NECK OPENINGS, AND MATCH THE ELASTIC, AND PIN IT. AND I'LL PIN IT, UM... >> THAT SPREADS THAT FULLNESS IN-BETWEEN THEM, NOT JUST... >> YEAH, MAKES IT NICE AND STRETCHY. I'VE GOT... SO, WHAT I DO IS I PIN IT FROM THE INSIDE, AND SO THAT IT LINES UP, UM, ALL ALONG THE EDGE-- >> MM-HMM, AND, AGAIN, YOU JUST SERGE THIS ON AS WELL? >> I'LL SERGE IT ON, EXACTLY. AND I'LL TAKE THE PINS, THE CROSSWAYS PINS OUT FIRST. THE LEG OPENING IS A LITTLE DIFFERENT IN THAT, WITH THE LEG, YOU WANT MOST OF THE GATHERING, THE FULLNESS, TO BE IN THE BACK. SO, I WON'T MARK MY--I WON'T DIVIDE UP MY--UM, MY ELASTIC, BUT WHAT I'LL DO IS I'LL START ON THE--RIGHT AT THE FRONT OF THE SEAM, UM... OR--NO, EXCUSE ME, I'LL START RIGHT, UH, RIGHT AT THE VERY BEGINNING OF A FRONT SEAM, OF THE FRONT, AND WHATEVER PIECE I'M ON. AND, UM, UH, FOR EXAMPLE, I'LL HAVE IT PINNED HERE, AND I'LL JUST PULL IT ONE-TO-ONE RATIO, YOU KNOW, SO IT'S JUST TAUT, AND THEN AS SOON AS I HIT THE SIDE SEAM, I'LL HAVE--I'VE GOT A LITTLE BIT LEFT, AND I'LL PULL IT REALLY HARD, AND THAT'LL S--PULL IT--THAT'LL... >> LIKE, IT MAKES THE SWIMSUIT FIT IN THE BACK. >> IT'LL GATHER UP, AND IT'LL HAVE ALL THE FULLNESS IN THE BACK. AND SO, TO ILLUSTRATE THAT, YOU CAN SEE WHAT I MEAN, THAT THESE HAVE OPEN SEWN IN. >> AND THIS IS FLAT ACROSS THE FRONT. AND THE GATHERS ARE IN THE--IN THE BACK, FOR A BETTER FIT. >> AND NOW, THE--THE LAST STEP IS SIMPLY JUST TO TURN, AND TOPSTITCH ALL THE--ALL THE OPENINGS. >> OKAY, AND WE WENT THROUGH THIS VERY QUICKLY, BUT IT REALLY--ESPECIALLY TO GET PEOPLE SEW, SOMEWHAT, UH, MAKING A SWIMSUIT IS MOSTLY THE--THE DIFFERENCE IS GETTING THE RIGHT FABRIC, AND, UH, THE--THE STRETCH AMOUNT THAT WE WANT. >> AND IF YOU WANT FURTHER DETAILS, THEN I HAVE A--A SWIM--SEWINGSWIMSUITS.COM IS MY BLOG, AND MY WEBSITE, WWW.LAURAKEITHDESIGNS.COM, FOR FURTHER DETAILS. >> YOU CAN HELP US IF WE RUN INTO PROBLEMS. >> JUST EMAIL ME. >> [LAUGHS] OKAY, THANK YOU VERY MUCH, LAURA. >> YOU'RE WELCOME. >> I HOPE YOU ENJOYED THE SHOW TODAY. NEXT TIME, ON "CREATIVE LIVING," WE'LL LEARN HOW TO CREATE DELICIOUS HOMEMADE BREADS, USING A BREAD MACHINE, AND WE'LL DEMONSTRATE WHAT ALL CAN BE DONE WITH WING NEEDLES. ONE OF MY NEXT GUESTS REPRESENTS THE KANSAS WHEAT COMMISSION, AND SHE'S GOING TO SHOW HOW TO USE A BREAD MACHINE TO CREATE SOME DELICIOUS BREADS. AND IT'S SO EASY! IN FACT, MY GUEST REFERS TO THIS AS "BREAD MACHINE MAGIC," BECAUSE YOU SIMPLY ADD ALL THE INGREDIENTS TO THE MACHINE PAN, AND THE END RESULT IS A FRESH, HOT LOAF OF BREAD. JUST LIKE MAGIC. SO, IF YOU'RE LIKE SOME OF US, AND HAVE A BREAD MACHINE STORED SOMEPLACE UNDER THE CABINET, IT'S TIME TO GET IT OUT, AND LEARN TO DO SOME MAGIC OF YOUR OWN. ANOTHER GUEST IS GOING TO EXPLAIN WHAT HEMSTITCHING IS, AND DEMONSTRATE THE TECHNIQUE OF WING NEEDLE HEMSTITCHING, WHICH RESEMBLES THE WAY READY TO WEAR LOOKS. BOTH OF THESE TOPICS WILL BE FEATURED ON THE NEXT "CREATIVE LIVING" SHOW. IF YOU EVER HAVE COMMENTS, OR SUGGESTIONS, OR IDEAS FOR SHOWS, YOU CAN EMAIL ME AT SHERYL.BORDEN@ENMU.EDU. I'D ALSO LIKE TO ASK YOU TO BECOME A FAN OF "CREATIVE LIVING" ON FACEBOOK. JUST GO TO FACEBOOK.COM, AND IN THE SEARCH WINDOW, TYPE IN "CREATIVE LIVING WITH SHERYL BORDEN." THANKS SO MUCH, I HOPE YOU PLAN TO JOIN ME NEXT TIME FOR "CREATIVE LIVING." >> WE ARE VERY PLEASED TO OFFER A NEW BOOKLET THAT ACCOMPANIES THIS SERIES OF "CREATIVE LIVING." THIS BOOKLET IS TITLED "THE 6500 SERIES," AND IT FEATURES A WONDERFUL COLLECTION OF IDEAS AND INFORMATION. AND IT'S AVAILABLE FREE OF CHARGE ON OUR WEBSITE. POSTED AS A .PDF FILE, YOU CAN SIMPLY DOWNLOAD THE ENTIRE BOOKLET, OR JUST THE SEGMENTS YOU'RE MOST INTERESTED IN. AS WITH ALL OF THE "CREATIVE LIVING" BOOKLETS, YOU'LL FIND INFORMATION ON FOODS AND NUTRITION, CLOTHING AND FASHION, HEALTH AND BEAUTY, HOME DECORATING, AND MUCH MORE. FOR YOUR COPY OF THIS BOOKLET, GO TO OUR WEBSITE AT KENW.ORG, AND THEN CLICK ON "CREATIVE LIVING." SCROLL DOWN TO THE BOOKLET SECTION, AND YOU CAN CLICK ON THIS BOOKLET, OR ANY OF THE OTHER BOOKLETS WE HAVE AVAILABLE ONLINE. ONCE AGAIN, JUST GO TO KENW.ORG, CLICK ON "CREATIVE LIVING," AND DOWNLOAD THE BOOKLET, TITLED "THE 6500 SERIES." WE ALSO WANT TO ENCOURAGE YOU TO SIGN UP FOR OUR FREE E-NEWSLETTER. JUST CLICK ON THE "SIGN UP NOW" BUTTON, AND INPUT YOUR EMAIL ADDRESS. THAT'S ALL THERE IS TO IT. YOU'LL ENJOY READING AN UP-TO-DATE NEWSLETTER FILLED WITH INTERESTING TOPICS, AND INFORMATION. THANK YOU.
Now Playing As: Captioned (English) (change)
In this episode, viewers learn to sew a custom fit bathing suit and how to create a framed butterfly wall decoration using a die cutting machine.
Media Details
Runtime: 27 minutes