Creative Living With Sheryl Borden #6516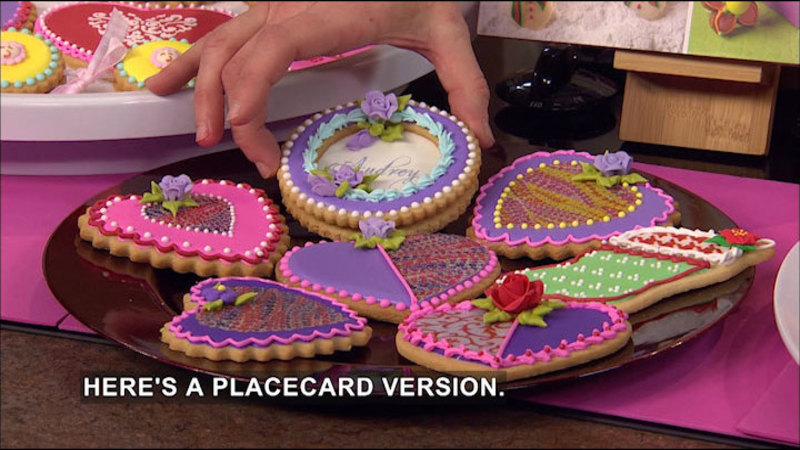 >> "CREATIVE LIVING," UTILIZING TODAY'S TECHNOLOGY WITH THE BEST OF THE PAST TO BRING YOU INNOVATIVE IDEAS AND UP-TO-DATE INFORMATION FOR CREATIVE LIFESTYLES IN TODAY'S ACTIVE WORLD, WITH YOUR HOST, SHERYL BORDEN. >> WELCOME TO "CREATIVE LIVING" TODAY. WE'RE GOING TO LEARN TO DECORATE COOKIES WITH WAFER PAPER. WE'LL TALK ABOUT HOW TO PROTECT CHILDREN FROM BULLYING AND SHARE SOME GREAT COUGH-AND- COLD REMEDIES WITH YOU THAT ARE GOOD TO APPLY YEAR-ROUND. ONE OF MY GUESTS IS JULIA USHER, AND SHE'S A PASTRY CHEF AND AUTHOR AND A FOOD STYLIST, AND SHE LIVES IN ST. LOUIS, MISSOURI. JULIA'S GOING TO DEMONSTRATE A SPEEDY WAY TO ADD IMPRESSIVE COOKIE DETAIL BY WAFER PAPERING, WHICH REFERS TO THE APPLICATION OF WAFER PAPER TO COOKIE TOPS USING CORN SYRUP AS THE GLUE. WAFER PAPER IS VIRTUALLY TASTELESS AND QUICKLY DISSOLVES ON THE TONGUE SO IT DOESN'T DETRACT FROM THE COOKIE'S FLAVOR. ANOTHER GUEST IS PETER GOODMAN, AND HE'S AN AUTHOR WHO'S WRITTEN A CHILDREN'S BOOK TITLED "WE'RE ALL DIFFERENT, BUT WE'RE ALL KITTY CATS." PETER WILL DISCUSS THE STEPS PARENTS AND TEACHERS CAN TAKE TO PROTECT CHILDREN FROM BULLYING AND SELF-BLAME WHILE STILL BUILDING RESILIENCE. TEACHERS WILL ALSO BE PLEASED TO LEARN THAT PETER'S DEVELOPED LESSON PLANS THAT CAN BE USED IN THE CLASSROOM TO REINFORCE THE INFORMATION HE PRESENTS IN THE BOOK. HE LIVES IN WASHINGTON, D.C., AND HIS COMPANY IS DREAM BIG. AND WE'LL BEGIN THE SHOW WITH LAURA DELLUTRI, WHO'S GOING TO SHARE SOME QUICK AND EASY TIPS TO CUT DOWN ON COUGHS AND COLDS TO KEEP THE ENTIRE FAMILY HEALTHY. LAURA'S BUSINESS IS HEALTHY HOUSEKEEPER INCORPORATED, AND SHE LIVES IN OVERLAND PARK, KANSAS. LAURA, NO MATTER WHAT THEY SAY, THERE'S JUST CERTAIN TIMES OF THE YEAR THAT WE HAVE THE SNIFFLES MORE OFTEN. SOMETIMES WE SAY IT'S ALLERGIES, SOMETIMES WE KNOW IT'S COLDS AND FLUS. BUT YOU'VE GOT SOME TIPS THAT-- I KNOW SOME OF THEM THAT WHEN I READ ABOUT IT, I HAD NEVER THOUGHT ABOUT. SO LET'S GET WITH IT, AND YOU TELL US SOME OF THESE GREAT TIPS. >> OK, WELL, SHERYL, A LOT OF PEOPLE DON'T REALIZE--WHEN THEY GET A COLD, THEY START TAKING AN ANTIBIOTIC. AND THEN WHAT HAPPENS? THEY FINISH THE ANTIBIOTIC, FEEL GOOD FOR A COUPLE DAYS, AND THEY GET SICK AGAIN! >> SICK AGAIN, MM-HMM. >> AND ONE OF THE BIGGEST REASONS WHY IS BECAUSE OF THE TOOTHBRUSH. A LOT OF PEOPLE DON'T REALIZE THAT MOUTHWASH, SOAPY WATER IS NOT GOING TO CLEAN YOUR TOOTHBRUSH PROPERLY. SO YOU CAN ACTUALLY RECONTAMINATE YOURSELF WITH THE SAME GERMS. >> WELL, I'LL BE. UH-HUH. >> SO IT'S VERY IMPORTANT TO CLEAN YOUR TOOTHBRUSHES DAILY WHEN YOU'RE SICK. NOW, THE OLD-FASHIONED WAY, YOU CAN JUST BOIL 'EM IN HOT WATER, PUT THEM IN BOILING WATER. NOW WE CAN USE THE MICROWAVE AND STICK 'EM IN A CUP, YOU KNOW, BUT ALSO THERE'S NEW THINGS OUT NOW LIKE THIS. THIS IS A TOOTHBRUSH SANITIZER. AND THIS ONE IS ACTUALLY AN ULTRAVIOLET LIGHT. SO ONCE YOU CLOSE IT, THE ULTRAVIOLET LIGHT HAS THE HOSPITAL GERMICIDAL CAPABILITIES AND CAN ACTUALLY GET ALL THE LITTLE BACTERIA AND GERMS THAT CAN MAKE YOU SICK-- >> YEAH. >> OFF THE TOOTHBRUSH. SO THAT'S MY FAVORITE BECAUSE IT'S FAST AND EASY AND IT DOESN'T REQUIRE MUCH WORK TO DO. >> I HADN'T EVEN THOUGHT ABOUT THAT ONE. >> YES, SANITIZE THE TOOTHBRUSH. NUMBER 2--YOU WANT TO CLEAN THE HIGH-CONTACT AREAS. AND WHAT I MEAN BY THAT--YOU KNOW, THE LIGHT SWITCH PLATES, EVEN THE DOORKNOBS. WE DON'T REALIZE-- YOU COUGH [COUGHS] TOUCH A DOORKNOB, YOU PASS ALONG GERMS. >> WHY, SURE. >> SO IT'S VERY IMPORTANT TO SANITIZE THEM WITH SOME WIPES. ALSO KIDS TOYS. >> YEAH, I THINK WE THINK OF THAT SOMETIMES, BUT I SURELY HAD NEVER THOUGHT ABOUT DOORKNOBS. THAT'S GREAT. >> YES, AND HERE'S A BIG ONE. AS PARENTS, WE REALLY FORGET ABOUT
THIS: THE KIDS' GAMING. >> OH. >> THE X BOX, THE PLAYSTATION, ALL THESE GAME PADDLES THAT THEY USE. >> ALL THE BUTTONS. >> THEY'RE SNEEZING, YES. AND WE NEVER CLEAN 'EM. BUT AGAIN, YOU CAN WIPE THESE WITH THE SANITIZER, AND HERE'S ONE OF THE MOST GERM-INFESTED THINGS IN OUR HOME. >> THE REMOTE CONTROL. >> THE REMOTE CONTROL. SO I RECOMMEND PUTTING IT IN A PLASTIC BAG WHEN SOMEONE'S SICK, AND THEN THEY CAN JUST GO LIKE THIS. >> OH, IT WORKS THROUGH THERE. >> AND YOU CAN WIPE IT. OR THE PERSON WHO'S WELL CAN JUST PULL IT OUT AND CHANGE THE CHANNEL THAT WAY. >> WELL, THAT'S EASY ENOUGH TO DO. >> YES, NOW, WHEN IT COMES TO TAKING CARE OF YOUR FAMILY WHEN THEY'RE SICK, I RECOMMEND YOU GOTTA ISOLATE THEM, BECAUSE THAT'S ANOTHER REASON WE SPREAD THE GERMS AROUND. SO, PUT 'EM IN A BEDROOM, AND THEN IT'S IMPORTANT TO OFFER THEM COMFORT. OF COURSE, PLENTY OF LIQUIDS. I ALSO RECOMMEND THE CHICKEN NOODLE SOUP. >> OF COURSE. THAT WORKS. >> YOU GET YOUR OVER-THE-COUNTER MEDICINES, BUT THE MOST IMPORTANT THING I THINK IS THE TISSUE THAT YOU USE, BECAUSE I JUST LOVE THE PUFFS PLUS WITH THE FRESH SCENT OF VICKS. AND THE THING THAT'S NICE ABOUT THESE IS NOT ONLY DO THEY COMFORT--GO AHEAD AND PUT THAT UP TO YOUR NOSE--BUT THEY ALSO SOOTHE. >> OH, IT SMELLS SO GOOD. >> YEAH, IT'S 'CAUSE THEY HAVE THE FRESH SCENT OF VICKS. SO, JUST ANOTHER-- >> YOU FEEL LIKE YOU'RE GETTING BETTER WHETHER YOU ARE OR NOT! >> YES, ABSOLUTELY. SO, THESE ARE JUST NICE, THE PUFFS PLUS. >> OK. >> ANYWAY, SO, THOSE ARE SOME THINGS YOU CAN DO. >> WELL, I THINK WE'VE THOUGHT OF A FEW OF 'EM. I KNOW TAKING CARE OF THE KIDS' TOYS AND THINGS LIKE THAT, BUT THERE ARE SEVERAL, LIKE THE REMOTE CONTROL AND THE MOUSE ON YOUR COMPUTER-- THINGS LIKE THAT ARE JUST REALLY INFECTED AREAS-- >> YES, THEY ARE. >> THAT WE FORGET ABOUT. >> WELL, THANKS FOR MAKING US AWARE OF THIS. THESE ARE EASY ENOUGH TO REMEDY, TOO. >> YES, AND KEEP EVERYONE COMFORTABLE AND KEEP 'EM WELL. >> THANK YOU. >> YOU'RE WELCOME. >> PETER, THANK YOU SO MUCH FOR BEING HERE. I APPRECIATE YOU SENDING ME A COPY OF YOUR BOOK "WE'RE ALL DIFFERENT BUT WE'RE ALL KITTY CATS." AND IT'S A DELIGHTFUL READ, BUT THERE'S A REALLY SERIOUS PURPOSE BEHIND THIS BOOK AND IT'S ABOUT HELPING CHILDREN TO PREVENT BULLYING OR TO NOT BE A VICTIM TO BULLYING. BUT ONE OF THE ISSUES THAT'S BROUGHT UP IN THE BOOK IS ABOUT CREATING A SAFE ENVIRONMENT. NOW, DO YOU MEAN ENVIRONMENT AT HOME OR AT SCHOOL OR EVERYWHERE? WHAT? >> IT'S BOTH. IT'S IMPORTANT TO GIVE KIDS A SAFE ENVIRONMENT OR CREATE A SAFE ENVIRONMENT BOTH IN THE SCHOOL ENVIRONMENT, SCHOOL YARD, AND ALSO AT HOME. ALSO BECAUSE THE MORE THAT CHILDREN FEEL SAFE, IT ALSO ENABLES THEM TO LEARN BETTER. >> TO LEARN BETTER. AND PART OF THAT LEARNING IS HOW TO INTERACT OR REACT TO SITUATIONS AROUND THEM. >> RIGHT, EXACTLY. AND ALSO, IT ALLOWS THEM TO FOCUS IN THE MOMENT, TOO, BECAUSE IF A CHILD IS WORRIED ABOUT BEING BULLIED IN THE HALL AFTER CLASS ENDS, HE OR SHE ISN'T PAYING ATTENTION IN THE MOMENT WHAT'S GOING ON IN THE CLASSROOM. >> UH-HUH. AND IT TALKS ABOUT HOW THIS ONE KITTY CAT HAS NO HAIR, AND SOME OF THE KIDS MAKE FUN OF HIM. BUT THE BEST PART IS SOME OF THE OTHER KIDS RALLY AROUND HIM, AND THAT'S IMPORTANT, BECAUSE THE CHILD ISN'T MADE TO FEEL ALL ALONE OR LIKE IT'S THEIR FAULT SOMETHING HAPPENED. >> RIGHT. IN THIS CASE IN THE BOOK, FLO AND MARLA--WE SEE FLO OVER THERE. >> UH-HUH. >> THEY STAND UP FOR CARLOS TO VINNY, WHO'S THE SCHOOL BULLY. AND THAT'S REALLY IMPORTANT, BECAUSE IT'S NOT OK TO LET THE BULLY WALK OVER SOMEONE. AND IT REALLY ALSO LETS CARLOS FEEL THAT HE'S NOT ALONE AS WELL. >> WHAT AGE ARE THESE--THIS IS WHAT, DESIGNED FOR PRESCHOOL, KINDERGARTEN, OR WHAT? >> YEAH, IT'S REALLY THE 3- TO 8-YEAR-OLD RANGE, SO PRE-K TO GRADE 3. AND I SAY THAT BECAUSE KIDS AT ALL DIFFERENT AGE LEVELS CAN GET SOMETHING OUT OF IT, DEPENDING UPON WHAT THEIR AGE IS. >> UH-HUH. AND WHAT I LIKE IS THAT I COULD--AS I READ IT-- COULD THINK OF THINGS THAT I WANT TO TALK TO MY GRANDDAUGHTER ABOUT IN TERMS OF WHAT'S HAPPENING ON EACH PAGE, WHICH I THINK IS THE WAY PARENTS AND GRANDPARENTS READ TO A CHILD, NOT JUST THE WORDS. BUT EVEN IN THE BACK, THERE ARE SOME SUGGESTED DISCUSSION POINTS. >> RIGHT. AND THAT'S REALLY IMPORTANT FOR THIS BOOK AND ALSO SUBSEQUENT BOOKS BECAUSE IT REALLY STARTS CONVERSATIONS BETWEEN PARENTS, GRANDPARENTS, OR EVEN TEACHERS AND KIDS, GETS THE CHILD TALKING ABOUT HOW THEY FELT, WHO WAS THE FAVORITE CHARACTER, WHAT WOULD THEY SAY THAT MAKES THEM SPECIAL. SO IT REALLY GETS THEM THINKING ABOUT IMPORTANT SOCIAL AND EMOTIONAL TOPICS AS WELL. >> SO, SELF-ESTEEM, AS WE KNOW, PLAYS SUCH AN IMPORTANT ROLE IN HOW WE ALL REACT TO PEOPLE AND TO THINGS. AND I THINK SOMETIMES WE DON'T THINK ABOUT LITTLE CHILDREN AND WHETHER THEY HAVE SELF-ESTEEM OR NOT. THEY'VE BEEN TOLD THEY'RE CUTE AND ADORABLE MANY TIMES, BUT THERE'S ALSO THE CHILDREN WHO HAVEN'T HAD THAT POSITIVE INFLUENCE, MAYBE, IN THEIR LIVES. DO YOU THINK THAT IF THEY LEARN AT THIS YOUNG AGE THAT THEY'LL NOT TURN INTO BULLIES LATER? >> WELL, THERE'S NO GUARANTEE, BUT IT'S DEFINITELY POSITIVE OR IMPORTANT TO GIVE KIDS THE TOOLS AND SKILLS AND EVEN FAMILIARITY WITH WHAT IS GOOD BEHAVIOR, BECAUSE THE EARLIER THEY LEARN, THE MORE LIKELY THEY ARE TO TURN INTO GOOD ADULTS THAT ARE CONSIDERATE AND EMPATHETIC TO OTHERS. AND CHILDREN CAN TALK NOT ONLY TO--WE HOPE WILL FEEL COMFORTABLE ENOUGH TO TALK TO THEIR TEACHER, BUT THEN, AS IN THE CASE IN THE BOOK WHEN CARLOS GOES HOME AND FINALLY TELLS HIS MOTHER WHY HE'S SO UPSET AND HAD BEEN CRYING, SHE'S ABLE THEN TO RELATE TO WHAT HE'S FEELING. >> RIGHT, AND IT'S IMPORTANT WITH PARENTS THAT PARENTS VALIDATE AND ENGAGE THE CHILD. AND IN THIS CASE, IT WAS CARLOS. SHE WANTED TO FIND OUT WHAT HAPPENED, HOW HE WAS FEELING. SHE LET CARLOS REALLY EXPRESS HIS FEELINGS. AND THEN SHE ALSO HELPED CARLOS TO FEEL BETTER ABOUT HIMSELF BY POINTING OUT POSITIVE ATTRIBUTES OR POSITIVE QUALITIES THAT CARLOS HAS, WHICH REALLY HELPED HIS SELF-ESTEEM IN GIVING HIM CONFIDENCE TO GO BACK TO SCHOOL THE NEXT DAY. >> WHAT IF HE HADN'T WANTED TO GO BACK TO SCHOOL? AND SOMETIMES I WOULD THINK CHILDREN, YOU KNOW, THEY HAVE A TUMMYACHE OR THEY HAVE A HEADACHE. AND HOW CAN PARENTS THEN REASSURE THEM THAT THAT SAME BULLYING PROBLEM WON'T HAPPEN THE NEXT OR IN THE NEXT DAYS? >> RIGHT. WELL, THAT'S ACTUALLY A BIG PROBLEM THAT A LOT OF KIDS EVERY DAY STAY HOME FROM SCHOOL BECAUSE THEY'RE AFRAID OF BEING BULLIED. BUT WHAT CARLOS' MOM DOES, SHE CAN OBVIOUSLY HELP GIVE CARLOS CONFIDENCE, BUT THEY CAN ALSO ENGAGE THE SCHOOL TEACHER OR ENCOURAGE THE CHILD CARLOS TO MAKE FRIENDS AND NOT BE ALONE. THOSE ARE SOME OF THE TECHNIQUES AND TOOLS OR LITTLE TIPS THAT PARENTS CAN DO TO HELP THEIR CHILD NOT BE ALONE, TO MAKE FRIENDS WITH OTHERS. >> YOU KNOW, THAT WAS SOMETHING I HADN'T THOUGHT ABOUT. WE KNOW THAT FOR PERSONAL SAFETY, PEOPLE SHOULD BE IN GROUPS, ESPECIALLY AT NIGHT OR THINGS. BUT I HADN'T THOUGHT ABOUT HOW IF YOU'RE WITH A GROUP, EVEN 2 OR 3 OTHER FRIENDS ALL THE TIME ON THE SCHOOL GROUNDS OR WHEREVER, THAT CAN HELP PREVENT THAT EPISODE FROM HAPPENING. >> EXACTLY. AND BULLIES OFTEN TARGET THOSE WHO ARE WEAKER AND THOSE WHO ARE INDIVIDUALS, THOSE THEY MIGHT KNOW, OR THOSE THAT THEY MIGHT THINK WOULD BE GOOD TARGETS TO BE BULLIED. AND IF A CHILD IS IN A GROUP OR EVEN WITH ONE OTHER FRIEND, THE BULLY'S LESS LIKELY TO APPROACH THEM AND ANTAGONIZE THEM. >> THAT WAS SOMETHING THAT I HADN'T THOUGHT ABOUT, THE GROUP ASPECTS. SO THAT GOES ALONG WITH MAKING FRIENDS AND CARING FOR EACH OTHER, BECAUSE IF THEY, THEN, HAVE BEEN BULLIED, THEN THEY KNOW MORE ABOUT HOW TO STAND UP AND HELP THEIR FRIENDS IF A SITUATION OCCURS. >> EXACTLY. AND THE BENEFIT OF THE BOOK--THERE'S A SCENE WHERE FLO AND MARLA STAND UP TO VINNY FOR CARLOS, AND THEN THE BULLY BACKED DOWN. THAT'S NOT GONNA ALWAYS HAPPEN IN EVERY SITUATION, BUT COMMONLY THAT DOES HAPPEN. IT'S STRENGTH IN NUMBERS TYPE OF CONCEPT. >> AND ESPECIALLY AT THIS AGE WHEN THEY'RE LIKE PRESCHOOL OR KINDERGARTEN, I THINK. LIKE YOU SAY, IT'S IMPORTANT TO START EARLY, BECAUSE EVEN THOUGH MAYBE IN HIGH SCHOOL THE BULLY WOULDN'T QUIT THAT EASILY, PERHAPS THIS WILL KEEP THOSE SITUATIONS FROM HAPPENING AT A LATER AGE. >> ABSOLUTELY. AND THAT'S REALLY IMPORTANT THAT THE EARLIER YOU START AND ESTABLISH GOOD BEHAVIORS, THE MORE CONFIDENCE YOU'RE GONNA FEEL EARLY ON, AND THAT WILL HOPEFULLY PREVENT BULLYING HAPPENING TO YOU OR BECOMING THE VICTIM. >> WELL, IT'S REALLY AN INTERESTING READ. AGAIN, IT'S TITLED, "WE'RE ALL DIFFERENT BUT WE'RE ALL KITTY CATS". THANK YOU VERY MUCH FOR BEING HERE TODAY, PETER. >> THANK YOU. IT WAS GREAT BEING HERE. >> JULIA, IT'S SO NICE TO HAVE YOU HERE, AND I LOVED READING YOUR BOOK AND ALL THE DIFFERENT TECHNIQUES THAT YOU SHOW. AND I'VE DONE SOME CAKE DECORATING FOR MY KIDS AND GRANDKIDS, MOSTLY, AND WORKED WITH DIFFERENT ICINGS, BUT I HAVE TO ADMIT I'D NEVER HEARD ABOUT THIS WAFER-PAPERING TECHNIQUE. >> WELL, I'M KIND OF SURPRISED, BECAUSE YOU'RE A BIG SCRAPBOOKER, RIGHT? >> RIGHT. >> WELL, IT'S VERY SIMILAR TO SCRAPBOOKING. IT'S BASICALLY CUT-AND-PASTE TECHNIQUE. SO, WHAT WE'RE GONNA BE DOING IS APPLYING EDIBLE WAFER PAPERS. THESE WAFER PAPERS ARE MADE OF DEHYDRATED POTATO STARCH AND WATER. >> NEVER HEARD OF IT. >> YEAH, THEY'RE VERY COOL, AND THEY COME PRE-PRINTED IN A HOST OF PATTERNS. JUST ABOUT ANY PATTERN YOU CAN IMAGINE-- >> JUST LIKE SCRAPBOOKING PAPER. >> YES. YOU CAN ALSO GET IT PLAIN AND PRINT ON IT WITH EDIBLE INKS AS WELL. >> LET'S SEE THE OTHER SIDE. >> AND IT'S LIKE A COMMUNION WAFER. IT HITS THE TONGUE, AND IT DISSOLVES VERY, VERY QUICKLY ON THE PALATE, SO IT GETS CUT AND STUCK ONTO THE COOKIES WITH A LITTLE CORN SYRUP. >> THAT'S HOW THEY LOOK SO ELEGANT. >> YES, I DIDN'T DO THIS ALL BY HAND. AGAIN, VERY QUICK AND EASY TECHNIQUE, SO IF YOU DON'T HAVE A TON OF ARTISTIC ABILITY... GREAT FOR THE KIDS, ALSO. >> OK, LET'S TAKE A LOOK AT SOME COOKIES THAT YOU'VE ALREADY MADE UP THAT USE THIS TECHNIQUE. >> YES, IN ADDITION TO BEING QUICK AND EASY, IT'S VERY VERSATILE. SO WE'RE GONNA SHOW 3 SEASONAL VARIATIONS OF IT TODAY. I'VE GOT A NUMBER OF HEARTS HERE. WHERE YOU SEE THIS ELABORATE PATTERN, THAT'S ACTUALLY THE WAFER PAPER STUCK ONTO AN ALREADY ICED AND DRIED COOKIE. I'M GOING TO SHOW-- HERE'S A PLACECARD VERSION. THE WAFER PAPER IS THE NAME. I PRINTED THAT ON PLAIN WAFER PAPER. I HAVE A PRINTER THAT'S GOT FOOD COLORING IN IT, SO THAT ALLOWS ME TO DO THAT. >> AND THAT'S WHAT THE PRINT IS. IT'S FOOD COLORING. >> YES, IT'S FOOD COLORING. I'M GONNA SHOW AN EASTER VARIATION OF THAT TODAY. YOU KNOW THOSE SUGAR PANORAMA EGGS THAT YOU CAN VIEW INTO? >> YES. >> I'M GONNA DO SORT OF A 3-D VERSION OF THAT IN A COOKIE FORMAT. >> OH, GREAT. SO IT'LL BE A LITTLE WINDOW WITH AN EASTER BUNNY OR CHICK ON THE INSIDE. AND THEN HERE ON THE STOCKING, AGAIN, I'VE USED A RED-AND-WHITE, VERY BOLD CHECKED PATTERN TO CREATE SOME TEXTURE ON THE TOP OF THAT STOCKING. AND I'LL SHOW YOU HOW TO CUSTOM CUT. SOME OF THESE CUTS INVOLVE CRAFT PAPER PUNCHES. OTHERS INVOLVE CUSTOM CUTTING TO FIT THE SHAPE OF THE COOKIE. NOW, WHAT I'VE GOT--WE'RE WORKING WITH TODAY-- TO DO THIS TECHNIQUE, YOU NEED TO HAVE AN ALREADY ICED AND DRIED COOKIE. THE WAFER PAPER WILL NOT STICK TO WHAT I CALL A NAKED COOKIE, WHICH IS ONE WITHOUT ANY ICING. I USE A ROYAL ICING, WHICH IS CONFECTIONER'S SUGAR AND EGG WHITES. IT DRIES VERY, VERY QUICKLY. >> YES, IT'S SO SMOOTH. >> AND YOU CAN ALSO TOPCOAT IT, AND YOU CAN TOPCOAT IT AND YOU CAN GET IT VERY SMOOTH. AND MY BOOK TALKS ABOUT HOW TO DO THAT. YOU NEED TO HAVE THE ICING JUST THE RIGHT CONSISTENCY. BUT THESE HAVE BEEN DONE FOR US. THEY'VE DRIED OVERNIGHT. I'M JUST GONNA SHOW YOU HOW TO APPLY THE PAPER AND TO CREATE THESE VARIOUS PROJECTS. SO, VALENTINE'S DAY, I'VE GOT A PERFECTLY SHAPED HEART. I DID NOT CUT THAT BY HAND. IF I DID, IT WOULD BE A MESS. SO THAT'S WHERE THE CRAFT PAPER PUNCHES COME IN. >> HOW HANDY! >> AND YOU CAN FIND THESE, AS YOU KNOW, IN ANY HOBBY STORE. AND THEY COME IN ALL SORTS OF SIZES AND SHAPES. >> AND DO THE PAPERS COME AT BAKERIES? WHERE DID YOU FIND THOSE? >> THE BEST SOURCE OF THEM ANYWHERE IS ONLINE, AND IT'S FANCYFLOURS.COM-- F-L-O-U-R-S. AND THEY HAPPEN TO HAVE SPONSORED MY TOUR, SO I'M QUITE GRATEFUL TO THEM FOR THAT. BUT THEY HAVE A HUGE SELECTION. >> OH, WOW. >> AND SO I GO THERE, OF COURSE. >> AND THEY COME IN 8 1/2 x 11 SHEETS. I ALWAYS WORK WITH A CRAFT PUNCH ACTUALLY UPSIDE-DOWN. >> I LIKE THAT, TOO. YOU CAN SEE WHERE THINGS ARE. >> YEAH, EXACTLY. SO I CAN SEE WHERE IT'S ORIENTED. IF THERE'S A PARTICULAR PATTERN THAT I WANT TO CAPTURE...I KIND OF WANT TO CENTER THAT LITTLE ROSEBUD AT THE TOP OF THE HEART. I'LL PUNCH IT THERE. THE PAPER IS BRITTLE, SO YOU HAVE TO BE CAREFUL HANDLING IT. IF YOU'RE REALLY ROUGH WITH IT, YOU WILL TEAR IT WHEN IT'S DRY. >> UH-HUH. >> AND ACTUALLY, I'LL GIVE YOU A COUPLE--THERE'S SOME FUN PAPER HERE, SO YOU CAN HAVE YOUR CHOICE. >> OH! I SEE NOW. I RECOGNIZE THE COOKIE THAT HAS-- >> EXACTLY. ALSO, IF YOU OVERAPPLY THE CORN SYRUP, WHICH ACTS AS THE GLUE IN THIS CASE, IT WILL DISSOLVE. IT'LL ACTUALLY START TO BUCKLE FIRST, AND THEN IT WILL EVENTUALLY WRINKLE AND DISSOLVE. SO ALL WE'RE REALLY LOOKING FOR HERE-- >> IS JUST ENOUGH TO HOLD IT. >> YEAH, JUST TO GET IT TACKY ON THE BACK. SO THIS IS CORN SYRUP. IT'S KIND OF CRUSTED 'CAUSE I HAD IT OPEN. AND I USE A SPONGE BRUSH FOR THIS AS OPPOSED TO ONE WITH BRISTLES BECAUSE THE BRISTLES TEND TO GET ALL STUCK IN THE-- >> I CAN SEE HOW THAT WOULD TEAR IT, TOO. >> AND I'M JUST VERY GENTLE WITH IT. AND YOU CAN SEE, I'M NOT GETTING IT REALLY WET. I'M JUST GETTING IT SO IT'S TACKY. >> JUST LIKE YOU WOULD GLUE. >> NOW, IF I WERE TO COVER A WHOLE COOKIE WITH THE PAPER, I'D ACTUALLY JUST PAINT DIRECTLY ON THE COOKIE. >> UH-HUH. >> BUT SINCE I'M JUST COVERING A PORTION--THIS PIECE IS SMALLER THAN THE ICING--I'M PAINTING THE BACK OF THE PAPER. BECAUSE IF YOU GET ANY CORN SYRUP ON THE COOKIE TOP, WHEN IT DRIES IT WILL DRY, BUT IT WILL DRY WITH A SHINY SPOT, WHICH ISN'T ALTOGETHER TOO ATTRACTIVE. SO THAT'S PRETTY NICELY DONE AND TACKY AS YOU CAN SEE, BUT NOT REALLY WET. >> SO THIS HAS BEEN AROUND A WHILE? >> YOU KNOW, YOU'RE RIGHT, IT IS RELATIVELY NEW IN COOKIE DECORATING. I WOULD SAY IN THE LAST YEAR OR TWO IT'S TAKEN OFF. >> OK, UH-HUH. I'M SO GLAD-- >> MAYBE 2 YEARS. I LOSE TRACK OF TIME. THE PAPER IS TRANSLUCENT, SO SOME OF THE COLOR OF THE COOKIE UNDERNEATH IT WILL SHOW THROUGH. IN THIS CASE, IT'S PRETTY PALE. >> OH, THAT'S NICE. >> THIS MIGHT HAVE LOOKED BETTER ON A DARKER COOKIE 'CAUSE IT'S A LIGHT PAPER. ONE THING I DO--THEN FROM HEREAFTER, I WILL LET IT DRY AND I WILL LET IT DRY UPRIGHT. SOME SOURCES WILL SAY TURN IT UPSIDE-DOWN AND DRY IT THIS WAY. >> OH. >> BUT THERE'S REALLY NOT ENOUGH WEIGHT ON THE COOKIE TO MAKE A DIFFERENCE, AND I FIND THAT IT ACTUALLY SOMETIMES DOESN'T DRY AS FAST AND THE PAPER WILL WRINKLE OR BUCKLE, SO I ALWAYS DRY IT-- >> THEN YOU DON'T KNOW IT. >> THEN YOU DON'T KNOW IT. SO THEN I ALWAYS DRY IT FACE UP, AND PERIODICALLY I'LL JUST RUN AROUND THE EDGE--CAUSE THE EDGES TEND TO LIFT--WITH MY FINGER UNTIL IT'S THOROUGHLY DRY. >> SO ANOTHER WAY, BESIDES DOING THE PUNCHES, YOU ALSO HAVE SOME OTHER TECHNIQUES. >> YEAH, YEAH. YOU CAN CUT IT FREEHAND. WE'RE GONNA DO THAT ON THE STOCKING. NOW, IF YOU'VE GOT AN ODD SHAPE--FOR INSTANCE, I WANT TO FILL THE TOP OF THIS STOCKING WITH THIS SWIRLY RED PAPER. HOW DO YOU DO THAT? I DON'T HAVE A PUNCH THAT'S GONNA FIT THAT. SO WHAT I DO IS I WILL ACTUALLY LAY IT--I'LL CUT IT DOWN TO A MANAGEABLE SIZE FIRST. >> OH, I SEE. >> SO LET ME TAKE AN EDGE OFF. YOU KNOW, ONCE IT'S DOWN--I WOULDN'T LEAVE IT THAT WAY. I'D GO BACK, AND I'D EMBELLISH IT 'CAUSE YOU'LL SEE-- >> WHILE IT'S--UH-HUH. >> WITH ICING, BUT USUALLY I DON'T PUT THE ICING ON TOP OF THE WAFER PAPER UNTIL THIS HAS DRIED AT LEAST AN HOUR, BECAUSE THE WET ICING ON TOP OF THE WET PAPER CAUSES THE PAPER TO LIFT. SO I CUT THAT DOWN TO ROUGHLY THE SAME SIZE. AND WHAT I'LL DO IS I'LL TAKE MY HANDY TRUSSING NEEDLE OR TOOTHPICK, AND I'LL SCORE AROUND THE EDGE ROUGHLY TO MARK IT OFF. >> OH, SO YOU MAKE A LITTLE CUTTING LINE AREA. >> YEAH, JUST SO I CAN SEE WHERE I NEED TO CUT AND THEN GO ABOUT IT THAT WAY. ACTUALLY, SMALLER SCISSORS--YOURS MIGHT BE BETTER FOR THIS, OR USUALLY BETTER THAN THESE BIG BULKY ONES, 'CAUSE THESE ARE SMALL AREAS. AND IT ROUGHLY FITS. THERE'S A LITTLE BIT OF OVERHANG, BUT I'M GONNA TRIM THAT OUT AFTERWARDS 'CAUSE IT'S HARD TO GET IT QUITE A PERFECT FIT. AND IN THIS CASE, I WILL PAINT THE WHOLE AREA BECAUSE IT'S SEPARATE FROM THE REST OF THE COOKIE AND I'M UNLIKELY TO GET A LOT OF CORN SYRUP ON THERE. SO I CAN JUST GO DIRECTLY ON THERE 'CAUSE I'M COVERING THE WHOLE AREA. >> WHAT A FAST TECHNIQUE THIS BECOMES. >> IT IS VERY FAST. AND DOWN IT GOES. NOW, I'VE GOT SOME OVERHANG ON THIS. I DON'T KNOW IF YOU CAN SEE THAT. >> YES, UH-HUH. IT'S A LITTLE BIT BIGGER. >> IT'S A LITTLE BIT BIGGER. AND THAT'S NOT IDEAL. IF I WERE TO COME IN WITH A BORDER LATER, THAT PAPER WOULD LIFT UP AN ICING BORDER LATER. SO I'M GONNA TAKE YOUR TEENY SCISSORS--THANK YOU--AND JUST, BEFORE IT'S COMPLETELY DRY, JUST TRIM THAT BACK TO THE ICING EDGE-- >> OH. WELL, THAT'S EASY TO DO. >> AND IT'S JUST EASIER TO DO IT WITH THESE LESS CLUMSY SCISSORS. AND THEN IT'S MUCH EASIER TO GET A BORDER ON TOP OF IT LATER, AS I WILL SHOW. WE'LL LET THAT DRY A LITTLE BIT BEFORE I SHOW THAT. THEN I'M GONNA PRESS THAT DOWN. AND WE'LL COVER IT. I LIKE TO BORDER THE EDGES BECAUSE I DON'T LIKE-- >> I DO, TOO. >> CUT AND PASTE. >> YEAH. >> SO THAT'S HOW YOU WOULD CUSTOM FIT AN AREA. >> OK. NOW, THAT EASTER DIORAMA I'M ANXIOUS TO SEE THAT. >> I'LL SHOW YOU THAT REALLY QUICKLY. HERE IT IS. >> OH, UH-HUH. >> AND THE WAFER PAPER IS THE CHICK ON THE INSIDE, AND IT'S 2 COOKIES PUT TOGETHER. SO I'VE GOT ONE THAT'S GOT THE WAFER PAPER ON THE BOTTOM AND THEN I'VE GOT A RING THAT I'VE JUST DECORATED AND PUT ON TOP. >> PRETTY. >> I'M GONNA DO THAT HERE, AND WE'RE GONNA USE A YELLOW BACKGROUND, THEN YOU'LL SEE WHAT THAT DOES. THE PAPER--THERE WE GO. >> AND THAT'S ANOTHER PATTERN THAT WE CAN WORK WITH. >> YEP. >> THAT'S AMAZING. >> HE'S STUCK IN THERE. THAT'S NOT GOOD. LET'S SEE IF HE COMES OUT. WELL, MAYBE YOU CAN POP HIM OUT-- >> WILL THIS-- >> THAT MIGHT POP IT OUT. AND IF IT DOESN'T, WHAT I'M GONNA DO IS CUT IT FREE--THERE YOU GO. THANKS. WAS GONNA CUT IT FREEHAND. >> THESE LITTLE THINGS ARE HANDY FOR A LOT OF THINGS. >> AND AGAIN, I'M COVERING THE WHOLE COOKIE, SO I'LL JUST-- AND JUST TACKY, AGAIN, NOT WET. I THINK I GOT THE STOCKING A LITTLE TOO WET LAST TIME BECAUSE THE PAPER WAS LIFTING IN THE MIDDLE. >> YOU'VE DONE IT ENOUGH. YOU KNOW WHAT TO EXPECT. >> AND IF YOU THINK YOU HAVE TOO MUCH ON IT, YOU CAN PUT A PAPER TOWEL DOWN AND BLOT IT BEFORE YOU PUT THE-- >> OH. >> PUT THE PAPER ON IT. I'VE JUST CLEANED MY HANDS WITH A WET PAPER TOWEL, WHICH YOU MAY NEED TO DO PERIODICALLY, BUT I DON'T WANT TO THEN PUT THEM ON THE WAFER PAPER, CAUSE THEY WILL DISSOLVE IT. SO JUST KEEP YOUR HANDS DRY. AND SO HE'S BASICALLY DONE. NORMALLY, I'D LET HIM DRY AGAIN AT LEAST AN HOUR BEFORE I GLUED WITH ICING ON TOP. BUT BECAUSE WE DON'T HAVE THE BENEFIT OF TIME HERE, I'M GONNA DO IT A LITTLE BIT MORE QUICKLY. >> LET'S JUST SHOW HOW-- >> TURN IT AROUND. >> HOW THAT LOOKS. >> SO THIS IS JUST A RING. I USED ONE OF THOSE GRADUATED CUTTER SETS, A FLUTED ONE, AND I CUT A HOLE OUT OF THE CENTER-- >> CUTE. >> AND BAKED IT THAT WAY AND THEN ICED IT. AND I'M TAKING A VERY THICK-- >> NOW YOU'RE GOING TO GLUE IT TOGETHER. >> VERY THICK ROYAL ICING RIGHT NOW. >> UH-HUH. >> THE THICKER IT IS, THE FASTER IT DRIES. SO THE THICKER ICING ACTS AS A BETTER GLUE. >> UH-HUH. >> AND I WILL STICK THAT HERE. WHOOPS! SO THICK, IT'S FALLING OFF. AND THEN JUST CENTER IT ON THE COOKIE. AND THERE YOU HAVE YOUR LITTLE DIORAMA. >> THAT IS JUST GORGEOUS. >> IF YOU REALLY WANT TO DRESS IT UP THE WAY I HAVE, YOU CAN WORK WITH SOME FANCY TIPS. I RARELY WORK WITH TIPS, BUT WHEN YOU WANT TEXTURE AND RELIEF TO THE ICING, THAT'S REALLY THE BEST WAY TO DO IT. SO THIS IS A STAR TIP USED TO CREATE THAT BORDER, AND I'M GONNA DO IT IN YELLOW, IN THIS CASE. >> OH. >> I'M JUST TESTING MY ICING TO MAKE SURE IT'S FLOWING, 'CAUSE THESE TIPS DO PLUG, AND THAT ONE HAD. I WANT TO GET MY CADENCE GOING FIRST. THAT LOOKS PRETTY GOOD, SO I'M JUST GONNA GO AROUND THE INNER PART. AND I MIGHT NOT DO THE WHOLE THING, 'CAUSE YOU'LL GET THE PICTURE. MY ICING'S A LITTLE CRUSTY HERE. >> IT'S BEEN SITTING OUT A WHILE. >> IT'S NOT LOOKING AS PERFECT AS THE ONE I HAVE ON DISPLAY, BUT I THINK YOU GET THE PICTURE. >> WELL, IT LOOKS KIND OF NICE TO THE REST OF US. YOU ARE A PERFECTIONIST. >> AND THEN YOU GO AROUND AND AROUND AND AROUND AND COMPLETE THAT. AND THEN IF YOU WANT TO TOP IT OFF AND MAKE IT LOOK REALLY LOVELY-- >> YOU CAN MAKE 'EM OR BUY THEM? >> YOU CAN MAKE THESE WITH ROYAL ICING. PIPE THEM OUT AND LET THEM DRY THEN LIFT THEM OFF PARCHMENT PAPER, OR YOU CAN BUY THEM. AND THERE ARE MANY SOURCES FOR THESE. AGAIN, I LOVE FANCY FLOURS' PRODUCTS. THEY'VE GOT SOME LOVELY VARIETIES, AND THESE PARTICULAR ROSEBUDS DID COME FROM THEM. NOW I'M TAKING A LEAF TIP, AND I'M JUST GONNA FILL IN WITH A LITTLE GREEN AROUND THAT. LET THAT DRY, AND YOU CAN SERVE IT FLAT OR STAND IT UP TO CREATE KIND OF A DISPLAY ELEMENT OF ITS OWN. STAND IT UP IN SUGAR-- >> PLACE CARDS. >> FOR INSTANCE. >> WELL, THANK YOU SO MUCH. THIS JUST LOOKED SO COMPLICATED WHEN I SAW THE FINISHED ONES, BUT IT'S REALLY A WONDERFUL TECHNIQUE. >> YEAH, IT'S VERY, VERY EASY. >> THANK YOU, JULIA. >> THANK YOU. >> I HOPE YOU ENJOYED THE SHOW TODAY. NEXT TIME ON "CREATIVE LIVING," WE'LL LEARN HOW TO SEW ON STRETCHED KNITS TO MAKE SWIM SUITS, AND WE'LL SEE WHAT IS INVOLVED IN MAKING A BUTTERFLY WALL HANGING FOR OUR HOME. ONE OF MY NEXT GUESTS IS AN APPAREL DESIGNER, AND SHE'S GOING TO DEMONSTRATE HOW TO SEW A CUSTOM-FIT SWIMSUIT. THIS USES EASY SEWING METHODS THAT ARE HANDY FOR ANY STRETCH-KNIT FABRIC AS WELL AS FOR SWIMSUIT FABRIC. MY GUEST EMPHASIZES HOW IMPORTANT IT IS TO FIRST CONSULT WHATEVER PATTERN YOU PLAN TO USE BECAUSE MOST PEOPLE ARE VARIOUS SIZES. AND THE GOOD PART ABOUT SEWING OUR OWN SWIMSUIT OR ANY OTHER ARTICLE OF CLOTHING IS WE CAN CUSTOM FIT IT TO FLATTER OURSELVES AND OUR SHAPE. AND WE'LL ALSO MEET A PROFESSIONAL CRAFTER AND DESIGNER, AND SHE'S GOING TO SHOW HOW TO MAKE A FRAMED BUTTERFLY WALL DECORATION THAT INCLUDES A QUOTE TO MAKE IT PERSONALIZED FOR THE RECIPIENT. BOTH OF THESE TOPICS WILL BE FEATURED ON THE NEXT "CREATIVE LIVING" SHOW. IF YOU EVER HAVE COMMENTS OR SUGGESTIONS OR IDEAS FOR SHOWS, YOU CAN E-MAIL ME AT SHERYL.BORDEN@ENMU.EDU. I'D ALSO LIKE TO ASK YOU TO BECOME A FAN OF "CREATIVE LIVING" ON FACEBOOK. JUST GO TO FACEBOOK.COM AND IN THE SEARCH WINDOW, TYPE IN CREATIVE LIVING WITH SHERYL BORDEN. I ALSO WANT TO REMIND YOU TO SIGN UP FOR OUR FREE "CREATIVE LIVING" NEWSLETTER THAT COMES OUT THE FIRST PART OF EACH MONTH. JUST GO TO OUR WEBSITE AT KENW.ORG AND PROVIDE US WITH YOUR E-MAIL ADDRESS. THANKS SO MUCH. I HOPE YOU'LL PLAN TO JOIN ME NEXT TIME FOR "CREATIVE LIVING." >> WE ARE VERY PLEASED TO OFFER A NEW BOOKLET THAT ACCOMPANIES THIS SERIES OF "CREATIVE LIVING." THIS BOOKLET IS TITLED "THE 6500 SERIES," AND IT FEATURES A WONDERFUL COLLECTION OF IDEAS AND INFORMATION, AND IT'S AVAILABLE FREE OF CHARGE ON OUR WEBSITE. POSTED AS A PDF FILE, YOU CAN SIMPLY DOWNLOAD THE ENTIRE BOOKLET, OR JUST THE SEGMENTS YOU'RE MOST INTERESTED IN. AS WITH ALL OF THE "CREATIVE LIVING" BOOKLETS, YOU'LL FIND INFORMATION ON FOODS AND NUTRITION, CLOTHING AND FASHION, HEALTH AND BEAUTY, HOME DECORATING AND MUCH MORE. FOR YOUR COPY OF THIS BOOKLET, GO TO OUR WEBSITE AT KENW.ORG, AND THEN CLICK ON "CREATIVE LIVING." SCROLL DOWN TO THE BOOKLET SECTION AND YOU CAN CLICK ON THIS BOOKLET OR ANY OF THE OTHER BOOKLETS WE HAVE AVAILABLE ONLINE. ONCE AGAIN, JUST GO TO KENW.ORG, CLICK ON "CREATIVE LIVING" AND DOWNLOAD THE BOOKLET TITLED "THE 6500 SERIES." WE ALSO WANT TO ENCOURAGE YOU TO SIGN UP FOR OUR FREE E-NEWSLETTER. JUST CLICK ON THE "SIGN UP NOW" BUTTON AND INPUT YOUR EMAIL ADDRESS. THAT'S ALL THERE IS TO IT. YOU'LL ENJOY READING AN UP-TO-DATE NEWSLETTER FILLED WITH INTERESTING TOPICS AND INFORMATION. THANK YOU.
Now Playing As: Captioned (English) (change)
Pastry Chef Julia Usher gives ideas on decorating cookies with wafer paper, and a representative from Healthy Housekeeper Inc. shares ways to cut down on coughs, colds, and allergies. Also author Peter Goodman discusses steps parents and teachers can take to protect students from bullying.
Media Details
Runtime: 27 minutes