Creative Living With Sheryl Borden #6513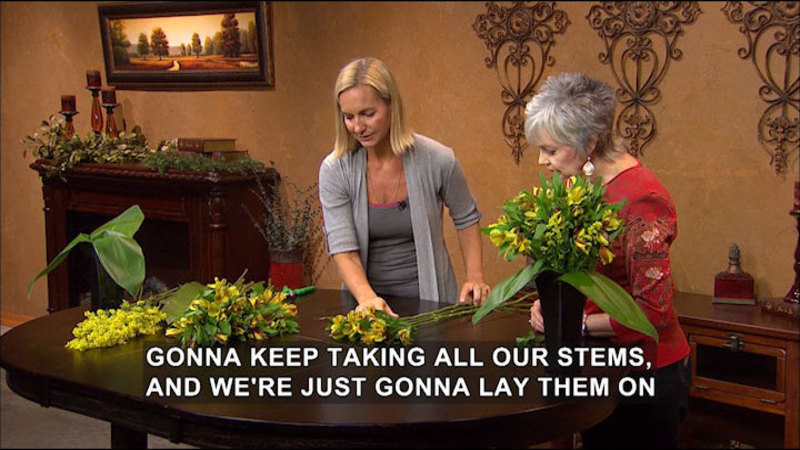 >> "CREATIVE LIVING," UTILIZING TODAY'S TECHNOLOGY WITH THE BEST OF THE PAST TO BRING YOU INNOVATIVE IDEAS AND UP-TO-DATE INFORMATION FOR CREATIVE LIFESTYLES IN TODAY'S ACTIVE WORLD WITH YOUR HOST SHERYL BORDEN. >> WELCOME TO "CREATIVE LIVING" TODAY. WE'RE GOING TO LEARN HOW TO ARRANGE FLOWERS, PREPARE SALADS, AND TALK ABOUT HOW TO FIND YOUR OWN PASSION. ONE OF MY GUESTS IS CASEY SCHWARTZ, AND SHE'S A FLORAL DESIGNER AND THE CO-OWNER OF FLOWER DUET IN REDONDO BEACH, CALIFORNIA. CASEY'S GOING TO SHOW HOW TO LINE A GLASS VASE WITH DIFFERENT TYPES OF GREENERY AND THEN USE A TECHNIQUE SHE CALLS CHOP AND DROP TO CREATE A BEAUTIFUL FLOWER ARRANGEMENT. THIS TECHNIQUE CAN MAKE ALL OF US LOOK MORE LIKE PROFESSIONALS. ANOTHER GUEST IS CONNIE MOYERS, AND SHE REPRESENTS WESTERN RESEARCH KITCHENS IN LOS ANGELES, CALIFORNIA. CONNIE WILL TALK ABOUT THE ABUNDANT SELECTION OF PREPACKAGED SALADS THAT ARE NOW AVAILABLE IN MOST SUPERMARKETS. SHE'LL ALSO SHOW US A VARIETY OF ALL OF THE ADD-ONS THAT CAN BE USED INCLUDING CROUTONS, TORTILLA STRIPS, AND EVEN WONTON STRIPS. AND WE'LL BEGIN THE SHOW BY TALKING TO SUE HANSEN, WHO IS A MOTIVATIONAL SPEAKER WHO TRAVELS ALL ACROSS THE COUNTRY. SUE SAYS THAT FINDING YOUR PASSION IS PREDICATED ON THE NOTION THAT YOU'RE AWARE OF YOUR PURPOSE IN LIFE. SHE WILL EXPLAIN HOW TO KNOW WHAT YOU STAND FOR AND WHAT'S IMPORTANT TO YOU IN ORDER TO ACHIEVE THIS WAY OF LIFE. HER BUSINESS IS CALLED SUE HANSEN SPEAKS, AND SHE LIVES IN MONTROSE, COLORADO. SUE, THANK YOU SO MUCH FOR COMING. I WISH WE HAD TIME TO TALK ABOUT EVERY TOPIC THAT'S ON YOUR WEBSITE THAT YOU DO SEMINARS ABOUT, BUT THE ONE I REALLY I WANTED TO TALK TO YOU ABOUT WAS ABOUT FINDING YOUR PASSION, AND THAT'S NOT NECESSARILY YOUR JOB OR YOUR DREAM HOME; IT'S--WELL, MAYBE YOU BETTER DESCRIBE IT. HOW DO WE GO ABOUT FINDING A PASSION AND WHY? >> WELL, FIRST OF ALL WHY IS IT IMPORTANT? I THINK THAT THAT'S THE BEST PLACE TO START, IS THAT...WE ONLY HAVE A SHORT TIME ON THIS EARTH, AND THE OLDER YOU GET, THE MORE YOU REALIZE IT'S KIND OF A SHORT LIFE, AND SO WE FIND OURSELVES IN, YOU KNOW, LOTS OF PEOPLE ARE IN JOBS THAT THEY ARE NOT HAPPY ABOUT. THEY ARE NOT FULFILLED. IT REALLY IS WORK. AND MY PHILOSOPHY IS IF YOU FIND SOMETHING THAT YOU'RE PASSIONATE ABOUT, THEN YOU'RE NEVER WORKING, EVER. EVERY DAY IS A JOY, AND I'VE BEEN LUCKY ENOUGH TO FIND WHAT THAT IS FOR ME, AND THAT'S BEING A SPEAKER AND TRAINER AND ACTUALLY HELPING PEOPLE BE BETTER PEOPLE, SO PASSION IS LIKE A PARTICULARLY IMPORTANT THING. I THINK THAT PEOPLE SELL THEMSELVES SHORT BY NOT EXPLORING ENOUGH ABOUT WHAT THEY WOULD DO IF THEY DIDN'T GET PAID. I MEAN, THINK ABOUT THAT. WHAT WOULD WE DO EVERY SINGLE DAY JUST BECAUSE IT BRINGS YOU SUCH PLEASURE EVEN IF YOU DIDN'T GET PAID? AND I FEEL LIKE WE FIND OURSELVES IN JOBS THAT ARE NOT NECESSARILY THE KIND OF FULFILLING JOBS OR IN AREAS OF PURSUIT THAT ARE NOT REALLY WHAT WE WANT TO DO. SO I COUNSEL PEOPLE TO, NUMBER 1, FIND OUT WHAT THEIR PURPOSE IS. YOU KNOW, ALMOST EVERYTHING I TALK ABOUT GOES BACK TO WHAT'S MOST IMPORTANT TO YOU BECAUSE THEN FROM THAT POINT, IF YOU KNOW WHAT'S MOST IMPORTANT TO YOU AND YOU HAVE A PLAN FOR THAT, NOBODY CAN THWART YOU OFF YOUR PLAN IN GETTING TO THAT PASSION, SO IT MAY NOT BE SOMETHING THAT EVERY JOB--I'M NOT SAYING THAT YOU JUST GET OUT OF COLLEGE AND BOOM, YOUR FIRST JOB, EVERYTHING'S GONNA BE THE BEST EVER. BUT IF YOU UNDERSTAND WHO YOU ARE AND WHAT'S MOST IMPORTANT TO YOU, THEN YOU CAN MAKE CHOICES THAT CAN HELP YOU GET TO THAT LEVEL OF JOB THAT YOU TRULY ENJOY AND THAT PASS-- LIFE IS SORT OF EFFORTLESS BECAUSE YOU'RE DOING EXACTLY WHAT YOU WANT TO DO. >> WELL, NOW, YOU MENTIONED-- OR AS I MENTIONED, TOO--THAT YOU'RE A SPEAKER. DO YOU FIND THAT IT'S HARD TO GET YOURSELF ALL GEARED UP FOR CERTAIN TOPICS? OR IS THIS SUCH A PASSION WITH YOU KNOWING THAT YOU'RE HOPEFULLY HELPING SOMEBODY ELSE MAYBE FIND THEIR PASSION THAT IT'S--YOU DON'T GET NERVOUS, IT'S NOT WORK? >> NO, IT'S NOT WORK AT ALL. IN FACT, I THINK THAT I WAS LUCKY ENOUGH. IT WASN'T MY FIRST PURSUIT EITHER. I NEVER THOUGHT I WOULD BE A SPEAKER. IT WASN'T ON MY LIST. I HAD A MEDICAL COMPANY THAT I OWNED. BUT I CAME TO IT, AND WHAT I REALIZED IS THAT, YOU KNOW, WHEN YOU FIND THAT, THEN YOU DON'T--YOU KNOW HOW YOU HEAR PEOPLE GO, "OH, I HAVE TO GO TO WORK." I NEVER SAY THAT. I NEVER SAY THAT. BECAUSE I REALLY LOVE WHAT I DO, AND I THINK THAT'S LUCKY, SO NOT EVERYBODY GETS TO THAT POINT. SO THERE'S 7 STEPS IN ORDER TO GET THERE, AND YOU KNOW, I WROTE THIS BOOK BECAUSE I FELT LIKE, WELL, IT ONLY TOOK ME, YOU KNOW, 10 YEARS TO WRITE THE BOOK. IT'S LIKE-- >> HA HA! SMALLER THAN A NOVEL. >> YEAH. HA HA! EXACTLY. BECAUSE I'M A.D.D. AND I KEPT THINKING THERE'S NO WAY I'M GONNA BE ABLE TO FOCUS LONG ENOUGH TO WRITE A BOOK ON PASSION. >> I COULDN'T EITHER. >> SO I KIND OF DID IT IN A WORKBOOK FASHION SO THAT YOU COULD WORK THROUGH IT. NUMBER 1, FINDING OUT WHAT IS YOUR DIRECTION. THAT'S KIND OF--I THINK OF IT AS A ROAD MAP. YOU KNOW, WHERE ARE YOU GOING FIRST AND FOREMOST. WHAT DO YOU WANT TO DO WITH YOUR LIFE? HOW DO YOU GET THERE? AND I THINK THAT TRYING EVERY SINGLE THING IN PURSUIT OF YOUR PASSION IS IMPORTANT, SO YOU KNOW, NOT SAYING "I CAN'T DO THAT" OR "I'M NOT GONNA DO THAT" OR "NO, I WON'T TRY THAT." IF YOU'RE GONNA TRY TO GET TO PASSION, YOU HAVE TO BE WILLING TO BE OPEN TO... >> MAYBE TAKE RISKS. >> TRYING OTHER THINGS. TAKE A LITTLE RISK. RIGHT. >> AND THAT'S HARD FOR SOME OF US. >> WELL, IT IS BECAUSE WE FEAR CHANGE, AND YOU KNOW, ALSO WE GET IN OUR WAY A LOT. YOU KNOW WHAT I MEAN WHEN I SAY THAT? WHEN I TALK TO GROUPS, I SAY, YOU KNOW, YOUR WORST ENEMY IS SITTING IN YOUR CHAIR BECAUSE YOU'RE THE ONE THAT TALKED YOURSELF OUT OF THAT. "I CAN'T DO IT." "I'M TOO FAT." "I'M TOO SKINNY." "THAT'LL NEVER WORK." AND THE BOTTOM LINE IS THAT WE HAVE THE OPPORTUNITY TO DO WHATEVER WE WANT, AND I--SO GETTING OUT OF YOUR OWN WAY IS THE NUMBER 1 THING YOU GOT TO DO, IS STOP TALKING YOURSELF OUT OF THESE THINGS. AND THEN THE SECOND THING I THINK IS IMPORTANT IS THAT YOU HAVE TO BE WILLING TO CONQUER YOUR FEAR, YOU KNOW. EVERYBODY HAS FEAR, JUST LIKE YOU SAID, ABOUT THINGS. >> WERE YOU EVER FEARFUL WHEN YOU STARTED SPEAKING? >> UM, I SAY NO, BUT I PROBABLY WAS. YOU KNOW, I'M SURE THERE WERE--I GOT BETTER OVER TIME, THAT'S FOR SURE. I'M SURE IF YOU ASK SOMEBODY WHO FIRST HEARD ME OUT OF THE BLOCK, "WELL, NOT SO GOOD." BUT OVER TIME YOU GET BETTER, AND IF YOU LOVE SOMETHING, THEN YOU DON'T MIND PUTTING THE ENERGY AND TIME INTO MAKING THAT HAPPEN. SO THE FEAR IS A THING THAT YOU HAVE TO CONQUER, AND I TELL THE STORY ABOUT WHEN I WAS IN COLLEGE AND I WAS IN ROTC, AND THEY ASKED US TO REPEL OFF OF THE BUSINESS BUILDING. NOW, THIS IS SOME YEARS AGO BEFORE IT WAS, YOU KNOW, KIND OF IN VOGUE TO BE A ROCK CLIMBER AND JUMP OFF THINGS, AND WHEN I GOT TO THE TOP, I WAS--I FOUND MYSELF, WHEN HE SAID, "IT'S YOUR TURN TO JUMP OFF," I JUST FOUND MYSELF PARALYZED. >> PARALYZED. >> AND HAVE YOU EVER DONE ANYTHING LIKE THAT? >> NO, BUT I WOULD BE THAT WAY IF-- >> YOU WOULD BE PARALYZED? >> MM-HMM. >> WELL, LET ME TELL YOU WHAT THE SECRET TO IT IS THAT WHEN YOU START CRYING AND THEY JUST KIND OF THROW YOU OVER, THEN YOU HAVE NO CHOICE AND SO... >> HERE I COME. >> BUT I FOUND THAT AS SOON AS I WAS OVER THE EDGE, THE FEAR DISSIPATED BECAUSE IT'S JUST TAKING THAT FIRST STEP, SO THE ANALOGY TO ME IS THAT WHENEVER YOU'RE FEARFUL, AS LONG AS YOU TAKE 1 STEP CLOSER TO WHATEVER YOU FEAR TO CONQUER IT, JUST STEP BY STEP, THEN YOU HAVE A DIFFERENT APPROACH TO FEAR AND IT'S NOT PARALYZING YOU. IT'S JUST PART OF THE PROCESS. SO I THINK AS YOU LOOK AND TRY TO CONQUER THE THINGS AND FIND YOUR PASSION, YOU HAVE TO BE A LITTLE BIT OF A RISK TAKER, BUT YOU HAVE TO THINK THROUGH THOSE THINGS, SO WHAT'S MOST IMPORTANT, WHAT AM I GONNA DO TO GET OUT OF MY WAY? HOW AM I GONNA TRY EVERY SINGLE THING ON THE ROAD TO GET THERE? AND YOU KNOW, BE PERSISTENT ABOUT IT. >> AND YOU ARE--EVERY STEP YOU TAKE, YOU'RE ELIMINATING SOME OBSTACLE. LIKE YOU WERE SAYING, MAY HAVE BEEN A LITTLE NERVOUS. IT MAY HAVE JUST BEEN ADRENALINE KICKING IN, BUT YOU'VE ELIMINATED THAT FEAR THAT MANY OF US WOULD HAVE ABOUT SPEAKING IN FRONT OF A GROUP. >> AND IF YOU SUCCUMB TO YOUR FEAR, THEN YOU WILL NOT TRY ANYTHING MORE. THEN YOU SAY, "WELL, THAT DIDN'T WORK, AND I CAN'T DO IT, SO I'M NOT GONNA DO IT." AND THEN, OF COURSE, YOU KNOW, IF YOU HAVE THIS WELL-THOUGHT-OUT PLAN, AND YOU KNOW, I CAN TELL YOU, I'VE HAD SEVERAL LIFE PLANS BECAUSE LIFE GETS IN THE WAY OF YOUR PLAN. SOMETHING HAPPENS, YOU KNOW, YOU HAVE A GRANDKID, SOMETHING HAPPENS OVER HERE, YOU GOT TO DO THIS, YOU CHANGE JOBS. THERE'S LOTS OF THINGS THAT HAPPEN. BUT AS LONG AS YOU HAVE THAT CORE...THE CORE PIECE, WHAT IS REALLY...WHAT DRIVES YOU. >> YOUR PASSION. >> WHAT MAKES YOU WHO YOU ARE, AND YOU FOLLOW THAT, THEN YOU'RE ALWAYS GONNA BE AUTHENTIC AND TRUE TO YOURSELF. SO THAT'S WHY I ENCOURAGE PEOPLE ALL THE TIME. YOU KNOW, THERE'S ALWAYS-- EVERYBODY ALWAYS HAS SOMETHING IN THEIR HEAD. "GEE, I LIKE THAT." "GEE, I WONDER WHAT WOULD HAPPEN IF..." "GEE, I'D TRY THAT." YOU KNOW, EXPLORE IT AND SEE IF YOU CAN DO IT BECAUSE YOU DON'T WANT TO LIVE A LIFE AND THEN REGRET. >> YOU'LL NEVER KNOW OTHERWISE. >> EXACTLY. >> AND THEN LAST BUT NOT LEAST, THE SENSE OF HUMOR. YOU WORK THAT IN TO ALL OF YOUR PRESENTATIONS. >> WELL, I THINK IT'S CRITICAL. >> UH-HUH. >> DO YOU AGREE? >> WELL, I THINK YOU HAVE TO HAVE IT, UH-HUH. >> RIGHT. SO, YOU KNOW, TO ME, I THINK THAT YOU HAVE TO LOOK LIGHTLY, TAKE LIFE SERIOUSLY AND YOURSELF LESS SERIOUS... >> LESS SERIOUSLY. >> AND REALLY ENJOY WHAT HAPPENS AND MAKE FUN OF YOURSELF IF YOU NEED TO AND BE A LIGHT-HEARTED PERSON, BE EASY TO BE AROUND. I REMEMBER ONE TIME I WAS-- ACTUALLY I WAS IN ALBUQUERQUE SPEAKING, AND I HAD A CAR ACCIDENT, AND I MEAN, IT WAS... IT WAS PHOENIX BECAUSE IT WAS LIKE 114. IT DOESN'T GET THAT HOT IN NEW MEXICO, DOES IT? LIKE 114 DEGREES. IT WAS SO HOT. AND MY BUMPER WAS DRAGGING ON THE GROUND, AND I WAS TRYING TO DRIVE HOME TO COLORADO, AND WHEN I GOT TO COLORADO FINALLY, I HAD AN APPOINTMENT THE NEXT DAY IN DENVER, AND SO I WAS GONNA HAVE TO DRIVE TO DENVER, SO I HAD THIS BUMPER, AND I DIDN'T HAVE TIME TO RENT A CAR, AND I HAD THIS BUMPER THAT--I MEAN, I LOOKED RAGTAG. I DIDN'T WANT TO MEET WITH THE CLIENT THAT WAY, SO I KIND OF STRUNG UP THE BUMPER AND DUCT-TAPED IT, AND THEN I HAD THESE FAKE, THESE BIG BAND-AIDS THAT ARE LIKE THIS BIG, AND I PUT A BIG BAND-AID ON THE CAR, AND THEN I MADE A BIG SIGN THAT SAID "CELL PHONE INCIDENT" BECAUSE I WAS ON THE CELL PHONE. THE POLICE DID NOT KNOW THAT, BUT I WAS ON THE CELL PHONE AT THE TIME, AND SO I DROVE TO DENVER, AND PEOPLE OF COURSE, YOU KNOW, HAVING FUN, LAUGHING AND THINGS LIKE THAT, SO YOU KNOW, INSTEAD OF GETTING SO SERIOUS ABOUT THINGS THAT HAPPEN TO YOU IN LIFE, YOU NEED TO TAKE A LIGHTER LOOK AT IT. >> I THINK YOU'RE ABSOLUTELY RIGHT. WELL, THANK YOU VERY MUCH. I APPRECIATE YOUR COMING TODAY. THANKS. CONNIE, IT'S ALWAYS NICE TO HAVE YOU HERE, AND WHEN YOU SAID WE WERE GOING TO TALK ABOUT SALADS, IT MAKES ME THINK OF GROWING UP. WE ALWAYS HAD SALAD AT ALMOST EVERY MEAL, BUT IT WAS JUST LETTUCE AND TOMATOES, AND YOU PUT IT ON THE PLATE ALONG WITH EVERYTHING ELSE. AND NOW SALAD PLAYS SUCH A BIG ROLE IN OUR MEALS. >> THEY DO. AND YOU KNOW, WHAT'S ALSO EASY IS WE HAVE ALL OF THESE AVAILABLE ONES THAT ARE ALREADY MIXED IN THE--AND I HATE MAKING SALAD. AND I DON'T WANT IT SIMPLE, BUT IT'S JUST NICE TO DUMP THINGS OUT OF A BAG, AND WE DON'T HAVE TO WASH IT. IT'S ALREADY BEEN WASHED FOR US. IT'S JUST REALLY GREAT, SO-- >> PRECUT, PREMEASURED BASICALLY IF YOU'RE USING THE SMALLER THINGS LIKE ONIONS OR WHATEVER. >> BUT YOU KNOW, THERE'S ALL DIFFERENT KINDS OF SALADS, AND NOW MOST OF THE TIME WE HAVE A PREMEAL SALAD LIKE INSTEAD OF ON YOUR PLATE LIKE YOU WERE TALKING ABOUT, ABOUT HOW WE GREW UP, AND IT'LL BE ON A BOWL OR A PLATE, AND IT'S JUST A REAL SIMPLE MIXTURE OF GREENS, WHATEVER GREENS YOU LIKE. YOU KNOW, THERE'S NOTHING THAT SAYS YOU CAN'T MIX SOME OF THOSE BAGS OF GREENS, TOO, IF IT'S, YOU KNOW, WANT A LITTLE BIT MORE. BUT WHAT REALLY FINISHES OFF IS, OF COURSE, THE DRESSING, BUT THERE'S SO MANY TOPPERS AVAILABLE NOW. >> I'VE NEVER SEEN SO MANY DIFFERENT TYPES OF TOPPERS FOR SALADS. >> THEY ARE. THESE ARE MRS. CUBBISONS TOPPINGS, AND THAT ONE IS TEXAS AND BUTTER TOAST CRUNCH YOU'RE GONNA PUT ON THERE, AND, YOU KNOW, THOSE ARE NICE, BIG THICK ONES, PRETTY AND GOOD AND CRUNCHY AND TOASTED, AND THAT JUST REALLY FINISHES THAT LITTLE SALAD OFF AND MAKES IT REALLY GOOD. THESE ARE ASIAGO CHEESE SALADS, AND SO THOSE ARE REALLY GOOD. AND WE JUST PUT A LITTLE BIT OF DRESSING OR EVEN JUST A LITTLE BIT OF OLIVE OIL OR SOMETHING, NOT MUCH, AND THAT'S ALL YOU HAVE TO DO. >> SO THAT'S YOUR PREMEAL TYPE OF SALAD. >> THAT'S OUR PREMEAL SALAD. AND THEN, YOU KNOW, A LOT OF TIMES WE HAVE LEFTOVERS, WHETHER IT'S STEAK, BRISKET, SALMON THAT WE HAVE TODAY, CHICKEN--ANY OF THOSE--OR OF COURSE WE COULD COOK IT FOR THAT, GRILL IT, AND THEN JUST PUT IT ON YOUR SALAD AND IT'S JUST SUCH A LIGHTER WHOLE MEAL DEAL. AND YOU KNOW, A LOT OF THE RESTAURANTS HAVE THAT ON THEIR MENUS THESE DAYS, AND SO THAT'S REALLY NICE. SO I'VE JUST CHOSEN A REAL PRETTY MIXED GREEN SALAD THAT WE'VE PUT IN HERE, AND THIS IS SOME SALMON THAT I HAD ALREADY COOKED AND HAD A LITTLE BIT LEFT OVER, SO WE'LL JUST SPRINKLE IT OVER THE TOP. >> ON, THIS WOULD BE THE MAIN DISH. >> THIS SALMON IS SOME GOOD WILD-CAUGHT PACIFIC SALMON, AND I JUST COOKED IT ON THE BROILER. YOU COULD COOK IT ON THE GRILL OR ANY PLACE TO DO THAT, BUT DOESN'T THAT MAKE A GORGEOUS SALAD? AND YOU WOULD PAY QUITE A BIT FOR THAT SALAD IN THE RESTAURANT, SO THAT'S REALLY GOOD. >> AND THE THING ABOUT SALMON, AND I THINK IT'S AN EASY ERROR FOR US TO MAKE. WE'RE USED TO COOKING MOST THINGS QUITE A WHILE, AND SALMON COOKS SO FAST, IT'S REALLY EASY TO OVERCOOK IT. >> BUT IT'S JUST SO EASY TO FIX. THIS ONE HAD SOME HONEY MUSTARD ON IT, BUT YOU DON'T HAVE TO DO ANYTHING TO IT IF YOU DON'T WANT TO. >> YOU CAN GRILL IT AND BROIL IT, WHAT? >> BAKE IT, POACH IT--ANY OF THOSE THINGS THAT YOU COULD DO. AND YOU KNOW, ALONG WITH THE CROUTONS, THERE ARE ALL OF THESE TORTILLA STRIPS, WONTON STRIPS, AND THOSE ARE FUN AND EXCITING. I KNOW ONE OF THE RESTAURANTS THAT I GO TO A LOT AT LUNCH HAS TORTILLA STRIPS ON THEIR SALAD, AND I JUST REALLY ENJOY THAT MEAL SALAD THAT WAY. BUT TODAY I THINK WE'RE GONNA PUT THESE WONTONS-- >> OH, GOOD. I HAVEN'T TRIED THE WON TONS. >> AND THEY'RE SOY GINGER, SO THEY'RE REALLY A DIFFERENT ONE. THESE ARE MADE BY MRS. CUBBISONS, AND THEY'RE JUST REALLY GOOD. >> MM-HMM. >> AND THEN, OF COURSE, YOU KNOW, THERE'S ALL KINDS OF TOPPINGS THAT YOU COULD ADD TO IT IF YOU WANTED TO. YOU CAN ADD A FEW ALMONDS, ANY KIND OF NUT YOU WANTED TO PUT ON THERE. WE COULD PUT OLIVES, OR THE--IT WOULDN'T BE--SOME MANDARIN ORANGES WOULD BE REALLY ATTRACTIVE ON TOP OF THIS. >> OH, THAT WOULD BE ESPECIALLY GOOD, I THINK, WITH THE SALMON. >> AND THE SOY, I THINK. >> MM-HMM. >> SO THAT'S A GOOD CHOICE, TOO. >> WE USED TO USE EVERYTHING IN THE REFRIGERATOR TO MAKE STEW. NOW WE CAN JUST ABOUT DO THE SAME THING AND MAKE OUR OWN SALADS. >> WITH SALADS, CAN'T WE? AND THEN, OF COURSE, JUST TOP IT OFF WITH A LITTLE BIT OF CRACKED PEPPER, AND THAT REALLY ADDS SOME GOOD FLAVOR TO IT. SO SIMPLE. WE DIDN'T ADD SALT TO IT. WE DIDN'T ADD ANYTHING. AND THEN OUR FAVORITE DRESSING. >> UH-HUH. >> SO, YOU KNOW, THERE'S OTHER KINDS OF SALADS, TOO. THERE'S, LIKE, EGG SALAD, POTATO SALAD, TUNA SALAD, CHICKEN SALAD, AND THOSE CAN BE MEALS OR THEY CAN BE A SIDE DISH. >> UH-HUH. SO YOU CAN GET A LOT OF USE OUT OF SOME THINGS, AND JUST, LIKE YOU SAID, YOU MAY NOT HAVE LEFTOVERS, BUT YOU CAN PLAN AND HAVE PLANNED-OVERS SO THAT YOU CAN SAVE A LITTLE BIT. >> THAT'S RIGHT. THAT'S WHAT I HAVE TO DO AT MY HOUSE BECAUSE IF I SET IT ON A LITTLE TABLE, IT'S PROBABLY GONNA BE GONE, AND THEN ADD THESE DIFFERENT KINDS OF TOPPERS, AND IT JUST MAKES IT REALLY SPECIAL. IT LOOKS LIKE SOMETHING THAT CAME FROM A RESTAURANT. >> IT REALLY DOES. WELL, THANK YOU VERY MUCH, CONNIE. I ALWAYS LEARN SOMETHING WHEN YOU'RE ON. >> THANK YOU. >> CASEY, IT'S NICE TO HAVE YOU HERE, AND I KNOW YOU TEACH CLASSES ALL THE TIME. IS THAT WHERE THE IDEA OF CHOP AND DROP CAME FROM? >> WE WERE ESPECIALLY TRYING TO WORK WITH TULIPS, AND WE WERE HAVING A BIT OF A BATTLE. WE THOUGHT, "HOW CAN WE JUST GRAB THESE ALTOGETHER AND JUST STICK THEM IN A VASE?" BECAUSE THAT'S HOW FRUSTRATING THEY WERE GETTING, AND THAT'S WHAT WE DID. SO THAT'S WHERE THIS IDEA CAME FROM, THE CHOP AND DROP. SO WE GATHERED EVERYTHING TOGETHER, WE'VE BOUND IT TOGETHER, AND POPPED IT IN A VASE, AND THEN WE FILLED IN. >> AND THAT'S WHAT THIS TYPE OF ARRANGEMENT IS? >> THAT'S WHAT THIS IS. THIS IS ONE BIG CHOP AND DROP, SO I'M GONNA TEACH YOU A LITTLE BIT HOW TO DO THAT AND-- >> IT'S SEEN FROM ALL SIDES. >> ALL SIDES. >> IT'S BEAUTIFUL. AND YOU COULD DO THIS WITH WHAT OTHER TYPES? YOU SAID THE TULIPS. >> THE TULIPS WORK REALLY BEAUTIFULLY. ANY KIND OF FLOWER WILL DO IT. I ESPECIALLY LIKE WORKING WITH THESE. THESE ARE CALLED ALSTROEMERIA. THEY'RE ALSO CALLED PERUVIAN LILY, AND THEY COME IN SO MANY COLORS. AND THE JOY OF THEM IS, TOO, AT THE END OF A STEM, YOU'LL HAVE ALL THESE WONDERFUL BLOOMS, UP TO 7 IF NOT MORE, GOING ON, AND YOU WANT TO BUY THEM WHEN THEY'RE STILL PRETTY TIGHT AND CLOSED. THESE ARE A GREAT POSITION BECAUSE THEY'RE JUST STARTING TO OPEN, AND THE FLOWERS THEMSELVES WILL SOMETIMES DOUBLE OR TRIPLE IN SIZE, AND SO IT'LL END UP BEING JUST ABSOLUTELY-- >> REALLY FILL IT OUT. >> AND WHAT ALSO YOU ARE LOOKING FOR WHEN YOU ARE BUYING ALSTROEMERIA IS YOU WANT TO HAVE THE GREENERY POINTING UPWARDS, AND YOU STILL WANT THE FLOWERS NESTLED IN THE GREENERY. IF THE FLOWERS HAVE GROWN PAST THE GREENERY, THEY'VE BEEN CUT FOR A WHILE AND AREN'T AS FRESH. SO THIS IS WHAT YOU WANT TO LOOK FOR, SOMETHING THAT LOOKS LIKE THIS. AND THEN FOR ALSO WE'RE GONNA BE REMOVING THE GREENERY THAT'S GONNA BE ON THE STEM. NO THORNS HERE, SO VERY EASY TO CLEAN. SO WE JUST SLIDE THOSE RIGHT OFF, AND WE'RE GOOD TO GO, AND I'VE ALREADY DONE THAT WITH SOME OF THE STEMS HERE, SO IF YOU WANT TO CLEAN THAT ONE, THAT'S GOOD FUN TO DO. SO IN ADDITION TO THE ALSTROEMERIA THAT WE'RE WORKING WITH TODAY WE'RE GONNA USE ANOTHER FLOWER THAT'S GONNA DO SORT OF A COLLAR TO TIE IN THE COLOR, AND THIS IS CALLED SOLIDAGO, AND IT'S GOT ALL THESE LITTLE BRANCHES AND STEMS ON IT AS WELL, AND WE CLEAN THESE THE SAME WAS AS THE ALSTROEMERIA. WE JUST SLIDE DOWN WHAT WE DON'T WANT, LEAVING ALL THE GOOD STUFF UP TOP. >> UH-HUH. >> SO THAT'S WHAT WE'RE GONNA FOR OUR COLLAR. BUT THE FIRST THING WE NEED TO DO IS PREP THE VASE. AND WE'RE GONNA USE TEA LEAVES, AND THIS IS GONNA ADD JUST A LITTLE BIT MORE GIRTH TO THE VASE TO HOLD OUR STEMS IN BECAUSE SOMETIMES IF YOU HAVE A WIDE-MOUTH VASE, YOU NEED A LOT OF FLOWERS. SOMETIMES YOU DON'T HAVE A LOT OF FLOWERS. SO YOU THINK, "WELL, WHAT CAN I DO TO TAKE UP MORE SPACE?" >> OH, I SEE. >> SO WHAT WE DO IS WE LAY IT WITH GREENERY SOMETIMES. IN THIS SENSE, THAT'S WHAT WE'RE GONNA DO. SO I'VE TAKEN THE TEA LEAF, AND I'VE ACTUALLY JUST CUT AWAY THE BOTTOM PART OF IT, AND WE'RE-- >> JUST WITH YOUR CLIPPERS. >> JUST WITH THE CLIPPERS. AND THESE ARE VERY HEARTY, AND THEY WILL LAST WEEKS. AND SOMETIMES EVEN OUT OF WATER. >> EVEN WITHOUT WATER. >> YES. IT WON'T BREAK DOWN LIKE SOME OF THE STUFF, AND WHAT WE'RE GONNA DO IS WE'RE JUST GONNA SLIDE THEM IN, AND THEN WE'RE GONNA BEND THEM BACK. AND WE'RE JUST GONNA PUT 3 IN, SO I'LL GO AHEAD AND POP THIS ONE IN HERE. AND THIS IS JUST GONNA SET OUR FRAME FOR OUR-- >> YOU CALLED IT A COLLAR. >> A COLLAR. >> AND THAT'S KIND OF WHAT IT LOOKS LIKE. >> RIGHT. IF YOU WANT TO POP THAT ONE IN. SLIDE IT IN, AND THEN JUST EASE BACK THAT SPINE A LITTLE BIT. VERY NICE. AND THAT ALREADY LOOKS PRETTY. YOU CAN GET A WHOLE BUNCH OF THESE, YOU JUST DO THIS FIRST AND GET IT AHEAD AND PUT IT ASIDE, AND THEN WE CAN START WORKING WITH THE FLOWERS. >> AND YOU DON'T HAVE ANY WATER IN THAT VASE YET. >> WATER'S ALREADY IN THERE. >> OH, IT IS IN THERE. OK. >> YEP, WATER'S ALREADY IN THERE BECAUSE SINCE WE'RE GOING TO GATHER THESE TOGETHER AND THEN CHOP THEM, WE WANT TO HAVE THAT WATER IN THERE 'CAUSE STEMS USUALLY CLOSE UP IN ABOUT 10 SECONDS. >> OH, OK. >> SO ONCE YOU'VE CUT YOUR STEMS, YOU WANT TO BE READY TO PLACE THEM IN. >> TO DROP. >> RIGHT, TO DROP. SO THE FUN THING ABOUT THIS ARRANGEMENT IS WE'RE JUST GONNA PILE OUR FLOWERS ON EACH OTHER. WE'RE GONNA BUILD SORT OF A PYRAMID OF FLOWERS, AND WHAT WE'RE GONNA DO MOSTLY OR PAY ATTENTION TO IS TRYING TO KEEP THEM ALL ABOUT THE SAME-- >> THE TOP. KEEPING IT-- >> KEEP THEM ALL ABOUT THE SAME HEIGHT. SO YOU DON'T WANT ANYBODY SHOOTING UP REALLY TALL BECAUSE THEN THEY'LL STICK OUT AND LOOK A LITTLE ODD. SO WE'RE JUST GONNA KEEP TAKING ALL OUR STEMS, AND WE'RE JUST GONNA LAY THEM ON TOP OF EACH OTHER AND MAKE A BIG PILE OF FLOWERS, AND THAT'S NOT THAT HARD TO DO. SO I'M GONNA GIVE YOU SOME THERE. AND WE'RE JUST GONNA KEEP GOING BACK AND FORTH, LAYING THEM ON THERE. START OUR SECOND LEVEL THERE. AND YOU CAN SEE YOU CAN DO THIS WITH A WHOLE BUNCH OF DIFFERENT COLORED ALSTROEMERIA. SOMETIMES IF YOU GO TO THE GROCERY AND PICK UP SOME FLOWERS, THEY'LL HAVE 2 OR 3 BUNCHES OF ALSTROEMERIA FOR A VERY REASONABLE PRICE. SO YOU BUY 3 BUNCHES. YOU COME HOME, AND YOU PULL THESE TOGETHER AND MAYBE GRAB A RUBBER BAND OUT OF THAT JUNK DRAWER, AND THAT'S ALL YOU'RE GONNA NEED TO MAKE THIS WORK. KEEP PILING THEM UP THERE. >> FOOLPROOF. >> YES, IT IS FOOLPROOF. THAT'S A LITTLE BIT GREAT. THESE ARE LOOKING SO PRETTY. IT'S A NICE BIG PILE OF FLOWERS. AND A COUPLE MORE. IT'S ABOUT 20 STEMS WE HAVE HERE, WHICH WOULD BE, FOR BUNCHES, USUALLY THEY SELL 10 STEMS IN A BUNCH. >> OH, SO 2 BUNCHES. >> SO 2 BUNCHES IS ALL IT IS. SO WE HAVE THIS GORGEOUS COLLECTION OF FLOWERS, AND FROM HERE WE JUST WANT TO GATHER THEM TOGETHER, AND WE SEE WE HAVE A WONDERFUL COLLECTION. MAYBE A LITTLE BIT TALL THERE, SO WE PULL THAT DOWN A LITTLE BIT, BUT WE'LL KEEP HIM STICKING OUT A LITTLE BIT. HE MIGHT EVEN OUT. AND THEN WE HAVE ALL THIS MASSIVE AMOUNT OF STEMS, AND WHAT WE'RE GONNA WANT TO DO IS WE'RE GONNA CUT. WE'RE NOT GONNA CUT ALL OF IT OFF, BUT WE'RE GONNA CUT MOST OF IT OFF JUST TO GIVE US A HEAD START BECAUSE WE ARE GONNA PUT A RUBBER BAND AROUND THIS SET. WE'RE NOT GONNA COMMIT WITH OUT FINAL CUT YET BECAUSE WE STILL HAVE A LITTLE BIT OF WORK TO DO, RIGHT. SO FROM HERE I'M GONNA TAKE A RUBBER BAND, AND I'M JUST GONNA RUN IT AROUND THE STEMS, AND I'M GONNA SLIDE IT UP, AND BY SLIDING IT UP, IT REALLY MAKES THE COMPACTNESS STAY INTACT BECAUSE IF YOU WERE TO JUST KEEP IT DOWN THERE LOOSE, IT WOULDN'T BE AS TIGHT, SO WE DO THAT. THERE WE HAVE A GORGEOUS COLLECTION OF FLOWERS, AND EVERYTHING IS JUST GONNA EXPLODE WITH OPENING, BUT WE'RE NOT FINISHED YET. WE'RE GONNA TAKE OUR SOLIDAGO, AND FROM HERE, WE'RE JUST GONNA ADD TO OUR BOUQUET. >> AND IS IT ABOUT THE SAME? IT'S A LITTLE BIT LOWER. >> A LITTLE LOWER BECAUSE, AGAIN, THESE ARE OUT FEATURED FLOWERS, SO WE'RE JUST GONNA ADD AND TURN, ADD AND TURN. REALLY FUN, PRETTY, HEIGHTENS THE COLORS, THE YELLOW. AND THIS IS--SOLIDAGO IS CONSIDERED A FILLER FLOWER. IT ONLY COMES IN YELLOW. >> OH, IT DOES. >> YES. AND WHEN IT'S REALLY SUPER, SUPER FRESH, IT'S SO TIGHTLY CLOSED, IT'S VERY GREEN, SO IT'S PRETTY TO ADD IN TO SOMETHING, AND THEN HAVE IT CHANGE TO YELLOW. >> MM-HMM. >> SO THERE WE HAVE A WHOLE-- ALMOST A WHOLE RIM AROUND. >> SO THIS IS ANOTHER COLLAR REALLY. >> ANOTHER COLLAR, YES, WHICH MAKES YOUR ARRANGEMENT JUST LOOK NICE AND TIDY AND FINISHED. >> MM-HMM. >> SO HERE WE HAVE THIS BEAUTIFUL BOUQUET OF FLOWERS. WE HAVE THIS VASE THAT'S READY FOR PLACEMENT, AND WE'RE DEFINITELY A LITTLE BIT ON THE TALL SIDE, SO I'M GONNA TRIM AWAY AGAIN THOSE LITTLE GUYS. >> THE LAST ONES. >> THE LAST ONES. AND I'M GOING TO TRY TO SEE IF I CAN GET THIS RUBBER BAND AROUND THE BASE OF THESE. >> I DON'T SEE HOW YOU REMEMBER THE NAMES OF ALL OF THESE. >> HA HA! AND YOU GATHER THOSE STEMS TOGETHER, AND AGAIN, YES, THAT'S GREAT HELP. THAT'S GONNA KEEP IT MORE CONTROLLED. THAT'S IT. THERE. AND THAT WAY OUR STEMS ARE NICE AND CONTROLLED. SO VERY ORGANIZED. SO HERE WE HAVE. SO WE HAVE OUR FIRST ONES THERE, OUR SECOND ONE IS THERE. >> OH, AND WE COVERED UP THAT BIG ONE. >> COVERED UP THE OTHER ONE. >> I SEE. >> AND SO FROM HERE WE WANT TO TAKE A LOOK AND SAY, "WELL, HOW LONG DO WE WANT TO MAKE IT?" IF WE LIKE THE STEM LOOK, WE WOULD DO IT THERE, BUT WE WANT TO GO A LITTLE LOWER, SO YOU BRING YOUR VASE TO THE EDGE OF THE TABLE. YOU BRING YOUR STEMS DOWN LOW. AND THAT GIVES YOU A REALLY GOOD INDICATION OF WHERE WE WANT TO CUT. SO WE'RE ACTUALLY GONNA CUT RIGHT BELOW THAT RUBBER BAND, AND WE'RE GONNA CUT AT AN ANGLE. THE REASON FOR THAT IS WE DON'T WANT OUR STEMS SITTING FLAT AT THE BOTTOM OF THE VASE BECAUSE THEN THEY DON'T HAVE A CHANCE TO DRINK PROPERLY, SO THINK ABOUT PUTTING THEM ON THEIR TIPPY TOES AND CUTTING THEM AT A NICE LITTLE ANGLE THERE. >> AND I DIDN'T REALIZE YOU NEEDED TO WORK WITH THEM AND GET THEM IN WATER IN ABOUT 10 SECONDS. >> SO QUICKLY. INDEED. >> THAT'S IMPORTANT. >> LET'S GIVE IT A TRY, SHALL WE? >> OK. >> GONNA POP THOSE RIGHT IN THERE. >> CHOP AND YOU DROP. >> AND I THINK THEY'RE ACTUALLY STILL A LITTLE ON THE TALL SIDE. 'CAUSE IT'S A LITTLE BIT WIGGLY THERE, SO I'M GONNA PULL 'EM BACK OUT AND SLIDE UP THAT RUBBER BAND, AND WE'RE GONNA CUT ABOUT ANOTHER INCH OFF. >> AND THE GOOD PART ABOUT HAVING THE BANDS ON IT, IT DIDN'T CHANGE THE SHAPE OF THE FLOWER WHEN YOU PULL THEM IN. >> NO, IT KEPT THE SHAPE EXACTLY. ONE MORE SNIP THERE, AND WE DROP 'EM AGAIN. SO WE DID THE CHOP, NOW WE DID THE DROP. >> THEY STAND UP. THAT'S A GOOD LESSON RIGHT THERE. IF THEY TEND TO WOBBLE, WE KNOW THEY'RE NOT SHORT ENOUGH. >> THEY'RE NOT SHORT ENOUGH. >> OH, THAT'S BEAUTIFUL. AND IT'S SO EASY. CHOP AND DROP. >> CHOP AND DROP. DOESN'T TAKE ANY TIME AT ALL. >> THANK YOU, CASEY. I HOPE YOU ENJOYED THE SHOW TODAY. NEXT TIME ON "CREATIVE LIVING," WE'LL LEARN HOW TO MAKE A KITTY SOCK, WHICH IS SIMILAR TO THE POPULAR SOCK MONKEYS MADE YEARS AGO, AND WE'LL LEARN TO USE SOME STAR BUILDER PRODUCTS TO CREATE BEAUTIFUL SENSATIONS. ONE OF MY NEXT GUESTS IS A DESIGNER AND CRAFTER, AND SHE'S GOING TO DEMONSTRATE KITTY SOCK CRAFTING, WHICH IS A TAKEOFF FROM YEARS AGO WHEN MAKING SOCK MONKEYS WAS SO POPULAR. THIS IS AN EASY AND FUN CRAFT THAT CHILDREN WILL ALSO ENJOY DOING. ANOTHER GUEST IS A QUILTER AND ALSO A DESIGNER, AND SHE'LL DEMONSTRATE HOW TO USE SHEBA PAINT STICKS AND STAR BUILDER STAMPS FOR TEXTURE TO CREATE WALL HANGINGS, JACKET EMBELLISHMENTS, OR HOLIDAY DECORATIONS. BOTH OF THESE TOPICS WILL BE FEATURED ON THE NEXT "CREATIVE LIVING" SHOW. IF YOU EVER HAVE COMMENTS OR SUGGESTIONS OR IDEAS FOR SHOWS, YOU CAN EMAIL ME AT SHERYL.BORDEN@ENMU.EDU. I'D ALSO LIKE TO ASK YOU TO BECOME A FAN OF "CREATIVE LIVING" ON FACEBOOK. JUST GO TO FACEBOOK.COM AND IN THE SEARCH WINDOW TYPE IN "CREATIVE LIVING WITH SHERYL BORDEN." THANKS SO MUCH, AND I HOPE YOU'LL PLAN TO JOIN ME NEXT TIME FOR "CREATIVE LIVING." >> WE ARE VERY PLEASED TO OFFER A NEW BOOKLET THAT ACCOMPANIES THIS SERIES OF "CREATIVE LIVING." THIS BOOKLET IS TITLED THE 6500 SERIES, AND IT FEATURES A WONDERFUL COLLECTION OF IDEAS AND INFORMATION AND IT'S AVAILABLE FREE OF CHARGE ON OUR WEBSITE. POSTED AS A PDF FILE, YOU CAN SIMPLY DOWNLOAD THE ENTIRE BOOKLET OR JUST THE SEGMENTS YOU'RE MOST INTERESTED IN. AS WITH ALL THE "CREATIVE LIVING" BOOKLETS, YOU'LL FIND INFORMATION ON FOODS AND NUTRITION, CLOTHING AND FASHION, HEALTH AND BEAUTY, HOME DECORATING AND MUCH MORE. FOR YOUR COPY OF THIS BOOKLET, GO TO OUR WEBSITE AT KENW.ORG AND THEN CLICK ON "CREATIVE LIVING." SCROLL DOWN TO THE BOOKLET SECTION AND YOU CAN CLICK ON THIS BOOKLET OR ANY OF THE OTHER BOOKLETS WE HAVE AVAILABLE ONLINE. ONCE AGAIN, JUST GO TO KENW.ORG, CLICK ON "CREATIVE LIVING," AND DOWNLOAD THE BOOKLET, TITLED THE 6500 SERIES. WE ALSO WANT TO ENCOURAGE YOU TO SIGN UP FOR OUR FREE E-NEWSLETTER. JUST CLICK ON THE SIGN UP NOW BUTTON AND INPUT YOUR EMAIL ADDRESS. THAT'S ALL THERE IS TO IT. YOU'LL ENJOY READING AN UP-TO-DATE NEWSLETTER FILLED WITH INTERESTING TOPICS AND INFORMATION. THANK YOU.
Now Playing As: Captioned (English) (change)
A florist stops by and shows techniques for arranging flowers. Sheryl also welcomes a representative from Western Research Kitchens who compares the numerous prepackaged salads available. This episode also encourages the viewer to find their passion and know their purpose in life.
Media Details
Runtime: 27 minutes