Creative Living With Sheryl Borden #6511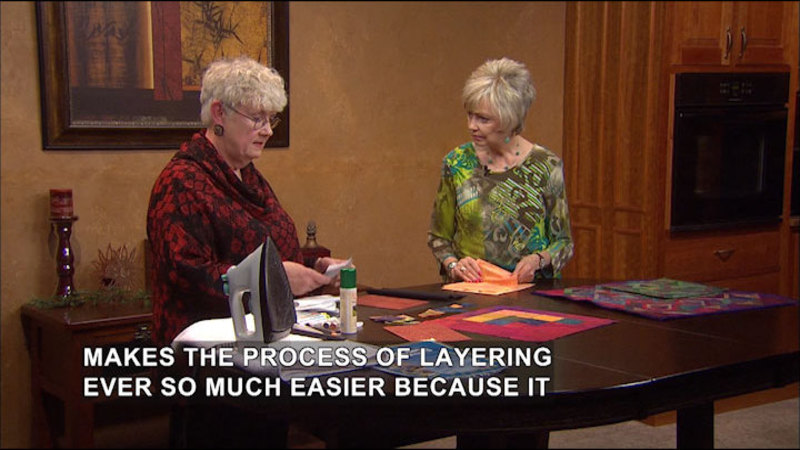 >> "CREATIVE LIVING," UTILIZING TODAY'S TECHNOLOGY WITH THE BEST OF THE PAST TO BRING YOU INNOVATIVE IDEAS AND UP-TO-DATE INFORMATION FOR CREATIVE LIFESTYLES IN TODAY'S ACTIVE WORLD, WITH YOUR HOST, SHERYL BORDEN. >> I'M SO GLAD YOU JOINED ME TODAY FOR "CREATIVE LIVING." WE'RE GOING TO LEARN HOW TO CREATE OUR OWN QUILT BACKGROUND AND SHARE SOME BEAUTY INDUSTRY DIRTY SECRETS. ONE OF MY NEXT GUESTS IS LAURA MURRAY, AND SHE'S A QUILTER AND A DESIGNER, AND SHE'S GOING TO DEMONSTRATE WHAT SHE CALLS "PLAYING IN THE GRID." LAURA WILL SHOW HOW TO USE A PAINT STICK PRIMER ON THE BACKGROUND FABRIC AND THEN USE A GRID AS A GUIDE FOR YOUR OWN INDIVIDUAL QUILTED CREATIONS. AND THERE'S NO LIMIT TO THE VARIETY OF PATTERNS YOU CAN CREATE, AND NO TWO WILL EVER BE ALIKE. HER COMPANY IS LAURA MURRAY DESIGNS, AND SHE'S FROM MINNEAPOLIS, MINNESOTA. WE'LL BEGIN THE SHOW TODAY BY TALKING TO VINNIE PARRINELLO, AND SHE'S A SKIN CARE SPECIALIST WHO OWNS HER OWN LINE OF ORGANIC PRODUCTS. VINNIE'S COMPANY IS WAI HOPE ORGANIC SKIN CARE, AND SHE'S FROM SAN DIEGO, CALIFORNIA. VINNIE IS GOING TO TALK ABOUT SOME OF THE ACTUAL CHEMICALS USED IN SKIN CARE PRODUCTS AND EXPLAIN HOW THEY MAY BE CONTRIBUTING TO SERIOUS HEALTH PROBLEMS. I THINK YOU'LL FIND THIS VERY INTERESTING. VINNIE, THANK YOU SO MUCH. I'M LOOKING FORWARD TO TALKING TO YOU ABOUT SKIN CARE PRODUCTS, OR WHAT A LOT OF PEOPLE CALL "BEAUTY AIDS." BUT THEN WHEN I READ THE MATERIAL THAT YOU'VE SENT ABOUT SOME OF THE PRODUCTS IN THESE, I DON'T KNOW IF YOU'D CALL THEM BEAUTY AIDS OR HARMFUL PRODUCTS. >> YEAH. YOU KNOW, I THINK IN OUR COUNTRY, IT WAS DAMAGING FOR ANYONE TO LABEL OR CLASSIFY SKIN CARE AS BEAUTY BECAUSE IT'S LIKE ME TAKING A TUBE OF TOOTHPASTE FOR YOU TO BRUSH YOUR TEETH AS BEAUTY. IT'S SO THAT YOU HAVE HEALTHY TEETH. IF YOU WANT HEALTHY SKIN, YOU NEED TO USE SKIN CARE. >> MM-HMM. >> BUT THEY SHOULD HAVE HEALTHY INGREDIENTS. >> WELL, AND HOW DID YOU DETERMINE THAT THERE WERE SO MANY UNHEALTHY INGREDIENTS IN MOST OF THE SKIN CARE PRODUCTS ON THE MARKET? >> YOU KNOW, THAT'S A REALLY GOOD QUESTION, AND THE INTERESTING THING IS MOST PRODUCTS COME WITH BOXES. >> UH-HUH. >> LIKE, WE PUT THE INGREDIENTS RIGHT ON THE BOTTLES SO THEY'RE WITH YOU ALWAYS. >> SO WE OPEN IT, THROW THE PACKAGE AWAY, AND START USING IT. >> VERY CLEVER, RIGHT? >> I HADN'T THOUGHT ABOUT IT. >> WELL, WHEN YOU READ THESE, WHICH IS WHAT I DID--I'VE SPENT $65,000 JUST RESEARCHING PRODUCTS AND THEIR FORMULAS--YOU'LL SEE NOTHING BUT A LOT OF CHEMICALS, AND THEN YOU'LL SEE SOME HEALTHY INGREDIENTS THROWN IN THE MIX OF THAT. WELL, THE THING THAT REALLY CONFUSED ME IS I STARTED ISOLATING OUT IN MY RESEARCH CHEMICALS THAT ARE LINKED TO CAUSING DIFFERENT PROBLEMS OR HEALTH CONCERNS OR ILLNESSES. >> OH. >> AND THEN I WENT TO THESE FDA GUIDELINES, AND IT SAID, "THIS IS AN FDA-RECOGNIZED SAFE LIST."
>> AND THAT'S WHAT THOSE ARE CALLED: G-R-A-S-S LIST. I DIDN'T REALIZE WHAT THAT EVEN STOOD FOR. >> THAT'S THEIR GENERALLY RECOGNIZED AS SAFE LIST. IT'S A LIST OF INGREDIENTS THAT THEY'VE COMPILED THAT THEY HAVE APPROVED TO BE USED IN SKIN CARE. SO IF YOU SEE SOMETHING THAT'S NOT ON THAT LIST, YOU REALLY PROBABLY WANT TO STAY AWAY FROM IT. THE OTHER TRUTH AND FALLACY IN THE INDUSTRY IS IF IT'S ON THAT LIST, IT'S PROBABLY BEEN TESTED ON AN ANIMAL. SO A LOT OF THESE COMPANIES THAT TELL YOU THEY'RE AGAINST ANIMAL TESTING, THE REAL TRUTH OF THAT IS IF THE FDA SAID OK, IT'S BEEN TESTED ON AN ANIMAL. NOW, IF WE'RE USING ESSENTIAL OILS AND TROPICAL BUTTERS AND THINGS LIKE THAT IN THE PRODUCTS, THOSE THINGS HAVEN'T BEEN TESTED ON ANIMALS BECAUSE THEY'RE FROM THE EARTH, THEY ARE NATURAL. >> OH. SO IF THEY'RE NATURAL OR ORGANIC, THEN-- >> EXACTLY. >> OH, I SEE. >> AND IF IT'S--YOU KNOW, LIKE AN ESSENTIAL OIL, IF A HUMAN TOUCHED IT, BECAUSE WE'VE PICKED IT, CHANCES ARE IF IT CAUSED AN ALLERGY WE'RE NOT USING IT. >> MM-HMM. >> YOU SEE? >> WELL, I NOTICED ON EACH ONE OF THESE, THE FIRST INGREDIENT IS WATER... >> RIGHT. >> WHICH TELLS US THAT THAT MAKES UP THE BIGGEST PART OF IT. >> THERE YOU GO. >> BUT I'VE NEVER EVEN HEARD OF MOST OF THE OTHER--HERE'S AN ALGAE EXTRACT. >> WHICH IS A GOOD THING. >> UH-HUH. >> BUT THEN WE GET INTO THE CHEMICALS, LIKE YOUR BUTYLENE GLYCOL. >> OH, I'VE HEARD OF THAT. >> POLYETHYLENE GLYCOL. WELL, THIS IS A MATERIAL SAFETY DATA SHEET. WHEN WE GET THE SKIN CARE CHEMICALS IN TO USE THEM, THEY COME WITH THESE SHEETS FROM THE MANUFACTURERS THAT PRODUCE THE INGREDIENTS. >> OH. >> AND BUTYLENE GLYCOL IS NOT ON THE FDA SAFE LIST, BUT YET YOU FIND IT IN ALMOST EVERY SKIN CARE PRODUCT, LOTION, HAIR SHAMPOO...IT'S AMAZING. IT'S EVEN IN CHILDREN'S PRODUCTS. IT'S APPALLING. >> BUT I NOTICED DOWN HERE, IT'S KIND OF INTERESTING IF IT'S SO SAFE. IT SAYS, "FOR EYE CONTACT, CHECK AND IMMEDIATELY REMOVE CONTACT LENSES. IF IT GETS IN YOUR EYES, WELL, FLUSH YOUR EYES FOR 5 MINUTES." >> AND THIS INGREDIENT'S IN AN EYE PRODUCT. >> OH, WOW. >> SO YOU'RE PUTTING THIS AROUND YOUR EYES, AND IT'S BEING PUT ON YOUR FACE. IT'S BEING PUT ON YOUR NECK. AND IT'S BEING PUT--THEY USE IT IN CHILDREN'S BODY LOTIONS. >> AND HERE IT SAYS SERIOUS SKIN CONTACT... >> THERE YOU GO. >> AND IF IT'S IN OUR SKIN CARE PRODUCTS, BUT THIS IS WASH WITH A DISINFECTANT SOAP AND SEEK MEDICAL ATTENTION. >> YEAH, EXACTLY. SO DO I WANT TO FORMULATE WITH THAT? I MEAN, I TOOK THIS STUFF, AND I ACTUALLY PUT IT BACK IN THE BOX AND SENT IT BACK TO THE MANUFACTURER AND SAID NO THANK YOU. WE WON'T USE THIS. SO WHAT WE USE INSTEAD OF SOMETHING LIKE THIS IS HYALURONIC ACID OR VEGETABLE GLYCERIN. >> UH-HUH. > THIS IS A HUMECTANT THAT HELPS YOUR SKIN RETAIN MOISTURE, BUT IT ALSO HELPS YOUR CREAMS STAY CREAMY. WHEN YOU OPEN UP A JAR OF CREAM AND IT LOOKS REAL FROTHY AND IT'S VERY INVITING, CHANCES ARE YOU'RE GONNA FIND BUTYLENE GLYCOL. >> OK. >> WHEN YOU LOOK AT OUR CREAMS, THEY'RE VERY DENSE. THEY FILL THE JAR, AND THEY LOOK VERY--THEY'RE NOT REAL WHIPPED-LOOKING. >> THEY'RE THICKER. >> RIGHT. AND THE OTHER SIDE OF THAT IS WHEN YOU'RE GETTING OUR CREAM AND IT'S AN OUNCE, IT'S AN OUNCE. >> MM-HMM. >> IT DOESN'T HAVE THAT WHIPPED-- >> FROTH. >> THERE YOU GO. SO IT'S ALSO LIKE ANOTHER ADDED BENEFIT. >> IT'S KIND OF LIKE BOXES OF CEREAL. IT MAY SAY HOW MUCH IT IS, BUT THE CEREAL WILL BE HALFWAY DOWN... >> EXACTLY. >> BECAUSE THE REST OF IT IS JUST BOX, JUST CONTAINER. UH-HUH. >> THAT'S RIGHT. IT'S SCARY. >> WELL, IT CERTAINLY IS. SOME OF THE THINGS THAT--MOST OF US, LIKE YOU SAY, DON'T READ THE INGREDIENTS, BUT ONE OF YOUR MISSIONS IS TO EDUCATE PEOPLE ABOUT SKIN CARE PRODUCTS, WHAT TO BUY, WHAT TO LOOK FOR. >> RIGHT. THAT'S WHY I WANTED TO DO THIS WITH YOU. TO ME IT'S REACHING THE PEOPLE THAT WERE LIKE ME THAT ARE--YOU KNOW, NOT EVERYONE'S HEALTHY. SO OUR IMMUNE SYSTEMS ARE DIFFERENT. AND HERE I BATTLED CANCER AND WENT THROUGH CHEMOTHERAPY AND HAD THE SURGERIES, AND THEN I'M GONNA LOAD UP ON THESE DIFFERENT CHEMICALS THAT ARE IN MY PERSONAL CARE PRODUCTS? THAT WAS JUST FOOLISH IN MY EYES. AND THEN TO BATHE MY CHILDREN IN THIS? ANOTHER FOOLISH THING. SO THE ONLY WAY YOU CAN TEACH PEOPLE IS TO USE YOUR PLATFORM. SKIN CARE IS GREAT ON GETTING YOU TO USE THIS, BUT I WANT TO TEACH YOU WHY YOU'RE USING THIS. >> AND WHY ONE PRODUCT IS BETTER OVER THE OTHER AND WHY WE SHOULD CHOOSE CERTAIN THINGS, ESPECIALLY, LIKE YOU SAY, FOR CHILDREN, WHOSE SKIN IS SO SENSITIVE. >> ABSOLUTELY. OR, YOU KNOW, YOU BUY THESE DOCTOR'S PRODUCTS. THEY'RE A DOCTOR. THEY TOOK AN OATH TO HELP US, TO HELP HEAL US. AND THEN YOU LOOK AT THEIR SKIN CARE PRODUCTS, AND THEY'RE LOADED WITH THESE CHEMICALS THAT RELEASE FORMALDEHYDE, THAT ARE NOT ON THE FDA SAFE LIST, AND I'M THINKING, "REALLY? YOU'RE A DOCTOR." I WATCHED THE SHOPPING CHANNEL AND SAW A WOMAN BUYING PRODUCTS--LITTLE RETIRED LADY. SHE SPENT $300-SOME-ODD FOR A JAR OF CREAM THAT WAS MAINLY PETROLEUM AND HARMFUL CHEMICALS. >> WOW! >> AND I WENT, "SERIOUSLY?" >> THAT'S SO SAD. >> IT IS SAD. IT'S TRAGIC, BUT AS LONG AS WE ALLOW IT BY NOT BEING EDUCATED, THEN IT'S GOING TO HAPPEN. BUT AS SOON AS THEY BECOME EDUCATED--LIKE, WHEN WE GET A NEW CUSTOMER, WE SEND HER A LITTLE SHOPPING LIST. >> UH-HUH. >> "DO NOT BUY ANYTHING THAT HAS THESE CHEMICALS IN IT." >> YEAH. >> AND SHE SHOPS WITH IT. >> UH-HUH. >> WOMEN USUALLY MAKE MORE OF THOSE DECISIONS IN THE HOUSEHOLD THAN THE MEN DO. >> BUT DOES THIS ALSO APPLY TO MEN'S SKIN CARE PRODUCTS? >> ABSOLUTELY. >> OH. >> MY HUSBAND USES THIS SKIN CARE LINE, TOO. >> UH-HUH. >> OUR KIDS DID, ALSO. WHAT REALLY CONCERNS ME, TOO, ARE KIDS USING ACNE PRODUCTS. >> OH. UH-HUH. >> INGREDIENTS LIKE BENZOYL PEROXIDE. THAT'S A PRECURSOR TO SKIN CANCER. >> IS THAT RIGHT? YEAH, I REMEMBER SEEING THAT ON SOME PRODUCTS. >> VERY SCARY. I MEAN, YOU'VE GOT TEENAGE KIDS THAT ARE GOING OUT INTO THE SUN USING BENZOYL PEROXIDE PRODUCTS, AND NOW THAT'S A PRECURSOR TO SKIN CANCER. SO THEY BECOME ADULTS AND THEY WONDER WHY THEY GET MELANOMA. >> YEAH, AND CERTAINLY MELANOMA SKIN CANCERS ARE THE MOST FREQUENT OF ALL. >> YEAH, IT'S VERY SCARY. >> YOU CALL YOUR WATER--AND THAT'S THE MAIN INGREDIENT IN ALMOST EVERYTHING--YOU CALL IT "A FRESHLY BREWED CONCENTRATED BROTH." WHAT DOES THAT MEAN? >> IT IS A--INSTEAD OF USING REGULAR WATER FOR THE MAIN INGREDIENT... >> LIKE TAP WATER, UH-HUH. >> WE TOOK WATER AND INFUSED SEAWEEDS, FRUITS, VEGETABLES, AND TEAS INTO THIS. AND FROM THIS--AND ONE SEAWEED IN PARTICULAR THAT WE HOLD TO BE ONLY OURS, IT'S NOT USED IN ANYONE ELSE'S SKIN CARE, IT'S A RED FIJIAN SEAWEED. BUT WITH THIS BROTH, WE'RE ABLE TO REALLY NOURISH AND HYDRATE YOUR SKIN. >> AND YOU SAY "REBLOOM." SO DOES THAT JUST FRESHEN UP YOUR SKIN TO ACCEPT THE OTHER PRODUCTS THAT ARE GOING ON IT? >> I TELL EVERYONE IT'S LIKE TAKING A PLANT THAT SORT OF WILTED AND DIED ON YOUR DESK... >> UH-HUH. >> AND TAKING IT AND PUTTING IN A NEW POT WITH NEW DIRT, SOME WATER, AND SUNSHINE, AND THE PLANT REBLOOMS. >> IT DOES, MM-HMM. >> SO I THINK THERE'S NOTHING MORE INSULTING THAN TELLING SOMEBODY THAT'S 50 OR 60 OR EVEN 30 THAT YOU'RE GONNA GO BACK TO LOOKING LIKE YOU'RE 20 OR 30. >> WE CAN ONLY WISH. >> WELL, YOU KNOW, I DON'T REALLY WANT TO LOOK LIKE I'M 20 WHEN I'M 54. I WANT TO LOOK I'M A HEALTHY 54-YEAR-OLD WOMAN. BUT SO THAT'S WHAT--OUR WAY OF SAYING THAT YOUR SKIN WILL REBLOOM, THAT IT LOOKS ENERGIZED, IT LOOKS HEALTHY. >> REBLOOM. >> YES. YOU KNOW, WRINKLES ARE LESSENED BECAUSE IT'S MORE HYDRATED AND IT'S HEALTHIER. >> AND YOUR SKIN'S IN BETTER CONDITION. WELL, THIS IS REALLY INTERESTING, AND IT CERTAINLY MAKES US THINK ABOUT TAKING TIME. I THINK WE ALL KNOW HOW IMPORTANT IT IS TO READ LABELS ON FOOD, BUT I CAN'T SAY THAT I'VE EVER READ A LABEL, I DON'T THINK, ON SKIN CARE PRODUCTS. I HATE TO ADMIT IT, BUT I JUST NEVER HAVE. >> YOU KNOW, WE'RE TRUSTING. WHEN WE THINK WE'RE BUYING SOMETHING AND IT'S FOR SALE AND IT'S AVAILABLE TO US... >> UH-HUH. >> WE TRUST THAT IT'S GOOD FOR US. >> UH-HUH. >> WHY ELSE WOULD THEY PUT THAT OUT THERE FOR US? >> NOW WE KNOW. IT'S MONEY. >> YES. >> WELL, THANK YOU VERY MUCH, VINNIE. THIS HAS BEEN SO INTERESTING. >> YOU'RE WELCOME. THANK YOU FOR HAVING ME. >> LAURA, THANK YOU SO MUCH FOR COMING TODAY. AND YOU'RE GOING TO SHOW US SOME BEAUTIFUL TECHNIQUES, BUT I LIKE THE FACT THAT YOU NAME THIS "PLAYING IN THE GRID." IT JUST SOUNDS LIKE A FUN SEGMENT. >> IT IS FUN. >> AND HOW DID YOU COME UP WITH THIS? >> WELL, I COME FROM A BACKGROUND OF QUILTING AND PIECING IN THE USUAL WAY, BUT THE PROBLEM IS, IS THAT SOMETIMES I'D MAKE THESE BLOCKS AND NOT LIKE THEM VERY MUCH. >> UH-HUH. >> THEN I LEARNED HOW TO DO RUBBINGS WITH PAINT STICKS AND STAMPS AND THE WONDERS OF FUSIBLE WEB, AND I FIGURED OUT HOW I COULD JUST PLAY IN THE GRID WITH LITTLE SHAPES AND NOT HAVE TO PIECE THEM. >> AND I UNDERSTAND YOU LIKE TO THINK OUTSIDE THE BOX. SO THIS JUST FITS RIGHT IN. >> WELL, I'M ACTUALLY MUCH MORE OF A PROCESS PERSON. I HAVE NO IDEA WHERE THESE THINGS ARE GONNA END UP. >> UH-HUH. >> IT'S JUST PUTTING ONE THING DOWN AND PUTTING SOMETHING WITH IT AND SEEING WHAT HAPPENS. >> JUST MAKING THEM. THE PROCESS OF MAKING IT. >> THAT'S WHY IT'S PLAYING IN THE GRID. I HAVE NO CLUE WHAT THEY'RE GONNA BE WHEN THEY'RE DONE. AND THEY ARE ALWAYS DIFFERENT. >> AND THAT'S GOOD. WE THOUGHT WE'D JUST SHOW A COUPLE BEFORE YOU START, AND MAYBE EXPLAIN WHAT THIS PROCESS IS. LOOKS LIKE A LOT OF TRIANGLES TO ME. >> WELL, THAT'S ALL IT IS. IT'S SQUARES AND TRIANGLES, AND THEY ARE LAYERED ONE ON TOP OF ANOTHER. AND WHERE YOU'RE SEEING COLORS, THE COLORS ARE COMING FROM USING PAINT STICKS AND DOING THE RUBBINGS, WHICH I'LL SHOW YOU HOW TO DO IN A MINUTE. AND I-- >> AND THERE'S NO PIECING, IS THERE? >> NO PIECING. >> THESE ARE JUST BUTTED UP AGAINST EACH OTHER. >> THEY'RE BUTTED UP, AND IF YOU LOOK HERE, YOU CAN--YOU SEE A VERY SIMPLE SAMPLE THAT STARTS WITH A GRID. SO THE GRID IS NOTHING MORE THAN IN THIS CASE A 2.5-INCH GRID. 3x3, THAT'S IT. >> AND THAT'S--I CAN SEE WHERE THAT--THIS COMES IN. >> AND IT'S ALL DONE WITH LITTLE PIECES LIKE THIS, AND THERE'S NO SEAM ALLOWANCES, AND YOU DON'T EVER HAVE TO WORRY ABOUT, OH, MY, HOW WILL I EVER PIECE THIS THING? >> THAT'S RIGHT. SO IF SOMEONE DOESN'T WANT TO DO THE DETAILED PIECING, THIS IS THE PERFECT PROJECT. >> IT IS THE PER--IT'S--GOT TO HAVE A SENSE OF--IT'S ABOUT PLAY, AND IT'S ABOUT DISCOVERING WHAT HAPPENS WHEN YOU JUST MOVE IT IN ONE DIRECTION VERSUS ANOTHER DIRECTION. >> AND SOME PEOPLE HAVE ALWAYS--HAVE TOLD ME WHEN WE'VE DONE QUILTING SEGMENTS THAT IT'S SO HARD SOMETIMES TO FIND THE RIGHT COLOR FABRIC. YOU DON'T EVER HAVE TO WORRY ABOUT THAT, DO YOU? >> NO, I DON'T. I NO LONGER MAKE DESPERATE RUNS TO THE FABRIC STORE TRYING TO FIND JUST THE PERFECT THING. >> YOU JUST PAINT IT. AND THESE HAVE ALL BEEN PAINTED, AND WE'LL BE SHOWING THAT. BUT THAT IS JUST EXQUISITE. BEAUTIFUL. OK. WELL, NOW THAT WE'RE ALL EXCITED TO LEARN HOW TO DO THIS AND NO PIECING, I'M READY TO LEARN TO QUILT. >> I'M GONNA START OUT WITH SHOWING YOU HOW TO DO THE PAINTING BECAUSE IT DOESN'T MAKE ANY SENSE UNLESS YOU KNOW HOW I GOT THOSE PATTERNS AND COLORS ON THERE. >> RIGHT. >> AND I AM A STAMP DESIGNER. THIS IS ONE OF MY STAMPS CALLED SPIRALS. I DO HAVE A VARIETY OF THEM. >> UH-HUH. >> THE FIRST THING I DO WITH STAMPS IS I SPRAY THE TOP OF THEM WITH A TEMPORARY SPRAY ADHESIVE. >> TEMPORARY IS THE KEY WORD. >> OH, IT IS DEFINITELY THE KEY. YOU DON'T WANT TO FIRE AWAY WITH REGULAR ELMER'S GLUE. >> AND YOU DON'T CUT THESE STAMPS APART, DO YOU? >> NOPE, I DO NOT CUT THEM APART, BECAUSE IT'S A LOT EASIER TO DO THE RUBBINGS WHEN THEY'RE ALL HOOKED TOGETHER, AND WHAT I'M REALLY AFTER IS SPARE PARTS. IT'S LIKE LEGOS. IT'S JUST LIKE LEGOS. I WANT TO HAVE A LOT OF LITTLE SPARE PARTS THAT I CAN PLAY WITH BECAUSE, YOU CAN SEE FROM THESE PIECES, I'M JUST GOING FOR LIGHTS AND DARKS. THAT'S ALL I CARE ABOUT. >> UH-HUH. >> I WANT SOME SQUARES. I WANT SOME TRIANGLES. >> OK. AND THIS IS JUST A COTTON... >> IT'S JUST A PLAIN BLACK COTTON. I LIKE LIGHTS, MEDIUMS, AND DARKS. I LIKE BRIGHT, STRONG COLORS. AND WHEN YOU BEGIN TO WORK WITH PAINT STICKS, THE FIRST THING YOU'RE ALWAYS GOING TO DO IS--IT'S OIL PAINT IN STICK FORM. IT HAS A PROTECTIVE COATING. >> IT'S OIL PAINT. >> IT HAS A PROTECTIVE COATING. SO WHAT YOU DO IS YOU PINCH--JUST TAKE THIS PAPER TOWEL OR NAPKIN--PINCH AND WIPE. >> SO THESE ARE STURDY. THEY DON'T BREAK OFF, DO THEY? >> NO. THEY ARE QUITE STURDY, AND BETTER YET, THIS PROTECTIVE COATING SELF-SEALS, SO THAT MEANS THEY NEVER DRY OUT, UNLIKE EVERY MARKER I'VE EVER OWNED. >> I KNOW IT. >> YES. IT'D BE NICE TO HAVE THAT FINER POINT, BUT THIS IS ALWAYS READY FOR YOU WHEN YOU'RE READY. NOW, THE FABRIC GOES ON TOP, AND THE PURPOSE OF THAT SPRAY WAS TO MAKE IT SLIGHTLY TACKY. AND I STILL HOLD IT. AND WHAT I'M GONNA DO IS I KIND OF FEEL WHERE THE EDGE IS AND I START--SEE HOW I'M TAKING--IT'S LIKE 1, 2, 3. >> IT'S NOT LIKE COLORING. >> NO. YOU DON'T WANT TO GO BACK AND FORTH BECAUSE THAT MOVES THE FABRIC. AND YOU KIND OF HAVE TO--ONE OF THE THINGS ABOUT USING PAINT STICKS FOR THE FIRST TIME IS YOU HAVE TO UNDO YOUR MUSCLE MEMORY FROM WHEN YOU LEARNED HOW TO COLOR. NOW, I'M NOT--BECAUSE I WANT MINE TO BE KIND OF TWO-TONED. I LIKE MULTIPLE COLORS. I DIDN'T COLOR-- >> YOU HAVEN'T FINISHED THAT BLOCK. >> I HAVEN'T REALLY FINISHED IT, BECAUSE WHAT I WANT TO DO IS GO OVER IT WITH GREEN. >> OH, YOU CAN PAINT RIGHT ON TOP OF-- >> THE OTHER--YEAH. THE COOL THING ABOUT PAINT STICKS IS THEY DO NOT BLEND IN THE SAME WAY THAT A LIQUID DOES. SO... >> AND LIKE OIL PAINTS, EVEN THOUGH THIS IS IN A STICK FORM, IT'S NOT GOING TO SMEAR. >> NO. IF I WERE TO REALLY PLACE MY FINGER IN IT, IT WOULD DO IT WHEN IT'S FRESH, BUT BY TOMORROW, THAT WOULDN'T HAPPEN, EITHER. AND MY GOAL IS TO MAKE SURE I GET ALL THE WAY INTO THE EDGES. >> OK. >> ALL THE WAY INTO THE EDGES IN THE CORNERS. AND I WANT IT TO BE FAIRLY INTENSE. I DON'T WANT TO SEE BLACK SHOWING THROUGH. >> OH. >> AND IT DOES HAVE A TENDENCY TO ABSORB INTO IT, WHICH IS ANOTHER REASON WHY YOU NEED TO KEEP ON HITTING IT AGAIN UNTIL YOU CAN SEE IT COME OUT LOOKING SOMETHING LIKE THIS. >> NOW, WHAT IF YOU STARTED THIS AND THEN YOU GOT A PHONE CALL AND WALKED AWAY? WOULD IT AFFECT THE-- >> IT WOULD BE RIGHT THERE READY FOR ME UNLESS I HAD A SPASTIC MOMENT AND MOVED THE FABRIC. >> OK. >> IN WHICH CASE I WOULD START OVER. >> START OVER, I UNDERSTAND. >> YEAH. >> NOW, WOULD YOU GO AHEAD AND DO THIS WHOLE... >> I WOULD DO THE WHOLE THING. I WOULD. AND THEN I WOULD HAVE--I WOULD HAVE 6 NICE--I WOULD HAVE 6 NICE SQUARES TO PLAY WITH. >> DO YOU KNOW, THAT DOESN'T EVEN LOOK LIKE THIS. ISN'T THAT AMAZING, HOW DIFFERENT IT LOOKS WHEN YOU COLOR? >> IT IS. IT IS. THAT'S ONE OF THE THINGS ABOUT DOING RUBBINGS THAT I NEVER TIRE OF, BECAUSE THERE'LL NEVER BE ANY TWO OF THE SAME. AND I HAVE 21 COLORS TO PLAY WITH. SO I COULD CERTAINLY CREATE AN AMAZING VARIETY OF... >> WELL, YOU SURE COULD. >> OF DIFFERENT-APPEARING THINGS, WHICH IS WHY YOU DON'T NEED TO BUY SO MUCH FABRIC ANYMORE. >> NOW, DO YOU NEED TO LET THIS SET BEFORE YOU GO AND PUT IT... >> I WOULD. IF I WERE IN A HURRY, I'D DO IT RIGHT AWAY. BUT HOPEFULLY I'D-- >> OH, IT WOULDN'T HURT THE PAINT IF YOU DID? >> IT MIGHT LOSE A TINY BIT, BUT NOT ENOUGH TO WORRY ABOUT. I REALLY JUST DON'T LIKE WORKING WITH IT WHEN IT'S COMING OFF IN MY HANDS, SO I'LL WAIT TILL THE NEXT DAY. SO I HAVE A DIFFERENT VERSION OF THE SAME STAMP THAT'S READY TO GO. IT'S BETWEEN TWO PIECES OF STEAM-A-SEAM 2 LIGHT, WHICH IS THIS PRODUCT. IT'S PRESSURE-SENSITIVE, AND IT MAKES THE PROCESS OF LAYERING EVER SO MUCH EASIER BECAUSE IT HAS A TEMPORARY HOLD. >> IT HOLDS IT RIGHT IN PLACE FOR YOU. >> AND I LIKE TO FUSE WITH A HOT DRY IRON FROM THE BACK SIDE. SO I FLIP IT OVER... >> TO THE BACK SIDE. >> AND OF COURSE I HAVE PUT THE BACK SIDE OF THE FABRIC AGAINST THE STICKY SIDE OF THE--AND I'M JUST GONNA TAKE IT FOR A FEW MINUTES LIKE THIS, AND WHAT WILL HAPPEN IS THAT THE-- >> YOU CAN SEE RIGHT WHERE IT-- >> YOU CAN SEE WHERE IT HAS MELTED. THAT TELLS ME THAT IT'S MELTED. >> I SEE. >> AND THEN THAT WAY I DON'T HAVE THESE LITTLE SURPRISES DOWN THE ROAD ABOUT, "OH, DRAT," WHEN I'M CUTTING IT OUT. THINGS ARE--HAVEN'T FUSED ALL THE WAY. >> RIGHT. >> NOW, MY NEXT STEP HERE WOULD BE TO CUT THESE OUT. I CUT MY SQUARES OUT. I WOULD CUT RIGHT ON THE LINE. >> OH. >> I'M NOT LEAVING ANY KIND OF A BORDER. I'M GONNA CUT RIGHT ON THE LINE LIKE SO. AND I HAVE A LITTLE PILE OF THESE OVER HERE. SO YOU CAN SEE THE FINISHED-- >> UH-HUH. >> I'VE DONE A VARIETY OF THEM. SOME OF MY SQUARES, I HAVE CUT INTO--I'VE JUST CUT ON ONE DIAGONAL SO I'LL GET ONE BIG TRIANGLE. SOME OF THEM, I HAVE CUT ON BOTH DIAGONALS, AND I WOULD GET 4 SMALL ONES. >> UH-HUH. >> OK? THESE ACTUALLY COME FROM A DIFFERENT SET OF STAMPS. THAT'S A 1 3/4, BUT YOU'LL GET THAT SIZE TRIANGLE, SO IT ALL WORKS OUT. SO WHAT I'VE GOT HERE IS A LITTLE GROUPING OF LIGHTS AND DARKS--SOME SQUARES, SOME LARGE TRIANGLES, SOME SMALL TRIANGLES. >> THIS IS WHEN THE PLAY PART COMES IN, ISN'T IT? >> THIS IS THE PLAY PART. NOW, A VERY SIMPLE THING THAT I STARTED WITH IS, WELL, WHAT IF I JUST USED THESE SHAPES AND DID PIECING WITHOUT PIECING? AND THIS IS AN OHIO STAR, A VERY FAMILIAR THING, AND SO I HAVE--YOU CAN SEE WHERE MY MIDDLE-- >> THAT'S THE MIDDLE... >> OR I COULD SAY, "YOU KNOW, I LIKE THAT MIDDLE A WHOLE LOT BETTER, ANYWAY, THAN WHAT I'VE GOT ON THERE." OR I COULD DO THIS. SO I JUST PLAY WITH THESE. AND BECAUSE I STARTED WITH THIS, I ALWAYS HAVE THESE GRIDLINES. >> JUST THE RIGHT SIZE, ISN'T IT? >> THAT'S RIGHT. SO I CAN MOVE THEM AROUND. AND I STARTED THIS WAY THINKING, "WELL, OH, THAT'S KIND OF FUN," BECAUSE I CAN DO THE PEEL AND STICK THING, YOU KNOW? I CAN JUST TAKE THIS PAPER OFF THE BACK, AND THERE IT SITS...LIKE SO. AND IT'S NOT GONNA GO ANYWHERE. >> AND YET IT'S NOT PERMANENT IF YOU DECIDED TO ANGLE IT OR SOMETHING ELSE. >> EXACTLY. THAT MEANS I DON'T HAVE TO SEW THE WHOLE THING TOGETHER AND THEN SAY, "OH, DRAT, I REALLY DIDN'T LIKE THAT VERY MUCH." SO THAT IS WHY I AM QUITE ENAMORED WITH THE LIGHT STEAM-A-SEAM 2, BECAUSE OF ITS PRESSURE-SENSITIVE QUALITY. I COULD CONTINUE ON HERE AND I COULD ADD MORE COLORS, LIKE WE SEE HERE. >> NOW, COULD YOU GO BACK AND COLOR AFTER YOU PIECE IT? >> ACTUALLY I COULD SAY, "AH." I COULD JUST LAY THAT RIGHT ON TOP OF--I COULD--WELL, THIS HAS BEEN FUSED, BUT IF I HADN'T DONE THE FINAL FUSING, I COULD HAVE PULLED IT OUT. BUT EVEN IF I'VE DONE THE FINAL FUSING ON SOMETHING LIKE THIS, I COULD SAY, "OH, HEY, I COULD JUST POP THAT RIGHT ON TOP. THAT LOOKS BETTER." SO IN THAT MANNER, YOU CAN AUDITION WITHOUT MAKING A COMMITMENT. YOU'VE NEVER MADE A COMMITMENT RIGHT UP UNTIL THE TIME YOU DO THE FINAL FUSING. AND THAT IS WHY I DON'T HAVE BLOCKS I DON'T LIKE ANYMORE. >> YOU LIKE THEM ALL BECAUSE YOU PLAYED WITH THEM ENOUGH. >> WELL, I HAVE. MY PERSONAL RULE IS I HAVE TO BE ABLE TO WALK BY IT 3 TIMES WITHOUT WANTING TO MOVE SOMETHING, AND THEN I KNOW IT'S DONE. >> WALK BY IT 3 TIMES. THAT'S A GOOD TIP. >> SO HERE'S A FINISHED ONE. BUT I COULD CONTINUE EVEN NOW TO PLAY WITH THIS THING. IF I WANTED TO CHANGE THIS OUT, I COULD JUST PUT SOMETHING RIGHT ON TOP OF IT. BUT THEN I WENT TO SOMETHING MORE COMPLEX BECAUSE I DO LIKE COMPLEXITY, AND THAT IS HOW WE GET TO THESE. THIS ONE... THIS IS ACTUALLY A 2.5" SQUARE THAT I HAVE HERE, AND IT'S A 2.5" SQUARE BECAUSE THIS IS MY BASIC BUILDING UNIT. IT'S A 2.5" SQUARE. AND I'VE DONE A PARTIAL ONE SO I CAN KIND OF WALK YOU THROUGH HOW THAT WORKS. I'M GONNA LOOK AT IT THIS WAY. THAT WAY I CAN KIND OF SEE WHAT I'M DOING. >> IT'S HARD TO TELL ONCE YOU GET IT ALL LAID OUT. >> YEAH. IT IS VERY DIFFERENT, AND THERE NEVER WILL BE ANY TWO THE SAME ON THIS AT ALL. YOU CAN SEE HERE HOPEFULLY THESE VERY FAINT LINES. THIS IS MY GRID. NOW, I DID--THIS IS A LARGER VERSION OF THE SAME THING, WHERE I LEFT NEGATIVE SPACE. I CAN SEE THAT EXPOSED. IT'S A BEAUTIFUL HAND-DYED FABRIC. I LEFT IT EXPOSED. I JUST HAD A BIGGER GRID TO PLAY WITH. >> MM-HMM. >> THIS IS A SMALLER VERSION LIKE YOU SEE HERE. AND THE WAY IT STARTS IS I JUST LAID SOME SQUARES DOWN. >> MM-HMM. >> I'VE GOT A COMBINATION OF LIGHTS AND DARKS. SO THEN I START DOWN IN A CORNER, AND I COULD SAY, "OH." I COULD START RIGHT HERE. AND I CAN LAY THIS ON TOP OF THIS. >> IS THERE ANY RULE FOR HOW MANY LAYERS? >> THERE ARE NO RULES WHATSOEVER. IT'S JUST WONDERFUL. I LIKE THAT PART. I DO TRY TO STAY INSIDE THE GRID WITH THIS SO EVERYTHING LINES UP AND DOESN'T GO WANDERING OFF. I COULD DECIDE TO--SEE, THIS WOULD--IF YOU WERE WORKING ONE-DIMENSIONALLY, WHICH IS WHAT WE ARE WHEN WE'RE PIECING, I COULDN'T BE--WELL, I COULD, BUT I'D HAVE TO CREATE SOME RATHER COMPLICATED PIECING HERE. I CAN JUST PUT THIS LITTLE TRIANGLE RIGHT ON TOP OF THAT WHAT WOULD HAVE BEEN A SEAM LINE. >> RIGHT. >> AND IN THAT MANNER, I'VE CREATED SOMETHING LIKE THAT. AND THERE ARE NO RULES OTHER THAN CONTRAST. SO PLAYING IN THE GRID IS REALLY JUST MOVING THESE PARTS AROUND AND SEEING, OH! WHAT WOULD HAPPEN IF I DID THIS? WHAT WOULD HAPPEN-- >> AND AGAIN, IF YOU WALK BY IT 3 TIMES AND IT'S OK, YOU KNOW IT'S TIME TO-- >> THERE IS NO RULES OTHER THAN A WILLINGNESS TO PLAY AND SEE WHAT HAPPENS WHEN YOU START REARRANGING THESE SHAPES. FOR ME IT'S A VERY SATISFYING WAY OF WORKING BECAUSE IT'S LIKE WORKING ON A PUZZLE, BUT I NEVER KNOW WHERE I'M GOING TO END UP. >> WELL, WE'LL GO AHEAD AND BE WATCHING HOW YOU FINISH THIS, AND I JUST WANT TO SAY THANK YOU SO MUCH FOR SHOWING US THIS TECHNIQUE. IT LOOKS LIKE IT'LL BE FUN TO PLAY IN THE GRID. >> IT IS FUN TO PLAY IN THE GRID. ENJOY. >> I HOPE YOU ENJOYED THE SHOW TODAY. NEXT TIME ON "CREATIVE LIVING," WE'LL LEARN HOW TO PREPARE MEALS FOR VEGETARIANS FEATURING A NEW GRAIN PRODUCT, AND WE'LL SHOW HOW TO MAKE A BUTTERFLY USING FANTASY FILM. ONE OF MY NEXT GUESTS SAYS THAT FREEKEH IS THE PERFECT WHOLE GRAIN FOR VEGETARIANS BECAUSE IT'S FLAVORFUL AND IT STILL PROVIDES AN ABUNDANCE OF NUTRIENTS, SUCH AS PROTEIN AND FIBER, THAT CAN SOMETIMES BE DIFFICULT TO FIND AS A VEGETARIAN. IF YOU HAVEN'T HEARD OF FREEKEH, IT'S A BETTER ALTERNATIVE TO RICE IN QUICK ONE-POT MEALS SINCE IT HOLDS UP BETTER. AND THE WORD "FREEKEH" MEANS TO RUB, AND IT WAS CREATED BY ACCIDENT OVER 2,000 YEARS AGO. MY GUEST REFERS TO IT AS A TASTY, NUTRITIOUS, ANCIENT GRAIN WITH A FUNNY NAME. ANOTHER GUEST ON THE NEXT SHOW WILL DEMONSTRATE HOW TO WORK WITH A PRODUCT CALLED FANTASY FILM AND MAKE LOTS OF THINGS WITH WINGS, AND THEY'RE QUICK AND EASY TO MAKE. AND SINCE YOU DETERMINE THE SHAPE OF THE PROJECT, YOU CAN LITERALLY MAKE ANY ANIMAL, INSECT, OR WHATEVER YOU WANT TO MAKE. BOTH OF THESE TOPICS WILL BE FEATURED ON THE NEXT "CREATIVE LIVING" SHOW. IF YOU EVER HAVE COMMENTS OR SUGGESTIONS OR IDEAS FOR SHOWS, YOU CAN E-MAIL ME AT SHERYL.BORDEN@ENMU.EDU. I'D ALSO LIKE TO ASK YOU TO BECOME A FAN OF "CREATIVE LIVING" ON FACEBOOK. JUST GO TO FACEBOOK.COM, AND IN THE SEARCH WINDOW, TYPE IN "CREATIVE LIVING WITH SHERYL BORDEN." THANKS SO MUCH. I HOPE YOU'LL PLAN TO JOIN ME NEXT TIME FOR "CREATIVE LIVING." >> WE ARE VERY PLEASED TO OFFER A NEW BOOKLET THAT ACCOMPANIES THIS SERIES OF "CREATIVE LIVING." THIS BOOKLET IS TITLED "THE 6500 SERIES," AND IT FEATURES A WONDERFUL COLLECTION OF IDEAS AND INFORMATION, AND IT'S AVAILABLE FREE OF CHARGE ON OUR WEBSITE. POSTED AS A .PDF FILE, YOU CAN SIMPLY DOWNLOAD THE ENTIRE BOOKLET OR JUST THE SEGMENTS YOU'RE MOST INTERESTED IN. AS WITH ALL OF THE "CREATIVE LIVING" BOOKLETS, YOU'LL FIND INFORMATION ON FOODS AND NUTRITION, CLOTHING AND FASHION, HEALTH AND BEAUTY, HOME DECORATING, AND MUCH MORE. FOR YOUR COPY OF THIS BOOKLET, GO TO OUR WEBSITE AT KENW.ORG, AND THEN CLICK ON "CREATIVE LIVING." SCROLL DOWN TO THE BOOKLETS SECTION, AND YOU CAN CLICK ON THIS BOOKLET OR ANY OF THE OTHER BOOKLETS WE HAVE AVAILABLE ONLINE. ONCE AGAIN, JUST GO TO KENW.ORG, CLICK ON "CREATIVE LIVING," AND DOWNLOAD THE BOOKLET TITLED "THE 6500 SERIES." WE ALSO WANT TO ENCOURAGE YOU TO SIGN UP FOR OUR FREE E-NEWSLETTER. JUST CLICK ON THE "SIGN UP NOW" BUTTON AND INPUT YOUR E-MAIL ADDRESS. THAT'S ALL THERE IS TO IT. YOU'LL ENJOY READING AN UP-TO-DATE NEWSLETTER FILLED WITH INTERESTING TOPICS AND INFORMATION. THANK YOU.
Now Playing As: Captioned (English) (change)
The owner of Wai Hope Organic Skin Care provides tips for healthy skin care, and quilter Laura Murray shows how to create quilted patterns on decorated background fabric.
Media Details
Runtime: 27 minutes