How to Embed DCMP Videos
DCMP videos can be embedded in any secure web page or learning management system (LMS) that accepts HTML embed code and has a valid TLS/SSL certificate. If you see a "padlock" symbol in the address bar while using your website/LMS, this indicates the site is secure, and should work with DCMP video embeds.
Additionally, teachers can choose which accessibility features are "turned on" in the embedded video, such as captions, description, and—for some videos—preferred audio language and sign language interpretation through the ASL Pop-up player. To play most embedded DCMP videos, viewers will be required to sign in to their free DCMP account. Students can use the username and password from their student accounts that have been set up by their teachers.
IMPORTANT: Teachers must assign permissions for students to view a video.
Once you have found the video you wish to embed, look for the "share" icons under the description of the video. Find and click the icon with the left and right chevron brackets.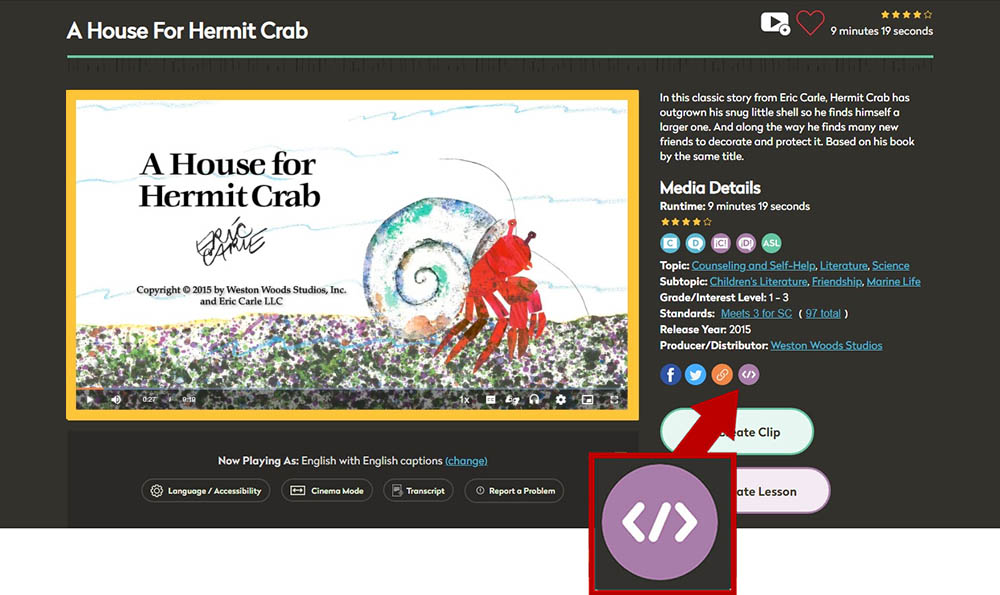 The embed code will be automatically generated. Now you can select which accessibility features will be turned on when the embedded video is played. To customize the code so that the video will automatically play the described version, select "English Described" or "Spanish Described" under the "Audio Language" heading; choose "English" or "Spanish" for no description. For captions, select "None," "English," or "Spanish" under the "Captions" heading. For ASL Mode, select "Overlay" or "Side by side." Many videos support combinations of audio language and captions. (Note: Not all videos are available in Spanish or ASL.)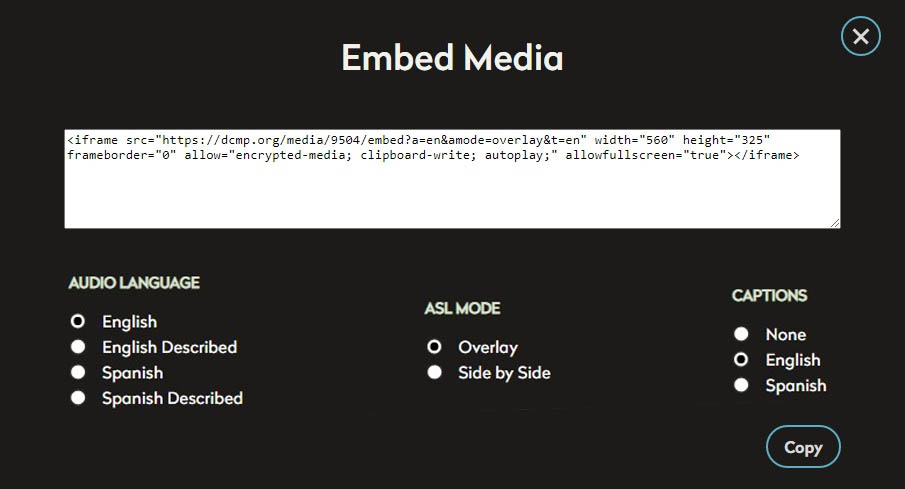 Then click the "Copy" button. The HTML code will automatically be copied to your clipboard.
Go to the application into which you want to embed the video. Paste the code into the appropriate field, as in this example (your application may look different).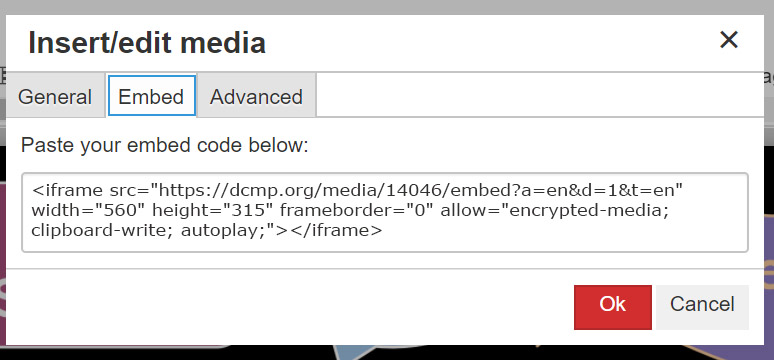 NOTE: When embedding more than one video, we recommend that you generate a unique embed code for each video. Do not simply replace the video URL in the code with the URL of another video.
DCMP has many videos that are freely available without having to register and log in. However, most videos require a DCMP login to view. Viewers may see a login screen overlaying the embedded video. DCMP members and student account holders can sign in with their username and password to view the video.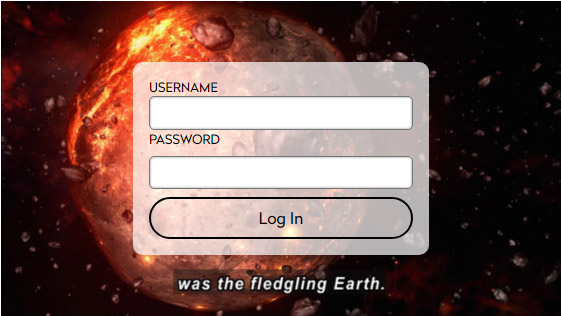 Here is an example of an embedded DCMP video with English description and captions:
If you have any questions or comments, please visit our Help Center or contact us at info@dcmp.org.
Please take a moment to rate this Learning Center resource by answering three short questions.