Benefits of Audio Description in Education (BADIE)
Movies, videos, and other forms of multimedia are integral to public, private, and special education curriculum. For young people who can't see or can't see well, audio description provides access to all the visual images of the movies that young people who are sighted enjoy.
Teachers can utilize thousands of educational videos available with audio description at DCMP. Even in remote learning environments, features such as Student Accounts and Interactive Transcripts can help make it easy to facilitate students' participation in the BADIE contest.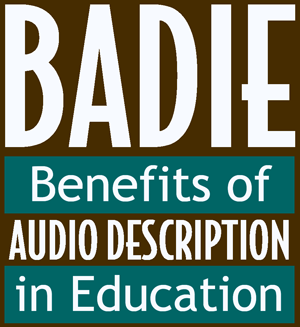 The Benefits of Audio Description In Education (BADIE) contest wants students to experience media with audio description and then tell us about what they've experienced! Students, tell us what you think about the way the video was described and what impact it had on you. You have a chance to win prizes for yourself and your teacher AND recognition for your school. And--a chance to hold the awesome title: A BADIE award winner!
How to Enter:
You, your parent, your classroom teacher or TVI—and perhaps your entire class—will choose an audio described film from the thousands of videos available through DCMP via streaming or on DVD. Have your parent or teacher set up a free DCMP account at: www.dcmp.org/signup.

Need help selecting a title to review? DCMP has media covering topics such as math, history, literature, and more. In addition, you can select a described episode of an educational television show, or an episode from hundreds of educational video series.

Alternatively, you can borrow an audio described video or film from your talking book library, or your local public library. Or, a young person who is blind can access thousands of audio described films and videos that are available via streaming services. You can visit the ACB-ADP's website at www.acb.org/adp/dvds.html for lists of DVDs and films with audio description.


Watch the described video and write your review of the audio description. Please refer to our Top Tips for Writing at the bottom of this page.


Need some tips on what makes for good audio description? Use these basic guidelines:



Accurate
There must be no errors in word selection, pronunciation, diction, or enunciation.
Prioritized
Content essential to the intended learning and enjoyment outcomes is of primary importance.
Consistent
Both the description content and the voicing should match the style, tone, and pace of the program.
Appropriate
Consider the intended audience, be objective, and seek simplicity and succinctness.
Equal
Equal access requires that the meaning and intention of the program be conveyed.



Register for the contest and submit your review here:
BADIE Entry Form

There are four contestant entry categories: Sophomore (ages 7 to 10), Junior (ages 11 to 15), Senior (ages 16 to 21), and Alternate Assessment.* Select your age category based on what your age will be on March 31, 2023.



* The Alternate Assessment category refers to students whose participation in their general statewide assessment program (testing in Math, Science and Language Arts) is not appropriate, even with accommodations. Alternate Assessment student performance is evaluated at three levels of complexity. Student achievement is reported through performance levels described as emergent, achieved, and commended. Access Points are academic expectations written specifically for students with significant cognitive disabilities.



If you'd prefer, you can send your recorded or written entry (in regular or large print or Braille) via email or postal mail (submissions from outside the United States are fine). You still need to register for the contest using the link above. Entries should be sent to:

ACB-DCMP Benefits of Audio Description In Education
1703 N. Beauregard St., Suite 420
Alexandria, VA 22311 USA

email: jsnyder@acb.org
phone: 202 467-5083


DEADLINE FOR ENTRIES - March 31, 2023.

You can enter the contest as many times as you like! Contest winners in each category will be chosen by May of 2023, and the grand-prize winner will receive an iPad Mini!


Each first-place student winner will receive a $100 iTunes gift card.
Each second-place winner will receive a $50 iTunes gift card.
Each third-place winner will receive a $25 iTunes gift card.
Each supporting teacher who has a first-place-winning student will be awarded a $100 Amazon gift card.


(Prizes provided by The American Council of the Blind and the Described and Captioned Media Program.)

All who enter the contest will be awarded certificates of participation.


Please note: While we encourage an entire class to participate, please limit the number of entries for a specific video to no more than three. There are MANY great described videos that can integrate with your existing curriculum and classroom activities.
Learn About Audio Description
To increase your chances of writing an awesome review and winning a contest prize, we strongly urge you to visit and study the Audio Description Training Module. DCMP has one for students, and one for teachers and parents. You can even earn a certificate by completing the student modules.
To access the modules simply create a free eLearner account with DCMP. Alternatively, if your teacher or parent is already a DCMP member, they can create a Student Account for you.
Here are the links:
Top Tips for Writing Your Review
1. Keep it short: 300 words maximum.

Please focus on what it was about the audio description that was helpful or how it did not assist you in understanding or appreciating the film or video. If the audio description was helpful, tell us which specific parts of the description gave you the most vivid sense of what was happening in the film. How did the audio description make you feel? How did it help you learn? Which description did you like best, and which did you not like? Why?

Read the grand-prize essays from past contest years. Learn and be inspired by these winners, but use your own words and be creative!

2. Write in the present tense.

For example: "The main character of the film is called" or "when the film starts, he or she does this or that."

3. Make it fun!

Just because you're writing a review doesn't mean it can't be fun to read. Make it as entertaining as possible for your readers.

4. Dish the dirt.

Say exactly what you think (but say it well). Tell the reader whether you liked or disliked but be certain to say why. The judges want to hear your personal opinion and how you support your view.

5. Don't tell the story.

You only have 300 words, so focus on what you think was most important about your experience viewing a video with audio description.

6. Be a reporter!

If you can, take notes while you're watching the film (write down memorable quotes, significant moments, etc.).

7. Make time.

The best reviews are written while the video is still fresh in the mind, so do try to get your ideas down as soon as possible after seeing the video.

8. Edit!

Don't forget to reread your audio descripton review, edit it, then prepare a finished version.

9. No cheating!

Make sure your work is original (must be written in your own words) and not copied from another source in any way.

10. Meet your deadline.

Even the most famous writers in the world have to get their work done on time, so don't forget your deadline: March 31, 2023.
Good luck!
How to Enter
Click here to register for the contest and submit your review.
THIS PAGE IS UNDER CONSTRUCTION--ADDITIONAL CONTENT COMING SOON!
description, listening-is-learning