The Audio Description Project: Promoting Accessibility for Students Who Are Blind

The BADIE contest promotes the Benefits of Audio Description in Education by inviting young people who are blind or visually impaired to view a video with audio description and write about their experience. Audio description is a secondary audio track with additional narration that describes vital visual information. The contest is hosted by the American Council of the Blind's Audio Description Project (ADP) and the Described and Captioned Media Program (DCMP).
The predecessor to the BADIE contest is the Young Describer Film Contest (YDFC). The first winner of the YDFC was Cricket Bidleman, who is now a graduate journalism student at Stanford University and a disability rights advocate. The latest Grand Prize-winning essays from the BADIE contest can be read at https://dcmp.org/learn/595-badie-contest-grand-prize-winners. We look forward to seeing what the future holds for these talented young people.
The ADP was founded by Joel Snyder, PhD, president of Audio Description Associates, a respected pioneer of audio description and creator of the original YDFC contest. Jo Lynn Bailey-Page is ADP Coordinator and continues ADP's mission to promote and advocate for the use of high-quality Audio Description in all media and venues. ADP's website provides an abundance of resources related to audio description. Susan Glass is chair of the BADIE subcommittee, on which Dr. Snyder and DCMP Director Jason Stark serve.
BADIE contest entrants write about their audio description experience from any video they choose, including over 10,000 educational videos and television programs available through DCMP. DCMP videos feature high-quality audio description based on the Description Key, a guideline for creating audio description for educational media. The Key was developed by DCMP and the American Federation of the Blind (AFB), where Dr. Snyder was a board member.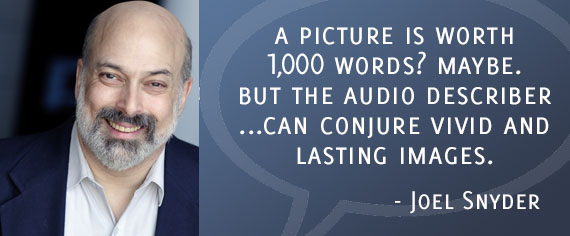 Dr. Snyder explains the impact that quality audio description can have on children. "A teacher trained in audio description techniques would never simply hold up a picture of a red ball and read the text: 'See the ball,'" he said. Instead, they would introduce new vocabulary, invite comparisons, and use similes, even with toddlers. "By using audio description, you make [media] accessible to children who have low vision or are blind and help develop more sophisticated language skills for all kids. A picture is worth 1,000 words? Maybe. But the audio describer might say that a few well-chosen words can conjure vivid and lasting images."
Learn more about the BADIE contest.
Tags: description, blindness, collaborators
Please take a moment to rate this Learning Center resource by answering three short questions.