DCMP-ACB STEM Description Vocabulary Project for Early Learners Who Are Blind and Visually Impaired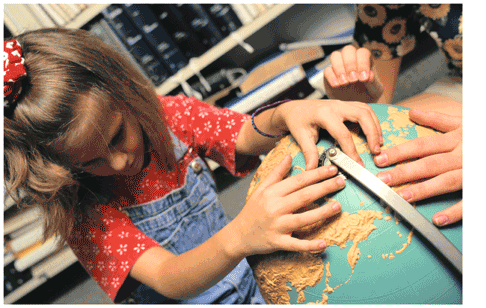 The Described and Captioned Media Program partnered with the American Council of the Blind (ACB) with the objective of enhancing the educational description guidelines, the Description Key, through results of a "STEM Description Vocabulary Project for Early Learners." This project involved assembling a group of educators, consisting of representatives from educational programs throughout the U.S., who compiled a list of words most commonly and consistently used as grade-level specific vocabulary.
This list, supported by reputable and reliable resources, delivers words to be used in description with a concentration on STEM content. Its focus is to assist describers on an appropriate path in choosing vocabulary words that best help students achieve necessary vocabulary milestones. And since the make-up of today's classrooms reflect the racial, linguistic, and cultural diversity of the world, this list is also important for English language learners.
SCIENCE
A
Afternoon
Air
Animal
B
Balance
Breathe
Bulbs
Bumpy
C
Change
Cloud
Cloudy
Cold
Color
D
Day
Different
Dinosaur
Down
E
Ear
Earth
Egg
Eyes
F
Far
Farm animals
Feather
Feet
Fish
Five senses
Flower
Food
Fur
G
Garden
Gills
Guess
H
Hard
Head
Hear
Heat
Heavy
Hibernate
Hot
I
Insect
Inside
L
Land
Leaf
Leaves
Light
Lighter
Lightning bolt
Like
Living
Location
M
Magnet
Many
Moon
Morning
Most
Move
N
Nature
Near
Nest
Next
Next to
Night
Nonliving
Nose
O
Observation
Observe
Ocean
Outside
Over
P
Person
Plant
Prediction
Predict
Q
Question
R
Rain
Rainbow
Rainy
Ramp
Rectangle
River
Round
Ruler
S
Sand
Scales
Sea creatures
Season
See
Seeds
Senses
Shells
Similar
Slippery
Smell
Smooth
Snow
Snowflake
Soft
Soil
Some
Square
Stars
Stem
Sun
Sunlight
Sunny
Sunshine
T
Taste
Teeth
Tools
Touch
Tree
Triangle
U
Underneath
Unlike
Up
W
Warm
Water
Water cycle
Weather
Wind
Wing
Z
Zoo
Zoo animals
TECHNOLOGY
A
Analog clock
Arrange
Arrow keys
Arrows
Audio books
B
Battery
C
Camera
CD player
CD-Rom drive
Change program
Charge
Click
Close program
Computer
Computer lab
Cord
D
Different languages
Doorbell
Down arrow
Drag
Draw
Drop
E
Email
End
Enter key
Eraser
Exit
F
Flashlight
G
Google
H
Has rules
I
Icons
iPod
K
Key
Keyboard
L
LeapFrog
LeapPad
Left arrow
Letters
M
Main menu
Marker
Matching
Microphone
Mouse
Mouse pad
N
Numbers
O
On/off button
Open/program
Outlet
P
Pen
Pencil
Picture
Player
Plug
Plug-in
Point
Print
Printer
Program
Push button
R
Radio
Recorder
Right arrow
S
Screen
Screen saver
Search
Shade
Shift
Slide
Speaker
Start
T
Tab
Tape recorder
Telephone
Touch screen
Type
U
Up arrow
V
Video
Video game
Volume
W
Web page
Wire
ENGINEERING
A
Air
Aluminum foil
B
Boat
Bottom
Bridge
Build
Building
Bus
C
Car
Cardboard
Carry
Circle
Clay
Cold
Color
Construction
Container
Crayons
Cut
D
Describe
Design
Different
Draw
E
Engineer
Engines
Explore
F
Fix things
G
Glue
Glue stick
H
Hammer
Hands-on
Hard
Heat
I
Imagination
Imagine
L
Large
Larger
Largest
Level
Longer
Longest
M
Machine
Magnets
Make
Markers
Materials
Measure
Medium
N
Nails
O
Over
P
Paint
Pipe cleaners
Plan
Plastic wrap
Pliers
Popsicle sticks
Pull
Push
R
Rectangle
Roads
Rock
Rough
Rubber band
S
Safety
Same
Sand
Sandpaper
Scissors
Screw
Screwdriver
Shape
Short
Shorter
Shortest
Shovel
Small
Smaller
Smallest
Smooth
Soft
Square
Stack
Staples
Straight
String
Strongest
T
Take apart
Tallest
Tape
Texture
Thermometer
Tools
Top
Tower
Truck
Tube
Tunnel
U
Under
Unit
W
Water
Wax paper
Wheel
Wind
Wood
MATHEMATICS
A
Above
After
Alike
Angle
Answer
B
Before
Below
Between
Big
Bigger
Biggest
Bottom
C
Calendar
Circle
Clock
Color
Concrete
Count
D
Day
Diamond
Different
Dime
Direction
Dollar
Down
Draw
Duplicate
E
Equal
F
False
Few
Fewer
First
G
Group
Guess
H
Heavy
Heavier
Heaviest
I
In back
In front
Inside
L
Largest
Last
Left
Less
Lighter
Lines
Longest
M
Match
Measure
Measuring tool
Middle
Money
More
Morning
N
Narrow
Night
Number
Number line
Numbers 0-10
O
Object
Order
Outside
Oval
P
Pattern
Penny
Q
Quarter
Question
R
Rectangle
Right
Round
S
Same
Sets
Shape
Share
Short
Shorter
Shortest
Show
Side
Size
Small
Smaller
Smallest
Sort
Square
T
Tall
Taller
Tallest
Time
Today
Tomorrow
Top
Triangle
True
U
Under
Up
W
Week
Wide
Y
Year
Yesterday
SCIENCE
A
Across
Add
After
Air pollution
Appearance
Autumn
Axle
B
Backbone
Before
Behind
Between
C
Classify
Climate
Coal
Collect
Combine
Compare
Compose
Condensation
D
Decrease
Desert
Discovery
Dissolve
Dull
E
Electricity
Evaporate
Evaporation
Experiment
Exploration
Extinct
F
Fall
Freeze
Freezing
Fruit
Full moon
G
Gas
Growth
H
Habitat
Hail
Hand lens
Hatch
I
Increase
L
Lake
Landforms
Life cycle
Liquids
M
Magnify
Magnifying glass
Mass
Matter
Measure
Measuring cup
Melt
Metal
Mix
Mixed
Mountain
N
Natural
Natural resources
New moon
O
Oxygen
P
Parts
Pond
Pull
Pulley
Push
R
Rainforest
Record
Record data
Recycle
Reuse
Rock
Root
Rough
Rubber
S
Shadow
Shapes
Shelter
Shiny
Size
Skin
Sky
Sleet
Snowy
Solid
Sort
Sound
Spring
Sprout
Storm
Stronger
Subtract
T
Tadpole
Temperature
Texture
Thaw
Thermometer
U
Under
V
Valley
Vibrate
Volume
W
Weaker
Wheel
Windsock
Windy
Winter
Z
Zigzag
TECHNOLOGY
A
Access
Active cell
Automatic doors
B
Back button
Backspace
Bicycle
Bookmark
C
Cell phone
Close
Column
Control/key
Cursor
D
Delete
Desktop
Digital books
Digital clock
Digital recorder
Double click
Download
DVD player
E
Earphone jack
Earphones
E-book
Enlarge
Escape
F
Favorites
Font
H
Hand position
Headphone
Home row
I
Input
Insert
Insertion point
iPad
K
Keyboarding
L
Laptop
Left click
Link
Login
Logon/logoff
M
Monitor
O
Output
P
Page
Pointer
Pointing
Portable
Power
Processes
Q
Quit
R
Remote control
Right click
Row
S
Save
Search engine
Shift key
Smart board
T
Thermometer
Toolbar
Tower
U
User name
W
Wallpaper
Webcam
Window
Window key
X
X-ray
ENGINEERING
A
Airplane
Arrange
B
Back
Balloon
Blocks
Box
Bubbles
C
Carpenter
Center
Chalk
Clean
Computer
Cone
Connecting sticks
Construction paper
Create
Cube
D
Data
Direction
Dirty
Down
Duct Tape
E
Electrical Tape
F
Fabric
Filter
Float
Front
Funnel
H
Heavy
Helicopter
High
Hose
I
Index cards
Invention
L
Layers
Left
Legos
Lever
Light
Load
Logs
Low
M
Marbles
Melt
Mix
Motion
Motor
O
Oars
Object
P
Parachute
Part
Plastic
Poles
Powder
Power
Problem
Propeller
R
Ramp
Right
Roller coaster
Ruler
S
Scatter
Scraps
Shake
Sharp
Solid
Solution
Sphere
Stir
Stopwatch
Straws
Sturdy
T
Team work
Test
Toolbox
U
Up
W
Weak
Weaker
Weakest
Weather
Weigh
Weight
Whole
Windmill
Wire
Wrench
Y
Yarn
Z
Zigzag
MATHEMATICS
A
Add
Addition
Afternoon
Around
Attribute
B
Backward
Behind
Beside
Bills
C
Cardinal number
Classify
Coins
Combine
Compare
Cone
Count forward
Cube
Cylinder
Cylinder sphere
D
Date
Difference
Digital clock
E
Evening
Extend
F
Far
Forward
Front/back
H
Hour
L
Location
M
Measurement
Minus
Month
Most
N
Near
Next to
Nickel
Numbers 0-20
Numeral
O
Ones
Opposite
P
Pair
Position
Predicting
S
Similar
Skip count
Sphere
Strategy
Subtract
Subtraction
T
Table
Tally
Tally marks
Temperature
Tens
V
Value
W
Weight
Z
Zero
SCIENCE
A
Adult
Alter
Amphibian
Angle
B
Backward
Balance scale
Battery
Beak
Bird
Boulders
C
Centimeter
Chart
Circular
Cirrus clouds
Claw
Clay
Compost
Conclusion
Cone
Contract
Cumulus clouds
D
Data
E
Earth science
Earthquake
Earthworm
East
Energy
Environment
Exercise
Expand
F
Fins
Float
Forest
Forward
Freshwater
G
Gases
Grass
H
Human-made
Humus
Hypothesis
Hypothesize
I
Infant
Invent
Investigate
Investigation
L
Laboratory
Life science
Lungs
M
Mammal
Material
Microscope
Mineral
Moisture
Model
N
North
P
Physical change
Physical science
Planet
Polar climate
Pollen
Precipitation
Prey
Procedure
Properties
Property
Purpose
R
Reduce
Reproduce
Reptile
Rotates
S
Saltwater
Seed fruit
Seedling
Separate
Sequence
Shrubs
Silt
Simple machine
Sleep
Smog
Solids
South
Spines
Straight
T
Teen
Tropical climate
Tundra
V
Volcano
W
Water pollution
Weather data
West
Wetland
TECHNOLOGY
A
Arrow key
B
Boot up
Burn a CD
C
Cable
Calculator
Capital
Capitalization
Cash register
Clip art
Code
Command
Connect
Conveyor belt
Crash
D
Data
Disk
Document
E
Electronic
F
File forward
G
Graphics
H
Handheld devices
Hard drive
Hardware
Highlight
Home page
I
Ink cartridge
Input device
Install
Interactive
Internet
Internet safety
K
Key commands
M
Magnify
Mechanical pencil
Memory
Menu bar
Metal detector
Mouse wheel
MP3 player
N
Navigate
Non-print
O
Output device
P
Password
Pause
Photo
Pop-up
Presentation software
Punctuation
R
Record
Recycle bin
Return key
S
Save as
Short cuts
Shut down
Speed keys
Stop
Surfing
T
Tablet
Task bar
Toolbox
Tool options
Tools
Touch pad
Transistor
V
Video camera
Video chat
W
Walkie talkies
Word processor
World wide web
ENGINEERING
A
Action
Apart
Axle
B
Balance
Beams
Brads
Brainstorm
Brick
C
Close
Column
Communicate
Communication
Connect
Construct
Crane
Cylinder
D
Dial
Distance
E
Energy
Experiment
Explorations
F
Fast
Force
Form
Forming
Friction
G
Gear
H
Hole punch
Horizontal
Hub
Hypothesis
I
Improve
Investigate
L
Living
M
Metal
Method
Model
Mold
N
Non-living
O
Observe
Open
P
Plate
Plow
Pour
Problem solving
Pump
R
Repair
Repel
Results
Reuse
Rubber
S
Shelter
Similar
Simple machine
Sink
Slow
Solve
Speed
Spread
Stadiums
Support
Suspend
T
Tent
Tires
Together
Two-story
V
Vehicle
Vertical
W
Wax
Wind energy
Work together
MATHEMATICS
A
Addend
Addition sentence
B
Bar graph
C
Cent
Chart
Corner
Count back
Count on
Covers less
Covers more
D
Data
Decimal point
Describe
Digit
Digital
Dollar sign
Double
E
Edges
Equal part
Equal to
Equals
Equation
Estimate
Even
F
Face
Fact family
Foot
Feet
G
Graph
Greater than
Greatest
H
Half
Half hour
Heavy
Horizontal
Hundred chart
I
Impossible
Input
L
Least
Length
Less than
Light
Long
M
Mental math
Minute
Minute hand
Missing addend
More than
Multi-digit number
N
Number sentence
Numbers 0-100
O
O'clock
Odd
One fourth
One-half
One-third
Ordinal numbers
Output
P
Part
Picture graph
Place value
Plane figure
Plus
Positional words
Pyramid
R
Rectangle prism
Regroup
Regrouping
Ruler
S
Sequence
Sharing equally
Solid figure
Solve
Sum
Survey
Symbol
T
Thermometer
Thousand
U
Unequal
Unit
V
Venn diagram
W
Whole
Whole number
SCIENCE
A
Accumulation
Adaptation
Artificial
Attract
Axis
B
Bar magnet
Beaker
Beaming
Boil
C
Celsius
Center
Change of state
Chemical change
Closer
Communicate
Condense
Conserve
Constellation
Container
Contrast
Cool
D
Diagram
Differences
Distance
Drought
E
Earth resources
Ecosystem
Erosion
Estimate
F
Fahrenheit
Fibrous root
Food chain
Food web
Fossil
Friction
G
Germinate
Germination
Gravity
H
Height
Horseshoe magnet
Hour glass
Humidity
Hurricane
I
Imprint
Infer
L
Larva
Lever
Litter
M
Magnetic
Metamorphosis
Meteorologist
Metric measurement
Migrate
Mirror
Molecules
Motion
N
Nutrient
O
Offspring
Orbit
Organism
P
Parent
Phases
Plastic
Pole
Pollination
Prevent
Pupa
Q
Quart
R
Renewable
Repel
Resource
Rotation
S
Scientific inquiry
Scientist
Silver
Similarities
Solar system
Solution
Stream
Substance
Sunset
T
Tape measure
Taproot
Telescope
Thunderstorm
Tornado
Transform
U
Universe
V
Vibration
W
Water vapor
Weight
Woodland
TECHNOLOGY
A
Adapter
Alt key
Amplifier
Animation
B
Back arrow
Back up
Bold
Boot
Brightness
Browser
Bug
C
Cell/address
Charging
Clipboard
Color
Column/headings
Contrast
Copy
Cut
D
Debug
Digital camera
Display
Download
Drive
Drop down menu
E
Earbuds
Edit erase
Ethics
F
Folder
Formula
Function keys
G
Glare
H
Hard disk
Help
I
Image
Indent
Italics
M
Mac
Maximize
Minimize
Multimedia
N
Network
Numeric keypad
O
Objects
P
Palette
Paste
PC (Personal Computer)
Personal information
Power cable
Power point
Power supply
Previous
Pull-down menu
R
Research
Resources
Retrieve
Revert
Ribbon
Row headings
S
Scanner
Scanning
T
Table
Thumb drive
Toggle
S
Settings
Surge protector
T
Trackball
Transfer
U
Underline
URL (Uniform Resource Locator)
USB
User friendly
V
Virtual
Voice mail
W
Web address
Wireless
ENGINEERING
A
Analyze
Assembly line
Attract
B
Battery
Bendable
Boulder
C
Cabinet
Catapult
Centimeter
Ceramic
Checkered
Coal
Coal mine
Collage
Compare
Concrete
Contractor
Conveyor belt
Corners
Creativity
Cutting
D
Design process
Diagram
Dimensions
Dome
Dowels
Driver
Durability
E
Edge
Elastic
Elasticity
F
Faces
Feet
Forward
Frame
Function
G
Geometric shapes
Glass
H
Hydraulic
I
Inches
J
Jagged
L
Labor
Liquid
M
Magnetic
Magnetic field
Manufacturing
Meters
Modify
N
Natural
Needle and thread
Nonmagnetic
O
Original
P
Paddle wheel
Paper clip
Parallel
Permanent
Perpendicular
Pipes
Plane shapes
Pneumatic
Pollution
Position
Predict
Process
Process layout
Processed
Properties
Property
Pyramid
R
Recycled material
Resource
Rigid
Rod
Rotate
S
Saw
Screen
Separate
Shaping
Slope
Sound
Sound wave
Spring
Stability
Steel
Straight edge
Strength
Symmetry
Synthetic
System
T
Tag board
Teeth
Tooth
Timing
Travels
V
Variables
W
Weathering
Wheelbarrow
MATHEMATICS
A
2-dimensional
3-dimensional
Area
Array
Associative property
B
Base-ten
Base-ten system
Borrow
C
Capacity
Carry
Celsius
Centimeter
Clock hands
Combination
Commutative property
Coordinate graph
Cup
Currency
Customary
D
Denominator
Dimensions
Distance
Divide
Division
E
Edge
Elapsed time/time interval
Equal groups
Equivalent
Estimation
Event
Expanded form
F
Fahrenheit
Fourths
Fraction
G
Gallon
Gram
H
Half dollar
Halves
Hexagon
Hundreds
I
Inch
Interpret
K
Key
Kilogram
L
Leap year
Likely
Unlikely
Liter
M
Meter
Metric
Milliliter
Multiplication table
N
Nonstandard unit
Numbers 0-1,000
Numerator
O
Ounce
Outcome
P
Parallelogram
Pentagon
Perimeter
Pie chart
Pint
Pound
Q
Quart
Quarter-hour
R
Recall
Reflect
Rotate
Rounding
S
Second
Second (time)
Standard form
Symmetry
T
Three-dimensional
Thirds
Transformations
Trapezoid
Two-dimensional
U
Unknown
V
Vertex
Vertical
Volume
W
Width
Word form
Y
Yard
SCIENCE
A
Absorb
Acceleration
Acid
Alternate energy resource
Anemometer
Aquatic habitat
Arctic
Arthropod
Asteroid
Atmosphere
B
Bar graph
Barometer
Base
Behavior
Bulb
C
Carnivore
Cell
Chemistry
Chlorophyll
Chrysalis
Cleavage
Community
Conduction
Conductor
Conifer
Conservation
Consumer
Control
Core
Crater
Crest
Cross section
Crust
Crystalize
Cumulonimbus
D
Decomposer
Density
E
Ecology
Endangered species
Environmental impact
Equator
Estuary
Evidence
Extinct species
F
Filter
Force
Forest floor
Fossil mold
Fracture
G
Graduated cylinder
Grams
H
Herbivore
Heredity
I
Ice wedging
Igneous rock
Individual
Inertia
Inner plants
Insulator
Invertebrate
K
Kinetic energy
L
Landform
Latitude
Length
Light energy
Load
M
Magma
Malleable
Mantle
Map
Metamorphic rock
Millimeters
N
Netted veins
Newton
Nonrenewable resource
O
Omnivore
Ore
Outer plants
P
Pan balance
Parallel veins
Particles
Phases of the moon
Physical property
Pitch
Plates
Pollution
Population
Position
Potential energy
Predator
R
Rain gauge
Reflect
Refract
Renewable resource
Research
Revolve
S
Satellite
Savannah
Screw
Sedimentary rock
Solar energy
Sound waves
Space probe
Steam
Stratus
Streak
T
Technology
Temperate climate
Terrestrial habitat
Theory
Thermal energy
Threatened
Thriving
Tissue
Transfer
Trough
V
Variable
Vein
Vertebrate
Volcanic eruption
W
Wave
Weather vane
Wedge
Wind vane
TECHNOLOGY
A
Accessibility
Application
B
Blog
Buffer
C
Centering
Chip
Cloud
Copyright
Cyberspace
D
DAISY files
Database file
Digitized speech
E
eBook
Electric guitar
Ethical use
Excel
F
Field
Files
Flash drive
Format
Freeze
H
Hacker
Handheld computer
Hard copy
Headings
HTML files
I
Icon
IM (Instant Message)
L
Labels
Landscape
M
Mac OS
Memory stick
Modem
N
Netbook
Network card
Networking
Not reliable
Notebook computer
O
Operating system
Optical mouse
P
PDA
Pedometer
Podcast
Port
Power strip
Processor or CPU (Central Processing Unit)
Protocol
Public domain
R
RAM (Random Access Memory)
Rebus
Reliable
Rename
S
Server
Smartphone
Sound card
Spreadsheet
Storage device
Storage media
T
Treadmill
V
Values
Video card
Virus
Voice thread
W
Watermark
Web-based
Webcast
Windows operating system
Wireless router
ENGINEERING
A
Absorb
Accelerate
Acoustical
Accuracy
Aeronautical
A-frame
Agricultural
Alloy
Architect
Axis
B
Bioengineering
By-product
C
Casting
Cement
Centripetal
Chemical
Chemical change
Chemical property
Circuit
Circular
Civil
Coil
Collaborate
Compact
Compound machine
D
Decibel
Diversity
E
Easel
Effort
Electric circuit
Electric current
Electricity
Eliminate
Environmental
Evidence
Extend
F
Force of gravity
Forklift
Fossil fuel
Framework
Fulcrum
G
Gauge
Gears
Genetic
Geothermal energy
Goods
Services
Gravity
Guitar
Guitar fret
H
Hydroelectric energy
I
Inclined plane
Industrial
Innovation
Insulator
Interact
Interdependence
L
Levity
Limit
Location
Lubricant
M
Magnetic force
Maraca
Mass
Matter
Mechanical
Mechanical engineer
Membrane
Meter stick
Molding
Momentum
Mortar
Muffle
N
Natural material
Newton's laws of motion
O
Observable
Oscillatory
P
Packing
Pan pipe
Peak
Percussion instrument
Physical change
Physical property
Pillar
Pitch
Pitched roof
Plug
Potential energy
Project
Pulley
R
Reason
Reflect
Relative position
Residue
S
Scale
Screw
Sculpture
Sequence
Shaft
Shearing
Sketch
Skyscraper
Spin
Spiral
Stethoscope
Stress
Stretched
Stringed instrument
Structure
Submerge
Support column
T
Temperature
Tension
Thermal
Thickness
Tiles
Transmit
Transportation
V
Velocity
Vibration
Volume
W
Wedge
Wheel and axle
Wind instrument
Work
MATH
A
Analog clock
Analyze
C
Chance
Change (money)
Clockwise
Compatible numbers
Complex figures
Compose
Composite figures
Conclusion
Congruent
Congruent figures
Conjecture
Coordinates
Counter
Clockwise
Cubic unit
D
Decimal
Decompose
Decrease
Degree
Distributive
Distributive property
Dividend
Divisor
E
Equivalent fractions
Expression
F
Factor
Frequency table
H
Height
Hundredths
I
Increase
Intersect
Intersecting lines
Inverse
Inverse relationships
K
Kilometer
L
Line graph
Line plot
Line plot graph
Line segment
Line
Lines of symmetry
Liquid measures
M
Mass
Median
Mile
Millimeter
Mixed numbers
Multiple
N
Numbers 0-10,000
O
Octagon
Operation
Order of operations
Ordered pairs
Organize data
P
Parallel lines
Period
Perpendicular
Pictograph
Place figure
Polygon
Prediction
Prism
Probability
Properties
Q
Quadrilateral
Quality
Quotient
R
Range
Ray
Reasonableness
Relative
Rhombus
Right angle
S
Scale
Solution
Square units
T
Tenth
Ton
V
Variable
Vertices
description, research, blindness, description-key