BADIE Contest Grand-Prize Winners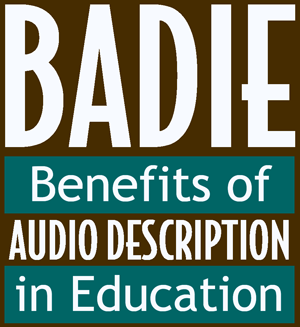 Read the BADIE contest grand-prize-winning essays here!
The Benefits of Audio Description In Education (BADIE) contest invites students to experience video with audio description and write an essay explaining their experience with the chance to win prizes. Each year we'll post the new BADIE grand-prize winner.
BADIE is presented by the American Council of the Blind's (ACB) Audio Description Project (ADP) and the Described and Captioned Media Program (DCMP).
Mae L.
2023 Grand-Prize Winner
First Place in Junior Category (Ages 11-15)
Wednesday Review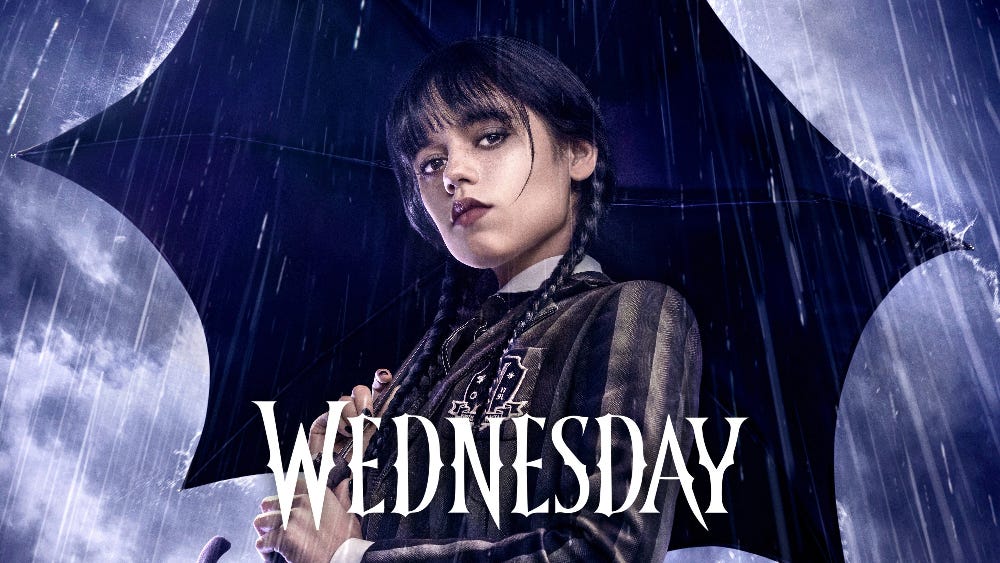 You know it's a great audio description when you have no recollection of it. Audio descriptions at their finest should fit perfectly in the cracks of a story so you can get swept up in the story without having to think of them as "extra." Director Tim Burton's TV series Wednesday has clear, concise audio descriptions that gives you the perfect amount of information given the time allotted. They paint a clear picture of what's going on, and they match the overall tone of the program. They fit perfectly in the cracks.
At the same time, I wish they had had more time to talk about the visual nuances and story-telling Tim Burton is known for. One of the most appealing character traits of Wednesday Addams is that she maintains a Kubrick stare (a down-tilted head with eyes staring through the eyebrows) throughout the TV show. The amount of expression in her eyes alone is so subtle and detailed and yet impactful and I don't feel we got adequate access as a blind audience. There is also a lot of visual symbolism, clues, and red herrings supporting the murder mystery aspect of the show that I don't think we get access to either. I feel quite sad about that.
This has become one of my favorite TV shows because of the access audio descriptions have provided. At the same time, I want access to the more artistic and visually nuanced elements sighted fans get to enjoy.
See all the 2023 BADIE Contest winners at the American Council for the Blind website:
https://acb.org/2023-BADIE-winners
Brennan L.
2022 Grand-Prize Winner
First Place in Senior Category (Ages 16-21)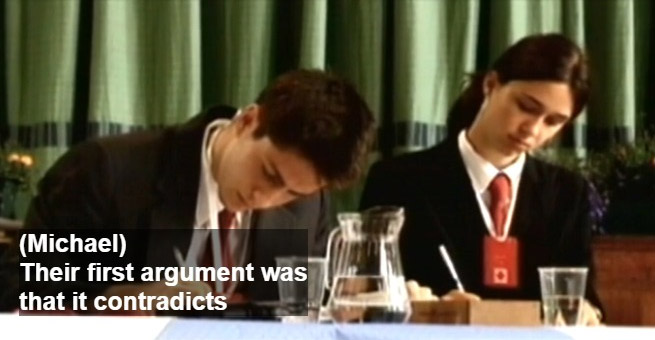 In the video The Debaters, the description was pretty reliable. The difficulty mostly lay in the fact that for long sections of the video, there was only dialogue, therefore leaving nothing to be described. I'm not sure if there were any images appearing on screen while the people were debating, however I found the description to be very solid in all other parts of the video. The describer guy was very professional sounding, and he did a great job relaying the events of the video in a succinct, and easy to follow manner. For example, he described the initial logos very well. In my experiences watching movies, I make an educated guess on the quality of the description based on how they describe the logos, because if they take the time to tell the viewer about the intricacies of a woman on a castle (one of the logos for Disney), they will probably give me a satisfactory movie watching experience. Also, in the beginning of the video, several characters are introduced, and they talk somewhat rapidly about themselves. The describer makes these transitions very well. Again, coming from my experience with described movies, rapid transitions can be a little tricky to describe, but this guy did it perfectly. Overall, I really appreciate the description, and the DCMP company as a whole, for allowing us blind folk to watch movies like the sighted. Thank you for bringing the magic of film to life for the blind.
See all the 2022 BADIE Contest winners at the American Council for the Blind website:
https://acb.org/2022-BADIE-Awards
Bennett L.
2021 Grand-Prize Winner
First Place in Junior Category (Ages 11-15)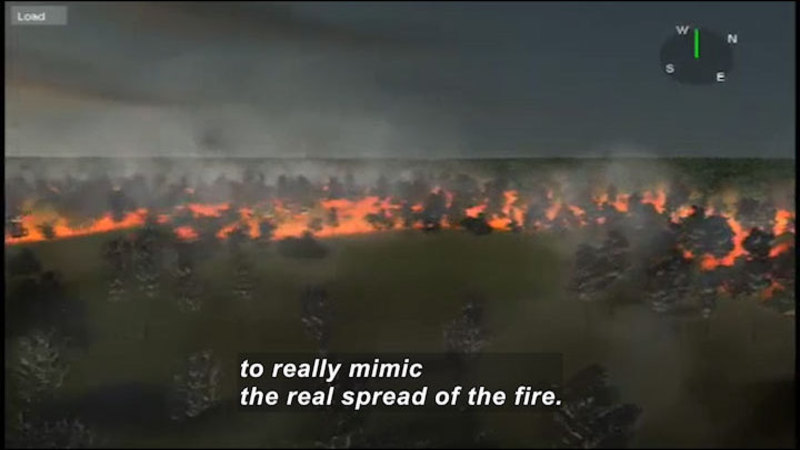 This episode of Science Nation was about how a university is using virtual reality to show how dangerous wildfires can be. I watched this episode in audio description and particularly enjoyed the announcing of names whenever someone was talking; it definitely helped me keep better track of the episode and allowed me to enjoy it more. I also liked that the describer changed to only saying the speakers' last names after they'd been introduced and I got to know their voice. I didn't find the description to be intrusive or interrupt the content itself and found it quite good. The audio quality of the description itself was also amazing. I didn't hear any static or background noise and the describer themselves were very professional with an even tone of voice. However, a little more detail on the virtual fire's description and how similar it is to the real life example shown before it would have been nice.
See all the 2021 BADIE Contest winners here:
https://acb.org/2021-BADIE-awards
Mina L.
2020 Grand-Prize Winner
First Place in Junior Category (Ages 11-15)
When you walk a dog, you walk it, but can you imagine a dog that walks you? Well, this type of dog is called a guide dog! A guide dog is trained to guide a blind person so they don't walk into walls or anything else. A guide dog will stop before any elevation changes, such as curbs or steps. It will also stop in front of poles and other obstacles.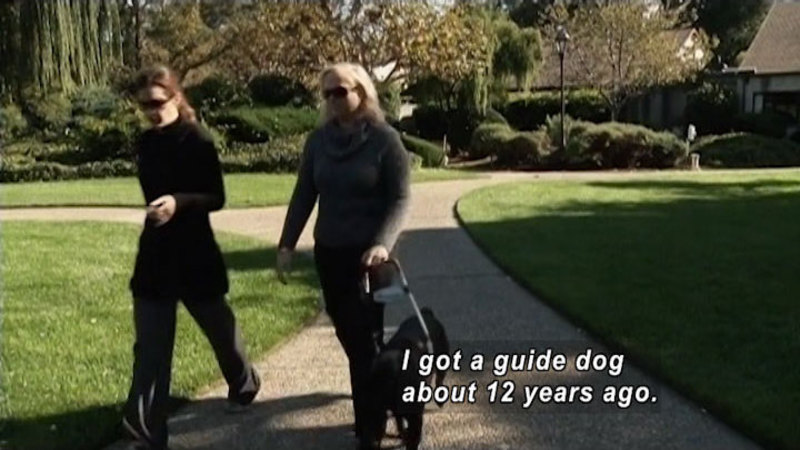 I have always wanted to learn more about guide dogs, like how they are trained. I watched a video called "Curiosity Quest: Guide Dogs," hoping that some of my questions would be answered. During the film I was able to access audio description, which is a service for the blind and visually impaired so they can also understand the visual parts of a movie. The audio description was very helpful. Not only did the service describe the characters in the film, but also their locations and actions. An example would be, "Emily and her dog Cherry walk down a curving path." Something else I really enjoyed and appreciated was whenever words appeared on screen, they were read aloud. Such as, "Words appear on screen: Mary Springfield, president of the National Confederation of the Blind."
There is only one thing I would give feedback on. In the movie, the dialogue slightly overlapped with the audio description. Other than that, this movie was very descriptive and factual. I sincerely thank DCMP for helping me learn about one of my interests.
Abigail M.
2019 Grand-Prize Winner
First Place in Senior Category (Ages 16-21)
Are people with visual impairments getting their money's worth when it comes to watching blockbuster movies and trendy videos online? This is a very important question that, quite frankly, has been avoided for far too long. In today's day and age where technology fulfills such a major role in all of our lives, everyone longs for the ability to interact equally, despite individual differences. Regarding members of the visually impaired community, this kind of equality just might be found through audio description.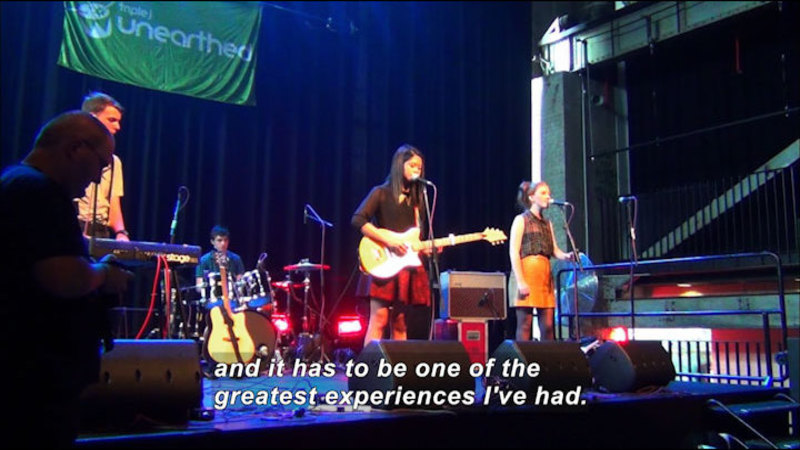 In Faith, My Story About Being Confident, tells the sweet and encouraging story of a young girl who learns to overcome her stage fright by entering an Australian songwriting contest and winning. This particular video, among thousands of others, is audio described from beginning to end. Through my observations on this film, I am able to say that most of my feedback is positive, which I must admit took me by surprise. One particular aspect of the audio film that I had initially worried about was whether or not the description would interfere with the voices of the featured individuals.
My experience in the past with voice adapted videos has always failed to meet my expectations on this important detail. Yet, the description of this video impressed me on a few unexpected levels. For one, I highly applaud the fact that common visuals such as the credits at the end are read aloud, and even a detail as small as a lightbulb being shown in the background are verbally explained. As well as the descriptive voice speaking with smooth clarity, outstanding details, and neat precision. Additionally, no matter how many times I went back to listen to this video clip, I really could not find any moment where the voices of the individuals featured in it and that of the audio description clashed with one another. Therefore, I highly applaud this short film on these audio described highlights.
Despite the positives this film offers for visually impaired viewers, there is some negative feedback I feel obliged to share. My one criticism would be that the voice on this audio described video is a bit on the robotic side. Yes, this is common for most audio adapted videos; however, I think it would be a more natural and appealing approach if a standard human voice was used instead.
Obviously, this may take more money, technical training, and time, but could definitely be worthwhile. Speaking from my own experience with audio described films and not having been much of a fan for most of my life, I feel that this adjustment would make the optional service more inviting overall.
As a whole, I learned that not all audio described videos and films are the same. And with some adjustments here and there, the adaptation can actually be quite enjoyable. I feel that making audio description more available for the blind should be taken seriously, and be put into affect globally so that all can enjoy the Big Screen luxuries life has to offer. Personally, I'll definitely be thinking twice about using audio description the next time I sit and relax with a blockbuster classic and a buttery bucket of popcorn.
Learn more about the BADIE contest.
Tags: description, educators, blindness
Please take a moment to rate this Learning Center resource by answering three short questions.