Value of DCMP Audio Description: A Producer's Perspective
By Hilari Scarl
I have seen my film See What I'm Saying: The Deaf Entertainers Documentary hundreds if not thousands of times. Having lived with it for the three years it took to produce (including two in the editing room) and on the road for another three years in over 179 cities in 19 countries, I can say I know the film inside out. I even had the opportunity to hear it audio described live a few times during disability film festivals. I was always a bit disappointed at some of the choices the describers made, since every moment of audio description is a choice. Do you describe the color shirt the speaker is wearing, the background behind them, their facial expressions, or the camera angle? Some choices are obvious, but others are more ambiguous. I had the opportunity to audio describe my film twice—once to a blind judge at The Other Film Festival in Australia during a private screening and a second time as a tactile interpreter to a deaf-blind man named Terry who appears in the film towards the end. I know how challenging and quickly decisions must be made and how difficult a job it is.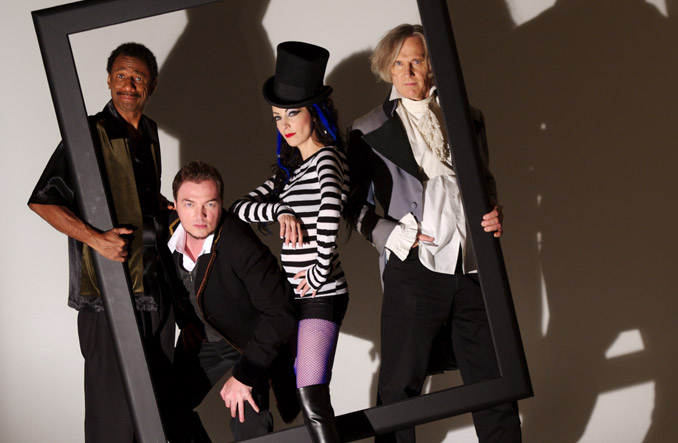 The audio description choices that DCMP made are impeccable. When my deaf drummer Bob Hiltermann is introduced for the first time, we see him drumming in a small yet colorful club. It is an extremely quick clip. The audio description introduces Bob as follows: "On another stage, an older man plays a drum set. He wears a black t-shirt and a bandana around his head. His hair is grey and straight to his neck." This is one of the most eloquent and descriptive observations that he is an aging rock star. It is beautiful, and adds a poetic layer to the film.
Since I decided to print my film with open captions making the spoken English and ASL accessible, it also served as a bridge when some of my deaf actors spoke while they signed. Sometimes the speech is intelligible—other times less so, depending on the circumstance. Since I understand sign language, I never know when hearing people need to rely on the captions for clarity and when they get the information audibly. DCMP took great pains to only voice the captions when they were unintelligible. The care that went into putting a slight delay in the voicing of the captions meant that blind people can grab the inflection of the subject before hearing the translation.
To say I was moved by the eloquence of both the descriptive choices and the talent of the VO actor is an understatement. As an artist, I was deeply touched by the amount of work, care, and skill that went into audio describing my film. I was doubly moved that blind people, including the two blind people who are in the documentary (singer/musician Raul Midon and Terry who interacts with my comic CJ Jones) can now access my film. As a filmmaker, our deepest desire is to have people–all people–have the opportunity to experience our work, and it broke my heart every time I learned that someone in one of my audiences experienced the film through the existing audio or through a companion whispering to them throughout the film. Now that I have a stellar audio description track, I am inspired to have a screening for a blind audience with the audio description playing in the theater so that they can simply enjoy the film without needing a headset. I would also like for hearing people to experience a film this way, to see how audio description works and why it is so important. And of course the deaf community can experience the film with the existing open captions right next to everyone else, and all have equal access to the film.
I cannot thank DCMP enough for the great job they are doing. I would love to produce a documentary someday on the importance, skill, and need for this work.
Hilari is an award-winning director/producer who was chosen by Steven Spielberg out of 12,000 filmmakers to appear his television show On The Lot, earning top praise from judges Garry Marshall, Carrie Fischer and Ron Avnet and receiving a first look deal at DreamWorks. Her multi-award winning feature See What I'm Saying: The Deaf Entertainers Documentary received Critics' Pick in The New York Times, distribution with Cinedigm and was broadcast on the Documentary Channel. The film screened in 179 cities throughout 21 countries, and was shown to employees at DreamWorks, Universal Studios and a special weekend event with Disney. Hilari produced the award-winning dramatic feature No Ordinary Hero with Academy Award winner Marlee Matlin that was distributed theatrically in over 70 cities through Tugg. Before producing her first feature, Hilari directed/produced 18 short films in comedy, documentary and drama that received festival awards and online distribution. Hilari has a theater background that includes being cast with the Tony Award winning National Theater of the Deaf. Her year touring on a bus with 17 deaf actors inspired her to create work with deaf actors, and ignited her passion to break down stereotypes in theater, film, and television. Hilari has produced shows on CBS, TLC, Court TV and the History Channel and is a board member of the Alliance of Women Directors. She was recently invited to be a panelist at the 2015 Sundance Art House Convergence about making films and movie theaters accessible to deaf and blind audiences. Hilari is currently in development on several television and film projects including her feature film Hank and Larry, a buddy road trip comedy that is headed into pre-production. www.HilariScarl.com
Please take a moment to rate this Learning Center resource by answering three short questions.