Founding Principles: American Governance in Theory and Action (Chapter 8--The Electoral Process)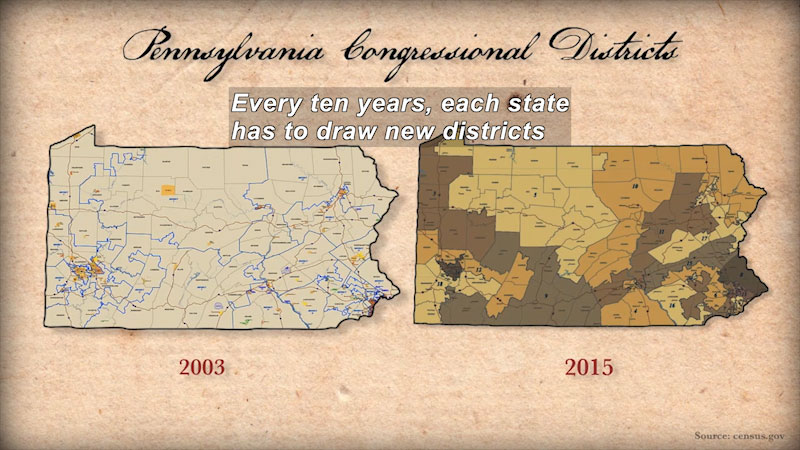 ♪
(Describer) Titles: Founding Principles - American Governance in Theory and Action. Chapter Eight: The Electoral Process.
(Describer) Walking past bookshelves...
Hi, I'm Andy Rudalevige, professor of government at Bowdoin College. Welcome to the Peucinian Room in beautiful Brunswick, Maine. It's time for another episode of Founding Principles. It's time for something else-- election season. It doesn't matter when you're watching this-- day or night, spring or fall, even year or odd-- it's always time for another election season to begin. We vote for governors, mayors, judges, tax collectors, state senators, county commissioners, city counselors, school committee members, the list goes on. We vote in primary elections. We vote in general elections, special elections, runoff elections. Plus, we not only vote for people, but things. We vote for ballot questions, tax rates, school budgets, bond issues, constitutional amendments, and city charters. So when people talk about the permanent campaign, it's just a fact. Let's think about how it works.
♪
(Describer) Against a parchment background, title: Chapter Eight - The Electoral Process.
All those elections are needed. We choose a lot of public officials. We vote for more than half a million-- mostly at the state and local level. The number of elected officials is about the same as the entire population of Atlanta or Kansas City or Tucson. Imagine an entire city of elected officials.
(Describer) A sign saying "Political Zombies Ahead".
No, that's too scary. To prevent nightmares, this episode will stick just to federal elections. That gets us down to a mere 537 people. Still... When the framers started talking about the legislative branch in the Federalist Papers, an order of business was to defend the size of the House of Representatives against those who thought it should be bigger. If it was only 65, it would be unresponsive and unfamiliar with the needs of constituents. James Madison pointed out the Articles of Confederation Congress had been smaller than the proposed House. Madison reminded his readers that... He figured the U.S. would grow rapidly, and the House would grow with it. He was right. It grew so fast that the size was frozen to its present size-- 435--after the 1910 census. Even so, Madison thought it was important to buttress the public trust, not just with good intentions but with electoral accountability. As he noted... Better yet, each group of elected officials would have different constituencies providing additional checks and balances. The House was to be the people's house with direct connections with the public, a short two-year term, and the largest electorate of any parts of government. Which means women could vote in U.S. House elections in a number of states before the 19th Amendment took effect nationally in 1920. It was easy to run for the House. Any American citizen over 25 could do so. The Constitution doesn't specifically mention congressional districts, but by the 1840s, the idea of giving each representative in a state a single geographically-defined district had pretty much taken hold. Making sure those districts had the same number of people came later, with the Supreme Court decisions in the 1960s guaranteeing the principle of one person, one vote. These days... Something that did come fast was the process of drawing district boundaries in creative ways-- sometimes to protect minority voting blocks, as under the Voting Rights Act, but often for less noble reasons. The U.S. census conducted every ten years tells us which states have gained population and which have lost it. Every ten years, each state has to draw new districts to reflect how the 435 seats in the House will be divvied up across and within states. This tracks long-term demographic shifts in the U.S.-- recently from the Northeast to the South and West. In the 1930s, for example, Florida only had five congressional districts. Now it has 27. Over the same period, California gained an amazing 33 seats, while New York and Pennsylvania together lost 34. It only took until 1812 or so for states to realize how much fun these changes could be. That year, Governor Elbridge Gerry of Massachusetts signed a law creating new districts that happened to help his party gain seats. One peeved critic looked at the map, drew claws and wings, and decided it looked like a salamander-- a flying salamander. More importantly, it was Governor Gerry's salamander-- a gerrymander. These days, gerrymander is not only a noun but a verb and adjective too. Lawmakers armed with state-of-the-art mapping software have produced imaginative gerrymandered shapes that put the good governor to shame. Consider the Mark of Zorro or maybe a praying mantis covering every corner of the great state of Maryland. Pennsylvania's seventh district has been described as Goofy kicking Donald Duck. Texas gives us the upside-down elephant. Ohio, another mistake by the lake. A district connected only by beachfront that's underwater at high tide. All this matters, because as you'll remember from our discussion of Congress in Episode 3, each representative only answers to his or her own constituency. No one else can boot them from office. Representative X loves babies, dogs, apple pie, and the national good. Her future depends on the needs and wants of the people in her district, especially those who actually vote. With short terms, plus the rise of primary elections, Candidate X and her colleagues are running for office nearly continuously. So Madison was right--the House is very responsive indeed. The Senate is a bit different. For one thing, senators have longer six-year terms. They weren't elected by direct popular vote for more than 120 years. Until the ratification of the 17th Amendment in 1913, they were chosen by state legislatures. The famous Lincoln-Douglas debates in the 1858 Illinois Senate race drew huge crowds. The voters in those crowds couldn't vote for Lincoln or Douglas-- only a state legislator who they hoped would vote for their preferred candidate. Another key difference is that Senate districts cover the whole state, and you can't redistrict a state. Senators' constituencies are almost always more diverse and less homogeneous than House members. Only one-third of the Senate comes up for reelection at a time. There are fewer races and more focus on each of them-- allowing for more media coverage and usually much stronger challengers. Senators can't control the information voters have to quite the same degree that House incumbents usually can. Compared to the House, there's less emphasis on constituent service and more on policy, given the Senate's role in foreign relations and on approving presidential nominations to the departments and the courts. The answer, of course, is 270. Nice work. But not just any 270 voters-- the 270 members of the Electoral College. That rather elite college has 538 members in all, and so 270 represents a majority--half, 269, plus 1. And it's the Electoral College that chooses the president. This is the key constitutional requirement for presidential elections. As with Congress, we once again see pretty minimal qualifications for candidates. They have to be 35 years old. Unlike Congress, they have to be natural-born citizens of the United States-- a phrase that causes a kerfuffle, but meant you were born in the U.S. or to at least one American citizen. There's nothing in the Constitution about presidential nominations, nothing about political parties, just that pesky Electoral College, which is one of the classic compromises embedded in that document. Some at the Constitutional Convention wanted the president to be chosen by popular vote. Others really hated that idea. George Mason of Virginia said he would rather let a blind man pick his clothes than the public pick his president. It wasn't that the public was stupid. It was people didn't have enough information to do a good job. Who did have information? Well, Congress. Letting legislators pick the president seemed to go against the separation of powers. So how about the states? You ran the risk of simply re-creating the states' dominated political world of the Articles of Confederation. The Electoral College system created in the Constitution has elements of everything. It gives electoral votes to each state based on the number of House members and senators. Since all states have two senators, this means that the Electoral College is not exactly proportional to population. Small states are somewhat overrepresented, and the numbers change every ten years. So after the 2010 census, Missouri had eight representatives, plus two senators. It gets ten electoral votes until after the 2020 census. Georgia gets 16. Illinois gets 20, and so on. All of that adds up to 535. Add the three electoral votes assigned to the District of Columbia in 1961 by the 23rd Amendment, and we've got 538. Divide that by half, add one, and we're back to 270. The key part of making the compromise work was each state got to decide how to choose. If you wanted the state legislature to decide, that could happen. If you liked popular elections, that could happen. Since the mid-19th century, every state has used that method. Forty-eight states now award their electoral votes to the candidate who wins the popular vote. The other two--Nebraska and the great state of Maine-- award their votes to the candidate who wins each congressional district. Those aren't the only possibilities. States could make Electoral College seats available as a lottery prize. The ability of the state legislature to make rules was affirmed as recently as 2000 in the Supreme Court's Bush versus Gore decision. The justices made clear even after the election, Florida could set aside the results and pick electors directly. It didn't come to that, but the controversial 2000 election did remind us the Electoral College does not have to reflect the national popular vote. Al Gore received a half million more votes nationwide than did George W. Bush. But Bush won 271 electoral votes, and therefore he became president. The Electoral College then is not purely democratic, with a small d. It's republican, with a small r. People want to scrap the system and have the national popular vote determine the winner. Even without that, the presidential election system has become much more democratic over time. The electors were supposed to be an elite body of independent educated men providing an informed judgment free of what Alexander Hamilton called the little arts of popularity. That didn't last very long. A party system developed quickly to coordinate the votes of Electoral College members to avoid sending the election to the House of Representatives, which gets to make the choice if there is no majority winner. That hasn't happened since 1824. Instead of members of the Electoral College coming up with nominees for president, the political parties have figured how to do that job. How they've done so has changed over time-- reflecting an increasingly open system of participation. To start with, party members were clustered in Congress, and so the different party caucuses would meet there and decide on their nominee. As suffrage expanded, this was replaced by much wider party participation in the states, which then came together in national conventions that chose the nominee-- sometimes led by party bosses in those proverbial smoke-filled rooms. By the early 20th century, the progressive movement had managed to establish a system in which delegates to the national convention were chosen by primary elections, even while others were still controlled by party elites. And then after the disastrous Democratic National Convention in 1968, the system became more small d democratic still, with primary elections becoming the key way for presidential candidates to win support and ultimately their party's nomination. This means instead of a handful of congressmen meeting in a closed caucus, any voter could help choose who the presidential nominees will be. It also means the parties have less direct control over the system than they used to, and it takes a lot longer. The front-loaded nomination process stretches back for more than a year before the presidential election. By the summer of 2015, for instance, there were already 17 Republican candidates and 4 Democrats wandering around New Hampshire parades and Iowa farms. They were searching for thousands of votes and millions of dollars that would get them through the gauntlet of more than 35 elections comprising the 2016 primary season. Only then would the 2016 presidential election itself actually start. A permanent campaign indeed.
(Describer) Back by the bookshelves...
We have a sense of how American national elections are structured. We need to fit voters into the equation. What factors help us understand how people vote? Who shows up to vote in the first place? Find out next time on Founding Principles. Accessibility provided by the U.S. Department of Education.
(Describer) Titles: Written and Preformed by Andrew Rudalevige, Thomas Brackett Reed Professor of Government, Bowdoin College. Editorial and Production Assistance by Abigail McBride and Scott Schaiberger. Special Thanks to Clayton Rose, President, Bowdoin College. Special Thanks to Barry Mills, President Emeritus, Bowdoin College. A logo depicts a lower-case letter E in a purple shield with 1880 just above it. Beside it, title: produced by Emerson Productions. Bowdoin. Accessibility provided by the US Department of Education.
♪
Now Playing As: Captioned (English) (change)
In this episode, Dr. Andrew Rudalevige explains the electoral process and analyzes how senators, representatives, and the president of the United States are elected. Part of the "Founding Principles: American Governance in Theory and Action" series.
Media Details
Runtime: 16 minutes