Founding Principles: American Governance in Theory and Action (Chapter 12--Policy Implementation)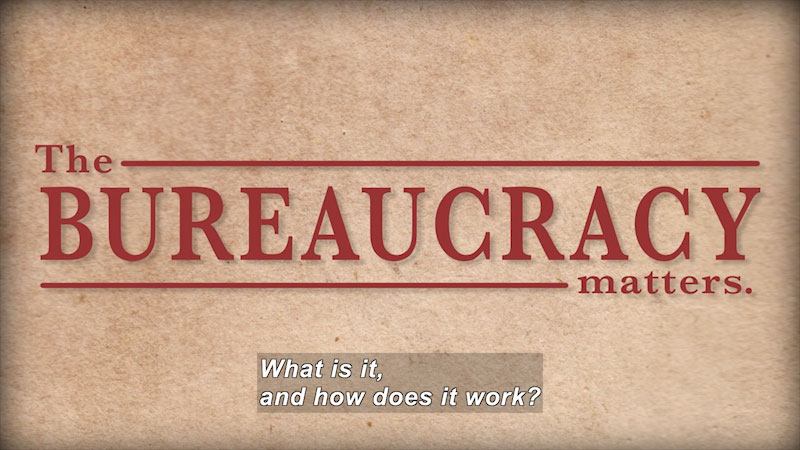 ♪
(Describer) Titles: Founding Principles - American Governance in Theory and Action. Chapter Twelve: Policy Implementation. Outside...
Hi, I'm Andy Rudalevige-- Professor of Government here at Bowdoin College. Welcome back to beautiful Brunswick, Maine and to Founding Principles. Back in 1798, Alexander Hamilton observed, with some alarm, that policy implementation is a pretty iffy business. "How widely different the business of government is from the speculation of it," he said. "How different is the energy of the imagination "from the execution and detail. "Those differences," he said, "cause delay and feebleness." Feeble is one of the nicer words you might hear if you're having a conversation about government bureaucracy. Execution in detail is still one of the most important things we ask government to do. Many of government's tasks are difficult, almost by definition. As Woodrow Wilson said, "It is harder to run a constitution than to frame one." Let's see why.
♪
(Describer) Against a parchment background, title: Chapter Twelve - Policy Implementation.
We talked about how a bill becomes a law. Much of what government does happens after a bill becomes a law. Think back to the beginning of a regular workday. The government was present for more of it than you think. Let's take average citizen Bill. Bill woke up when the alarm went off on a device regulated by the Federal Trade Commission and charged by electricity regulated by state and local utility commissions-- or in some parts of the country provided directly, perhaps by the Tennessee Valley Authority. His mattress was approved by the Consumer Product Safety Commission. Don't cut off that tag. His breakfast cereal and milk was checked by the Food and Drug Administration. So was the aspirin for the headache caused by his stay in a bar, drinking whiskey that was purchased from the state, and whose availability, in any case, was regulated by statute-- all in a venue itself highly regulated by local ordinances and licensing boards. Bill's coffee entered the United States through a port monitored by U.S. Customs and Border Protection. Now Bill's on the bus or subway operated by the Metropolitan Transit Authority; maybe a car regulated by the National Highway Traffic Safety Administration; purchased from an automaker bailed out by the federal government; using a road built and maintained by federal, state, and local government transportation departments; on a toll road; at a speed mandated by the strings attached to federal highway safety grants; listening to a radio station regulated by the Federal Communications Commission; before 9 a.m.; and arrival at an office, where Bill's work conditions are regulated by the Occupational Safety and Health Administration, the Department of Labor; and his work, possibly overseen by agencies like the Securities and Exchange Commission or the Consumer Financial Protection Bureau. So the bureaucracy matters. What is it, and how does it work? First question, even though we use the term bureaucrat pretty much as a curse word, it means someone who works in a bureau. A bureaucracy is any organization in which managerial authority is divided among several officials. It's a description of how public administration can be conducted. It's not the only way, but it's common. When the great sociologist Max Weber studied the topic in the early 1900s, he was pretty optimistic about bureaucracy. It worked on legal and rational lines-- not like feudal or patronage operations that were about who you were or who you knew rather than about objective and efficient management. Bureaucracy was supposed to be based on a consistent set of rules applied the same to everyone. A division of labor that ensured qualified people were on the job and buffered against political fluctuations. Now that's not the original setup. Originally the U.S. government was relatively limited. In 1789, federal employment totaled a whopping 800 people. There needed to be an army, post office, and courts, plus a land bureau to divvy up the westward expansion. Government activity took place at the state and local level. There was little in the way of social policy. During the Civil War, you needed to move thousands of troops and tons of supplies, food, and ammunition all over the country. Inefficiency-- and there was plenty of it-- literally cost lives. This gave people, like Quartermaster General Montgomery Meigs, opportunities to show... Meigs made the trains and horses run on time-- allowing the Union's industrial power to make a difference on the front lines. A recognizable administrative state soon began to take form. Not least, the forerunner of the Internal Revenue Service was created in 1862. The post-Civil War era kicked off a century of bureaucratic growth with early regulation of commerce and agriculture and also the passage of the Pendleton Act of 1883-- creating a merit-based civil service. James Garfield had been elected President in 1880, promising to push this reform. Almost all government jobs were handed out not on the basis of qualifications but on the quality of partisan connections. This was called the spoils system. "To the victor," one leader said, "go the spoils." You helped your party win the election. Your party boss got you a position. You were expected to contribute part of your pay to the party coffers. At the New York Custom House in the 1850s was a written schedule of assessments. Those who measured goods on the docks paid $25 a year-- more than 700 of today's dollars. Night watchmen had to chip in $750. It wasn't optional. As a party fundraising letter around that time noted... Anyway, back to James Garfield, who served as President for only 200 days before being assassinated in July 1881 by a man generally described as a disappointed office-seeker. Garfield's death gave Senator George Pendleton of Ohio an excellent, if somewhat crass, opportunity to push forward his legislation limiting party patronage. The ultimate result created a Civil Service Commission and required those seeking government jobs to take a test to prove they were qualified. It prevented federal workers from being fired for political reasons and from contributing to or working on political campaigns. With some tweaks, such as the 1978 Civil Service Reform Act-- good to know if you want to be ignored at parties-- this system remains in place today. It applies to more people now than it did then. In 1900, there were about 200,000 civilian federal employees; in 1920, more like half a million; and in 1940, more like a million. These days, depending on how you count, there are about 2.6 million. Over time, driven by public demands and entrepreneurial elected officials, the government began to regulate many more aspects of business, the workforce, and the relationship between the two. It began to test the safety of food, drugs, and consumer products. During the World Wars, it imposed rigorous economic mandates, including rationing and wage and price controls. During the 1960s and '70s, it expanded into questions of health care and environmental quality. It even waged a war on poverty. From 4 original cabinet offices, there are now 15-- not to mention an alphabet soup of more than 60 independent regulatory agencies, like the FTC and SEC, plus 25 or so government corporations, like the FDIC. Tracking the creation of these entities gives a good sense of the changing scope and expectations of the U.S. government. From the core functions of diplomacy, warfare, cash flow, and criminal justice, we can see the physical expansion of the U.S. and also its agricultural and industrial expansion. Then after the Second World War comes social policies dealing with... and infrastructure issues, like... Most recently, of course, the 2003 creation of the Department of Homeland Security was designed to provide an organizational framework that could coordinate the domestic issues linked to a newly insecure world. Put another way... Let's circle back to that Woodrow Wilson quote. Wilson argued in the late 19th century that politics and administration should be separate. Elected officials would set the direction of policy, and administrators would put those policies into action in a neutral, professional way. But politics are everywhere in administration, partly because every political actor has something legitimate to say about the ways bureaucracies work. We could start with the bureaucracy itself. Each agency has constituencies and interest groups that care very much about what that agency does. Congress writes statutes that gives each bureau duties to find in law and gives power to use their substantive expertise to write regulations specifying how that law will work. The way a statute is crafted will have implications for how and if it could work. Many good ideas are undermined by bad design. Congress not only structures the agencies and gives them powers, it decides how much money they spend and on what. It conducts oversight hearings that check up on agency behavior. Those sometimes look like police patrols, where congressional committees cruise around the bureaucracy looking for trouble. Other times, the better analogy is to fire alarms. Someone encounters something bad, pulls the alarm, and members of Congress rush to put out the bureaucratic fire. Well what about the President? After all, the President is the chief executive with responsibility for taking care that the laws be faithfully executed. This starts by making political appointments that still constitute top levels of each department in order to oversee its more numerous career civil servants. Presidents would like the hierarchy to be clean and rational and obvious, like this. But in fact, they find it more like this.
(Describer) ...with many more pieces.
They've invested a lot of resources in building up management capacities, using the office management and budget to influence what the wider executive branch is up to. Central clearance gives the White House a chance to review proposed legislation, testimony, and regulations. Presidents often use executive orders and other directives to shape how laws are implemented, usually to make sure they're interpreted in the way the President prefers. These directives can be controversial. They often wind up in court, so the judiciary enters the picture as well. This is especially true on regulatory matters. Judges interpret the Constitution, of course, but as we saw back in Episode 5, they also interpret laws and make sure that departments and agencies are implementing those laws in reasonable ways. Sometimes this is about process-- the way a regulation was formulated. But usually, it's about substance too and whether the executive branch is doing things that the law allows. To see this in action, let's turn to a recent and ongoing example stemming from the 2007 Supreme Court case-- Massachusetts v. EPA. The question was whether the Environmental Protection Agency could regulate automotive tailpipe emissions as a pollutant under the Clean Air Act passed by Congress. The EPA under President George W. Bush said no, but others said that tailpipe emissions could, to quote the law... Massachusetts and other states argued that climate change-- partially caused by greenhouse gas emissions-- was endangering just that. A divided court agreed. EPA had to at least look at the question. It rejected taking action for arbitrary and capricious reasons and has refused to comply with a clear statutory command. "Presidential authority," the court intoned... The EPA went back to study the question and decided these emissions were harmful pollutants. When it told the White House, the Bush Administration told the agency to check its math and refused to accept the report. The agency decided to go back to the drawing board-- delaying the issuance until 2009. By then, there was a new president. The Obama White House, unlike its predecessor, was eager to embrace the Supreme Court decision and EPA's new rules. Over several years, aggressive readings of the Clean Air Act wound up as regulations. Some went back to the Supreme Court. They were attacked by groups who thought they were aggressive and misreading the law. Congress held investigative hearings. Many of the EPA's new rules wound up being accepted. Other cases, the court said the agency had gone too far. At every stage, every branch of government had the chance to weigh in. It's a messy process, and we like to complain about bureaucrats and bureaucracy. Spare a thought for the tasks they face. We argue they're inefficient and waste our money, but easy jobs don't get turned over to the government in the first place. Further, unlike a private company, government agencies don't have a simple performance metric, like monetary profit or loss. And finally, and crucially, one person's red tape is another person's vital protection-- helping to fight against corruption, guarantee transparency, and make sure everyone is treated equally. Public sector management can surely be done better. The executive branch will never look like the Fortune 500. Running government like a business sounds great as a campaign promise, but given our separated system and its administrative tasks, it's a promise that can never be kept.
(Describer) Back outside...
From here, we move to another fundamental aspect of policymaking. One distinctive feature of American politics is how it is defined by rights and liberties of individual citizens. How do we define those? First, the Bill of Rights-- also more than 200 years of arguments about what rights mean in practice. See you there. Accessibility provided by the U.S. Department of Education.
(Describer) Titles: Written and Preformed by Andrew Rudalevige, Thomas Brackett Reed Professor of Government, Bowdoin College. Editorial and Production Assistance by Abigail McBride and Scott Schaiberger. Special Thanks to Clayton Rose, President, Bowdoin College. Special Thanks to Barry Mills, President Emeritus, Bowdoin College. A logo depicts a lower-case letter E in a purple shield with 1880 just above it. Beside it, title: produced by Emerson Productions. Bowdoin. Accessibility provided by the US Department of Education.
♪
Now Playing As: Captioned (English) (change)
In this episode, Dr. Andrew Rudalevige discusses how government policy is implemented and how government agencies are involved in many aspects of daily life. Through a study of foundational documents like the Constitution and the Supreme Court case Massachusetts v. EPA, students learn about the complex world of bureaucracy and the role of each branch of government in overseeing government agencies. This episode includes a summary of the spoils system, civil service, regulations, statutes, congressional oversight committees, executive orders, and judicial review. Part of the "Founding Principles: American Governance in Theory and Action" series.
Media Details
Runtime: 16 minutes