Listening is Learning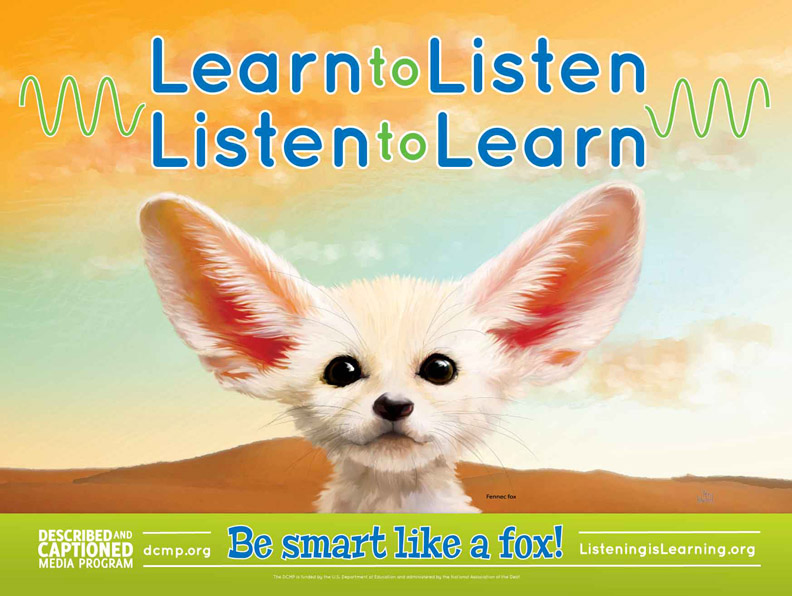 Listening is Learning ("LIL" for short) is a year-round effort to raise awareness about the need for quality description—primarily description of video-based educational media—and to develop resources and new applications for description in the educational environment.
To help support participants, DCMP offers these free resources:
Free posters and brochures
Order our free LIL posters, brochure, certificate and lesson guide for your classroom, library, or office (and make sure to ask for extras to hand out to friends and colleagues as well)!
Lesson Guide
Our educational experts have put together a lesson guide with tips on how to use described media in the classroom to teach listening skills for improving comprehension and writing skills.
Benefits of Audio Description in Education (BADIE) Contest
Teachers and parents: Encourage your students to get involved with Listening is Learning directly with this fun and challenging contest in which participants watch educational videos with description soundtracks and then provide a review of their experience. Prizes will be awarded by the American Council of the Blind and the Described and Captioned Media Program.
Who is LIL For?
The short answer is simple: Anyone who has an interest in helping students and other consumers to get more out of the growing amount of video-based media consumed in the modern classroom and elsewhere! To be a bit more specific, LIL's target audience includes:
Teachers and School Personnel
We've lumped quite a few categories of professionals together under this banner, including general and special education teachers, administrators, curriculum development specialists, librarians, guidance counselors, and any combination thereof. LIL can help these folks to:
Identify sources of quality described media available for use with students who have visual impairments.
Generate discussion and ideas about how they can utilize described media to improve their students' listening and speaking skills.
Make inaccessible—but otherwise enriching—media or materials more accessible, interesting, and useful to students with visual impairments and others who are not primarily visual learners through use of description guidelines.
Parents, Family Members, and Other Caregivers
These folks have a keen understanding of the difficulties encountered by kids with visual impairments, particularly when it comes to accessing socio-cultural information from video-based media. Often, these folks have to close the gap created by inaccessible programming, so LIL can help them by:
Learn about the importance of accessible classroom (and entertainment) media to their child(ren)'s social, educational, and cultural development and how to advocate for improved access to these materials.
Learn how utilizing described TV programming can lead to a healthier viewing experience and improve appreciation, analytical skills, and attentiveness.
Encourage widespread awareness (staring with siblings and other family members) about how description can help to overcome the barrier to accessing visual media.
Media Producers and Describers
From the teams that develop compelling educational or entertaining video-based content to the professionals who make it accessible, LIL can help:
Demonstrate that description is vital to consumers who are blind or visually impaired and offers additional entertainment and informational value for those who aren't.
Lead to a greater awareness of how Universal Design-influenced production techniques (especially in educational media) can contribute to a more immersive and accessible experience for consumer.
Channel viewer demand for more (and better) described media available for consumption. Since culture is a social pursuit, the addition of description to more media will likely lead to more profitability and "opting in" by friends and family members of consumers with visual impairments.
Tags: description, parents, educators
Please take a moment to rate this Learning Center resource by answering three short questions.