Description + Captioning = Access
By Bill Stark
The Need
In an address on March 15, 2011, the U.S. Department of Education (ED) Secretary Duncan stated: "In order to win the future, as President Obama has challenged us, we must enable every single American to reach their potential, and in my book, all means all. Every child, regardless of income, race, background, or disability can learn and must learn."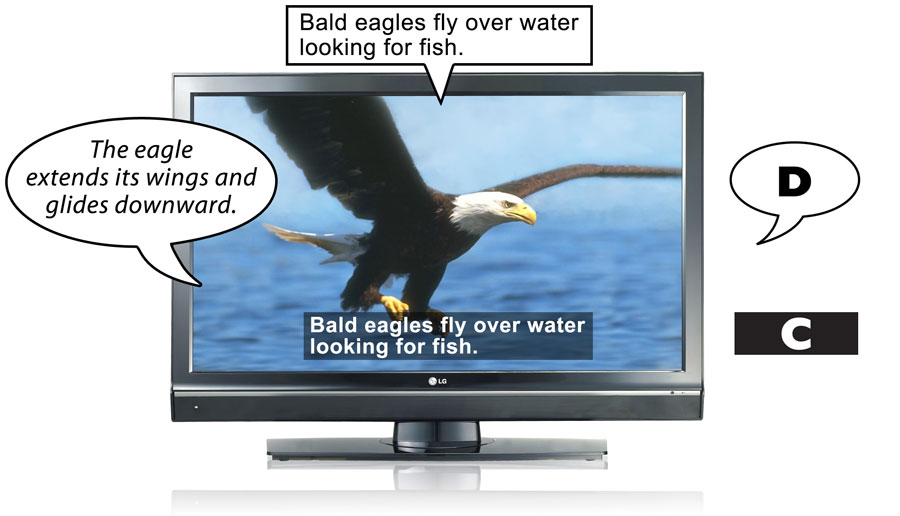 Students with sensory disabilities are often not enabled to achieve their potential. A major contributing factor is the lack of equal access to multimedia and other technologies that are an integral part of instructional practice. Only about 25% of educational videos/DVDs and 1% of Internet content is captioned for students who are deaf or hard-of-hearing, and less than that is described for students who are blind or visually impaired.
As indicated by questions continually fielded at the DCMP, the majority of people are uninformed as to laws and regulations concerning captioning and description, the process of selecting a provider of these services, the steps necessary to perform captioning/description themselves, and the costs of providing these services. Most people lack a comprehensive and trusted source for answers to questions about description and captioning.
Definitions
Captioning is the conversion of the audio content of a television broadcast, webcast, film, video, CD-ROM, DVD, live event, or other media productions into text and displaying the text on a screen or monitor. Captions are not limited to the display of spoken dialogue or narration in textual format, but also include speaker identification, sound effects, and music description. Less than 25% of educational media is captioned.
Description is the verbal depiction of key visual elements in a television program, video, DVD, or other multimedia presentation. Inserted into natural pauses in the program's soundtrack, description provides information about visual elements that otherwise would remain inaccessible to someone who is blind or visually impaired.
Equal Access
The DCMP ensures that early learners through grade 12+ students who are blind, visually impaired, deaf-blind, deaf, and hard-of-hearing will benefit from the same educational media used to enrich the educational experiences of other students. As a primary activity to meet this goal, educational media is selected, captioned and descriibed (English and Spanish), and then distributed in DVD format and streaming video. A fully accessible website providing registration and media scheduling supports this activity.
In addition, the DCMP-developed educational captioning and description guidelines for both captioning and description have been used by providers, government agencies, businesses, school technical departments, teachers, parents, students, and others. The DCMP's purpose has primarily been to present recommended technique and style guidelines, though gradually this information has also been supplemented by delineation of technical considerations.
These guidelines are made available through an informational clearinghouse of printed and online resources, which also include databases of accessible media available for purchase, an online catalog of DCMP free-loan media, research reports documenting the benefits of accessible media, articles providing training in media utilization, and a gateway to accessibility information from the websites of consumer, professional, and advocacy groups. This information is for service to consumers, agencies, businesses, and schools.
To learn more about the DCMP and how you can take advantage of all the media, information, and services the program offers, please visit dcmp.org. You can also call the DCMP toll-free at 1-800-237-6213 or email at info@dcmp.org to request more information.
Tags: dcmp, captioning, description, educators
Please take a moment to rate this Learning Center resource by answering three short questions.