Educational Media Producer and Accessibility Survey Results
In June 2008 a survey was conducted of the top 35 educational media producers/distributors in the United States. Each company was asked about its products and whether they were accessible, either via captioning or description (or if both were available), whether they were familiar with either accessibility option, and how many of their customers requested either or both on the media items they intended to purchase.
They were specifically asked how many titles they had available for purchase and whether each was captioned or described. The results are as follows: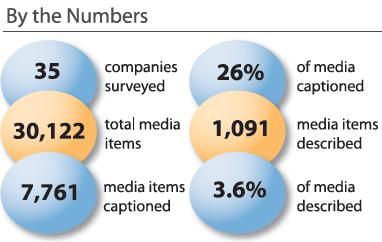 Captioning
While everyone seems to think that because captioning is fairly ubiquitous on television, the same would hold true for educational media, but the numbers say otherwise. One of the most interesting finds was that slightly more than 25% of educational media is captioned by media producers/distributors.
Requests for Captioning
Companies were also asked how many people either request captioned media for purchase or how many indicate an interest in a producer's captioned productions. The answers ranged from 0–100% of clients requesting such information, with the average around an even 50%.
Description
It may not be surprising that less than 5% of educational media is described by media producers/distributors, since description is a relatively new accessibility option that is just now gaining the attention it deserves. However, out of the 35 companies surveyed, 26 knew what description was, but only 8 offered described media.
Requests for Description
Companies explained that very few, if any, customers requested described media or information about description. Because there is no federal mandate to use description in the classroom, and since very few people, including teachers, are requesting it, very few companies offer this accessibility option on their media.
Conclusion
There is still a need for accessible media that is not being met. In the past ten years, DCMP research confirms that only 8–10% more media is captioned today than a decade ago, with 3% more being described.
In the absence of new legislation, the burden of advocacy falls on you, the consumer, to demand accessibility regarding all the media productions you purchase. The next time you want to see a film, order a movie, or pop in a DVD, try to get in touch with the producer and request captions and description if they aren't available on the media. Talk to teachers, parents, producers, and others about the necessity of equal access and how description and captioning can help us achieve the ideal goal of 100% accessibility. The numbers don't add up yet, but they can with your effort.
Tags: research, captioning, description, educators
Please take a moment to rate this Learning Center resource by answering three short questions.