Famous Deaf Americans - Part II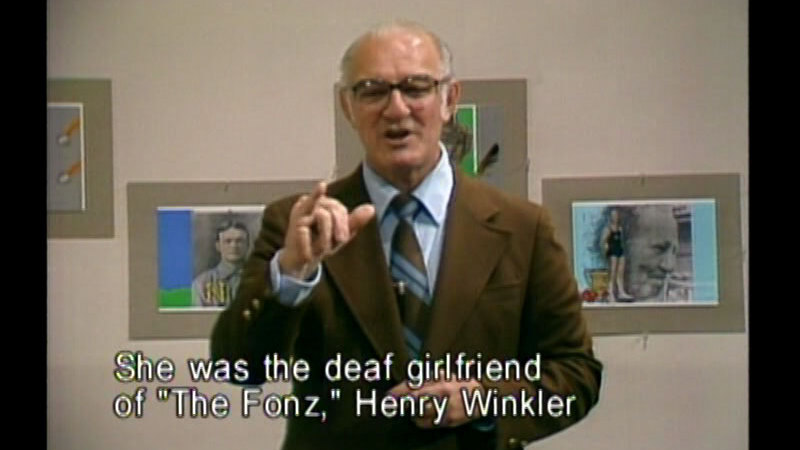 [MUSIC PLAYING]
(Describer) Title: Famous Deaf Americans – A Videotaped Program in Two Parts.
(Describer) Standing between a desk and a couch, a man signs as he talks.
Welcome to Part Two of Famous Deaf Americans. I'm Robert Panara, professor of English and Drama at National Technical Institute for the Deaf at Rochester Institute of Technology in Rochester, New York. The deaf American has come a long way since the year 1817, when the first school for the deaf was established in Hartford, Connecticut. He has overcome the handicap of deafness and earned his rightful place in the sun. And while doing that, we have really proved our value. We have overcome the handicap of deafness and contributed to the cultural growth of America. This program focuses on the life stories of several deaf Americans.
[MUSIC PLAYING]
(Describer) Title: Frances Woods. Born 1907. In a photo, a woman smiles with sparkles added to her hair as she poses with a man. Shoes are drawn nearby.
When Robert Ripley, the famous cartoonist, first saw the dance team of Frances Woods and Billy Bray, he was so impressed that he called them quote, "The Wonder Dancers." Truly they were a wonder because the woman who danced with such grace and beauty was Frances Woods-- totally deaf. Frances Woods, whose real name is Esther Thomas, was born in Ohio. She was born a premature baby-- 1 and 1/2 pounds-- and born with without eardrums. She went to the Ohio School for the Deaf, where she played basketball. She met one summer a hearing man named Anthony Caliguire, who was a good dancer and looked like Rudolph Valentino. The two met on a dance floor and fell in love. Thereafter, Anthony taught Frances to dance by teaching her to follow 4/4 time for rhythm or 3/4 time to the rhythm. And she became a marvelous dancer. The two married in 1926 and began to dance professionally. At first, it was difficult because of the Great Depression, but the two persevered and went on with the show. In 1933, they got their first break. They danced for RKO Productions on the stage in different theater houses. They danced the French Apache and the Adagio dance. They became very successful. Then they started to add and add dances to their repertoire. They would dance different dances according to popularity of the times-- the fox trot, the waltz, the rumba, the samba, different things like that. Frances Woods made all her own costumes. Often, she would sew sequins-- like 26,000 sequins-- on her dress one at a time. During the 1930s, 1940s, and 1950s, the two danced to all the great big bands. For example, they danced with Ted Weems, Wayne King, Cab Calloway, Eddie Duchin, and Paul Whitman. And when Lawrence Welk opened for his first professional engagement in Chicago, the two Wonder Dancers danced for his band. More than that, they taught Lawrence Welk to become the fine dancer that he is. Ripley was right when he called them quote, "The Wonder Dancers." Today, after 55 years of marriage, the two are still dancing together.
[MUSIC PLAYING]
(Describer) Title: Rhulin Thomas. Born 1920. In a photo with color added, a man stands in front of a small airplane. A medal is shown beside him.
Rhulin Thomas made aviation history when he flew from east to west in 1947. His feat was more difficult than what Lindbergh did many years before when Lindbergh flew from California to New York. Why? Because Rhulin Thomas was deaf and couldn't use a radio. Rhulin Thomas was born in Missouri, deaf from birth. He went to the Missouri School for the Deaf. When he graduated, he went to Washington, D.C., and became a printer, working for The Washington Post newspaper. During his free time, he took lessons in flying until he earned his pilot's license. He saved his money, bought his own plane, and decided to go from east to west. He had a good reason to do that. First, he wanted the first deaf person to do that alone. Second, he wanted to meet two hearing friends who had taught him to fly. Those two men, named Cliff Evans and George Truman, had already flown around the world in small Piper Cubs, the first two men to do that. So Rhulin Thomas wanted to meet them when they arrived in California. In October 1947, Rhulin took off from Rehoboth Beach, Delaware, in a small Piper Cub. He stopped for gas, stopped for gas, and three days later, he arrived in Los Angeles, California, and met his two friends. In honor of his wonderful achievement, Rhulin Thomas received a gold medal from the White House in Washington, D.C. in September 1948. On that medal, it said, Rhulin Thomas-- first deaf to fly solo from east to west.
[MUSIC PLAYING]
(Describer) Title: Doctor Donald Ballentyne Junior. Born 1922. In a photo with color added, a man in a suit wears glasses and a headband with a small round mirror on the front. He stands at a podium with a microphone.
In 1979, New York City newspapers published an article about an accident that happened in a subway station. A young woman had her hand sliced off when she was pushed onto the train tracks. Quick work by a team of ambulance medics-- the woman was brought to the hospital, and her hand was reattached again through the method of mircosurgery. Microsurgery is a new kind of operation used by a team of specially trained doctors who use powerful microscopes while operating. It was a remarkable operation, but more remarkable is the fact that the person who taught that group of surgeons was a deaf man named Dr. Donald Ballantyne, Jr., Director of the Micorsurgery Training Unit in NYU Medical Center in New York City. Dr. Ballantyne was born deaf in faraway China. He went to different schools in China and in France and Germany. Later on, he went to a prep school in Connecticut, then went to Princeton University and graduated with a degree in chemistry. Then he went to Washington, D.C. to Catholic University, where he got an MS In chemistry and PhD in biology. After several years of work in different places in the field of parasitology, Dr. Ballantyne got work in NYU Medical Center as a research associate in the field of experimental surgery. He had different pioneering methods of skin and organ transplants using many, many laboratory rats, and he is credited with finding new methods of transplanting human kidneys. Dr. Ballantyne has written 75 different articles printed in medical journals all over the world. He has taught in different universities, hospitals, research centers, and he is known as an expert in that field. He has also written a book on that topic, microsurgery.
(Describer) Quotes.
[MUSIC PLAYING]
(Describer) Title: Lowell Myers. Born 1930. In a photo with color added, a man in a suit leans against a wall as another man stands by cell bars in the background. By Panara, two books sit on the desk: The Law and the Deaf and Dummy.
In 1979, CBS TV presented a dramatization of a true story that happened in 1965. It was about a young black deaf-mute named Donald Lang, who was accused of murder, and also was about the efforts of a young deaf lawyer named Lowell Myers, who was trying to defend that black deaf-mute. Donald Lang, the black deaf-mute, was a very difficult case. He couldn't speak. He couldn't read. He couldn't read lips. He didn't know sign language. He couldn't write. He couldn't communicate. Chicago courts were faced with a very difficult problem-- how could Donald Lang defend himself if he couldn't communicate? They got a young deaf lawyer, Lowell Myers, to defend him. And through Myers's help, he succeeded in the courtroom to prove that Lang was not guilty, and he freed him. Unfortunately, six months later, Lang was accused of another murder. That story, which was called "the most unusual law case in American law history," was later published in a book called Dummy, written by Ernest Tidyman. Later, it was made into a major TV movie. Lowell Myers himself was a remarkable person. He became deaf when he was 12 years old. He graduated from high school, and then he went to John Marshall University. He wanted to major in law. In between, he got his BS and MS degrees from Chicago University in business. He wanted to major in law later on. John Marshall University thought it was difficult for a deaf person to become a lawyer, but he succeeded. He graduated second in his class, graduating with honors. Lowell Myers has also written a book called Law and the Deaf. He has fought to provide interpreters for deaf persons any time they face courtroom trial. In many ways, he has fought for equal rights for the deaf, and he is still fighting for equal rights. He has become a role model for future deaf lawyers.
[MUSIC PLAYING]
(Describer) Title: Phyllis Frelich. Born 1943. In a photo wth color added, a woman with short wavy hair smiles. Panara reads a Playbill theatre program for Children of a Lesser God as he sits on the couch.
(Describer) He closes it and puts it aside.
Phyllis Frelich made theater history in 1980 when she won the Tony Award for Best Actress in a Play. That was the first time a deaf person ever won that Tony Award. It was Broadway's highest honor. Phyllis Frelich was born in North Dakota. She was the oldest of nine children, all born deaf. Her parents were also deaf. Like her father, she went to the North Dakota School for the Deaf. She graduated, went to Gallaudet College in Washington, D.C. and participated in many plays. When she graduated, she was asked to join the National Theater of the Deaf as a founding member. And while she was with the National Theater of the Deaf, she met a hearing man named Bob Steinberg, who had just graduated from the University of Rochester. The two fell in love-- a hearing man and a deaf woman. Together, they toured the US with the National Theater of the Deaf. Phyllis acted in plays, and Bob was the stage manager. They married one year later, and Phyllis tried to combine two careers as mother and as actress. Two children were born to the two, and she continued to act from time to time in plays during the next 10 years. Her big breakthrough happened in 1979 when she met the playwright Mark Medoff, who was interested in writing a play about problems of deaf persons in a hearing world. With Phyllis and her husband Bob as models, the writer began to ask the two to improvise scenes based on their experiences as deaf woman and hearing husband. The two improvised things. Gradually, the play developed. It opened on Broadway in March 1980 and became a big hit. It won three Tony Awards. Phyllis won the award for Best Actress-- the first deaf person to win that. John Rubenstein, a Hollywood actor who acted the role of the hearing man in that play, won the award for the Best Actor. And the writer, Mark Medoff, won the award for the Best Play of the Year.
[MUSIC PLAYING]
(Describer) Title: Linda Bove. Born 1945. In a photo with color added, a woman with long dark hair smiles as she snuggles with Big Bird from Sesame Street.
Linda Bove was born in New Jersey. She was born deaf, and her parents were also deaf. She went to the New Jersey School for the Deaf, graduated, then went to Gallaudet College, where she majored in library science. She also participated in many plays. After graduation, she was invited to join the National Theater of the Deaf as a founding member. With the NTD, she traveled all over the United States and Europe. She also helped found the Little Theater of the Deaf and acted in many plays and directed other plays. Possessing brains, beauty, and a natural talent for acting, Linda Bove today has become one of our brightest stars on TV. She was the first deaf person to have a role in CBS TV's longest-running soap opera, Search for Tomorrow. She was the deaf girlfriend of Fonz-- Henry Winkler-- in that popular ABC TV show Happy Days. With Marlo Thomas, she shared the award called the AMITA-- Italian-American award-- for Outstanding Work on Television in 1974. Ever since 1972, Linda has been a permanent member of that popular children's TV program Sesame Street. Her pretty face is often shown in the children's magazine Sesame Street, where she makes words in sign language.
(Describer) He looks down at a copy of the magazine nearby.
By communicating with hands that talk, Linda Bove is showing how deaf persons can help develop deaf awareness and at the same time, contribute to the world of television.
[MUSIC PLAYING]
(Describer) Title: Kitty O'Neil. Born 1949. In a photo with color added, a smiling woman wears a gold headband with a star and a necklace of Superman's crest.
Kitty O'Neil has been called "Hollywood's most amazing stunt woman." Danger is nothing new to Kitty O'Neil. When she was three months old, she almost died from measles. That left her totally deaf. She grew up on an Indian reservation. Nobody knew how to communicate with the deaf or teach the deaf. Her mother, a full-blooded Indian, decided to do something about that. Her mother went to the University of Texas to learn how to educate the deaf. She got a degree and taught Kitty to lipread and speak. In 1970, Kitty met a stunt man named Duffy Hambleton, who taught Kitty all the tricks connected with stunts. Six years later, in 1976, she joined an organization called Stunts Unlimited. Thereafter, she became a stand-in for women in movies who go through awful danger. She jumps off horses. She jumps off speed boats. She runs through fire. She was a stand-in for the Bionic Woman. She is often a stand-in for Wonder Woman, like jumping from 12 floors. Kitty O'Neil made history in 1976 when she broke the world record for speed for a woman. She drove a rocket-powered car, "The Motivator," while she was strapped flat on her back-- vroom-- to a world record off 513 miles per hour. That beat the former old women's record by 200 miles per hour. 513 miles per hour-- that record is in The Guinness Book of World Records.
[MUSIC PLAYING]
(Describer) Title: Lou Ferrigno. Born 1951. In a photo with color added, a curly-haired muscular man smiles as he helps a child curl his bicep muscle.
In 1981, Lou Ferrigno was chosen national chairman of Better Speech and Hearing Month. A few months later, he gave a speech to 3,000 bodybuilding followers. That was a big change from when Lou was a small boy, a shy and skinny 90-pound weakling. Lou Ferrigno was born in Brooklyn, New York. When he was three years old, he got an ear infection and lost 75% of his hearing. He became afraid to talk, and his friends in tough Brooklyn called him "Deaf Louie." When he was 16 old, he decided to take up bodybuilding. His mother thought he was crazy, but he continued. When he was 19, he participated in the Mr. New Jersey bodybuilding contest and finished in 22nd place. But Lou persisted. Later on, he won the Mr. Teenage America bodybuilding contest. And later, he won the Mr. Universe contest--
(Describer) He poses, tightening his chest muscles.
twice. Then he tried out for the role of the Incredible Hulk in a TV movie special. He won the role, and ever since, we see him on TV as the Incredible Hulk-- a big change from that skinny, shy kid.
[MUSIC PLAYING]
(Describer) He looks down at a magazine with photos of Ferrigno shirtless, as himself and the green Incredible Hulk.
(Describer) Titles: Narrated by Robert Panara. Script by Robert Panara and John Panara. Illustrations and Graphics by Lynn Van Campbell. Directed by Jerry Shepard. Produced by Jerry Shepard at NTID-ITV. Accessibility provided by the US Department of Education.
Now Playing As: Captioned (English) (change)
Narrated by Professor Robert Panara, in sign language, this second part of a two-part, captioned videotape focuses on the achievements of selected deaf Americans from a variety of careers.
Media Details
Runtime: 30 minutes
Related Media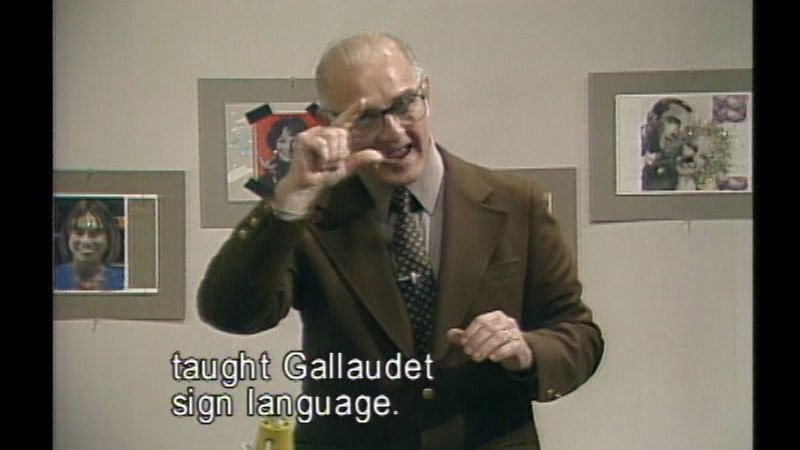 Famous Deaf Americans - Part I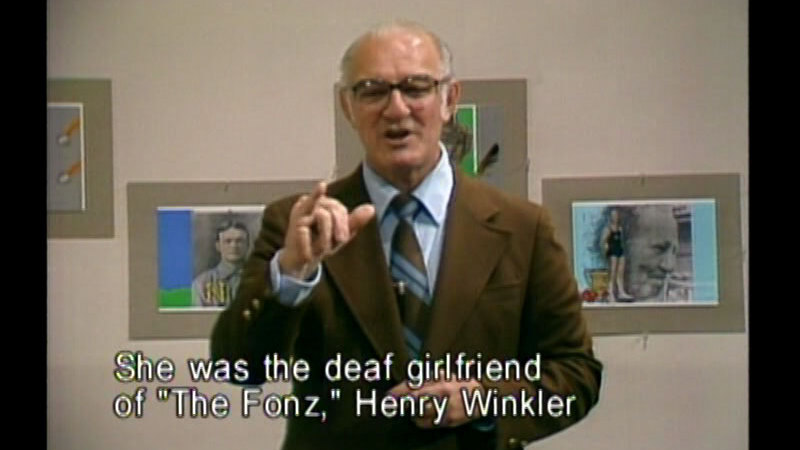 Famous Deaf Americans - Part II