Famous Deaf Americans - Part I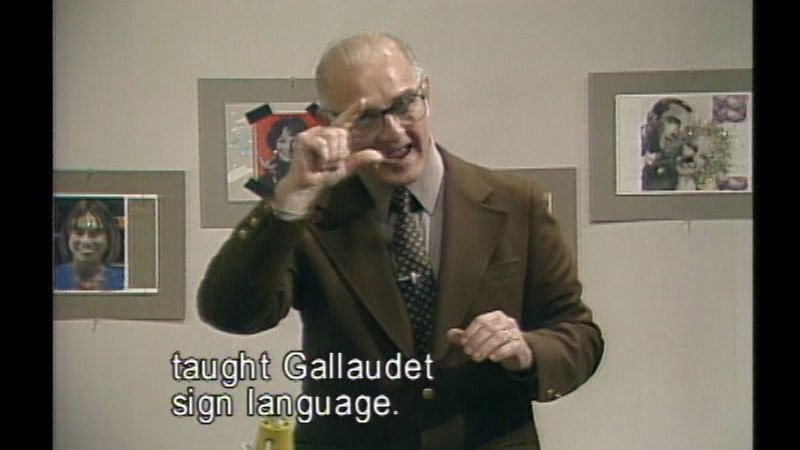 [MUSIC PLAYING]
(Describer) Title: Famous Deaf Americans – A Videotaped Program in Two Parts.
(Describer) In a drawing with color added, a man wears glasses with round frames, a bow tie and a red flower on his lapel.
(Describer) Title: Laurent Clerc. 1785 to 1869.
(Describer) A man drops papers on a desk. He uses sign language as he speaks.
Hello. My name is Robert Panara, professor of English and Drama here in NTID-- National Technical Institute for the Deaf in Rochester Institute of Technology at Rochester, New York. The deaf American has come a long way since the year 1817 when the first school for the deaf was established in Hartford, Connecticut. They have really overcome their handicap of deafness and earned their "rightful place in the sun."
(Describer) Quote:
And in doing that, they have succeeded in contributing to the cultural growth of Deaf America. This program focuses on the life stories of several deaf Americans. The first deaf person to become famous in America was a Frenchman named Laurent Clerc. Clerc was born in France in 1785. Because of an accidental fall while he was still a baby, he became deaf. He went to the school for the deaf in Paris called the Royal Institution for Deaf Mutes, and he progressed swiftly. He became an outstanding teacher. When the American clergyman named Thomas Gallaudet was traveling in Europe trying to find the best and most successful method of teaching the deaf, he met a person from that school who invited him to study in that school in France. He met Laurent Clerc, and Clerc, whose sign was [INAUDIBLE]
(Describer) Two right fingers from the corner of his mouth.
taught Gallaudet sign language. Gallaudet could only stay six months, and he had to go back to America. So he asked Clerc if he would help him establish that school in America. Clerc had to think about that. It meant going to a different world-- a strange world where he heard stories about Indians and hostile people. But finally, he accepted that challenge, and he accompanied Gallaudet to America. Their ship required 52 days to go across the Atlantic. During that time, Clerc taught Gallaudet sign language, and Gallaudet taught Clerc the English language. When they arrived in Hartford, they had many, many speeches to make to impress the people in trying to earn funds for the establishment of that school. Finally, they succeeded to establish the school in April 1817. Clerc became an outstanding teacher, and more than that, he trained many, many teachers from different places-- different schools in America. For example, in 1819, he went to Philadelphia for one year to help establish that school for the deaf, called today Mount Airy School. He was honored in many ways. Trinity College in Hartford, Connecticut, gave him an honorary degree. When he died, he was called "the apostle for the deaf in the New World," and he became the perfect role model for future deaf teachers in America.
(Describer) Panara picks up a book, and looks through it.
[MUSIC PLAYING]
(Describer) Title: Erastus "Deaf" Smith. 1787 to 1837.
(Describer) In a sketch with color added, a man has wavy dark hair and a red scarf. Beside it is a flag with a white star on blue on the left, and a white block over a red block on the right. Panara sets down the book.
Deaf Smith was born in Duchess County, New York. When he was a small boy, he became ill, and that led to hearing loss and also affected his lungs. His family moved south to Mississippi where they bought a farm, and Smith grew up on the farm and became healthy again. He went hunting and fishing. He had a dog, and he trained that dog to listen to strange sounds and noises to warn Deaf Smith of danger. What would the dog do?
(Describer) He gnashes his teeth and pulls at his pant leg.
He pulled his leg, and Smith was ready for any danger. That was his "Hearing Ear Dog." When the war for Texas' independence began in 1835, Smith joined the Texas army. He became a leading scout because he knew all the territory, and he had sharp eyes and was very brave. In the Battle of Concepcion in 1835, Smith led the soldiers through heavy fog to surprise the Mexican army and defeated them. Smith caught the eyes of General Sam Houston, commander in chief of the Texas army. He made Smith his number one scout. Houston called Deaf Smith the "eyes of the Texas army." In the Battle of San Jacinto in 1836, Smith surprised the Mexican soldiers again. He led the Texas troops to cut down a bridge so that the Mexicans couldn't retreat. When the bridge collapsed, Deaf Smith joined the fighting, and he shouted, "the bridge is down, the Mexicans can't retreat!" And "Remember the Alamo!" And they defeated the Mexicans. That next day, the chief of the Mexicans, Santa Anna, surrendered, and Sam Houston accepted the surrender. Right next to General Sam Houston was Deaf Smith. sitting.
(Describer) He holds his hand up to one ear.
That became a famous painting. Today we have Deaf Smith Hospital in Texas, Deaf Smith County, Deaf Smith Foods, even Deaf Smith Peanut Butter.
[MUSIC PLAYING]
(Describer) He picks up the book again.
(Describer) Title: Laura Redden Searing. 1840 to 1923. In a drawing with color added, a woman wears her hair back with a pearl necklace and lace collar. Panara sets down the book.
During the Civil War between the North and South, a young reporter was sent to Washington, DC, to write news about the War and interview famous people.
(Describer) He steps to a couch, and sits down.
That reporter was called quote "Howard Glyndon," and regularly wrote stories about the War interviewing famous people in government and the military. But what readers didn't know was that Howard Glyndon was not a man but was really a woman. And more-- that woman was totally deaf. Her real name was Laura Redden. She became deaf from meningitis at the age of 10. She went to the Missouri School for the Deaf. She got in the habit of writing for communicating with people. Writing always-- pad and pencil. She graduated from the Missouri School and got a job writing for a newspaper in St. Louis. She also wrote many poems. During the War, the St. Louis Republican sent her to Washington, and she wrote about the War. She interviewed famous people like President Lincoln, General Grant, General Garfield, and many others. In 1862, she wrote a small book called Notable Men in the House of Representatives, and she was writing many poems about the War. One of her poems, called "Belle Missouri"-- "Beautiful Missouri"-- became the fight song for the soldiers from Missouri. She was a strong supporter of the Northern cause during the War. They called her a literary patriot. Laura Redden continued to write for newspapers after the War. She wrote for New York papers. She continued to write poetry printed in different magazines. She wrote and printed three different books of poetry. She married a lawyer named Edward Searing and moved to California later on. She was truly a the first deaf "women's libber," and the first deaf woman to succeed in newspaper journalism and poetry.
[MUSIC PLAYING]
(Describer) Title: Mabel Hubbard Bell. 1857 to 1923.
(Describer) In a photograph with color added, a woman stands with a bearded man with a picture of a telephone over him.
Mabel Hubbard was born in Boston. When she was five years old, she became deaf from scarlet fever. Because there were no schools for the deaf in Boston, her parents decided to educate her at home with private tutoring. She progressed with her four hearing sisters and made remarkable progress. She was a natural lip reader and she developed good reading skills. When she was nine, they decided to test her by having her take an examination. It was given by a teacher from the Boston Public School. They found out Mabel-- her work compared equally well with hearing children of the same age. When she was 16, she met Alexander Graham Bell who was a speech teacher in Boston University. He continued to teach her lipreading. And more than that, they fell in love. Alexander Graham Bell was working on trying to invent the telephone. He succeeded one year later. He got the patent for the telephone through Mabel's father, Gardiner Hubbard, who was a famous patent lawyer. They married one year later. Mabel kept up with the busy schedule of her husband. She had two children, but she continued to be creative. She wrote an article on the "Art of Lip Reading," published in the Volta Review. She helped establish the New York League for the Hard of Hearing. She helped establish the Ladies Club of Nova Scotia-- the first ladies club in Canada. She was a remarkable woman.
[MUSIC PLAYING]
(Describer) Title: Douglas Tilden. 1860 to 1935. A photo with color added of a man with a brown beard and mustache is surrounded by pictures of sculptures.
Douglas Tilden, a California sculptor, has truly been called quote "the Michelangelo of the West." He became deaf from scarlet fever when he was five years old. He went to the California School for the Deaf and showed talent in working with clay and sculpting. He graduated from the California School, and the board of directors sent him to Paris, France, to study sculpture. While there, he sculpted one big sculpture, called The Bear Hunt, and sent it to Chicago's World Fair in 1893 where it won a prize. Tilden came back to America and settled in San Francisco, California, and began working in sculpting. Three of his marvelous sculptures are in Golden Gate Bridge Park-- The Baseball Player, The California Volunteers, and Father Junipero Serra, the Priest. One of his famous sculptures, called The Mechanics, shows a group of men working at an iron foundry. They seem very real. In 1906, when San Francisco was destroyed by earthquakes, many buildings crumbled. But there stood The Mechanics. The sculpture is still standing.
(Describer) He makes a fist and holds up his forearm.
Another of his sculptures, called The Football Player, is on the campus of California University. I have a picture of Tilden's favorite sculpture called The Bear Hunt.
(Describer) He stands.
(Describer) He goes to the desk.
That sculpture is now on the campus of the California School for the Deaf.
(Describer) He holds up a book with the picture of the sculpture, which depicts a Native man holding up a weapon as a bear stands on its hind legs, with the man's other arm in its mouth. Title: William "Dummy" Hoy. 1862 to 1961. In a photo with color added, a man with a mustache wears a baseball cap with a W on its upturned brim.
[MUSIC PLAYING]
The first deaf person to succeed in baseball in the major leagues was William Hoy. Hoy became deaf when he was still a small boy. He went to the Ohio School for the Deaf, but left to become a baseball player. He started with the Northwest League, and in 1887, he became accepted to the Major Leagues. He was 24 years old when he made the Major Leagues and played with five different teams. Hoy was 5 feet 5 inches. He weighed only 150 pounds, but he was a giant of an outfielder. He was also fast on the bases-- stole many bases. He was a good outfielder with an accurate arm. He played in 1,784 games and collected 2,057 hits. He had a lifetime average of 0.288. He stole bases often. He led the league, and his total was 605 steals. But Hoy was most known for his throwing arm. He led the American League with 45 outs
(Describer) ...outs...
thrown from the outfield. And in one game playing with Washington-- in one game, he caught the ball and threw it to home. Three times he threw out the runner at home plate. The catcher was Connie Mack, who later became famous as a manager of Philadelphia. That is a record that will never be equaled. But Hoy will be most remembered for suggesting to the umpire that he say "strike" any time it's
(Describer) ...with his forearm up.
a strike because Hoy couldn't hear the umpire say "strike." He suggested one day, "why not raise your arm?" Well, the umpire thought it was a good idea. Ever since to today when the umpire says "strike," they strike!
(Describer) He holds his arm up, making a fist.
[MUSIC PLAYING]
(Describer) Title: Luther "Dummy" Taylor. 1875 to 1958. In a photo with color added, a young man wears a baseball uniform with the letters NY on it.
Another deaf person who succeeded in the Major Leagues as a baseball player was Luther Taylor. Taylor was born deaf. He went to the Kansas School for the Deaf, played baseball, graduated from that school, went to the Southern League where he began his baseball career, advanced to the Eastern League in 1899, and played with Albany, New York. In 1901, he was chosen by John McGraw, the manager of the New York Giants. That's where Taylor began his career. He was an outstanding pitcher with a strong arm. He helped the New York Giants win pennants in 1904 and 1905. In 1904, Dummy Taylor pitched and won 21 games. All together, he pitched in 272 games. He won 118 games and lost 105 for a percentage of 0.525. He struck out 766 batters and gave 539 walks. Dummy-- people called him "Dummy"-- was very popular with the fans. He had taught his Giants teammates sign language, and he loved to tease the umpires. The story goes that often, while pitching, the umpire would call, "ball"-- "Taylor"-- "Ball!"-- "You Blockhead"-- and so on. He often "got away with murder." But one day, Dummy Taylor met his Waterloo. He was pitching.
(Describer) He pitches.
The umpire said, "ball." Dummy said, "You SOB." The umpire took off his mask, walked up to Taylor and he spelled, "That will cost you $25."
(Describer) ...signing....
Dummy was dumbfounded. "You know sign language?" "Yes," the umpire said, "and what's more, you're out of the game."
[LAUGHTER]
Seems that the umpire had learned sign language from a deaf relative.
[LAUGHTER]
[MUSIC PLAYING]
(Describer) Title: LeRoy Colombo. 1905-1974. // In a drawing, a young man in a swimsuit stands by an image of an older man smoking a cigar.
LeRoy Colombo became deaf at the age of seven from meningitis. He went to the Texas School for the Deaf and became an expert swimmer, practicing every day. When he was 18, he was invited to join the Surf Club of Galveston Beach in Texas. He met Herbert Brennan who was a national AAU champion swimmer for long distance, and he beat Brennan in the one-mile swim. One year later, he met Brennan again for 10 miles and beat Brennan. His time was 6 hours and 55 minutes. Colombo became a champion swimmer who won all races in the Gulf of Mexico between the years 1929 to 1939. One time, he swam 30 miles in 16 hours and 24 minutes. Another time, in St. Louis, he was swimming in the the Mississippi River-- a 10 mile swim. He competed against Johnny Weissmuller for 10 miles. After eight miles, Colombo dislocated his shoulder. But he swam with one arm and finished the race. He didn't win, but he finished. "Tarzan" Weismuller, who became famous in the movies, never finished. He gave up During all that time, LeRoy Colombo was busy saving people's lives-- pulling them out of the water if they were drowning. Over 40 years as a lifeguard, he saved a total of 907 people's lives. 907! He became the world's greatest lifeguard, and that's printed in the book Guinness Book of World Records.
(Describer) He picks up a copy of the book.
[MUSIC PLAYING]
(Describer) Title: Thomas Marr. 1866 to 1935. A photo with color added shows a man in a suit and tie.
One of the best architects in the South was a deaf man named Thomas Marr. Marr became deaf when he was a small boy. He went to the Tennessee School for the Deaf, graduated, then went to Gallaudet College in Washington, DC. He graduated with high honors. He wanted to study more architecture, so he went to Boston and studied at the National Institute of Technology. After two years of study, he went back home to Nashville, Tennessee, and became a draftsman in an architect's office. He saved his money, studied more, and after five years he established his own business in architecture. He became well known for his skill. He designed many fine buildings and apartment houses. He designed the post office in Nashville. He designed the three best hotels in Nashville, and mostly, the Tennessee School for the Deaf was his prized design. He became known as "The Dean of Nashville Architects." His work was studied all over the South.
[MUSIC PLAYING]
(Describer) Titles: Narrated by Robert Panara. Script by Robert Panara and John Panara. Directed by Jerry Shepard. Produced by Jerry Shepard at NYID-ITV. Accessibility provided by the US Department of Education.
Now Playing As: Captioned (English) (change)
Narrated by Professor Robert Panara, in sign language, this first part of a two-part series focuses on the achievements of selected deaf Americans from a variety of careers.
Media Details
Runtime: 31 minutes
Related Media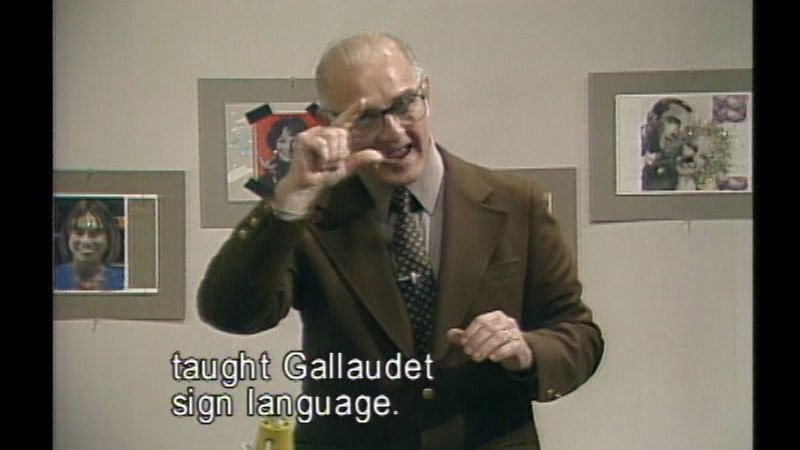 Famous Deaf Americans - Part I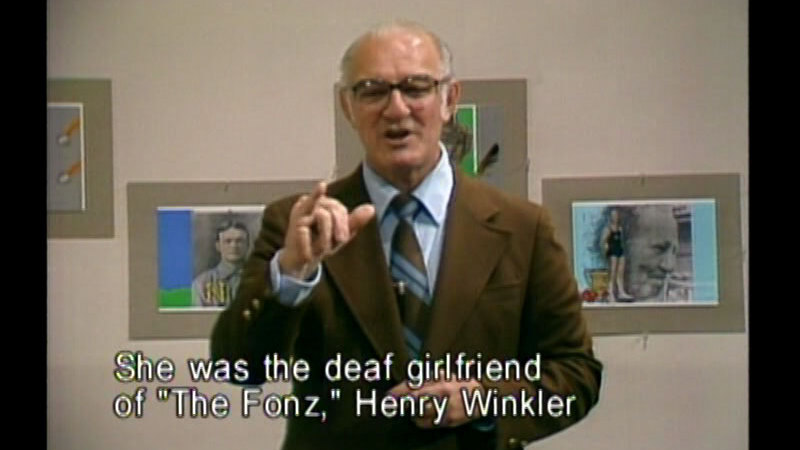 Famous Deaf Americans - Part II