Teen Kids News (Episode 1430)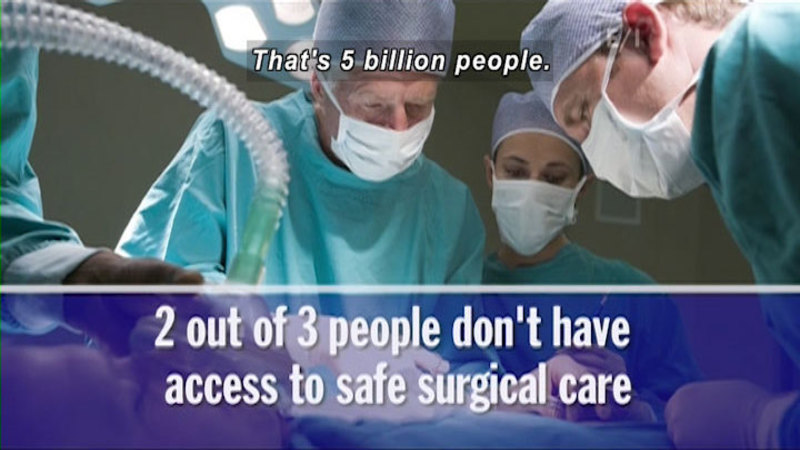 ♪
(Describer) In computer animation, different news scenes in rectangles move fast around a turning globe.
(Describer) In front of a blue background with a triangle and circle, title: Teen Kids News. A girl sits at a desk with monitors behind her.
Welcome to "Teen Kids News." I'm Veronique. Let's begin with our top story for this week.
(Describer) The Teen Kids News logo is on curved screens that form a turning cylinder. Passing around it, title: Top Story.
♪
Access to good medical care is something we take for granted. If we have an accident or illness that requires surgery, no matter where you are in America, there's a qualified hospital nearby. But as Amelia reports, that's not the case worldwide. When Olivia Waaben was a high school freshman she spent two weeks in the hospital. She learned a scary statistic. Two out of three people worldwide don't have access to safe surgical care. That's 5 billion people. Realizing how lucky she was in the U.S., Olivia had a mission. Here she is to tell us about it with her friend, Skyler Troast. Hi. Hello. Olivia, before you went into the hospital, you were involved with an international organization that provides medical care. Yes, that organization is Operation Smile. It is an international children's medical charity that repairs cleft lips and cleft palates in developing nations. These children, with their facial deformities, suffer from a variety of physical and emotional effects. Operation Smile helps heal those smiles across the world. Specifically, what is a cleft lip or a cleft palate? A cleft lip or cleft palate is a unilateral or bilateral gap in their mouth that causes them to have malnutrition, to be shunned by their community, and unable to go to school. So Operation Smile provides them access to proper medical care so they can live a normal life. Skyler, how did you get involved with Operation Smile? I got involved with Operation Smile my sophomore year of high school. I attended a meeting and learned how the organization raises money and provides surgical care to those with cleft lips, cleft palates, and other facial deformities. I grew such a love for Operation Smile and was motivated to take advantage of the opportunities available to students that Operation Smile makes. Olivia, what happened during your hospital stay that made you aware that safe surgery was a problem? I remember a nurse wheeled me out to this beautiful atrium and I saw the different rooms in the hospital, and I thought about the tons of illnesses and diseases the kids in the hospital have and how we are so lucky to have access to proper medical care. There are kids around the world who can't see a doctor. That made me realize how fortunate I am to have proper medical care and how it is a fundamental human right. So you wanted to take action. What were some things you did? When I got back to school, I organized Girl Scout workshops, smile bags, which are a bag of donations to give to children after their surgeries. I made smile dolls to comfort kids after surgeries. I also hosted leadership summits across New Jersey. Skylar, you're president of your school's Operation Smile club. What are the goals of that club? Our main goal is to educate students about Operation Smile and raise awareness throughout our community. I make sure the students know that there are problems outside the U.S., and that it's our job as students to take initiative to fix these problems and help any way we can. You got to see Operation Smile in action in Peru on a medical mission.
(Skylar) I saw Operation Smile's impact on families going through the surgical process. I got to see individuals go through prescreening, postop, preop, and even leave with a beautiful smile. I noticed the hospitals didn't have the same setup as we do in the U.S., and that affected me because I can go to the hospital and receive amazing surgical care, but people in Peru do not have the same things accessible to them. Olivia, tell us about the Until We Heal campaign. It might seem complex but Until We Heal is pretty simple. There's 5 billion people who lack access to surgical care worldwide. We won't stop until we heal every child. This is a primarily youth-led movement with support from doctors and celebrities, so we're trying to involve as many people as possible in eliminating the barriers to care. What results have you achieved so far? In terms of results, we've had across the nation, tons of kids and students create events, social media campaigns, and other activities to help people get involved in Until We Heal. On the New Jersey level, Skylar and I organized a T-shirt campaign. they then posted pictures of on social media, on NJ Until We Heal Day. We hosted our New Jersey Safe Surgery Summit where doctors, students, and medical professionals brainstormed ways to spread Until We Heal further. If kids around the country want to get involved, what suggestion can you make?
(Olivia) Go to untilweheal.org. There's information about how to get involved and the types of events. Great talking with you both. Thanks for joining us. Thank you. Thank you. Until We Heal--proof that no matter how big a problem, something can be done to make things better. It starts with a desire to take action. For information, go to our website. For "Teen Kids News," I'm Amelia.
(Describer) At a table...
In "Make the Grade," I'll tell you how to build your vocabulary. "Teen Kids News" will be right back.
(Describer) Veronique:
Do you feel overwhelmed with all your school work? Christin's here to help with this week's "Make the Grade."
(Describer) At the table...
Okay, here's the clue: nine letters-- a game that can help you build your vocabulary.
(Describer) It has squares.
Got it.
(Describer) She fills them in.
C-R-O-S-S-W-O-R-D. Crossword. What's great about crossword puzzles is you're learning vocabulary while having fun. You can do them anywhere. There are crossword puzzles in many newspapers, but they may be difficult for beginners. Whether you play online or buy a book of crosswords, you can find puzzles that range in difficulty from easy to medium to challenging. As you learn new words, keep a running list. This will help you on future puzzles, and reviewing the list will build your vocabulary. Crosswords are fun to do with friends. In fact, it can be a great icebreaker. Steve, what's a four-letter word for a social occasion, usually for two? Oh, thanks.
(Describer) She writes.
D-A-T-E--date. Think he'll get the hint? I'm Christin, here to help you make the grade.
(Describer) Veronique:
Every state has one. But why do they look the way they do? Here's Eric with "Flag Facts."
(Describer) Different flags flash by, with various colors and seals. A couple dozen are shown together, then appear in the word "flag". Title: Flag Facts. It's on a flag.
♪
In 1886, France gave the U.S. a gift to symbolize friendship and independence. Officially named Liberty Enlightening the World, we call it the Statue of Liberty. She stands at the entrance to New York Harbor. The concept of liberty is important for New York.
(male) The flag of New York
(Describer) Randy Howe:
features liberty and justice.
(Eric) The Roman goddess Liberty holds a staff with a cap. Known as a liberty cap, it symbolizes freedom from slavery. A discarded crown at Liberty's feet represents America's independence from England. The goddess, Justice, is blindfolded to show that justice is blind to race, religion, and income. Scales represent equality for all, while the raised sword points out the willingness to fight for it.
(male) In the middle of the flag, you see the Hudson River and two boats meant to represent commerce. Atop the state seal is an eagle sitting on the globe. The globe shows the Western Hemisphere, meant to represent the New World and New York's important place as a port city in the New World.
(Eric) Finally, the word "Excelsior" encourages New Yorkers to reach higher to achieve their goals. Maybe that's why New York City has so many skyscrapers. Just about everyone knows Manhattan, New York is called the Big Apple, but did you know that Manhattan, Kansas has a similar nickname? It's called the Little Apple. With "Flag Facts," I'm Eric.
(Describer) A courthouse with tall columns is shown. A cartoon judge in a white wig waves a gavel. On the cover of a book, title: Weird, Wild Wacky Laws. Emily:
♪
If you live in Oklahoma and own a donkey, be careful. It's against the law to let your donkey sleep in your bathtub after 7 at night. It's okay for them to nap in the tub during the day. Coming up, we'll walk the walls of England's historic city of York.
(Describer) People walk between the top of the wall and a fence. Veronique:
Once a Roman fortress is today one of England's popular cities for tourists to visit. Nicole tells us more.
(Describer) Against the background of the Union Jack flag, different scenes are shown in the letters of the title slowly moving from right to left. Beside the Teen Kids News logo, in white, title: UK OK.
♪
(Describer) An old stone wall has a tunnel that leads to a modern street.
(Nicole) When you wander along the quaint streets of York, it's hard to imagine that its history was far less colorful.
(Describer) People walk through a narrow street.
Lining these stone lanes, called Snickelways, used to be butcher shops. Sanitation was nonexistent back then, so butchers tossed the unwanted parts onto the street, which was called Shamble Street. All that blood and guts made a mess and gave us a word we still use. When something is in disorder, we say it's in shambles.
(Describer) On other streets, some of the buildings are light-colored with dark stripes.
♪
Fortunately, as the town grew, the butcher shops were replaced by chocolate makers. York became famous for its sweets. Since many people in the days of yore were illiterate, it was custom for shops to identify themselves by hanging signs with pictures.
(Describer) Some still do.
Rising above the rooftops are the towers of the largest gothic cathedral in Northern Europe. Called York Minster, it took two centuries to build the ornate church.
(Describer) Just the doors are three times taller than most adults.
But the town's most unique feature is the protective wall that encircles the old section.
(Describer) She climbs stairs to the top.
And it's a wall that the public is welcome to walk on.
(Describer) As she does...
The first walls were built by the Romans in 71 AD, then rebuilt by the English in the 12th century. Strolling along the old wall is a popular attraction for tourists and locals alike. It's great and brings you to all the sights so you can see everything around the whole city.
(Describer) It goes past a cafe patio, and a grassy slope.
(Nicole) The wall makes a circuit that runs about 2 1/2 miles. Along the way, there are gates and guardhouses. Now there are houses outside the old walls. Back in the day, an army of Vikings might have camped there, preparing to attack. They cut holes in the walls so archers could fire arrows at enemies. These were called loopholes, a term still used today, like a loophole in a contract or video game. The ancient walls were built to keep the Roman soldiers and then the townspeople safe. It must still be working. According to a travel survey, York is one of the world's safest places to visit. In York, for "Teen Kids News," I'm Nicole.
(Describer) Cathedral towers rise over different colors of trees.
♪
(Describer) Against the background of a baseball stadium, title: Baseball Facts with Matt. A bat hits a ball.
The Boston Red Sox have eight World Series titles, but they won no World Series from 1918 to 2004. "Why?" you ask. People speculated that the Red Sox were not winning World Series because they sold Babe Ruth to the New York Yankees. This World Series drought was nicknamed the "Curse of the Bambino." The Red Sox had chances to break this curse in 1946, 1967, 1975, and 1986, but they lost those World Series. The Red Sox finally broke the Curse of the Bambino in 2004 with a World Series sweep of the St. Louis Cardinals. I'm Matt, with "Teen Kids News."
(Describer) Veronique:
This important message is brought to you by The National Road Safety Foundation. Keep your hands on the wheel, your eyes on the road, and your mind on driving.
(Describer) As a girl drives, text bubbles pop up about going to the game and what the score is.
♪
(Describer) Title: Isn't this distracting? She tries to look between and around the bubbles as more pop up on the windshield.
(Describer) They keep popping up in front of her, and she squints.
(Describer) More pop up: "Your hair looked really pretty today." "Thanks". Title: If you're texting, how can you see what's ahead? She reaches a dead end.
(Describer) On a phone, title: Shut it down or shut down your life. A message from the National Road Safety Foundation.
(Describer) A viewer email says, "We love Teen Kids News...the quality of each and every show is nothing short of perfect." Signed Lea.
♪
I'll show you how a bag is changing lives around the world. "Teen Kids News" will be right back.
(Describer) Veronique:
There are countries in the world that don't have things we use every day. But there are ways teens can make a difference. Eden tells us more. When we're hungry, it's easy to cook something on the stove, but for many people around the world that's just not possible. Not only don't they have microwaves and stoves, they don't have the electricity needed to power them. But there's an invention that can do the job without needing to plug anything in. It's one of the incredible devices in the book, "100 Tools for Empowering Global Women," written by Betsy Teustch. Welcome back. Great to be here, thanks. You called this tool the Wonderbag. How does it work?
(Describer) She has one.
The Wonderbag is an insulated bag for cooking. They call it a fireless cooker. It's like a crock-pot but it doesn't require electricity and that's important in places without electricity. So you boil a pot of soup. I made mine this morning on a gas stove, but in the developing world you'd do that on a campfire. That's how people cook. Once it boils, you tuck it in this bag very tight and pull the string and then you leave it for several hours and, just like a crock-pot, the soup will cook. So we will see if it worked. First, I loosen up this
(Describer) She loosens the drawstring around the top.
and then I take this top off
(Describer) It's like a round pillow.
and then you see a pot of soup.
(Describer) She takes off its lid.
And it's still really, really hot. I'm going to put this down.
(Describer) The lid.
It saves a lot of fuel and when you're not cooking over a fire, the food doesn't burn and that makes it easier to clean up afterwards because if you don't have running water, it's really a pain to clean your dishes.
(Describer) She ladles some of the soup into a bowl.
Here's what the soup looks like, and it smells really great, and it is steaming even though it's been in here for about 5 hours by now. And I'm going to give it a taste, and we'll see.
(Describer) With a spoon, she tastes the soup.
Yum. That sure does look good. So this isn't a new invention, but rather a technique that's been around a long time? It's an ancient technique. Sometimes they dig a hole in the earth and put a pot in it and that will insulate it. You can make your own at home. You can take a box, like a carton, and a sleeping bag. Bring your food to a boil put your food in, cover it up, and leave it. You will save fuel. It's a great way to fight global warming. And for girls in the developing world that collect wood to cook food, it saves time, and they can be in school. How can Americans help girls in other countries get Wonderbags?
(Betsy Teustch) There's a company called Wonderbag, and on their website, you can buy one, and one is donated. So one will come to your house. You can give it to your mom for Mother's Day or use it yourself. Then one is donated to people in South Africa where they have a lot of poverty. Thanks, Betsy. We'll see you again soon. Bye. The Wonderbag. Truly a wonderful way to help others. For "Teen Kids News," I'm Eden. Coming up, we'll show you how to speak "Dog."
♪
(Describer) A boy hugs a dog in a photo.
(Describer) Veronique:
They can't talk, but they can make themselves understood if you know what to look for. Brandon continues our series on dog body language. Can you tell if your dog is loving or hating something? The clues are in the dog's body language. To help us learn to speak Dog, we welcome Robin Bennett and Susan Briggs, the Dog Gurus. It's great to be here. Susan, where do we start? Let's start with the mouth. An open mouth means the dog is loving the interactions. A closed mouth is your first clue they are tolerating or hating an encounter. When we get uncomfortable, we have signs that we're stressed. So do dogs. They lick their lips or they may yawn. Those are clues that the dog may be tolerating the situation. Robin, how about when dogs jump on you? Is he happy to see you? If you came home from school, he might be happy to see you. If he's in a new environment and jumping on you, it might be him saying, "Hey, I need help. Get me out of here." He might be upset and wants to go home. Susan, let's talk about sniffing and scratching. Do they have special significance? They do and it can mean the dog just has an itch or he's smelling something interesting, but sometimes your dog may sniff or scratch when you know he doesn't have those things. It goes back to those stress signals that they're uncomfortable and trying to determine if this situation is safe or not. So it's a sign that they're uncomfortable. Robin, if your dog is signaling it's not comfortable, what can we do? An easy thing to do is move some distance between you and your dog and whatever is scaring him. Back away or take him down the street. If you can't get away, step in between your dog and whatever he's afraid of. So those are two good options. If you have something fun or tasty that your dog can play with or eat, try that too. Try distracting your dog. Throw a ball for him, run and play with him. Get him to think about something else. Great advice. Thanks, Susan and Robin. Thanks for having us. It's great to be here. One of the best quotes about dogs comes from Josh Billings. "A dog is the only thing on earth that loves you more than he loves himself." A dog's love is a two-way street. You have a responsibility to treat your dog with love and respect as well.
(Describer) Veronique:
That wraps up our show, but we'll have more "Teen Kids News" next week, so tune in.
(Describer) Titles: Director: Alan J. Weiss. Producers: Tania Wilk, Marilou Yacoub. Copyright Eyewitness Kids News LLC, 2017, all rights reserved. Created by Executive Producers: Albert T. Primo, Alan J. Weiss. Follow us on Facebook, Twitter and Instagram. Funding to purchase and make this educational program accessible was provided by the U.S. Department of Education. Contact the Department of Education by telephone at 1-800-USA-LEARN, or online at www.ed.gov.
♪
Funding to purchase and make this educational production accessible was provided by the U.S. Department of Education:
PH: 1-800-USA-LEARN (V) or WEB: www.ed.gov.
(female) Write to us at info@teenkidsnews.com.
(Describer) Alan Weiss Productions.
Now Playing As: Captioned (English) (change)
Teens Olivia Waaben and Skyler Troast discuss their volunteer work with Operation Smile. The crew also visits the historic town of York in England. Other segments include using crossword puzzles to build vocabulary, the Curse of the Bambino, and dog body language. Part of the "Teen Kids News" series.
Media Details
Runtime: 22 minutes