Grassroots Advocacy for Captioning
By Maryann Fau Barnett
What Is "Grassroots Advocacy"?
When I looked up the definition of these words, what was once murky became crystal clear: "Begin at the beginning." That is the basis of the word "grassroots"; to "advocate" is to lead with knowledge.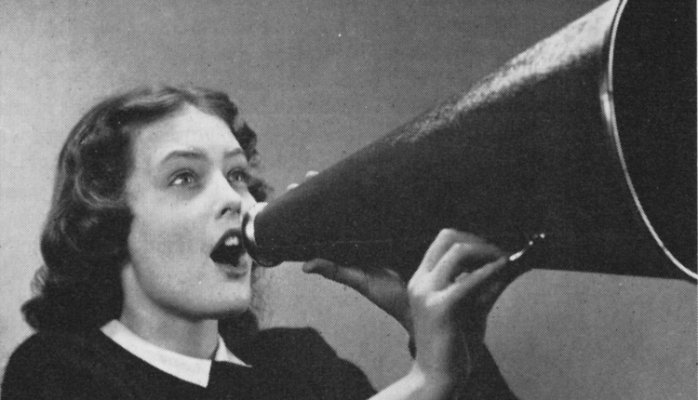 [Editor's note: This article may be out of date and is presented for archival purposes.]
The path towards captioning in media began with filmmaking. The first films, the "silent movies" from one century ago, did not have sound. All films were accessible to the deaf and hard of hearing population. Then along came technology which took away the captions that had allowed deaf and hard of hearing people to participate in the film experience. For decades, until television captioning in the 1960s, the deaf and hard of hearing population were pushed aside to make way for audio films.
Then Emerson Romero (who spliced and inserted text into sound motion pictures), Dr. Edmund B. Boatner and Dr. Clarence O'Connor (whose collaboration began the Captioned Films for the Deaf, Inc.), and Malcolm Norwood (whose persistence gained closed-captioning of television programs) devoted much time and energy into regaining media "access."
Accessing the Media
The Television Decoder Circuitry Act of 1990, which took effect on July 1, 1993, slowly changed the media, allowing more and more access for deaf and hard of hearing individuals every year. The law stated that all new programming should be captioned by 2006. (If it isn't, you should complain?) All new televisions have built-in decoder chips, thus eliminating separate and costly components to view captioning.
Only a small number of movies theatres offer open-captioned or rear window captioned movie showings. However, most first-run movies are captioned or subtitled on DVD and may be rented or purchased.
Finding the DCMP
A service like the DCMP would appear to require "round-the-clock" work to keep up with the immense amount of both incoming and outgoing mail. To an extent, the program is doing well. However, the DCMP staff says that there is a list of "inactive" clients, and many potential clients who may have never heard of this program. Parents of newly diagnosed deaf and hard of hearing children, parents who home-school, teachers, interpreters, audiologists, therapists, and more. Regardless of how hard the DCMP advertises its service, some people do not get the message.
Getting the Word Out
In order to better serve its clients, the DCMP needs to be constant, yet ever-changing. How does the DCMP do this? Through grassroots advocacy. That involves getting the word out, talking about what is available, letting people know what products and services exist for them, finding the target population, offering assistance, sending brochures, reminding people to remind each other, advertising the freeloan service, hanging posters in libraries and schools, and then doing it all again—perhaps with a new "twist."
As you can see, it is certainly a challenge for DCMP staff, librarians, and volunteers to keep the DCMP going. Please support the DCMP by borrowing their materials! Check out the DCMP Web site at www.dcmp.org, browse the catalog, and simply click to order or view online.
About the Author
Maryann Fau Barnett was a DCMP library manager at the Wisconsin School for the Deaf (WSD) from 2003-2007. Prior to working with the CMP, Maryann taught multiple-handicapped deaf students at WSD for 16 years and is now in the school's outreach program.
Please take a moment to rate this Learning Center resource by answering three short questions.