Surprise! We Do Get Some Special Services!
By Susan Dickinson
[Editor's note: This article was written in 2004 and has since been archived. Some content may be outdated.]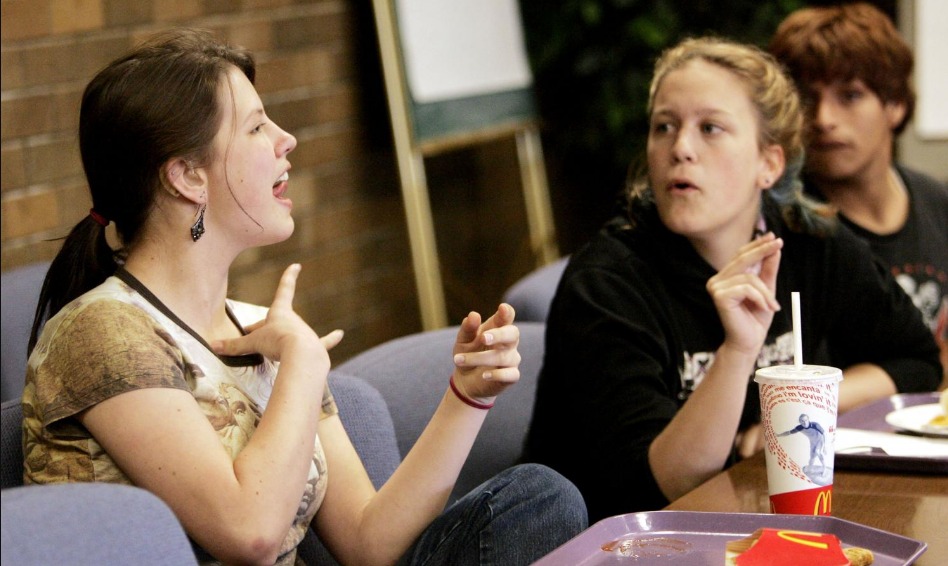 Everyone pays the same price for goods and services, but we deaf people get less for our money. We do not receive a discount on a television because of uncaptioned programs. Nor do we have the option to buy a car without a radio—I could go on and on. Unlike blind people, we get no compensation for numerous economic disadvantages on our federal income tax.
But, happily, the government has continued its funding and legislative support for captioning activities. It is important to know about OUR special services and USE them! We don't want to LOSE them!
A Special Service for Deaf Persons
Government funding continues for the long-standing Captioned Media Program (CMP). Most of us THINK we know what the CMP offers, and many of us THINK we probably do not have need for it. But many of us do not realize how the program has grown and changed over the years. As Barry Strassler, editor of DeafDigest stated: "The CMP Program has a remarkable ability to reinvent itself."
Remember in the old days of captioned reel-to-reel movies—when the program was called Captioned Films for the Deaf (CFD)? And we watched those on weekends at a deaf club? Those days are long gone! Today the CMP will deliver special-interest or classic movie captioned videos right to our doorstep or to our computers!
All we need to do is sign up for a free account and, within days, a printed catalog is sent to us. We can order from the catalog (by mail or phone), or search the CMP Web site to order items with just a few mouse clicks.
This is great, but the best is already here! Not only is the CMP focusing on diverse cultures and has captioned some titles in Spanish, but also the CMP "streams" videos directly into our computers. Some CMP movies are already available at http://www.cfv.org.
Since I am director of the deaf and hard of hearing program for two high schools in Colorado, I supplement my personal CMP account with one at school. There is no other resource of educational captioned media.
A Special Service for Teachers and Students
Students love CMP videos, as they bring learning to life! The videos are so effective because deaf students are uniquely dependent on use of their visual sense. As a former teacher, I was able to discuss the Constitution and civil rights in my government class all day, but the success of this approach will never match the learning that took place when we watched real video footage of Martin Luther King, Jr. and the civil rights movement. Since I discovered the CMP, my students have been emotionally involved in these issues and demonstrate their understanding by writing research papers related to civil rights and landmark Supreme Court cases.
CMP materials also help me continue to grow professionally. Not only did the lesson guides that accompany the educational videos enhance my own lessons, but there are also videos in the collection that taught me new skills. A CMP video taught me how to make PowerPoint presentations on my computer (#8143, Learning PowerPoint 97, Advanced.)
After sharing with my students what I learned about PowerPoint, they each developed their own presentation on an area of political activism. One student chose the Deaf President Now movement, complete with photographs of the Gallaudet University students and I. King Jordan!
There is no doubt in my mind that 50 years from now, my former students will remember their high school government class because CMP materials provided them with vivid mental images they will never forget. The CMP videos motivated them to be incredibly creative too! Got the idea I like this special service?
Call Me an Infomercial
Teachers of the deaf owe it to their students to provide the most visually graphic approach to learning possible and the CMP is a great way to do just that. You might be thinking I sound like an advertisement, but the CMP is not trying to sell anything (it's free!).
I strongly believe in the benefits. As a deaf person, dedicated educator of deaf/ hard of hearing students, and director of the deaf and hard of hearing program, I am compelled to tell everyone about the CMP. Check out https://www.dcmp.org and see it for yourself!
About the Author
Susan Dickinson is director of the deaf/hard of hearing program at Douglas County High School and at Highlands Ranch High School in Colorado; Chair of the Colorado Commission for the Deaf and Hard of Hearing; and member of the Gallaudet University Board of Trustees. You may contact her at: sjsuz@aol.com.
Tags: educators
Please take a moment to rate this Learning Center resource by answering three short questions.