Opening Doors at the Oklahoma School for the Deaf
By Bill Stark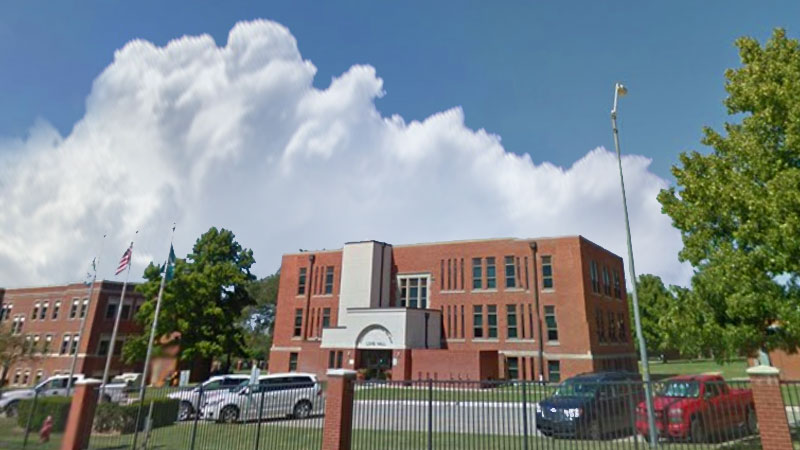 [Editor's Note: This article was written in 2007 and Oklahoma School for the Deaf no longer performs a role for the DCMP. This article is presented in its historical context.]
Prior to 1929 deaf persons could enjoy movies because these movies were silent; however, when movies added sound, theatre doors were closed for millions of deaf persons in the United States.
It was not until twenty years later that captioning began to open those doors again. Captioned Films for the Deaf (CFD) was founded with the purpose of adding captions to films. In 1958 CFD became a federal law, and the Oklahoma School for the Deaf (OSD) was destined to play an important role in its implementation.
OSD's Early Captioning Leadership
The federal government looked to John Gough for the needed leadership for this program. Dr. Gough, superintendent of the Oklahoma School for the Deaf (OSD) from 1940 to 1946, was a pioneer in captioning films for deaf persons. He was appointed thfirst director of CFD. The program was created to caption movies, but he and three other men also took on the captioning of educational films as their first goal.
The CFD law was modified to include the captioning and distribution of educational films and to provide research into educational media for the deaf. Dr. Gough's leadership set the table for incredible advancements that changed the lives of deaf persons forever, including the captioning of broadcast television.
"Audio" for the Deaf
Captions are the "audio" to deaf and hard of hearing media viewers, providing a text version of spoken words and most other sounds. Those who have a special built-in decoder chip in their television set can receive "closed captions" for a TV broadcast or a video. Other kinds of captions (i.e., "open captions" or "subtitles"), do not require a special built-in decoder chip in the television set. They either automatically appear on videos (open captions) or are accessed through a menu (subtitles) on DVDs and Internet streaming. Viewing them does not require a decoder or built-in decoder chip.
CFD, now named the Described and Captioned Media Program (DCMP), has media with open captions and subtitles. Dr. Gough chose OSD as one of the first national sites for a library of educational captioned materials in the early 1960s. The DCMP educational library was destined to grow to include thousands of captioned materials in all school subject areas and student-interest levels for preschool through high school. Each title has been carefully selected and specifically adapted for use with learners who have a hearing loss.
But while educational captioning to benefit students with a hearing loss has increased dramatically, other doors to equal access have remained closed or blind and visually impaired students. The Individuals with Disabilities Education Act (IDEA) now funds the DCMP, and it stipulates that this access must also be provided.
"Visual" for the Blind
Description of visuals (pictures, charts, graphs, etc.), costumes, settings, and actions is inserted into natural pauses in a movie or program dialogue. Called "audio description," "video description," or "DVS," it was launched on PBS in 1990.
These verbal descriptions can be permanently encoded and delivered as a separate audio component, utilizing the Second Audio Program (SAP) feature that is standard on newer televisions and VCRs. In movie theaters, the descriptions are heard via a wireless headset provided by the theatres.
Beginning in 2007 all new DCMP educational media will not only be captioned but will also be described. Description is accessed through a menu on DVDs or selected as a viewing option for Internet media that is streamed. With the huge task of serving many thousands more teachers and families of blind, visually impaired, deaf, hard of hearing, and deaf-blind students, OSD has been called upon for national leadership once again.
National Role for OSD
OSD will now assume the role of the National Accessible Learning Center (NALC), being the sole distributor of DCMP described and captioned educational media in the United States. Performing operations once shared by over sixty libraries housed in residential schools across the country, OSD will house over 70,000 accessible media items.
"One of the richest information resources for deaf students, and now blind students, is the collection of educational media from the DCMP housed in our library," says Larry Hawkins, OSD's current superintendent. OSD teacher Lawson Pair agrees: "I teach earth and physical science to deaf 7th and 8th graders. These students are very visual and using captioned media to reinforce each lesson is very effective in insuring that correct concepts are taught. Captioned media also helps keep interest levels high."
DCMP materials are also dependable learning assets for parents. Not only can parents of very young blind or deaf children learn communication strategies and parenting skills by watching free-loan media, they can also receive an orientation to disabilities and learn about the culture and history of blindness and deafness. "Children can receive extra support and help in particular subjects from DCMP materials viewed at home with parents," Hawkins says. "DCMP is now also instantly delivering accessible media through the Internet."
OSD and the DCMP Open Doors
Max Martin, the OSD director of the NALC, states, "Accessibility to information and opportunity to achieve one's fullest potential are rights of Oklahomans and all Americans. For too long these rights have been behind the closed doors of inequality for blind and deaf ersons."
Together, OSD and the DCMP have a history of opening those doors. Elementary and secondary students with vision or hearing loss can benefit from the same educational media used to enrich the educational experiences of other students. Accessible media is available on all subjects at kindergarten through high school grade levels.
Tags: educators
Please take a moment to rate this Learning Center resource by answering three short questions.