The CMP Captions Videos for the SignWriting Literacy Project
By Valerie Sutton
[Editor's note: This article was written in 2004 and has since been archived. Some of the information contained therein may be outdated. The CMP is now the DCMP.]
Captions in written American Sign Language? Someday, who knows?!!
PART ONE: Captions Encourage Literacy
English has a written form. It is called the English alphabet, or the Roman alphabet. The Captioned Media Program (CMP) uses the English alphabet to create its captions. The alphabet is the CMP's "tool" to bring us information.
Now try to imagine a world without the alphabet. Written English would not exist. And without the English alphabet, no captions could exist either. The CMP would be out of a job. Well, actually, the CMP could never have existed in the first place if there was no way to read and write!!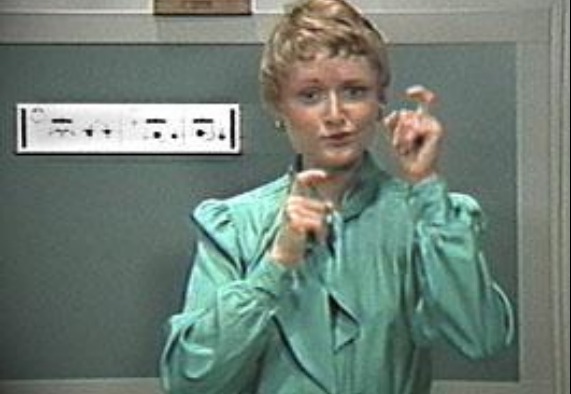 And without a way to read and write English, people would be cut off from each other. Communication would only be face to face, and Deaf people would be more isolated too.
So . . . thank goodness for reading and writing! Literacy has value, and the CMP encourages literacy through captions.
It is kind of funny how we take the English alphabet for granted, isn't it? We assume it was "always there." But actually, historically, that is not true.
Written English did not always exist. People spoke English without writing it. Five hundred years ago, most people were illiterate. Some monks knew how to write by hand, but most people didn't. Then gradually, over centuries, it became the norm for all people to learn to read and write, including children. Today reading and writing is so much a part of our world, that it shapes our very society.
PART TWO: Sign Language Literacy
Signed languages are real languages too. They are not spoken, but language does not have to use sound to convey concepts. In the 1960s, a researcher named Dr. William Stokoe proved that signed languages are true languages, equal to spoken languages in grammar, structure and vocabulary.
So if you are Deaf and use American Sign Language (ASL), you should be proud of your beautiful and expressive language, which is not English, but equal to English in its sophistication.
The current generation of born-Deaf adults, who are native to American Sign Language, grew up with no way to read and write their first language, ASL. English is their second language, and they cannot hear their second language.
Now our society is changing in a new way . . .
American Sign Language, and all signed languages, is becoming a WRITTEN language too. This is a major social change that is happening gradually. Many people, both Deaf and hearing, are unaware that signed languages are now being written in 18 countries.
Small pockets of Deaf people, teachers, and researchers are now reading and writing the facial expressions, hand movements, and body shifting of their country's signed languages.
Yes. American Sign Language is now a written language. Its written form is called "SignWriting." There is written literature available in ASL, a way to type ASL, Bible passages translated and written in ASL, a Web site for people who want to learn to read and write ASL. Avid SignWriting fans love to read and write signs, and slowly but surely, the writing system is taking hold.
PART THREE: The CMP Helps the SignWriting Literacy Project
The SignWriting Literacy Project is pioneering a new concept in Deaf Education. SignWriting books, videos, and software are donated to classes of Deaf students. In return, teachers, students, and parents provide documented feedback. The results are published on the SignWriting Web site and in an annual SignWriting Literacy Project Report, distributed to educators.
SignWriting is a way to read, write, and type any signed language. All materials donated to the schools are written in American Sign Language (ASL), authored by Deaf native ASL signers. The SignWriting videos are taught in ASL with English voice-over. Fluency in reading and writing American Sign Language is used as a bridge to teach written English. Although this is a new project, feedback is already coming in, and the results are positive.
Before the CMP generously offered their assistance with captioning, some of the videos in the Literacy Project were not captioned. We are grateful to the CMP for captioning these videos. Thank you!!
Would you like your school to participate in the SignWriting Literacy Project? Your students must be Deaf and use sign language. One teacher must be online, so they can receive technical support through e-mail. Write for more information:
Deaf Action Committee for SignWriting
PO Box 517
La Jolla, CA 92038-0517
VOICE (858) 456-0098
FAX (858) 456-0020
E-MAIL dac@signwriting.org
WEB http://www.SignWriting.org
About Valerie Sutton
SignWriting was first invented by Valerie Sutton in Denmark in 1974. It is one of five sections of Sutton Movement Writing, a system for reading and writing body movement. In 1974, while teaching the Royal Danish Ballet to read and write dance with Sutton DanceWriting, a researcher at the University of Copenhagen, Lars von der Lieth, asked her to develop a way to read and write the movements of signed languages. This was the beginning of Sutton SignWriting.
Sutton has continued to work full time with SignWriting since 1981. She is the designer and Webmaster of four Web sites, including the internationally popular SignWritingSite," the central source for SignWriting symbols and literature. As the moderator of the SignWriting List, Sutton teaches SignWriting through e-mail. You may contact her at: sutton@signwriting.org.
Tags: consumers, literacy, asl-interpreters
Please take a moment to rate this Learning Center resource by answering three short questions.