Intentional Teaching with Accessible Media
By Jade Cox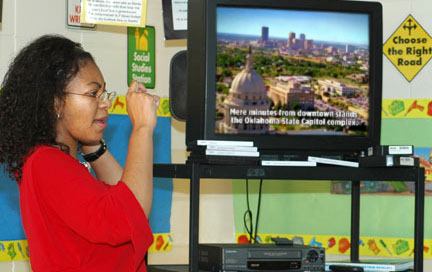 As educators, we are driven by local, state, and national mandates, but we really only have one goal: to be an effective teacher that positively impacts student learning. Then comes the question: How do we accomplish our goal? Well from an instructional standpoint, we develop our unit plans, curriculum maps, weekly and daily lessons, and do not forget the reading of the curriculum or standard course of study all while keeping instruction innovative in order to maintain student interest. We become deliberate and intentional about our approach to teaching through the integrated use of technology and media.
Deliberate Instruction
Intentional teachers are backwards planners; they are consciously aware of the outcomes that students must master and plan accordingly. Furthermore, intentional teachers make instructional decisions that move their students to the intended mastery of content and end goals. They develop tasks that will engage students and actively move them toward content mastery. The 21st Century Intentional Teacher must also make decisions about the deliberate integration of media as an essential instructional tool.
Benefits of Media Integration
While the use of media in the classroom is not a new concept, the technological advances and increased emphasis of critical thinking skills and media literacy have given birth to a re-definition of the importance of media usage. The push for educating students who are college and career ready for the 21st Century has provided opportunities to effectively implement media into the classroom.
The use of media in the classroom is no longer just passive viewing and/or listening. Yeah, as a student, it was nice to read The Great Gatsby and then have two "free" days of watching the movie. Now media in the classroom is to "promote serious inquiry and analysis" of content at any given grade level (Media Literacy). Today teachers have a great opportunity to select, preview, and evaluate an endless array of educational titles in which they develop tasks that enable student success.
Media is a type of time machine that has the ability to transport students to different historical events, science labs, or imaginative worlds of authors while exciting the senses and providing expanded perspectives and experiences. And these benefits also apply to students who have a sensory disability, if media is made accessible.
Accessible Media
Accessible media provides equal benefits to deaf, blind, and deaf-blind students. Described and captioned media is the intentional teacher's tool for inclusion, promotion, and advocacy for students with sensory disabilities. Additionally, accessible media ensures that these students have equal opportunity and equal access to information.
An intentional teacher is aware of the individual abilities and learning styles of each student, and accessible media is an avenue for teachers to meet the specific needs of deaf, blind, and deaf-blind students. The described and captioned media title provides critical access to content and enables deaf, blind, and deaf-blind students to actively engage with the community of the classroom. Teachers who incorporate appropriate accessible media titles based on intended student outcomes have at their disposal an arsenal of innovation and creativity in the classroom—called the Described and Captioned Media Program (DCMP).
DCMP Offerings
As part of our mission, we at the DCMP recognize and embrace the positive impacts that thoughtfully integrated media can have on student content mastery. Our free library loan system enables educators as well as home school parents to utilize described and captioned media titles that are curricular aligned to local, state, and national standards for grades Pre-K to 12 across all contents. We also provide a clearinghouse of information related to educational media access and a gateway to Internet resources related to accessibility.
We look forward to the opportunity for partnering and supporting teachers and parents. Visit our website, where you will find resources like these, and contact us concerning your needs.
About the Author
Jade Cox serves as the Educational Specialist at DCMP and has eight years of experience as an educator. Please feel free to contact her at jcox@dcmp.org regarding titles in our catalog or the media selection process.
Tags: educators
Please take a moment to rate this Learning Center resource by answering three short questions.