Described Media Produced by Professionals With Visual Impairments: A Sound Idea
By Rick Boggs
Working with sound as a producer, audio engineer, or voice-over artist seems like a natural fit for a professional who has vision loss. However, few industries have exhibited more resistance than the audio production industry to employing professionals who are blind.
Further exacerbating the situation, no private trade school with a certificate program in audio engineering has yet been willing to enroll a visually impaired student aspiring to become an audio professional. Whether the cause is fear or ignorance or something else, the fact remains that professional audio engineers who are blind really only develop careers as independent business owners, in essence employing themselves, because recording studios and post production houses, large and small, are not inclined to hire them. Equal opportunities for persons with vision loss to work as voice-over artists are almost as scarce. Now, a real opportunity to significantly change the employment landscape for professionals with disabilities in the audio production field exists. The growing niche market for the production of accessible media can create unique careers in which professionals with sensory disabilities have a competitive advantage. The specialized field of making video media accessible by incorporating closed captioning and video description may even open doors to some mainstream audio work for those who have traditionally been shut out.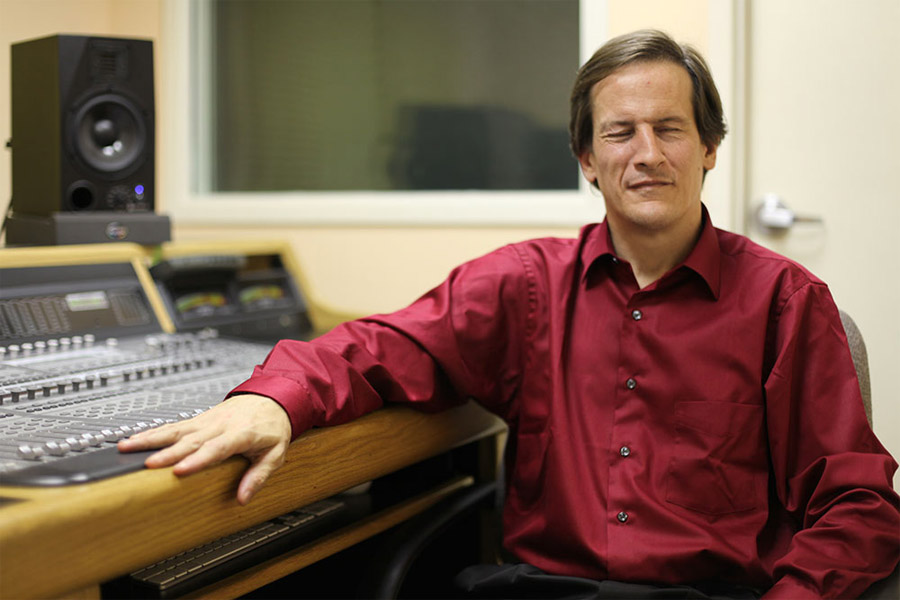 Terminology
The field of accessible media is quite young by most standards and could benefit from simplification of some terminology. The term "accessible media" refers to any video content that is made accessible to people with sensory disabilities by the use of closed captioning and video description. The term "audio description" is really the broadest term for any description used to make visual images accessible to those who have vision loss. This could include stage plays, museum exhibits, a painting, or anything that a blind person could understand more readily by hearing a verbal description. The term "video description," which is commonly used in legislation and legal documents, refers to audio description of video media. Video description has other parallel terms including descriptive narration, descriptive video, and descriptive audio. Whatever the term, someone who cannot see the images in video media can hear short descriptions inserted into the audio portion of the program between dialog or significant sound effects. These descriptions do not tell the story, do not describe sounds, do not explain the video, but rather, simply describe the most important video elements as they are visible on the screen. For more information about what video description is and how it works, visit www.audioeyesllc.com.
The Journey
My own career path as a totally blind audio engineer was really quite typical. I was denied entrance into every audio engineering school I could find. I gained critical knowledge and experience at the largess of some generous friends and associates who wanted to make a difference in someone's life. My friends deemed me "relentless" in my quest to become as competent as my sighted piers and in my commitment to mastering the same tools of the trade that the top professionals used. Ultimately, that tenacity culminated in my shepherding the process by which the industry standard audio production workstation, Pro Tools, became accessible to blind engineers. Shortly after becoming the first blind audio engineer to run a Pro Tools system, my career took a wonderfully unique turn. That is when I became acquainted with video description.
In Hollywood in 1996, I presented a Media Access award to WGBH, Descriptive Video Service. Subsequently, I helped them form a Consumer Advisory Group of blind movie-goers in Southern California. I also served in a spokesperson-like role for that organization, being interviewed for major media news stories and explaining and demonstrating video description in a nationally televised program.
In 1999, a colleague who was a closed captioning professional with a disability suggested to me that I explore producing video description in my own studio in Los Angeles. My philosophy at the time asserted that all of the existing description providers combined could not meet the need for video description, even if only a fraction of broadcast television and movie cinema releases were to be described. I also immediately anticipated the potential for some visually impaired audio engineers and voice-over artists to gain employment or strengthen their own recording businesses.
Between 1999 and 2002, I assembled a talented team of professionals, some with years of relevant experience and some newly trained by me. The team practiced their production procedures and tested the results with blind consumers. Ultimately, I decided to adopt a policy that requires every described media product to be reviewed by an expert in description who is also visually impaired. My emphasis on quality and meeting the consumersí expectations precipitated a quality control process that involved a visually impaired consumer, the audio describer (or description script writer), and a secondary sighted reviewer. Essentially, this process has created a new career path for individuals with vision loss. The Description Quality Specialist is a certified expert in video description standards and practices and is also a consumer of the service itself.
The Process
Each step in the process of promoting and producing described media offers opportunities to employ people with disabilities in professional positions. The steps involved in producing described media are as follows:
Sales and Traffic: selling services and acquiring the media
Tech Operations: formatting and distributing media according to work flow
Media Description: writing video description scripts according to standards and formats
Quality Control: reviewing description for accuracy and effectiveness
Audio Recording: recording description voice-over
Edit/Mix Audio: modifying voice-over recording and mixing description with original program audio
Tech Operations: sync audio to video and generate deliverable format
Traffic and Accounting: deliver product and collect payment
Accomodations
Certainly, some reasonable accommodations must be made in order for a blind professional to succeed as a producer, engineer, description quality specialist, or voice-over artist. A blind audio engineer requires a physical interface to control certain on-screen aspects of the Pro Tools system. The "control surface" as it is called, can range in cost from $1,000 to $8,000. Fortunately, all Apple computers come equipped with an effective screen reader feature built into the OS. Tactile marking on buttons as well as documenting the order of display menus and other low tech access solutions are also usually required. A description quality specialist needs an accessible method for reading and writing scripts and notes.
In the course work required to earn my Associate of Arts Degree in Broadcasting, as well as part of my voice-over training, I encountered the challenge of needing accessible scripts. I experimented with audible scripts and memorization. I experimented with recorded scripts and an ear prompter. I utilized Braille embossed scripts and sometimes Brailled scripts myself by hand as someone read aloud just minutes before I had to perform them as a cold read. I also tested the effectiveness of using a refreshable Braille device. After accumulating years of experience auditioning and performing as a voice-over artist, I concluded that every approach to making scripts accessible is valid, and the method selected for any job should fit the circumstances and abilities of the voice-over artist.
Training and Employment
When I recognized the real opportunities for employment of people with disabilities in the process of producing and distributing described media, I collaborated with business partners and developed professional training courses in accessible media production. With funding from Workplace Hollywood, more than thirty students with disabilities attended our courses offered at the Media Access Office in North Hollywood, California. Several students joined the growing pool of working professionals with disabilities in the accessible media industry. In 2003, two individuals with mobility impairments were hired as audio describers and wrote description scripts for national television; five individuals with visual impairments were hired as audio engineers and recorded/edited/mixed description for national television; seven individuals with visual impairments performed voice-over for described programs on national television; six individuals with mobility impairments also voiced description for television. I received the California Governor's Trophy at the National Business Leadership Conference for my inclusive employment practices.
Coming Soon
Currently, in my role as a consultant to the Video Description Research and Development Center, VDRDC, in San Francisco, I am collaborating with the National Federation of the Blind to offer a Professional Development Workshop in May 2012. The workshop aims to certify blind trainees as Description Quality Specialists and to prepare them to immediately begin to work in the industry as the Federal mandate for broadcast video description becomes enforced in July 2012. The intensive training workshop will teach students the core standards for video description, and will give them realistic working environment experience evaluating and modifying video description scripts. Professionals who complete the workshop will be eligible for internships and/or for hire by major video description producers, many of whom are members of the Description Leadership Network. Beyond providing new career opportunities for professionals who are blind, the workshop will ultimately succeed, if it encourages the accessible media industry to be more inclusive of professionals and consumers with vision loss, and if it becomes the model for many future workshops for professionals with disabilities in the industry.
Career Development
In the accessible media field, professionals with disabilities can gain extensive experience in high quality productions including broadcast and webcast programs, potentially developing superior resumes to peers with comparable education levels. Professionals with disabilities have an added value as consumers of the service being provided, and their inclusion can elevate the potential for high quality accessibility services with the integrity of user tested products. Successful employment of professionals with disabilities in accessible media production may encourage other media related organizations to consider people with disabilities for employment. Individuals migrating from accessible media production to other media related jobs possess a thorough knowledge of accessibility requirements and options, offering added value to new employers. Acquiring training and experience in the production of accessible media can enable individuals to develop skill sets that can facilitate other types of careers as well. Professionals with disabilities working in the production of accessible media can serve as effective advocates who possess a thorough knowledge of the required resources for providing accommodations in media products and services.
Conclusion
The news and entertainment media may be the most powerful influence on societal attitudes, which have been identified as the greatest barrier to employment for people with disabilities. The disproportionately low visibility of people with disabilities in the media and the lack of accessibility of many media products and services suggest a pattern of exclusion in the industry. The use of audio/video media in education from K-12 through university level continues to increase each year, but the percentage of accessible videos available to teachers remains minimal. Including professionals with disabilities and consumers of described, captioned media in the production of accessible media may be an effective means to reverse the discriminatory trend in the entertainment biz. An inclusive accessible media industry can improve education for students with sensory disabilities, raise the quality of accessible media services, and provide opportunities for employment in media production careers for professionals with disabilities.
About the Author
A professional audio producer and engineer since 1987, Rick Boggs has recorded, edited, and mixed music, radio ads, and industrial voice over. Boggs was the first blind engineer to use Pro Tools and was the first blind engineer to produce video description. He developed a QC process for video description that includes expert blind consumers, and received the California Governor's Trophy for his inclusive hiring practices. He is a musician who composes, sings, and plays multiple instruments. As an actor he has appeared in over 35 commercials, seven TV shows, and three films. He has made spoken presentations to tens of thousands of people across the United States. He and his wife Amber, who is also totally blind, have three small children and reside in California.
Tags: description, accessibility-vendors
Please take a moment to rate this Learning Center resource by answering three short questions.