Recognize and Reinforce Social Skills Programming
By Mary Ann Siller
Do you see your students or child having a conversation on a variety of topics, understanding how to participate in a group, walking in the hallways of school talking and laughing with others, or participating in enrichment activities after school with friends? Maybe you do, but most often teachers and parents say children with visual impairments are not ready for most social situations. Lack of vision may affect the ability to model others' social behaviors and the use of incidental learning for many common social skills.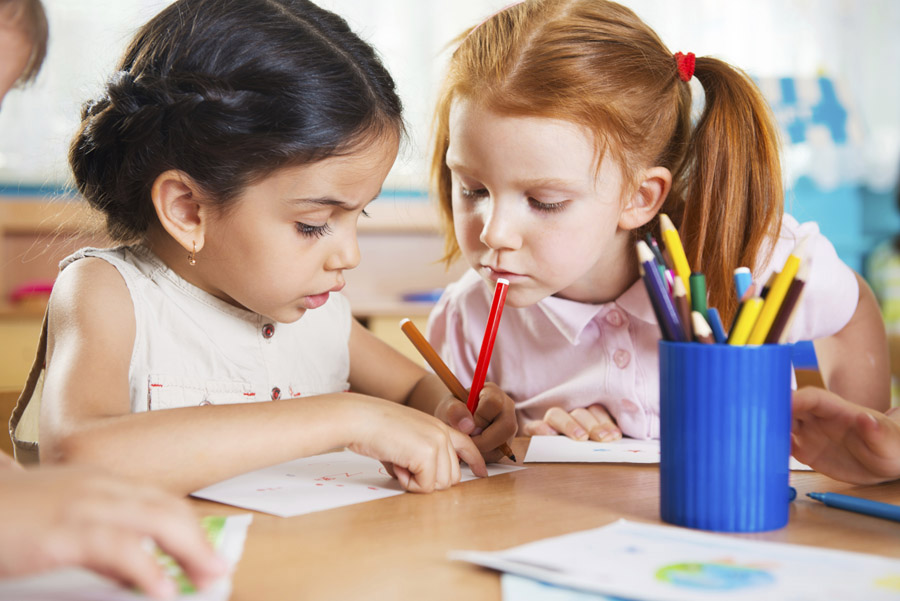 Social skills are a critical component for all children to learn and apply in the "real world," but they become a strategic need to accomplish and master for many children with visual impairments. Social skills are those life skills that define who we are, what we may become, and the fun in-between. It is the interactions and relationships we have with others that enrich life as well as lead to successes in the workplace as students move into adulthood. Learning appropriate social skills results in better life outcomes.
How would things be different if your student or child understood and used nonverbal cues? Would your student or child be treated differently if he/she knew key ways to make and keep friends? Would your student or child be able to get and keep a summer job if he/she knew personal competencies and limitations? How will your student or child adjust to college if he/she is lacking appropriate hygiene skills or is clueless about fads and styles of clothes? Will your student or child have skills for meeting and greeting people when attending social events? These reflections and others show us why social skills are critical through the lifespan.
Social skills programming is one of the nine key areas of the Expanded Core Curriculum (ECC). As a platform for education of students with visual impairments throughout the country, the ECC provides an educational structure for teachers, students, and parents to use to assess, develop Individualized Education Program (IEP) goals and objectives, and evaluate through all areas of instruction.
Take the challenge and turn your attention to a unique opportunity for you and your students or child to be film stars. There is a new social skills cinema contest open until May 27, 2011. The Social Skills contest is open to teachers who teach students with visual impairments and parents of children with visual impairments throughout the United States and Canada. Age range for students should be birth to 22. So, here is your chance to submit a short video on the theme, "Social Skills: Putting the C in Cool." This contest is a perfect opportunity to show your colleagues a favorite lesson that you use to teach social skills at home, school, or in the community.
The video should target a social skills lesson for one of these four age categories (birth to 5, elementary, middle school, or high school). Lessons may be for students on any academic level or for children who have multiple disabilities. DCMP is partnering with the Texas Education of Blind and Visually Impaired Students Advisory Committee and will add the description and captioning to the four winning videos.
Join the fun! The application and outline for the new cinema project are on the front page of Texas School for the Blind and Visually Impaired (TSBVI) Web site. Don't forget....the video lesson needs to be submitted by May 27, 2011. Go to www.tsbvi.edu for all the details.
DCMP is continually adding new curriculum for high-energy learning opportunities. Their mission is to provide equal access to communication and learning for students who are blind, visually impaired, deaf, hard of hearing, or deaf-blind.
Teachers, parents, and students find new creative ways to support social skill programming at DCMP. Begin with DCMP options for social skill programming with these resources:
Other Options for Social Skills Resources
Fazzi, D.L., & Pogrund, R.L. (2002). Early focus: Working with young children who are blind or visually impaired and their families. New York: AFB Press.
Holbrook, C., editor. (2006). Children with visual impairments: A parents' guide. Bethesda: Woodbine House.
Kernel Series: A series of books containing inspirational stories written by blind people about themselves. Published by National Federation of the Blind
Weihenmayer, E. (2002). Touch the top of the world. NewYork: Penguin Group.
About the Author
Mary Ann Siller, M.Ed., is first and foremost an educator of children who are blind or visually impaired, ages birth through twenty-one. Siller has vast experience developing and leading national education initiatives and advocating for access to instruction and information. She is most at home when she is working with families to inspire their young children to dream big and find their special path to adulthood. She continues to address the most critical issues impacting the field of blindness and works as an advocate and curriculum designer. In previous career positions, she oversaw educational programming, curriculum development, and professional training at a state and national level for the Texas Education Agency and American Foundation for the Blind. Additional experience includes teaching/consulting for students with visual impairments and liaison with school districts to implement Federal and State laws. Mary Ann resides in Dallas, Texas.
Tags: educators
Please take a moment to rate this Learning Center resource by answering three short questions.