Footsteps to Inspire Us: Women Who Are Deaf and Hard of Hearing, Blind and Low Vision, and Deaf-Blind
By Cindy Camp
Introduction:
March is Women's History Month. As we celebrate all the women in American and world history whose influence has shaped our lives, we should not forget the influences of women who are deaf or hard of hearing, blind or low vision, and deaf-blind. At first you may not be able to think of any such women. Then you might remember Helen Keller who was both deaf and blind and an inspiration to millions. However, there are many other sensory-disabled women who have not only contributed to their own community but to the world at large.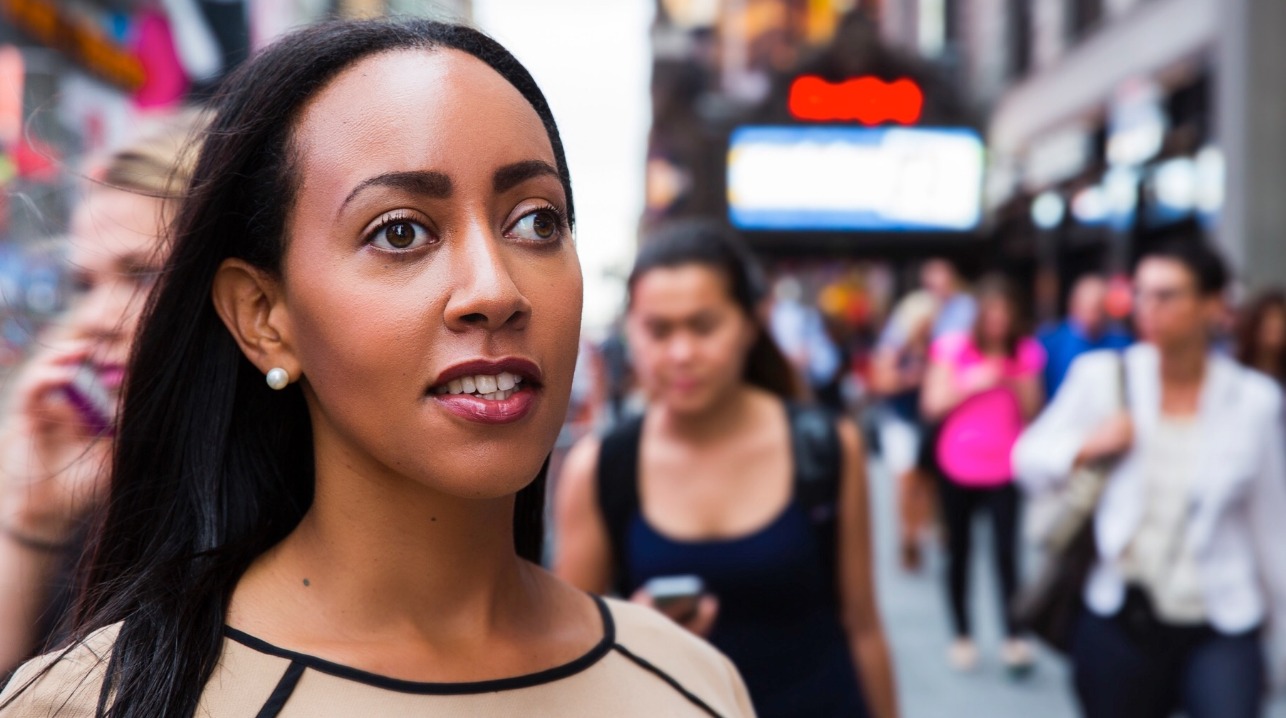 Haben Girma, first deaf-blind individual to graduate from Harvard Law School.
There are too many such inspiring women throughout history to name them all. This article will only touch on a few, but we have also provided additional websites and resources to be explored with your class or on your own.
Deaf and Hard of Hearing:
Shirley J. Allen (1941- )
Shirley was born in Texas and became deaf at the age of 20 from typhoid fever. She made history in 1992, when she became the first African-American deaf woman to receive a Ph.D. from the University of Rochester in New York.

Michelle Banks (1969- )
Michelle is a native of Washington, D.C. She is an African-American entertainer who started her own traveling one-woman show, Reflections of a Black Deaf Woman. She is an award-winning actress, writer, director, producer, and teacher. Watch an interview with Michelle on YouTube.

Princess Alice of Battenberg (1885-1969)
Alice, born deaf, grew up in Germany, England, and the Mediterranean. She was the mother of Prince Philip, Duke of Edinburgh. Her later life was devoted to charity work.

Shelley Beattie (1967-2008)
Shelley was born in California and became deaf at the age of three. Her claim to fame came in the 90's on the hit TV show American Gladiators in her role as "Siren." She holds the world bench-press record at 315 pounds and has won several body-building competitions.

Nancy J. Bloch (1954- )
Nancy was born deaf to a hearing family in Pennsylvania and grew up in Florida. She was the first female chief executive officer of the National Association of the Deaf (NAD), departing March 2011 after nearly 19 years of service. In her honor, a scholarship fund was created to support NAD internships for aspiring deaf and hard-of-hearing leaders. After NAD she joined the Florida School for the Deaf and Blind as executive director of communications and public relations, and continues that work today.

Linda Bove (1945- )
Linda was born in New Jersey. She is congenitally deaf and both of her parents are deaf. While she is most well known for her role on the children's show Sesame Street, she has also been featured in many children's sign language books.

Deanne Bray (1971- )
Deanne was born deaf. Best known for her role as the title character in Sue Thomas: F.B.EYE, one of the most popular shows on PAX Network from 2002-2005. She also had a reoccurring role on the TV show Heroes.

Millie Bobby Brown (2004- )
Millie is an English actress and model. She was born with progressive hearing loss in one ear. She is best known for her role as Eleven 'El'/Jane Hopper in the Netflix sci-fi series Stranger Things. She became the youngest Emmy nominee in history, at the age of 13, when she was nominated for Outstanding Supporting Actress in a Drama Series for her 'El' role.

Amy Ecklund (1970- )
Amy became deaf at the age of six. She is well known for her role on the popular soap opera Guiding Light. In 1998, she won the Daytime Emmy Award for Outstanding Supporting Actress in a Daytime Series.

Julianna Fjeld (1947- )
Julianne was born in Minnesota and is congenitally deaf. She worked with the National Theatre of the Deaf and while on tour met Joanne Greenberg, the author of In This Sign. Over the next few years they collaborated to turn the book into the Hallmark movie Love is Never Silent. In 1986 the movie won the Emmy Award for Best Picture.

Ashley Fiolek (1990- )
Ashley was born in Dearborn, Michigan, and has been deaf since birth. She began motocross racing at the age of seven. She won the Women's Motocross (WMX) championship in 2008, 2009, 2011, and 2012.

Phyllis Frelich (1944-2014)
Phyllis was born in North Dakota. She was congenitally deaf and grew up in a deaf family. Involved with the National Theatre of the Deaf, she won many awards for her acting, including a Tony Award for her Broadway performance in Children of a Lesser God.

Gertrude Scott Galloway (1930-2014)
Gertrude was born in Washington, D.C. and was congenitally deaf. She was a women's rights advocate, civic leader, educator, and activist. She was also noted for being the first female president of NAD (National Association of the Deaf).

Dame Evelyn Glennie (1965- )
Evelyn was born in Scotland and has been profoundly deaf since the age of 12. She is the world's foremost, and first full-time, solo percussionist. Performing internationally, she has won two Grammy Awards and performs internationally.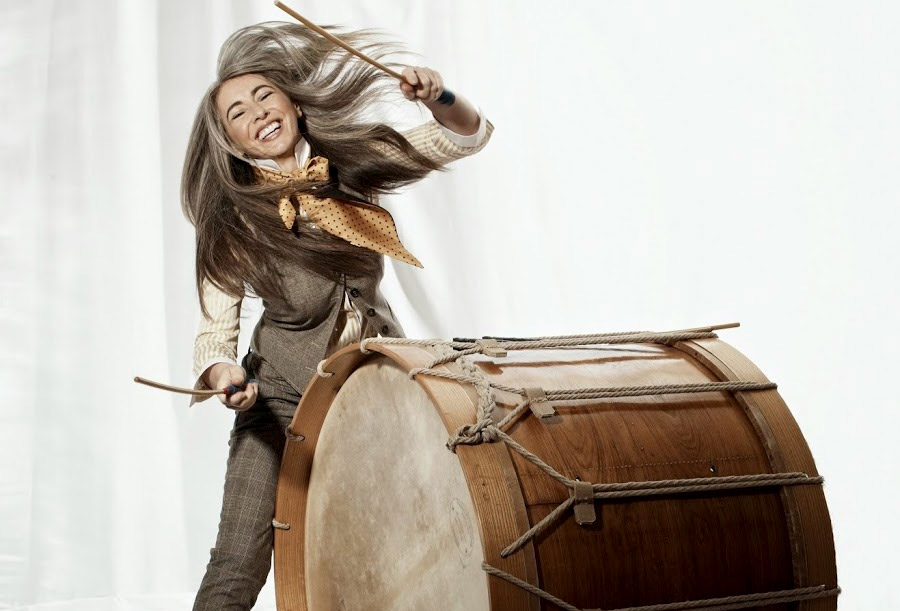 Evelyn Glennie




Alice L. Hagemeyer (1934- )
Alice was born in Nebraska and became deaf at the age of three. Until her retirement, she worked as a librarian for the deaf community at District of Columbia Public Library. She founded the Friends of Libraries for Deaf Action (FOLDA), in which one of its objectives is to bridge deaf cultures in local communities.

Kate Harvey (1862-1946)
Kate was a British suffragist, physiotherapist, and charity worker. She was profoundly deaf. She operated a home for women and children and later a home for disabled children. She was an early practitioner of physical therapy. She was once jailed for refusal to pay taxes if she were not allowed the right to vote.

Mandy Harvey (1988- )
Mandy was born with a hearing loss and underwent several corrective surgeries as a child but lost her remaining hearing at the age of 18. In 2017 she competed on America's Got Talent, and won fourth place. She performed her original songs and accompanied them with her ukulele.

Regina Olson Hughes (1895-1993)
Regina was born in Nebraska and became deaf as a young teenager. She became a translator for the U.S. State Department during World War I, and then she became a scientific illustrator for the U.S. Department of Agriculture. Her illustrations are in a number of publications, and some of her paintings hang in the Smithsonian.

Casar Jacobson (1985- )
Casar is a disability and gender equality rights activist. She was born hard of hearing but continued to lose hearing until she became deaf in her 20s. She is of Norwegian-Canadian descent and has lived in Austria, Norway, Germany, and Canada. She is a former Miss Canada, Miss Global Peace, and Deaf International Entrepreneur.

Emmanuelle Laborit (1971- )
Emmanuelle was born in Paris and has been deaf since birth. She became well known for her book titled The Cry of the Gulf and was nominated for an Oscar for the film Beyond Silence.

Juliette "Daisy" Gordon Low (1860-1927)
Juliette was born in Georgia and became deaf in her mid-20's due to a severe ear infection. She founded Girl Scouts of America in 1912.

Heather Whitestone McCallum (1973- )
Heather was born in Alabama and became deaf at the age of 18 months. She became famous in 1995 as the first deaf woman to win the title of Miss America.

Shaylee Mansfield (2009- )
Shaylee was born deaf to deaf parents in Burbank, CA. She and her hearing sister appear on ASL Nook, a website and YouTube channel which teaches ASL. She is an actress who gained recognition by appearing in Disney's "Unforgettable Story", where she met a Minnie Mouse at Walt Disney World who was learning sign language. The video quickly went viral, becoming one of Disney's most-watched ads.

Harriet Martineau (1802-1876)
Harriet was born in England and became deaf as a young child due to frequent illnesses. At the age of 19 she became a journalist and went on to write 30 books and thousands of articles. She supported women's rights through her writing and her activism.

Marlee Matlin (1965- )
Marlee was born in Illinois and became deaf at the age of 18 months. She began acting with the National Theatre of the Deaf and went on to win an Academy Award for Best Actress for her role in Children of a Lesser God. She has appeared on ER, Desperate Housewives, The West Wing, Quantico, and starred in Reasonable Doubt and Switched at Birth.

Marcella M. Meyer (1925-2009)
Marcella was from California and became deaf as a young child. She was founder of GLAD (Greater Los Angeles Council on Deafness) and a key figure in pushing through both legislative and social change for deaf rights.

Rikki Poynter (1991- )
Rikki is a deaf YouTuber focusing on Deaf awareness, accessibility, and the importance of closed captioning. Her hearing loss was first diagnosed with severe hearing loss in her right ear and moderate to severe loss in her left ear when she was 11. She was raised orally and attended mainstream school. In her 20s she became involved in the Deaf community and learned ASL.

Kitty O'Neil (1946-2018)
Kitty was born in Texas and became deaf at the age of four. She was a stunt double on shows such as The Bionic Woman and Wonder Woman. In 1977 she set a world record for land speed by reaching 412 mph in just 3.22 seconds.

Kathleen Ollerenshaw (1912-2014)
Kathleen was born in Withington, Manchester and became deaf at the age of eight. While attending school at Lady Barn House School she developed a love of mathematics. She was a lecturer in the mathematics department at Manchester University and an advisor on educational matters to Margaret Thatcher's administration in the 1980's.

Carol Padden (1955- )
She was born in Washington, D.C. to deaf parents. She is a pioneer in the field of Deaf Studies. Her book Deaf in America: Voices from a Culture focuses on language and culture rather than hearing loss.

Frances "Peggie" Parsons (1923-2013)
Frances was born deaf and became a supporter of total communication and an advocate for deaf rights. She wrote Sound of the Stars in 1971 and was a coauthor on other books: I Didn't Hear the Dragon Roar in 1988 and American Sign Language: Shattering the Myth in 1998. In 1992 her writing was included as part of a collection, No Walls of Stone: An Anthology by Deaf and Hard of Hearing Writers by Jill Jepson (Editor).

Lauren Ridloff (1978-)
Lauren was born deaf in Chicago, IL. She was born deaf to hearing parents, a Mexican-American father and an African-American mother. She has become a well know actress for her roles in the TV series The Walking Dead and the film Eternals.

Laura Catherine Redden Searing (1840-1923)
Laura was born in Missouri and became deaf at the age of ten due to spinal meningitis. She was a poet and journalist. During the Civil War, she wrote for a magazine titled Reform Nation.

Millicent Simmonds (2003- )
Millicent is an actress from Utah. She became deaf at 12 months due to a medication overdose. Her mother learned ASL and taught the entire family so that Millicent wouldn't be left out. She attended Jean Massieu School for the Deaf. She starred in the 2017 drama Wonderstruck and the 2018 horror film A Quite Place.

Christy Smith (1978- )
Christy was born in Colorado. Because of her premature birth, she was profoundly deaf in both ears. She competed on CBS's reality TV show Survivor: Amazon, and then started her own TV show Christy's Kids: Challenge Yourself.

Shoshannah Stern (1980- )
Shoshannah was born in California and is the fourth generation of deaf in her family. While attending Gallaudet University, she earned a role in Warner Brother's TV show Off Centre.

Terrylene Sacchetti (1967- )
Terrylene is an actress who has been featured in Oliver Stone's Natural Born Killers. She is well known for her role on television's Beauty and the Beast. Also, she starred in the film AfterImage, playing a psychic deaf woman.

Sue Thomas (1950- )
Sue was born as an American woman who became the first deaf person to work as an undercover specialist doing lip-reading of suspects for the Federal Bureau of Investigation. She was portrayed on the TV show Sue Thomas: F.B.Eye by deaf actress Deanne Bray.

Bonnie Poitras Tucker (1939- )
Bonnie was born in Massachusetts and became profoundly deaf at the age of two. Although she never learned sign language, she became a lawyer after divorcing her husband of 17 years. She wrote The Feeling of Silence as a memoir of her experiences and frustrations in a hearing world.

Ildikó Újlaky-Rejtő (1937- )
Ildikó was born in Budapest, Hungary. She was born deaf and is Jewish. She began learning fencing at age 15 and became one of the greatest female fencers in Olympic history. She is now retired but competed up to the age of 62.

Janice Smith-Warshaw (1964- )
Janice was born Deaf to a third generation Deaf family. She grew up in Columbia, SC. She was the first deaf female to graduate from the University of Redlands. She was the first female School Superintendent of Illinois School for the Deaf. And she is the first female promoted to Associate Professor rank at California State University, Fresno.

Nellie Zabel Willhite (1892-1991)
Nellie was born in South Dakota and became deaf at the age of two, due to measles. She was South Dakota's first woman pilot, working as a commercial pilot until the age of 52. After her death, she was induced into the South Dakota Aviation Hall of Fame.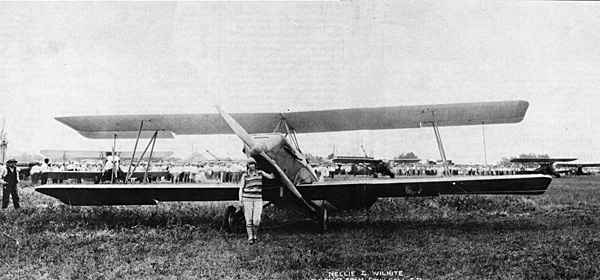 Nellie Zabel Willhite and a Long-wing Alexander Eaglerock
Frances Woods (1907-2000)
Frances was born in Ohio and was congenitally deaf. In the late 1920s, she and her husband Billy Bray were given the name, "The Wonder Dancers." This most unusual husband-and-wife dancing team was featured in Ripley's Believe It or Not museums.
Blind and Low Vision:
Alecia Alanzo (1921-2019)
Alecia was born in Havana, Cuba. At the age of 19 she experienced eye problems and became partially blind after several surgeries. She was a Cuban prima ballerina assoluta and choreographer. Her company became the Ballet Nacional de Cuba in 1955.

Tilly Aston (1873-1946)
Tilly was born in Australia. She was a writer and teacher, who founded the Victorian Association of Braille Writers.

Lisa Czechowski Banta (1979- )
Lisa was born in New Jersey. She was born with nystagmus and diagnosed with cone dystrophy while in middle school. She is a goalball player and athlete. In 2000 she won a silver medal at the summer Paralympics.

Frances Browne (1816-1879)
Frances was born in Ireland and was blind from infancy. She began publishing poetry in her twenties and is best known for her children's books, Granny's Wonderful Chair and Its Tales of Fairy Times.

Kristen Eyring Cox (1969- )
Kristen was born in Bellevue, Washington and lost most of her vision by age 11 due to a degenerative genetic condition. In 2001 she was appointed by President George W. Bush as Special Assistant to the Commissioner of Rehabilitation Services Administration in the United States Department of Education "where she helped developed national initiatives to promote the employment and independence of individuals with disabilities."

Fanny Crosby (1820-1915)
Fanny was born in New York and became blind in infancy. She was a hymn writer and poetess, writing over 8,000 hymns.

Shelley Davis (1952-2008)
Shelley was born in Brooklyn, NY. She was an American attorney and activist, known for her advocacy to better working conditions for farm workers, particularly children, migrant, and seasonal laborers.

Judy Dixon (1952- )
Judy was born in Florida, and when she was nine days old, her mother discovered she was blind. She is a strong promoter of Braille education. Blending old and new technologies, she has created Web-Braille so that Braille users can have instant access to titles on the web.

Ella Fitzgerald (1917-1996)
Ella was born in Newport News, Virginia. She was an American jazz singer and called the First Lady of Song and Queen of Jazz. She lost her sight in her old age as a result of diabetes.

Teresa Fay "Terri" Gibbs (1954- )
Teresa was born in Miami, Florida and grew up in Augusta, Georgia. She lost her sight as an infant in an incubator accident. She is a country music artist and debuted in 1981 with her album Somebody's Knockin. In 2012 she was presented a Lifetime Achievement Award by the Artists Music Guild.

Elizabeth M. M. Gilbert (1826-1885)
Elizabeth was born in England and became blind at the age of three. She campaigned for the education and employment of the blind, founding the Association for Promoting the General Welfare of the Blind.

Christine Hà (1979- )
Christine was born in Los Angeles County. In 2004, she was diagnosed with neuromyelitis optica and became legally blind by 2007. She never studied cooking, but has a large following for her food blog. In 2012, she competed and won in the third season of Fox TV's popular MasterChef.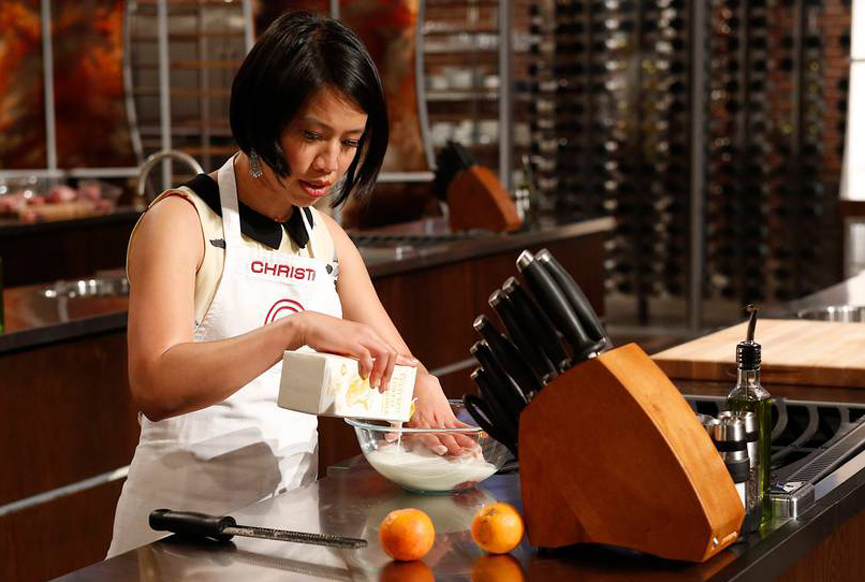 Christine Ha
Denise Leigh (1971- )
Denise was born in Audley and has been blind since birth. In 2001 she competed in an English National Opera reality TV program, called Operatunity, and won. Since then she has appeared in opera and oratorio throughout Europe.

Sally Mangold (1935-2005)
Sally was born in Illinois. Throughout her life Sally had a passion for Braille Literacy. In 1973 she developed the "Mangold Developmental Program of Tactile Perception and Braille Letter Recognition," a tool widely used to teach tracking and beginning Braille which has been translated into seven languages.

Mary Mitchell (1893-1973)
Mary was born in Australia and became blind in midlife. Using a typewriter and dictaphone, she wrote eight novels after losing her vision. One of her novels, Uncharted Country (1963), is about the practical aspects of living with blindness.

Ginny Owens (1975- )
Ginny was born in Jackson, Mississippi. She had poor eyesight at birth and became blind at the age of two. She is a singer/songwriter of contemporary Christian music. She has had three albums on the Billboard charts and is best known for her song, "If You Want Me To."

Maria Theresia Paradis (1759-1824)
Maria was an Austrian music performer and composer who lost her sight at an early age, and for whom Mozart may have written his "Piano Concerto No. 18 in B Flat Major."

Marie-Henriette LeJeune Ross (1762-1860)
Marie-Henriette was a midwife and nurse in Cape Breton. She became blind in her later life but continued her work as a midwife into extreme old age. She was well known for her selfless dedication and medial skills.

Marla Runyan (1969- )
Marla was born in Oregon and became legally blind at the age of nine due to Stargardt's disease. She is a two-time Olympian as a long distance runner and holds numerous awards for marathons.

Rachael Scdoris (1985- )
Rachael is a native of Oregon and was born with Congenital Achromatopsia, which caused her visual impairment. At the age of 15 she was the youngest athlete to complete a 500-mile sled dog race. In 2005 she became the first visually impaired athlete to compete in the Iditarod.

Diane Schuur (1953- )
Diane was born in Tacoma, Washington. She was born two months prematurely and as a result of complications experienced total vision loss. She is gifted with perfect pitch and taught herself to play piano by ear. She was nominated five times for the Grammys, of which she won two.

Charlotta Seuerling (1782-1828)
Charlotte was born in Sweden. She was a composer, writer, musician, and cofounder of the Institute for the Blind in St. Petersburg.

Johanna "Anne" Mansfield Sullivan (1866-1936)
Annie was born in Massachusetts. She was left nearly blind from trachoma by age seven. She is best known as the teacher of Helen Keller.

Sabriye Tenberken (1970- )
Sabriye was born in Germany and became completely blind by the age of 13 due to a progressive retinal disease. She pursued Central Asian Studies at Bonn University. Being the first in this field, she developed a Tibetan Braille script. She later established Braille Without Borders, a project for the blind in Tibet, and published three novels.

Sue Townsend (1946-2014)
Sue was born in the United Kingdom, becoming blind later in life due to diabetes. She is best known for her Adrian Mole series of novels.

Harriet Tubman (c. 1822-1913)
Harriet was born a slave and experienced vision loss due to a severe head injury she received as a teen when a man hit her with a heavy metal weight. She was an American abolitionist, humanitarian, and spy for the U.S. army during the American Civil War.

Trischa Zorn (1964- )
Trischa was born in California. She has been blind since birth. She is a swimmer and has been called the most successful athlete in the history of the Paralympic Games. She won 55 medals, 41 of which were gold.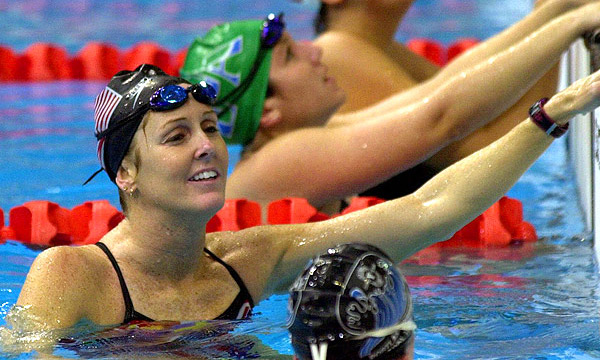 Trischa Zorn at the 2014 Paralympic Games
Deaf-Blind:
Rebecca Alexander (1979- )
Rebecca has progressive hearing loss and vision loss due to Usher Syndrome Type III. She is a psychotherapist, activist, extreme athlete and author of a new book, Not Fade Away: A Memoir of Senses Lost and Found.

Alice Betteridge (1901-1966)
Alice was born in Australia and became both deaf and blind at the age of two from meningitis. She was the first deaf-blind person to be educated in Australia, and she has been called Australia's "Helen Keller."

Julia Brace (1807-1884)
Julia was born in Connecticut and became both deaf and blind at the age of five due to typhus fever. She was sent to the Hartford Asylum for the Deaf and Dumb and became a bit of a celebrity because she could do so much without her sight or sound. Her accomplishments included paving the way for the education of deaf-blind individuals.

Laura Bridgman (1829-1889)
Laura was born in New Hampshire. At the age of two, she contracted scarlet fever and lost her sense of hearing and sight. She attended the Hartford School for the Deaf and Dumb. After completing her education, she became a teacher. In the 1840s, at the height of her fame, it was said that the only better-known female was Queen Victoria.

Theresa Poh Lin Chan (1943-2016)
Theresa was born in Singaporean and became known as "the Helen Keller of Southeast Asia." She lost her hearing at age 12 and her sight at age 14. She was an accomplished writer and teacher.

Helen Keller (1880-1968)
Helen was born in Alabama and became both deaf and blind at the age of 19 months due to an illness. The first deaf-blind person to earn a bachelor's degree, she is renowned as an author, political activist, and lecturer.

Haben Girma (1988- )
Haben was born in California after her mother fled Eritrea. Her older brother is also deaf-blind. She was the first deaf-blind individual to graduate from Harvard Law School. She is a staff attorney for Disability Rights Advocates and was recognized in 2013 by President Obama as a Champion of Change.

Georgia Griffith (1931-2005)
Georgia was born in Ohio. She was born blind and later lost her hearing. The first blind person to graduate from Capital University in Columbus, Ohio, she taught in public school and gave private music lessons. Later she became a proofreader for the Library of Congress and taught herself ten different languages.

Geraldine Jerrie Lawhorn (1916 -2016)
Jerrie began losing her sight at the age of eight and by 12 she was blind. In high school she began losing her hearing. She is well known in the deafblind community as a performer, actress, pianist, an instructor at the Hadley Institute for the Blind and Visually Impaired. She was the first deafblind African American to earn a college degree in the U.S.

Ragnhild Tollefsen Kata (1873-1947)
Ragnhild was born in Norway and became both deaf and blind at the age of three due to an illness. She became accomplished in embroidery, knitting, and weaving. In later life she made enough money from her handicrafts to support herself.
Conclusion:
History must tell the whole story. For girls, knowing women's achievements expands their sense of what is possible. For all of us, knowledge of women's strengths and contributions builds respect and nourishes self-esteem. For our children, positive role models are crucial to confidence building.
Everyone needs these role models—footsteps enough like our own to inspire us. Women who are deaf or hard of hearing, blind or low vision, and deaf-blind have achieved in all facets of life. The children in your class can walk history's pathways and learn to step forward with confidence.
Additional Resources:
American Printing House for the Blind Hall of Fame

Deaf Women United

Disabled World: Famous Deaf or Hard-of-Hearing People

Disabled World: Famous Blind or Low Vision People

Commemorate Deaf and Hard of Hearing Women

Commemorate Blind and Low Vision Women

Commemorate Deaf-Blind Women
Tags: educators, blindness, deaf-blind, deaf
Please take a moment to rate this Learning Center resource by answering three short questions.