EdTechM2 Program Area Meeting - DCMP Presentation Video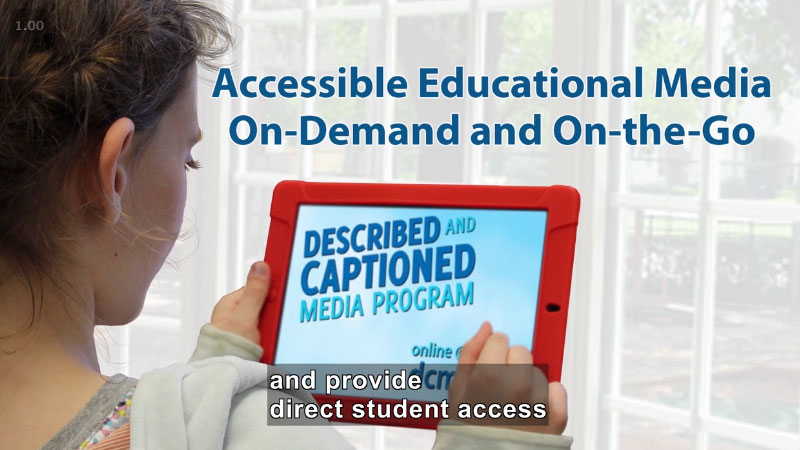 We live in a society that demands instant and anywhere access to everything. We check our bank balances, schedule rides, order takeout, and perform a myriad of other tasks with our mobile devices. Kids are no different. A recent study by Common Sense Media found that 75% of children age zero to eight had access to some sort of mobile device, and that the amount of mobile media used by children had doubled in a two-year period. Learning has become a 24/7 proposition that occurs anywhere, everywhere, and at anytime. DCMP's goal was to adapt to these trends, changing our platform to support mobile media, and provide direct student access to our collection of accessible media, and meet the demands for 24/7 learning experiences. So I'd like to show you our platform and highlight some of the new features. First, I'd like to give you a quick overview of how clients locate and view media via the DCMP website. Our site is fully accessible and responsive to work easily with all modern tablets and smartphones. The on-demand library is fully searchable by keyword. I'll perform a search on "Science Video Vocab," and I'm presented with a listing of titles which meet that criteria. The search function is very handy when there's a specific title or concept in mind. When browsing, I'm shown a listing of main topics, such as Arts, Geography, Literature, and Social Science. I'll select Science. Now we're presented with more specific subject areas, including Amphibians, Earth Sciences, Oceanography, and Senses. I'll choose Biology, and browse the associated titles. For each title, we're presented with information about the accessibility features and media formats available, the associated grade levels, and audience rating information. Let's select Adaptive Function Of Form: The Beauty Of Ugly. From the four-star client rating, users seem to like this title. We're now presented with more details about the title, including a full catalog description and additional metadata. We're also provided links to related items-- in this case, a teacher's guide and student activity. These additional curricular materials help in the utilization of the media with the goal to improve student outcomes. In just a moment, I'll choose to stream the video with English description, and because I'm already logged in as an authorized user, the video will start playing immediately. I'm going to jump into the middle of the title.
(female describer) ...a large bird sitting in a tree.
(male narrator) The vulture.
(describer) The vulture's head is bald.
(narrator) In Namibia, Southern Africa, there's a vulture... I'm now going to jump to a different title, GeoQuest: Guatemala. By default, the DCMP media player includes the synopsis on the left of the video screen, and additional buttons on the right. These buttons allow the viewer to jump between accessibility and language options. This particular title is available with captions and descriptions, in both English and Spanish. As I'm playing the title, I can use the buttons to jump between captioning and description, and between English and Spanish, maintaining the current position in the video.
(female describer) A woman sells vegetables in a street market.
(male narrator) During today's Geoque... (male narrator speaking Spanish) (female describer speaking Spanish) You'll also note that there is a "transcript" button, which allows me to turn on the interactive transcript feature, which will replace the synopsis on the left of the video. The transcript will follow along with the narrator, and I can click on a portion of the text to jump to that location in the video. I'm now going to search the transcript for "Guatemala," and we see all the instances of this term. Using the arrow icons, I can jump between these segments in the video. This makes it very easy to zero in on the portion of the video covering specific concepts. If I select one of the Spanish accessibility types, you'll see that the transcript jumps to Spanish. Again, this change occurs while keeping the current position in the video. We're certainly not the first to implement an interactive transcript feature, but we've built ours, including the search feature, to be accessible to screen reader users. Now that you have a general idea of how the media library works, I want to show you some of the exciting things we're doing. While we're still looking at the web-based media player, I'll quickly share that DCMP media is now fully embeddable. This means that teachers are able to easily include accessible DCMP media in their learning management system, such as Moodle, Blackboard, and others. From the media player page, users can select the "embed" option, under sharing, to get the code necessary. There are two options: "Compact," which only includes the video window with the currently-selected language and accessibility options; and "Full," which includes the full player with all options and the interactive transcript. We've already added a video into a sample Moodle lesson, which could easily be projected onto a SMARTBoard or other electronic whiteboard to display to the classroom. You'll note that access to the media item is still dependent upon having a valid DCMP account and password. Once valid credentials are provided, the video starts playing. Earlier I mentioned that we wanted to start providing direct student access to the media library. Up until recently, accounts were only established for teachers, parents, and other adults who worked with qualifying students. For the past couple of months, adult DCMP account holders have been able to create student accounts and grant permission to view specific items in the library. We're currently working on improving this feature, and I'm excited to give you a sneak peek of what will be going live on our site very soon. I'm going to log into a fictitious teacher's account. From the account page, I'm able to create a new student account by providing the student's name, and selecting a username and password for the account. Once created, student accounts can be added to groups or classes. This screen shows that I have a group called "Biology-Second Period" with a number of student accounts associated. I'm going to add my newly-created student to this group. Now I'm ready to assign permissions. As I browse through the media, I'm able to grant permissions to topics, subjects, and individual titles, and assign them to a group or an individual student. Here I am assigning permissions to the "Biology" subject heading. I'll choose to assign the permission to my "Biology-Second Period" group. This allows any student within that group to view any media item, including future items, assigned to the "Biology" subject heading. Now I'd like to show you the site when logged in as one of these students. When students browse and search the DCMP media collection, they are only shown those items for which they have been given viewing permissions. Since this account was granted access to the "Biology" subject heading, I am only able to access topics, subjects, and titles which are associated with that subject heading. I'm seeing more than just the "Biology" subject heading in the listing, since some of the titles are associated with more than one heading. With this permission system in place, students were finally able to have direct and independent access to DCMP streamed media. We knew, however, that we needed to focus on development of native mobile apps. Based on the examination of usage pattern for our mobile-friendly website, the decision was made to focus on the development of an iOS app first. In January, the DCMP app was released to the iTunes store, and it has been downloaded just under 400 times. To demonstrate the app, I'm going to log in as that same student in the "Biology-Second Period" group. After the app's splash screen, I'll provide the student's username and password. Once again, I'm presented with a listing of topics, subjects, and media items for which permission to view has been granted. Once an item is selected from the list of titles, I'm presented with the same title details page. Then I can choose an accessibility option, and the media item opens in the media player. A recent article in the New York Times discussed how children are natural binge viewers, but with a twist. When children are enamored by a show or a character, they want to watch the same episode over and over and learn every detail. For younger children, rewatching involves learning. Shows for preschoolers are the ones rewatched most by families that subscribe to online streaming services. In the DCMP app, students can add media items to their "favorites." Titles marked as favorites are easily accessed across devices and platforms to support the rewatching and relearning process. Speaking of popular content for young viewers, I wanted to share with you a great collaboration between DCMP and five other EdTech grantees. The five Television Access grants, administered by Bridge Multimedia, CaptionMax, Dicapta, Narrative Television Network, and the National Captioning Institute, make children's television programming accessible through description and/or captioning, and that content is made available via broadcast television. Through this collaboration, some of this content is also made available to DCMP members. Television content partners include: Nickelodeon, The Fred Rogers Company, PBS Kids, Sprout, Sesame Workshop, and Litton Entertainment. Media distribution via DCMP allows this programming to be: Users are not constrained by broadcast schedules. Users can use the various DCMP distribution platforms to watch content wherever they are. This also allows teachers to bring educational television content into the classroom more easily. In today's digital age, teachers face technological hurdles to take broadcast television from home to the classroom. And most importantly... On-demand options from cable providers and web-based, on-demand options from television networks often do not include full accessibility. To support the inclusion of television programming, the DCMP created "Series Pages" for such content. Here is the series page for BizKid$, an Emmy Award-winning series of 65 episodes on financial literacy. This page includes a carousel of thumbnails and a listing of all episodes. Once users find and benefit from watching one episode, this page allows them to easily find additional episodes. Users can view and order items from this screen, or they can click on an episode title to get the familiar title details. And speaking of television, I have one more platform to show you-- The DCMP has developed a channel for the popular Roku set-top box. The Roku device is a small black box, which easily connects to a television via an HDMI cable. Once powered up, the Roku will walk users through a simple set-up process, including connecting to an available Wi-Fi network and registering the device. The Roku channel store can then be opened. A search for "DCMP" will reveal the channel, and it can be added and opened. After the channel splash screen is displayed, a code is shown which must be entered on the DCMP website, in order to link the Roku device to the user's DCMP channel. Once this is complete, the device will show the familiar listing of DCMP topics, subjects, and titles. And yes, user's favorited titles are available on this platform too. I hope you've enjoyed learning more about DCMP's distribution platform. I want to take just a moment to mention some of the other activities in which DCMP is involved, including...
Now Playing As: Captioned and Described (English)
DCMP Director, Jason Stark, presents for the EdTechM2 Program meeting during the 2015 OSEP Project Directors' Conference.
Media Details
Runtime: 14 minutes