Achieving Goals! Career Stories of Individuals Who Are Deaf and Hard of Hearing: DEAFfinitely Dynamic (Vol. 3)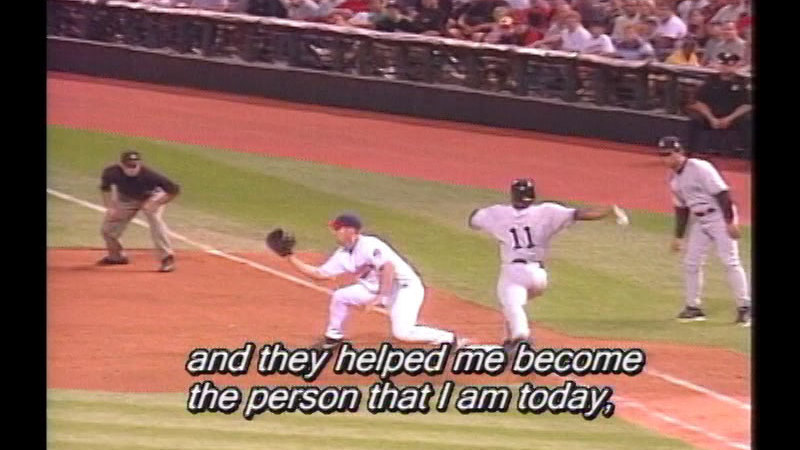 [MUSIC PLAYING]
NARRATOR: You are about to meet four unforgettable people, individuals whose ambition and drive have allowed them to overcome great obstacles on their way to professional and personal success. They are of many races and diverse backgrounds, and their inspiring stories will demonstrate how dreams, indeed, can become reality through motivation, hard work, and education. Each of these four individuals is making enormous contributions to the deaf community, and we at the Northeast Technical Assistance Center and the National Technical Institute for the Deaf are proud to bring you their stories of accomplishment. We hope you enjoy them.
[THEME MUSIC]
[CHEERING]
BASEBALL ANNOUNCER: The 1-1 swung on, hit high in the air to deep center. Damon back, way back on the track. He's at the wall. She's gone.
[CHEERING]
Curtis Pride, in his first game as a Yankee, has hit a home run over the center field fence. Talk about pride of the Yankees. The much-traveled, 34-year-old journeyman Curtis Pride gets a curtain call. How about that?
I had a lot of people doubting my ability to play major league baseball because of my disability. And it was important for me to talk about what I could do, not what I cannot do. I've set goals probably since seventh grade. Do the things I dreamed of doing. And I want to be a professional baseball player. If I can do it, you guys can do it. It's something I felt that I wanted to do, because it really gives me a satisfied feeling. Playing in minor league ball, I had a lot of problems. I've had people making fun of me. If I accomplish a goal, then, it gave me the confidence that I could achieve whatever I wanted to accomplish. People in baseball telling me, how can I play professional baseball if I can't hear the crack of the bat? It could be academic goal. It could be athletic goal. It really took a lot of hard work, and I almost quit. I wanted to quit. By setting goals, it's sort of helped me to stay focused, to be able to work hard, be more determined. I stuck with it because of one thing, and that is I never stopped believing in myself. I always believed that I could play in this game.
[CHEERING]
[CRACK]
[CHEERING]
NARRATOR: Curtis Pride's hearing loss was diagnosed when he was 14 months old. As the only deaf member of a hearing family, his parents knew that he needed good language and reading skills to succeed in life. Initially, Curtis attended public school 20 miles away from home in a self-contained classroom with other deaf children. At age 13, he convinced his parents to mainstream him into the neighborhood school. CURTIS J. PRIDE: Sure enough, I exceeded their expectations, made the honor roll. I accepted a basketball scholarship to go to the College of William & Mary, graduated from college with a degree in finance, and went on to play professional baseball. So everything was coming together for me athletically and academically. It was a dream come true for me.
First thing we're gonna is we're gonna start throwing. We're gonna play catch, make sure you're throwing it the right way.
Make sure you turn.
Yeah.
Now, people have different styles of hitting. Some people like to stand up tall. Some people like to crouch. Some people like to bat right-handed or left-handed. So whatever-- it's up to you. But the point is you want to be comfortable at the plate. Don't try and pull the head off. Make sure you keep your head in. Don't take your eyes off. My wife and I, we formed a foundation called Together With Pride, and our purpose is to help hearing-impaired children in South Florida and up in Maryland, DC, Virginia area. And we provide six $1,000 scholarships. And we also provide donated hearing aids to needy kids who can't afford it. And I've also created programs-- reading program, mentoring program. We have baseball clinics to try to help them build ther self-esteem, and at the same time, to have fun playing sports.
[CLINK]
Yeah. Yeah. That's it.
[CLAP]
What position do you play?
I used to play-- right now, I play outfield.
Outfield?
When you play outfield, you stand like this.
Yeah.
Right? Now, when the ball comes up, take one step back. You catch it. You can teach that person how to work hard, to stay focused, be positive about everything, things, then, should go well for you. I try to teach that person to keep believing in yourself. Good things will happen. Dude, I knew you could play catch.
Yeah, I know. I love it. I know how to play baseball.
Yeah.
Growing up, I had a lot of support not only from my parents, my family, relatives-- coaches, teachers, friends, and they helped me become the person that I am today, to be a professional baseball player. And now, kids are looking up to me, saying, wow, you've got this guy who's deaf playing professional baseball. Man, if can do it, I can do it. I can be able to do things that I wanted to accomplish, even though I have a hearing disability. Since I began playing professional baseball, I've received hundreds, hundreds of letters from parents with children all over the country telling me that my accomplishments have had a positive impact on their outlook on life. "Dear Curtis, I'm writing this letter to tell you how much I like to watch you play baseball. I'm a 12-year-old girl. I'm legally blind, but I can see a little bit. I can see the numbers on your shirt. I cannot see home plate. But my mom told me what happens, so I will know when to cheer for you. I always wanted to play ball, but I was scared, because I don't see good. But I watched you play, and you did good. So I decided to try. My mom found a t-ball team that let me play. I bat left-handed, like you. The coach on first base calls to me when I hit the ball. And I run to his voice until I get close enough to see the base. And that is how I play. So I want to say thank you for helping me try. I will come to all the home games if I can. And maybe you will give me your autograph. I wish you lots of luck, and you will always be my favorite player. Your friend, Amanda."
And to provide an update on Amanda, she has now graduated from college, and she's successfully working in a company in Tennessee. A hearing disability or disability any kind should not be a barrier achieving goals or dreams that a person sets for himself.
[CHEERING]
NARRATOR: The lush countrysides of Puerto Rico and Costa Rica are backdrops for Cesar Torres' crusade to enlighten and empower deaf Christians worldwide. For many years, Cesar has used drama, song, and spoken dialogue to enliven the spiritual message he delivers to aspiring ministers from around the globe.
CESAR TORRES THROUGH INTERPRETER: My life is dedicated to God, because God controls everything. Before, I thought that I could do everything myself, independently of God. But I have learned that God is in control, so I rely on him. And that's how my life has been dedicated to God, and they've helped me change things within my life. And they've helped me build my leadership skills and have a successful life. I enjoy seeing a lot of deaf people having a role model that they can look up to.
I like people not saying they can't do something. I like saying I can do something.
I like that they can see me as a contemporary.
I'm the president of DOOR America, which is a Deaf Opportunity Outreach organization, and I've traveled to 20 different countries helping deaf people. For example, we've been to Albania, Russia, Japan. I stayed one month in Kenya. And I've helped deaf people all over the world. Now, I've learned so much through that process that I decided to develop a leadership class curriculum, and we've called it DOOR America. And now, my life has been one of leadership and teaching and being able to set up these schools. So I think deaf people can see that in me. And most deaf people can take that and grow with their own experiences. I can't reach the 40 million deaf people in the world. We have 252 countries in the world. But if I start with 10, then those 10 will tell another 10. And that's what I look forward to most in my work.
My mother was involved with my education all through my life as I grew up in Puerto Rico. She was very good at being pictorial and theatrical in helping me learn. My mother taught me how to use my voice and put words with vocabulary all over the house. Because I couldn't hear, she knew that I relied on my vision, so that greatly helped me increase my vocabulary. I went to a mainstream school and had a very difficult time lip reading through the classes all day long. I would come home from school, and my mother would review everything with me and explain in greater detail what was happening in the classroom.
My only role in life, I believe, is to help others. I just want to serve and help. This has been important to me, because it's important the deaf have leadership and are able to grow. Many times, deaf people think there is no deaf culture, and other people look at it as a handicap. And I explain handicap as a pathological view. But inside, you have expression and thoughts that are different than hearing people, and that's how culture develops, by a group of people who think differently and act differently and perceive things differently. And that's the same in the deaf world. And since I've been traveling the world and visiting 20 different countries, I have noticed that deaf people all over the world have the same epistemologies. That's universal. And the experience that they have, the frustrations, the communication barriers that they experience, that's what causes that epistemology to be the same. And through my experiences, I can support deaf people and help them to develop an understanding of what they are and who they are. And I believe that part of deaf culture is universal, and I think that's important to preserve.
I believe that deaf people need to be literate, to be able to read and write. I think that if you can read and write, there's no limit to your life. And the second key is a complete understanding of sign language and having that as a strong base. My interest is to see other deaf people succeed. That's what my concern is. I enjoy that. I don't fish. I don't golf. I think that's a waste of my time. I want to train other deaf people.
MARILYN J. SMITH THROUGH INTERPRETER: About 1981, a deaf woman here was murdered by her husband, and the husband was deaf as well. Her friends knew what was happening but didn't know what to do or felt as though they shouldn't intrude. The community was very upset when they learned that she had died.
It continued to bother me that she had nowhere to go. Plus, I had been a survivor of rape that happened to me when I was 19 years old, and I had no help back at that time. It was the 1970s, and there were no services for either deaf or hearing people. So that continued to plague me, and I was very angry. And I was upset.
I think that was most surprising for me is to hear a mom talking about some of the problems that she's having with her son. And she has been out of the battering situation-- the boy is three. She's been out of the battering situation since he was two. And the boy has adopted many of the behaviors that the batterer was using. For example, he calls his mom a bitch as a matter of course.
LIZ THROUGH INTERPRETER: January 2002, we were devastated when we found out that another deaf woman was killed.
MARILYN J. SMITH THROUGH INTERPRETER: Their house was a mess. There was no doors left in any room, because he broke them all.
WOMAN THROUGH INTERPRETER: I went to the hospital. I had a male doctor. I had a male social worker. And the first time I was there, I didn't know what was going on. There was no interpreter for me at all. We tried to write back and forth, which was very frustrating, and I broke down crying. I didn't know what to do.
The first thing that I would tell anyone who has been hurt is it's not your fault. It's not your fault at all. And don't let anyone tell you that. There's hope. There is a place to go.
NARRATOR: In 1986, Marilyn Smith founded Abused Deaf Women's Advocacy Services, ADWAS. This agency has provided services to more than 800 deaf and deaf-blind victims, and education and training to more than 10,000 people. It is recognized as a national model program and has expanded to 15 major cities in the United States.
MARILYN J. SMITH THROUGH INTERPRETER: Why do you need a deaf agency? Why not put them in the mainstream with other hearing people? And the answer to that is because the mainstream doesn't work.
For a six-year period, they had a rape center set up here. They had interpreters ready. They had a deaf advocate, a volunteer ready. They had TTY services. In six years, only five women showed up. And I think that deaf people end up teaching when they're in that situation. They need to explain what their needs are. And the real issue, the reason that they're there, doesn't get addressed until later. And they're tired of that. They need attention and care now. The issue of violence affects everyone. If a woman is raped, it affects probably 100 people. When children are killed by their parents, it affects the school. It affects all the children. It spreads like a ripple. Everyone is touched by violence. So our message for everyone is that everyone owns the problem. Everyone has a responsibility to do something positive about it. The first several years, we did crisis intervention work. We responded to emergencies. We did advocacy. We went to court with people, and that was what took up a lot of our time. We were quite busy. At the same time, the staff felt as though that was a Band-Aid approach, and it wasn't really changing the world. We were helping individuals, but we got together and decided that we wanted to have a parent program to help families and to try and break the cycle of abuse. We invited families that had no abuse within them but were potentially abusive situations. Of course, you can't predict what families will fall into an abuse cycle, but we also invited families who did have the cycle of abuse already in their family. And that class was very successful, and it became very popular. At the same time, we opened a children's program. We worked with children who had seen abuse to try and help them understand what was happening and to find ways for them to deal with and express their emotions, so they would be able to grow up healthy.
LIZ THROUGH INTERPRETER: When I first started, we were already on our first year of the mission plan, and that plan was to build a transition house. We were trying to raise $6.7 million dollars for a 21-apartment unit dwelling, plus office space for staff and additional staff. Also, we were encouraging deaf victims to know that there's a place that they can call home for themselves that's safe and completely accessible for them. They don't need to get an interpreter. They don't need to feel isolated, or they don't need to feel that they're left out. They know that they belong, and they're a part of the community. Our education program is important, because the community-- speaking of the deaf community-- is small, and we need their support. People who come here for services without their support have nowhere to go. They lose their place within the deaf community, and that's one of the differences between the deaf and hearing community. A hearing person can move to a new place, start a new life, and hide from the previous situation. But where will a deaf person go? The deaf community is so small and so connected and so strong that there's no place for a deaf woman to hide.
MARILYN J. SMITH THROUGH INTERPRETER: There is one woman who came to us in the beginning. She was married for a long time and had three teenage children. The girls were older, and they were ready to leave home. And the boy was maybe 12 or 13. Her husband had been battering her for years and years. It took her almost five years to leave. She kept coming, and we kept giving her support. We kept talking to her, but she would still go back. And that was fine. That was her choice. But she would come back and then go away and then come back. And I worried about her life. I remember one day, she showed up limping, and I asked her what was wrong. And she said her husband threw a hammer-- well, tried to hit the wall with a hammer but accidentally hit her knee. I said, OK. Obviously, she was in denial, and she still loved him. And she felt as though there was hope.
But the one thing she had going for her was her job. She got a lot of support at work. That's where she felt good about herself, so we focused on that. We would say, your job is a place where people like you. And we encouraged her and tried to raise her self-esteem. Focusing on the home life wasn't a positive experience. It was very negative. So slowly, slowly, she would come and then go back and come. One day, she came and said, I had just packed my knickknacks, because he hadn't broken them yet. And she decided to pack them all in boxes. And right then, I knew that she would be leaving. I didn't tell her to leave. It was important that she made the decision in her own time, that she felt ready and empowered enough, and that ADWAS didn't tell her what to do. It took her five years, but she left. And she's still out.
I think one thing that we've learned is that-- how important it is to sit down with moms who are so much in the midst of working on the issues that are right in front of them. How are they going to-- their financial issues, their own fear, their own safety, and that when we sit down with them and start talking about their children, often, they'll just crumble and realize that none of the other stuff is as important as the fact that their children are safe or that they have children feel safe, or realizing risks that they're actually putting their children in by staying in a battering situation. And we've seen, more than once, a mother decide, at that point, that that's it. She has to go. She has to get out. As difficult as the unknown may seem to her, knowing what her children are experiencing is just--is enough to say, that's it.
MARILYN J. SMITH THROUGH INTERPRETER: One thing that people don't understand is that it's hard to leave. It's hard to heal. People are always asking women, why do you stay? And I would rather they ask, why does he hit you? Why does he abuse you? Why is the focus on her? People need to be patient. They need to give support. They need to believe in them.
There is so much pain in those women. If they can come in the door, it's 50% of the work I want people to recognize that and not to rush people and not to say, hey wake up. Hurry up. You can't do that. You have to give them continual support. You have to give them caring. You have to let them know that there's no judgment involved. And you have to let them decide when they are ready to decide to do something. You have to give them options. And you have to let them do what they need to do and be supportive. And that takes a long time sometimes, and that's OK.
INTERPRETER: ADWAS means hope.
ADWAS means safety.
It means possibilities.
It means dreams.
It means awareness, perseverance.
It means inner spirit.
MARILYN J. SMITH THROUGH INTERPRETER: It feels good.
[FUN LATIN MUSIC PLAYING]
YOLANDA RODRIGUEZ FRATICELLI THROUGH INTERPRETER: I grew up with a family who taught me very important values, such as belonging to a group, sharing with a family. You eat together. You play together. You support each other. You know that they're there for you. The same holds true for deaf culture, and what I'm doing is teaching the deaf people of Puerto Rico to also share those values, to be part of themselves and who they are. One of the problems I tried to combat is attitude. I tried to break down the barriers of attitude and change them. My mother never once told me, you can't do something. My mother said the opposite. She said, if that's what you want to do, then you go ahead, and you do. And you know you can do it. And she was behind me every step of the way.
I was born deaf. I have three sisters and one brother. My father had two uncles who were deaf, so I was second-generation deaf in my family.
When I was two, my mother noticed that I wasn't speaking. And she mentioned it to my father, and my father said, she's fine. But then, they agreed that they should take me to a doctor. They did an evaluation, and after the evaluation, their diagnosis was that I was mentally retarded. And my father said, no, I don't believe that my daughter is mentally retarded. We'll get a second opinion. So they took me to the second doctor and went through the same evaluation process. And the second doctor concurred with the first, saying that I had a mental disability. My father again said, no, that can't be true. So they went to a third doctor. Again, I had an evaluation, and that doctor told my father that I wasn't mentally retarded, that I was deaf. And that made sense to my father, and he accepted it quite readily. When I was 18, I went to a deaf club, and I went up to someone and said that I was just learning sign and that I was deaf. And they started explaining to me the history of deaf education and of sign language. And I learned from that person about my heritage. And the more I learn, the more I realized I wanted to become a leader.
I started a program of mentoring. I help assist teachers improve their skills on how to work teaching deaf children in the classroom. We tried to improve their levels of reading and writing and mathematics and all subject areas. But it's also important that their sign language skills be improved and that they have a primary language to work with. So we developed their sign language skills too. And so I work basically in helping deaf children internalize their first language, which is sign language.
With this program, we can see a continuum of how the education for the deaf should be. And now, with having Yolanda working in the mentoring program with the teacher, that will have a better connection with the older deaf community, which will strengthen the values of those childrens that are just growing and that we are teaching. So I think that is really a dream come true.
NARRATOR: Yolanda expanded her desire to teach by reaching out to the deaf population in Puerto Rico. She was also instrumental in organizing Sordos de Puerto Rico, a group that advocates for the deaf. The organization offers a variety of activities, including sign language classes and deaf-awareness workshops. By providing support to the deaf population on the island, Sordos preserves their identity and nurtures deaf pride.
YOLANDA RODRIGUEZ FRATICELLI THROUGH INTERPRETER: I was surprised to hear that I was chosen for a national honor for my teaching.
They chose me to go to United States and to participate with 50 teachers in the United States all together, who share in this national honor. The plan was to meet President Clinton.
I was very excited to see him. This was the first time that I had ever met a person of his stature.
I just recently graduated with my doctorate degree in deaf eduction, deaf studies.
I began teaching adult education classes, which involved the basic skills-- math, reading, writing. I taught there for two years but wasn't satisfied with the experience and decided that I wanted to go back and teach children, because that's what I really wanted to do.
I try very hard to preserve the deaf culture in Puerto Rico. And one of the ways that I do this is I say to younger people who deaf, I'm deaf, like you are, and I'm from Puerto Rico, like you are. And I've studied, and you can study too. But when you finish your studies, don't go to the United States. Stay here in Puerto Rico and share what you've learned with other people. Show people that here in Puerto Rico, we're very proud of ourselves and what we can do as deaf people. You can study. You can study at the University. I did, and so can you. Today in Puerto Rico, the numbers of students entering the university have increased. That makes me very happy. I'm trying to encourage them to stay in Puerto Rico and continue preserving and valuing the culture and the sign language that is part of our lives.
[MUSIC PLAYING]
Now Playing As: Captioned (English)
Men and women of different ethnic and social backgrounds come together to discuss how dreams can become reality through motivation, hard work, education and, most importantly, a belief in oneself. This award-winning program (The United States International Film and Video Festival Award) encourages viewers to set goals and stay focused. Highlights New York Yankee Curtis Pride, president of ADWAS (Abused Deaf Women's Advocacy Services) Marilyn J. Smith, president of DOOR America (Deaf Opportunities Outreach) Caesar Torres, and mentor Dr. Yolanda Rodriguez-Fraticelli. Part of the "Achieving Goals! Career Stories of Individuals Who Are Deaf and Hard of Hearing" series.
Media Details
Runtime: 32 minutes