Achieving Goals! Career Stories of Individuals Who Are Deaf and Hard of Hearing: Brilliant At Business (Vol. 2)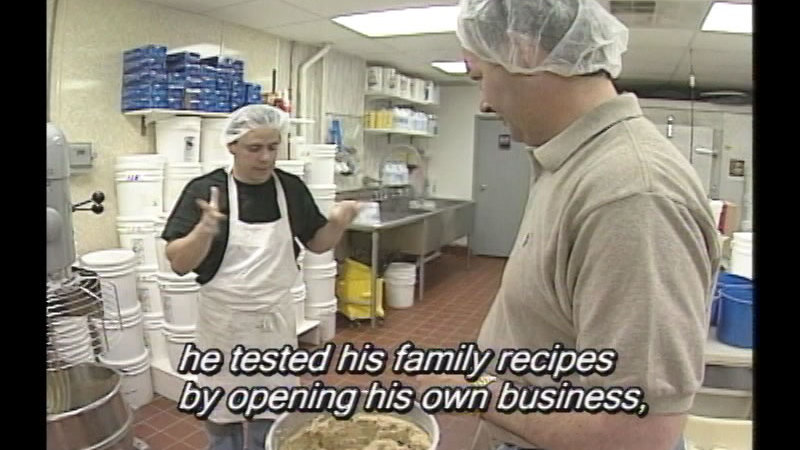 You are about to meet some people. you really can't forget.
People whose ambition and effort have allowed them to overcome great obstacles on their way to professional success. They come from diverse backgrounds, sometimes challenging backgrounds. Today, they will share their stories with you. Their stories demonstrate in a powerful way how much can be achieved through motivation, hard work, and education. I know. More than 60 years ago, I continued my education, even entering high school or college was invaluable for me. My parents were from Mexico, farm workers. My father died when I was six. Two years later, I became deaf from spinal meningitis. Helping my mother hold together our family of seven children was important to me. But my education was important also. I left my family to go and live in a residential school for the deaf, and fulfilled a lifelong dream, an almost unheard of dream for a Hispanic deaf person in those times to graduate from college. Positions in higher education and government followed after I received my degree. Today, I am proud to lead the finest technological university in the world for deaf and hard-of-hearing young men and women, the National Technical Institute for the Deaf, NTID. One of the most important endeavors this college has undertaken. This past decade is its affiliation with the Northeast Technical Assistance Center, NETAC. This government-funded program, based at NTID, has its own dream for young deaf and hard-of-hearing people to ensure that anyone who chooses postsecondary education will have all the support and services needed to succeed. As you watch this videotape, I hope that you will be inspired to follow your own personal dreams. With hard work, desire, and having belief in your own talents, you, too, can achieve your goals. Good luck to you.
[MUSIC PLAYING]
NARRATOR: Jimmy Libman always knew those hours spent perfecting cookie recipes would pay off. After graduating from RIT's National Technical Institute for the Deaf, he decided to put his family's popular recipe to the test by opening his own business, Gimmee Jimmy's Cookies in West Orange, New Jersey. JIMMY LIBMAN (THROUGH INTERPRETER): I had always wanted to have my own business, and that was a goal I'd had for many years. My mother said to me at the time, "Why don't you think about starting a cookie business?" And I didn't listen to her, and I didn't pay attention to what she said. And she said, "Why not try it? " So for an experiment, we went to different cookie stores, and I tasted and tested different cookies and took samples, just to see what they were like. And I thought to myself, this is interesting, my mother's cookies are the best cookies, especially compared to these. So I said to my mother, well, I think maybe I will try the cookie business, or at least give it a try in an experimental way. So my mother taught me how to make them, and we decided to do it here in my hometown. We offered free samples of cookies to people, and everybody said, I love the cookies. Everybody that had them said the same thing. I love them. I love them! But the oven we had at home was so small that it was really time-consuming. So my dad decided that we should get a commercial oven. We got the new equipment, and my father was wanting to put the oven in the back of the house near the basement. But, unfortunately, the oven was too big to fit through the door. So he put everything in the front door, put it in the living room, and that's where I did my experimenting and my practicing. And it was starting to work. Many people came to us asking for cookies. So we sold more and more, and it was a really good start. We moved the store from the living room into the building. The business kept growing, and at that point, I decided to hire some employees to work with me. Through vocational rehabilitation, I was able to hire two deaf employees.
Then we hired a hearing secretary who knew sign language. And she could communicate very readily with everyone, and we had a really good relationship. So we've really gotten along very well.
Don't do that!
JIMMY LIBMAN (THROUGH INTERPRETER): Every day we get to work, and we make cookies all the time.
We have 19 different flavors of cookies.
Good morning, this Gimmee Jimmy's. JIMMY LIBMAN (THROUGH INTERPRETER): But in the morning is when we do our phone calls. We contact the supermarkets. We get faxes. We have corporate programs that we provide for, and so we collect all the orders from these different places.
Then the tins are filled, and they're shipped either by UPS or Federal Express. Sometimes there's 50 to 200, sometimes 300 a day that need to go out.
During December, Christmas season, we have 1,000, 2,000, sometimes even 3,000 a day that go out. And that's normal for us during that time. And my employees are wonderful. They have really fast hands, and they work very quickly. And they save me a lot of labor because of their quickness.
Thank you, bye.
JIMMY LIBMAN (THROUGH INTERPRETER): Because I'm deaf, I have a special light system in the store. It helps me to have the lights to know what's happening, and it worked very well. It was a great idea.
Hello, I need some cookies. JIMMY LIBMAN (THROUGH INTERPRETER): And as it turned out, I did hire three deaf employees, and they depended on the light system as well, and it's worked great.
INTERVEWER: What's the secret to the success of this business.
The cookies.
Honestly, yeah, they sell themselves. JIMMY LIBMAN (THROUGH INTERPRETER): I have several pictures from various famous people, and every once in a while I get a letter from somebody. For example, President Reagan tasted my cookies, and he sent me a letter saying thank you, and said how wonderful they were. My mother always said to me that word of mouth is a great way to get business going. It's the best kind of advertising. And when people start talking about it, that's how your business will grow. I'm very comfortable, and I trust the people that I work with that help me run my business. So I have no worries. They do a great job for me, and they have for a very long time. I think one of the reasons is because we work well together as a team.
God created each one of us, so unique and special with many different talents and abilities. But there's one that's over all, and when we develop that talent, that ability, and try to match that to our career, that's when things will start to take off. I was the kind of young person who growing up would have the lemonade stand in front of my house. People would walk past, I'd try to sell them lemonade. I did good, too. When people walked by, I had these little braids, and a big smile. People ask me, are you deaf or hearing? You felt? I said, no, I'm Theresa, and I fit in both worlds. What God have given me, I have a load of talent and ability, and I know that I can do anything. So as the dream of having my own company became more and more real, I decided at that point that I was going to get the knowledge I needed in order to have a business of my own.
I love life because it really helps me understand other people, and other people have different needs.
So in '94 as I started to go out and speak to more people, the business started to grow. I realized, OK, that's what I will do with my life, and I started writing my book. Actually, the book that I wrote which is called Kingme A Winner, from wishing, oh, wishing to actually having it, talks about when I sat down, and I let God talk to me. And I was talking to God saying, where do you want me to go from here? I said, OK, I want to work for me and not for someone else. And then be willing to let go of working in other businesses and to walk on your own two feet with Kingme Enterprises. And from that point, Kingme has produced three books. As I travel around the country speaking to different groups, I look forward to the day when I can look back and see the fruit of my labor, how much other people are impacted by what I have done today. Should it be a partner or business, but we want to pass on the right information. But today, my business focuses on development, consulting, helping people understand their gifts and talents, and how to apply that to their lives. That's what I want to see, OK? So you will role-play and act it out in such a way that people will understand you have bills piling up. I can see in other people who don't have confidence, people who were sitting in my office will always ask questions as it relates to them. If they're black, "Well, I lack the motivation," or "I lack people skills." And I always find myself saying, not necessarily. Maybe you might lack people skills, but you probably have a lot of other skills in this area. And I found myself always encouraging people who are at home to encourage people to come to my workshop. But that's one reason why I always include role-plays. I could have gone into many other fields, because people said, oh, I think you would be good at that. But I recognized that the people who are the most successful are those who understand what their own talents and abilities are. And they work it, they develop it from an early age. They develop that talent because they love it. It's what they like to do. There was one job I had, it was a home for young people who had some emotional and some mental problems, development problems. And I loved working there, because you see the joy when a person accomplishes something that they never had been able to accomplish before. And at the time that I was leaving, the best thing they said to me was, well, are there any other deaf people who may be interested in working here? And I was like, OK, I mean, that opened the door to show you, don't look at what the person doesn't have, but look at what they do have. And a person who's deaf cares and works as hard, if not harder than other people.
I am motivated, and I want to leave a legacy to other people. When they look back at a black, deaf woman-- I mean, woman, black, deaf, a person who was able to give something to other people so that they can feel excited about wanting to do something with their life, too. Because everyone's life matters. Everyone has something to contribute, and that's what I want to do.
NARRATOR: Elizabeth Rios was born in New York City into a hearing family and moved to Puerto Rico when she was in the fifth grade. In college she studied biology and received her bachelor's degree from the University of Puerto Rico. Later, Elizabeth earned a master's degree in deaf education and deaf studies from Lamar University in Texas. ELIZABETH RIOS (THROUGH INTERPRETER: You know, it's a lot of studying for the degree in biology. And I did it without interpreters at that time. I would always look at the students in my classroom and try to find a person who would write a lot. I would ask that person to become my tutor or note-taker. And for the tests, it was difficult-- biology, chemistry, math-- whew. But I really wanted to do it, and I passed.
NARRATOR: She's also executive director of Sordos de Puerto Rico, a nonprofit organization dedicated to improving the quality of life for Puerto Rico's deaf and hard-of-hearing population. Empowered by her education, she now lives in Puerto Rico, where she's making a difference for deaf people as account manager for Sprint Puerto Rico Relay. ELIZABETH RIOS (THROUGH INTERPRETER: When I moved to Puerto Rico, I never saw any deaf people. When I started to finally meet deaf people was when I was in the second year of getting my biology degree. Then I met one boy who had two hearing aids, and at that point I thought, oh, somebody's like me, and I felt happy. I feel as though I'm really a Puerto Rican woman, you know, beautiful, same color, same culture. And so the reason that I want to stay is that deaf people need us here for role models. There are no deaf role models here in Puerto Rico. So I decided I need to stay and help all the other deaf people develop themselves to become independent. And show them they can do it, instead of depending on hearing people to do everything.
INTERPRETER: Elizabeth is one of our 22 managers.
We hired Elizabeth because she's well-known and has a strong presence in Puerto Rico. People know her there. She has proficient skills in sign language. Her communication is very effective. People love her. Elizabeth's main responsibility is to provide support and coordination for people, education for deaf, hard-of-hearing, hearing, and voice users.
There's a variety of things for them to be educated on related to the relay service. There are many people who don't know about the relay service, and Elizabeth's main responsibility is to meet people, go to workshops, and a variety of things within deaf schools, public schools, businesses. And go to these places and do some advertising and some information-sharing about Sprint, so that people know that Puerto Rico has a service that can connect deaf and hard-of-hearing communities with voice-using communities. And that they can then work together.
ELIZABETH RIOS (THROUGH INTERPRETER: Really now, I'm happy that I'm successful in getting my MA in deaf education and deaf studies. I'm happy that I did that. It was really difficult, but it was good to become more professional. The technology's improving so much, so Sprint Relay, and what that actually means, is very related to accessibility for communication with deaf and hard-of-hearing people, deaf-blind, hearing, and those who have problems speaking. That means that we have new TTYs wise and that technology has been improved. So really, right now, I've got a lot of responsibility. It's a very big challenge for me, because I'm starting from scratch. I have to advertise, do outreach, and educate all over the 78 towns that we have here in Puerto Rico, disseminate information, telling them that we can communicate.
It's important to have a degree and the knowledge that you can use to associate with hearing people and not be afraid. I have provided many activities for deaf people, not necessarily for kids but for adults and for young people, those who see me as a role model. So I try to tell them, if you want to become like me, you have to be very strong. But don't necessarily think for yourself but for the other kids of the future. Sometimes those parents are frustrated because their kid was born deaf, and they're frustrated by that. I try to have them not feel frustrated. I say, look at me, you see me? The future for your child could even be better than it was for me, and that's OK.
LEE KRAMER (THROUGH INTERPRETER): I'm a certified financial planner, a licensed stockbroker that helps with investments, estate planning, how to lower your taxes, college planning, insurance, life insurance, and long-term care, and a variety of things. I have a whole range of clients. Some have no money, some are pretty wealthy, and then there are some in the middle. I also serve deaf and hearing people.
The first year I engaged in cold-calling, letters, and advertising. The second year, it was all by word of mouth and references through the grapevine. And it's true within the deaf world, the deaf grapevine passes it on. Once they know that someone wants to help, they tell a friend, and then it spreads and spreads and more calls kept coming every day. So I haven't had to do cold calls for 15 years now.
But most of the hearing people have some association with deafness. Either their parents are deaf or they're an interpreter. Or Lee, also, he networks with people he's met through his own home. Like if he had built an addition on his home, if the contractor said, oh, I need a financial advisor. So it's people that have some experience having met deaf people. LEE KRAMER (THROUGH INTERPRETER): We're very successful. We have about 2,000 clients.
ROSENTHAL: --calls, this is Lee Kramer, how are you doing? LEE KRAMER (THROUGH INTERPRETER): We're licensed in 48 states.
ROSENTHAL: Good. I have Peter and-- LEE KRAMER (THROUGH INTERPRETER): The demand is very high here. We're very busy every day.
ROSENTHAL: Maybe we'll use, maybe we'll use the brokerage account. MAN (ON PHONE): Yes.
ROSENTHAL: That would give us a chance to start with Lockwood, then we can build up Claudia's thing. And he'll contact Lee, and then Lee will tell Lisa to write him check.
THERESA KING: That's fine with me. Wonderful.
Lee often tells his clients, he says, I treat you as if you were like my brother or my sister or, like, if I were in your shoes, what I would do? And so I feel both, like among the staff, we're very close here. And so it's a nice working environment. Lisa who's with customer service, she can communicate with Lee directly. Scott's deaf, he's the financial analyst. He can communicate directly. The only person is Mary, she's the office manager, and she doesn't sign. I think Lee's real goal is to give people peace of mind about anything to do with their finances. FRANK (THROUGH INTERPRETER): To better serve clients, Lee, myself, and another person named Danny Lacey who is also a financial advisor, he has an office in Texas. We divided it up into geographical areas from Maryland to Florida in the southeast area, plus California, Nevada, Arizona, Indiana, Idaho, and Tennessee. Danny focuses on Texas and other states. Lee concentrates on other states, and that way we can better serve clients throughout the country. LEE KRAMER (THROUGH INTERPRETER): I was born in Philadelphia. My parents were deaf, but they're oral-deaf. And my sister is also oral. I have a brother who's hearing. We moved to Massachusetts, and I went to the Clarke School. And at that school you couldn't sign. It was an oral school, strictly an oral school. So when I went to high school, I went to a prep school which was a private school. And I was the one deaf person with the whole hearing class. I had no interpreter, so I had to lip-read the teacher and get copies of the notes. I played football, basketball, and baseball. I was captain of the team, and I had help from my friends who were hearing people. College was the same for me. I went to Wesleyan University in Connecticut, and got my MBA from Northeastern in Boston. I learned to sign when I was about 20 years old. I felt like, finally, I was the same as the hearing people. We were understanding the same things that I could participate equally. The game of Monopoly, I like to play that, and I always won the championships every single time. No one could beat me. And that led me to being involved in the business world.
When I started in 1985, deaf people were resistant to meet with me, because the deaf world is so small. Deaf people aren't willing to expose themselves to the rumors that happen in the deaf community. And I had to assure them that this was a very confidential service. Your name will be completely confidential. No one will know your personal issues. So once that trust was built, then the business began to grow. And I had quite a niche, because I was the first certified planner who was deaf with an MBA. And I was a certified funds specialist. And it was the first deaf person who had this in the world. The first question I ask when I meet with a client, I analyze all the questions and all the answers they give me. And then within two weeks we get back together, and I give them recommendations. I'm not like a salesman saying buy this from me and try to sell them something. I design something that fits that individual. And all people are not the same. My philosophy is that nothing is impossible. You can do anything.
There are some deaf kids who say, I can't, I can't, because I'm deaf. And I think that's not true. You can do it. Nothing is impossible.
[MUSIC PLAYING]
Now Playing As: Captioned (English)
What are your dreams? What is it that you want to do with your life? Join host Dr. Robert Davila, vice president of the National Technical Institute for the Deaf (NTID) as he introduces successful professionals who are deaf and hard of hearing. Highlights Elizabeth A. Rios, account manager for Sprint Relay, Puerto Rico; Theresa A. King, owner of KINGME Enterprises, Washington, D.C.; Lee Kramer, certified financial planner and owner of Kramer Financial, Inc. headquartered in Germantown, Maryland; and Jimmy Libman, owner of Gimme Jimmy's Cookies, West Orange, New Jersey. Part of the "Achieving Goals! Career Stories of Individuals Who Are Deaf and Hard of Hearing" series.
Media Details
Runtime: 27 minutes