Read Captions Across America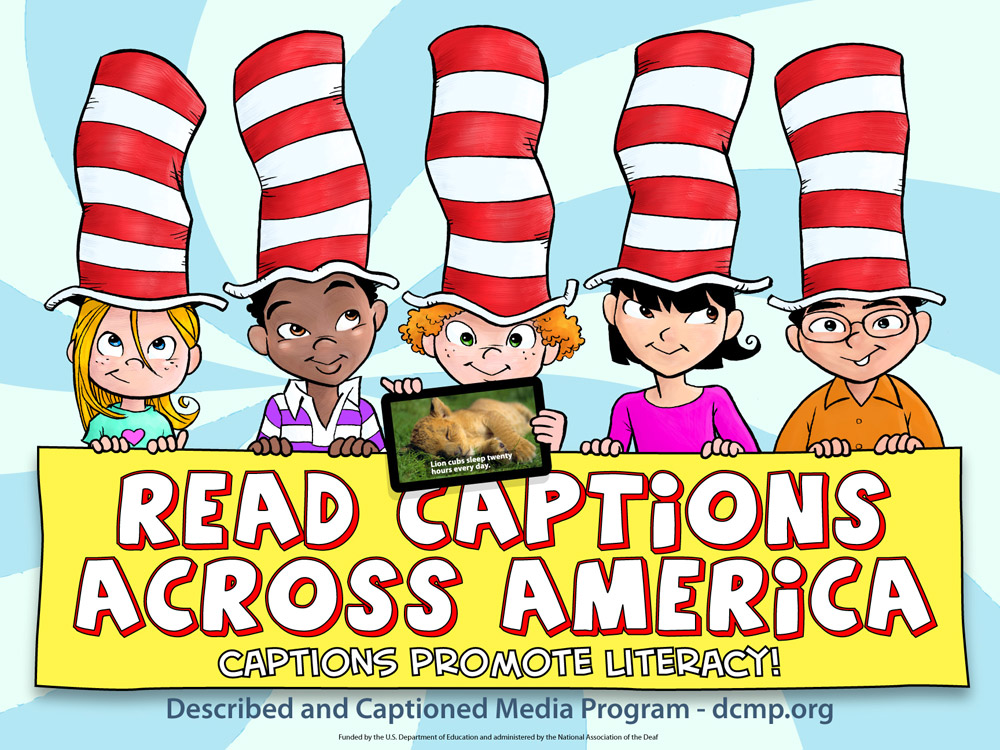 DCMP's Read Captions Across America (RCAA) campaign is held in conjunction with the National Education Association's (NEA) Read Across America event every year on or around March 2, the birthday of beloved children's author Dr. Seuss.
The purpose of RCAA is to raise awareness—particularly among children and their parents and teachers—that video-based media can be just as effective at encouraging and fostering reading skills as books, as long as captions are always turned on!
Participants can order a free RCAA event kit, and members can locate captioned media from the DCMP collection to use in March and all year long!
The DCMP's RCAA celebration was launched in 2006 after partnering with the NEA's Read Across America event. RCAA is the first national reading event to put emphasis on the importance of captioned media (e.g., broadcast, internet, DVD, CD-ROM) as a reading tool for all children, not just those who are deaf or hard of hearing. This effort resulted in a huge success, as thousands of students have participated in this event since its inauguration.
The DCMP supports the efforts of the NEA's Read Across America by:
Providing free-loan educational captioned media to registered users (teachers, families, and others who work with deaf or hard of hearing children).
Acting as a captioning information center to provide answers to anyone's questions concerning captioned media.
Maintaining a database for locating educational captioned media available for purchase.
Assisting requesters (media producers, school personnel, and others) in learning to caption or in locating an expert to perform captioning.
Supporting efforts by parents and educators to increase the availability of educational captioned media.
Providing flyers, posters, bookmarks, and other free materials to remind everyone of the importance of reading captions.
Order your free RCAA kit, learn more about how captioning improves literacy, and find great ideas from teachers and parents on our RCAA website.
Tags: captioning, literacy, educators, parents
Please take a moment to rate this Learning Center resource by answering three short questions.